Cook Riverside is located at 115 Riverside Drive, Cooksburg, PA 16217 located in the heart of Cook Forest State Park along River Road and the Clarion River. Maximum guests allowed is by each cabin below which includes children & infants. All cabins have gas  heat and come with a supply of firewood. Bed linens, dishware & utensils, pots & pans, microwave, coffee maker, and toaster are provided. All of our cabins have bathrooms.
Cook Riverside rentals are weekly rentals from the first week in June through the end of August unless they are released. Otherwise, rentals are a 2-night minimum except on Memorial and Labor Days which are 3-night minimums. Current guests have first right of refusal for the following year upon owner approval before other reservations requests are accepted. Pricing listed below by each cabin is for the current year - pricing for next year is listed in the calendar.
Scroll down to see individual cabin information and availability calendars, the property map and a list of suggestions of items you may wish to bring.
Click here to search current cabin availability calendar for all Cook Riverside Cabins.
Pets are welcome for $12 a night each, two pet limit. Please keep pets on a leash and promptly clean up after them. If leaving your pet alone in a cabin, they must be in a kennel/cage.
A non-refundable deposit of half (50%) the total due is required at the time of the reservation. The deposit will be applied to the balance due for the rental at the time of check in.
Check In: 4:00 until close at our office at Cooksburg Dry Goods Gift Shoppe at 115 Riverside Drive, Cooksburg, PA 16217 on River Road – please call 800-680-0160 in advance to make arrangements for late arrivals. Office hours change seasonally so please check at our Cooksburg Dry Goods website for current hours. Please see  If there is River Road flooding, please call 800-680-0160 or see the alternative route map by clicking here.
Check Out: 10:00 a.m. - drop key at the drop box at Cooksburg Dry Goods.
*Winter Special: 20% off all cabins when you stay from January 1, 2024 to April 30, 2024. Discount is automatically applied. Only one discount applied per reservation. See calendar for the next year pricing.
Paddling Special: guests of Cook Riverside Cabins receive a 50% discount on canoe, kayak, and tube rentals (transports & the 6-person river rafts are excluded) when you paddle with the Pale Whale Canoe Fleet during their stay. Discount must be requested at the time you sign up for a trip - we will not issue refunds after a trip.
Cook Riverside Cabins
CABIN 1 - SLEEPS 8
Cabin 1 is hand-hewn log cabin with beautiful hardwood floors and natural stone fireplace in the living room! In addition to the cozy living area, this two bedroom cabin includes a full kitchen and bathroom.  There are two bedrooms with 2 double beds in each. Cabin 1 features a covered front porch, picnic table, charcoal grill, and a fire ring. Our beautiful Cabin 1 is the oldest rental cabin in Cook Forest.  From the first weekend in June through the last weekend of August, Cabin 1 is a Sunday to Sunday weekly summer rental.  Beds: 4 Doubles
Nightly Rental: $240
Weekly Rental: $1,075
Winter Rate: $192/night or $860/week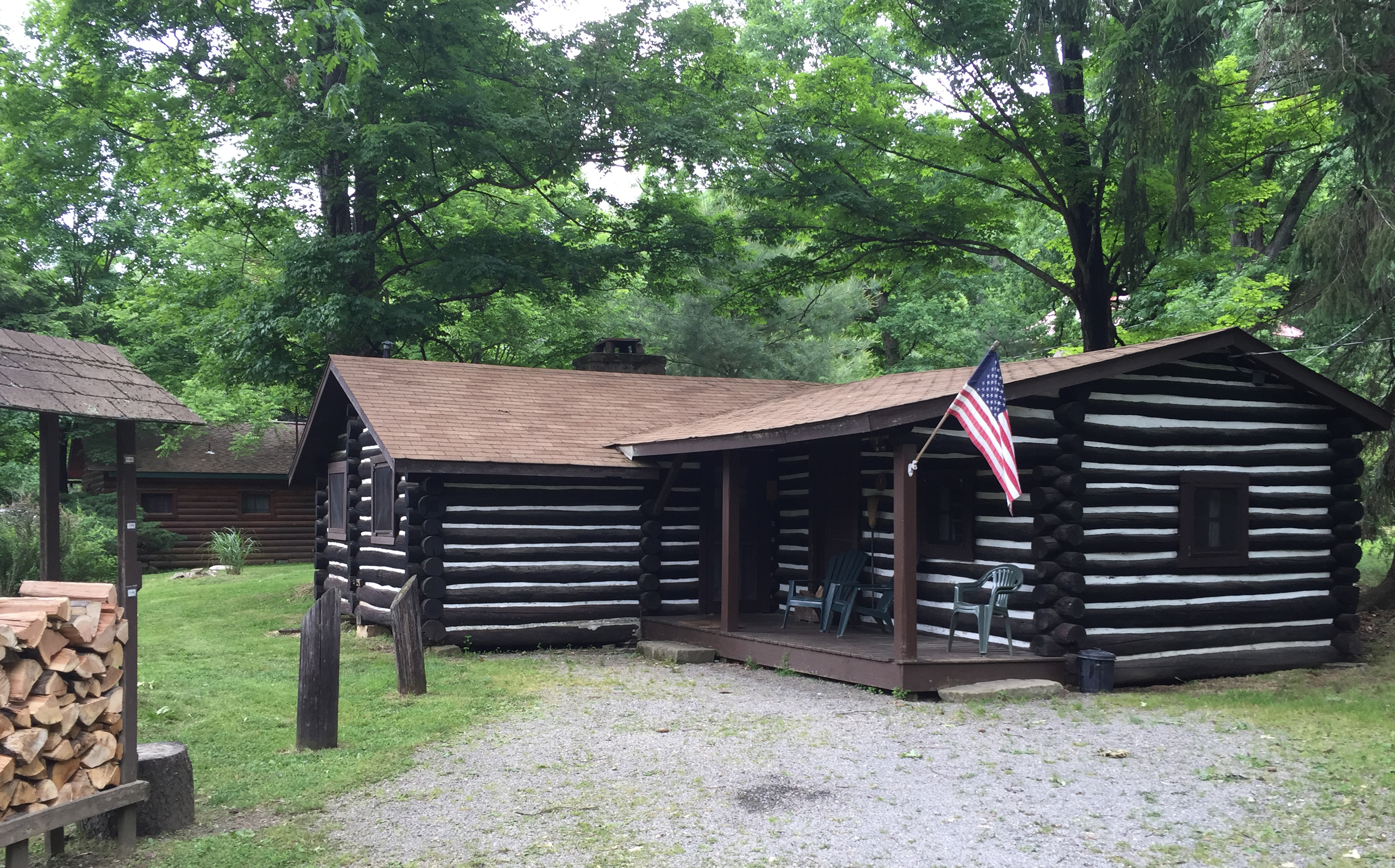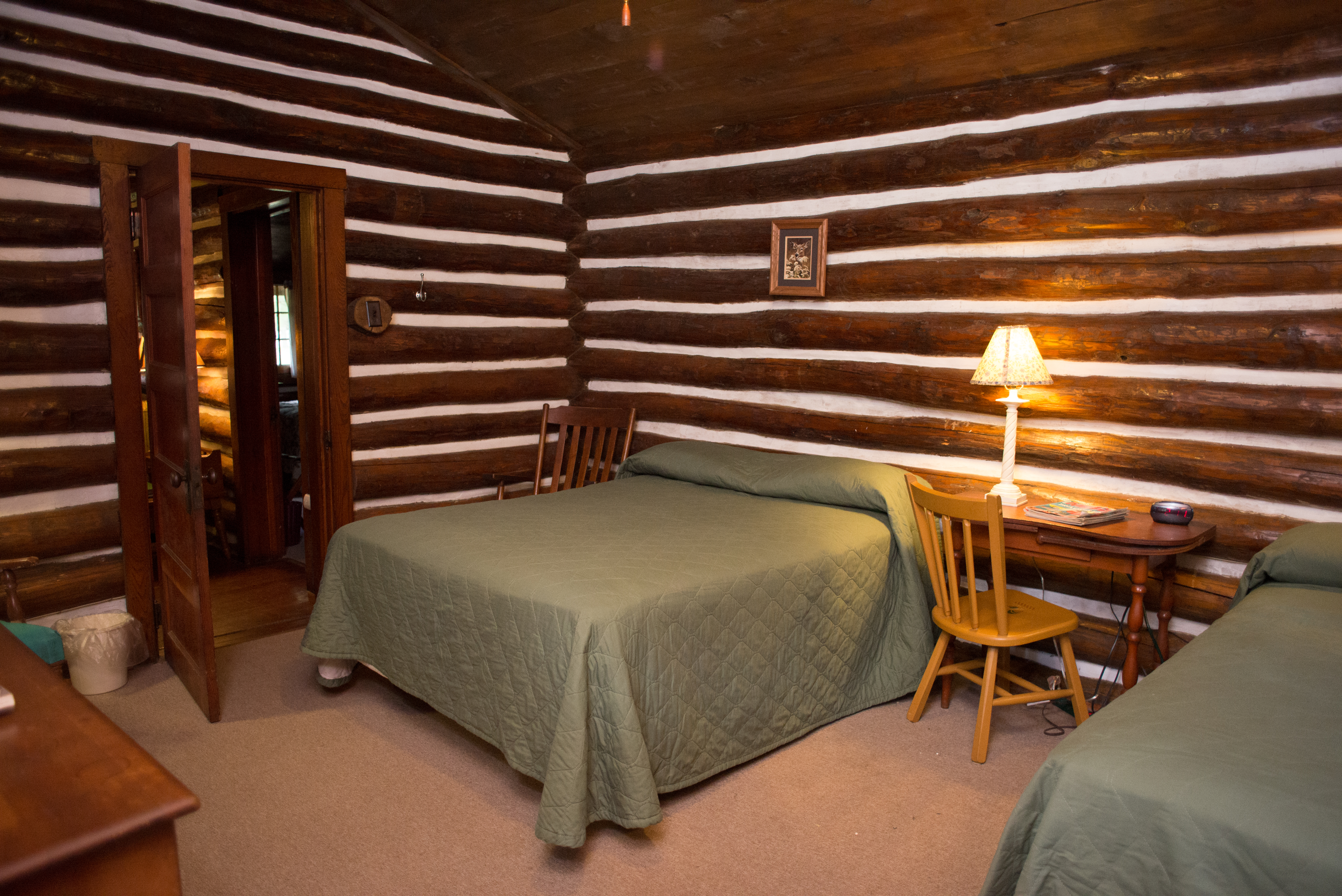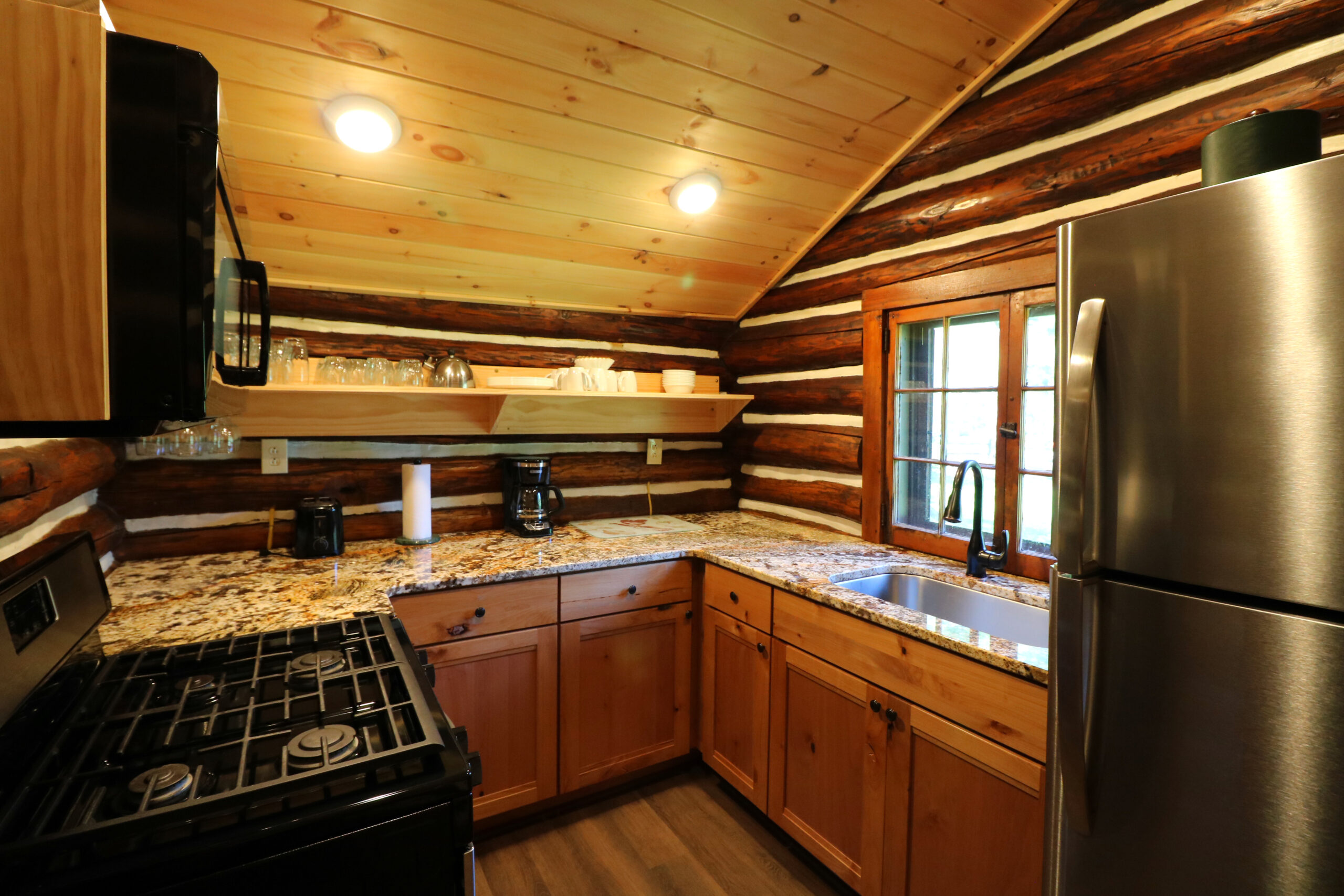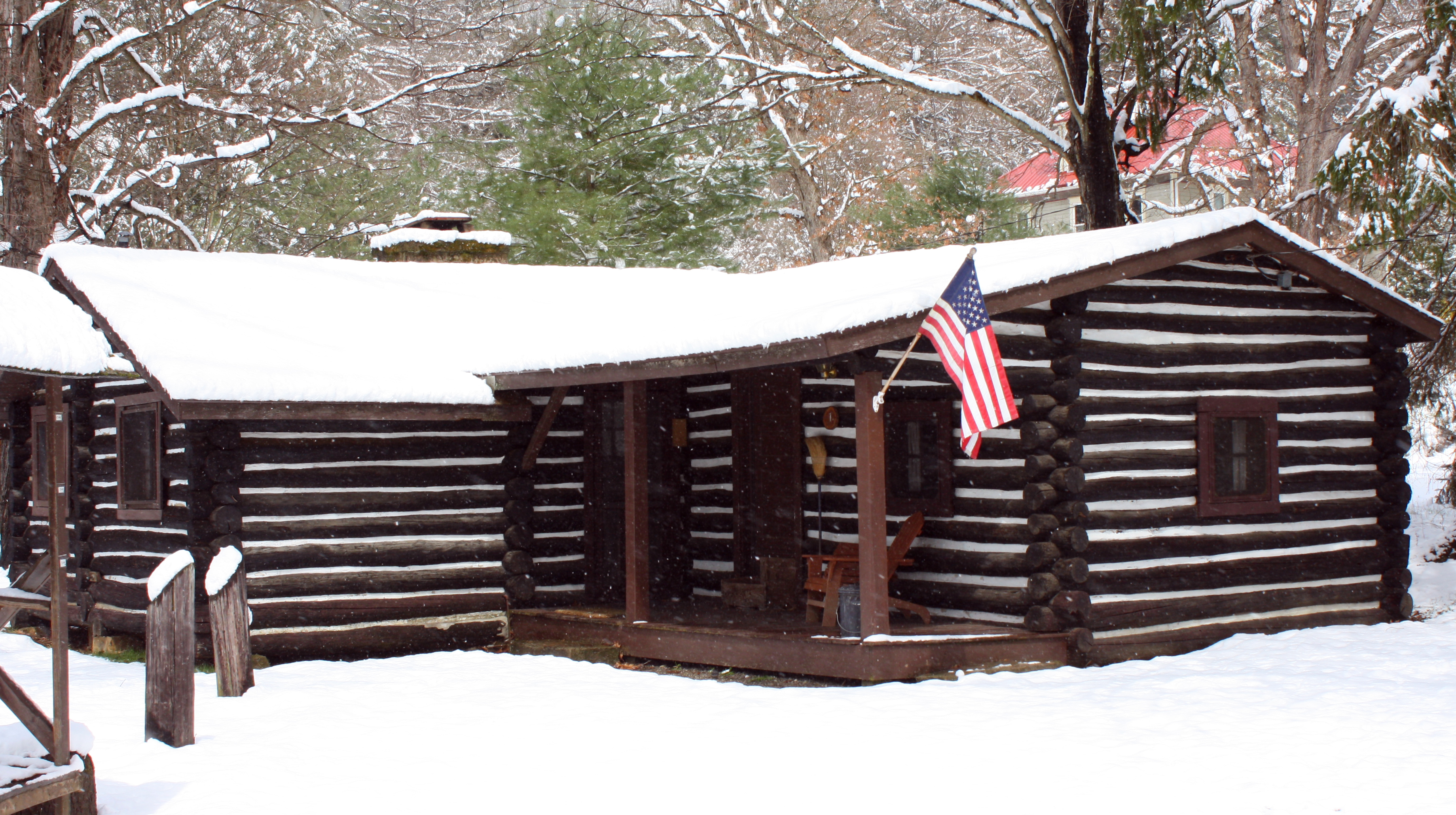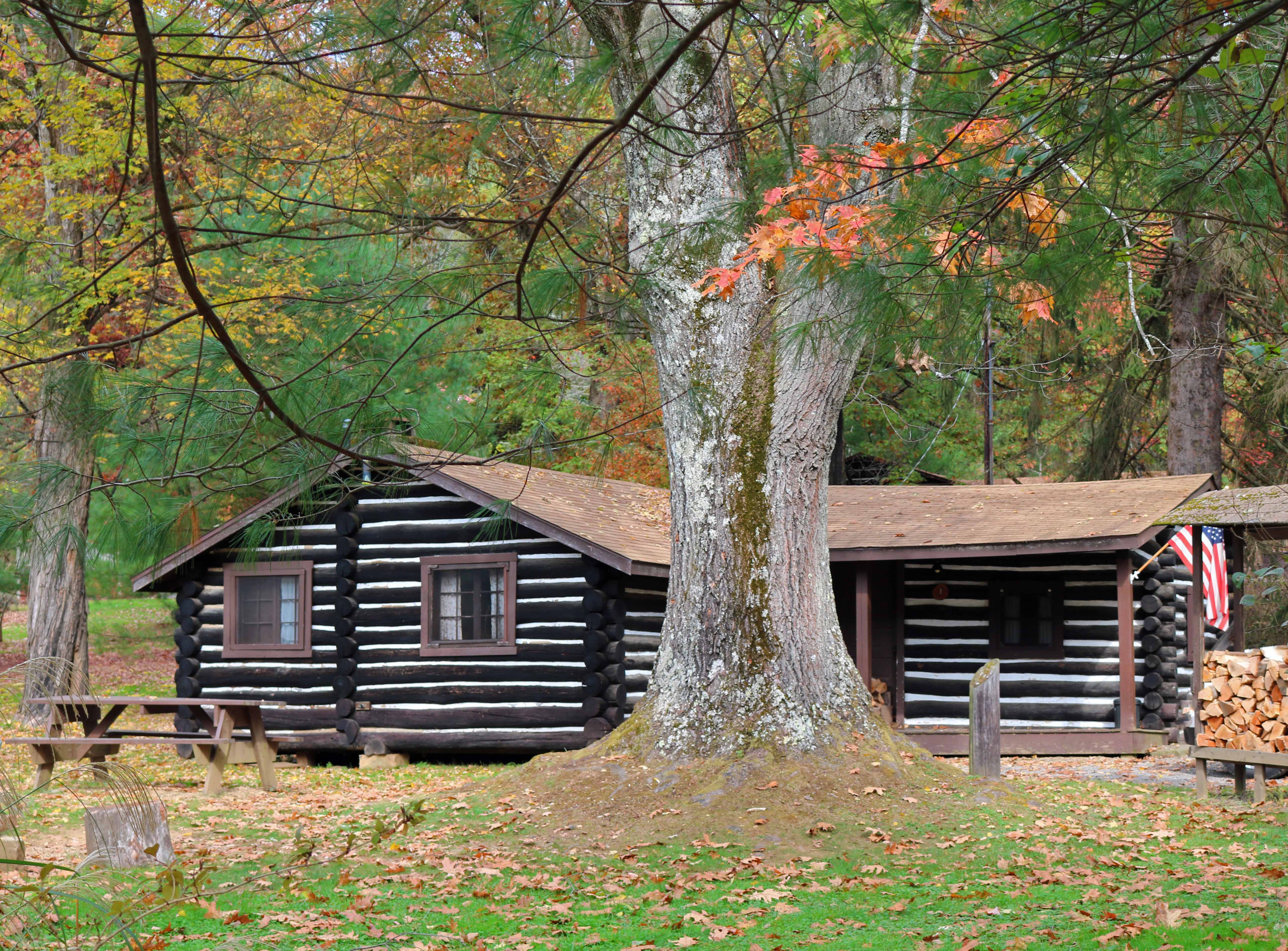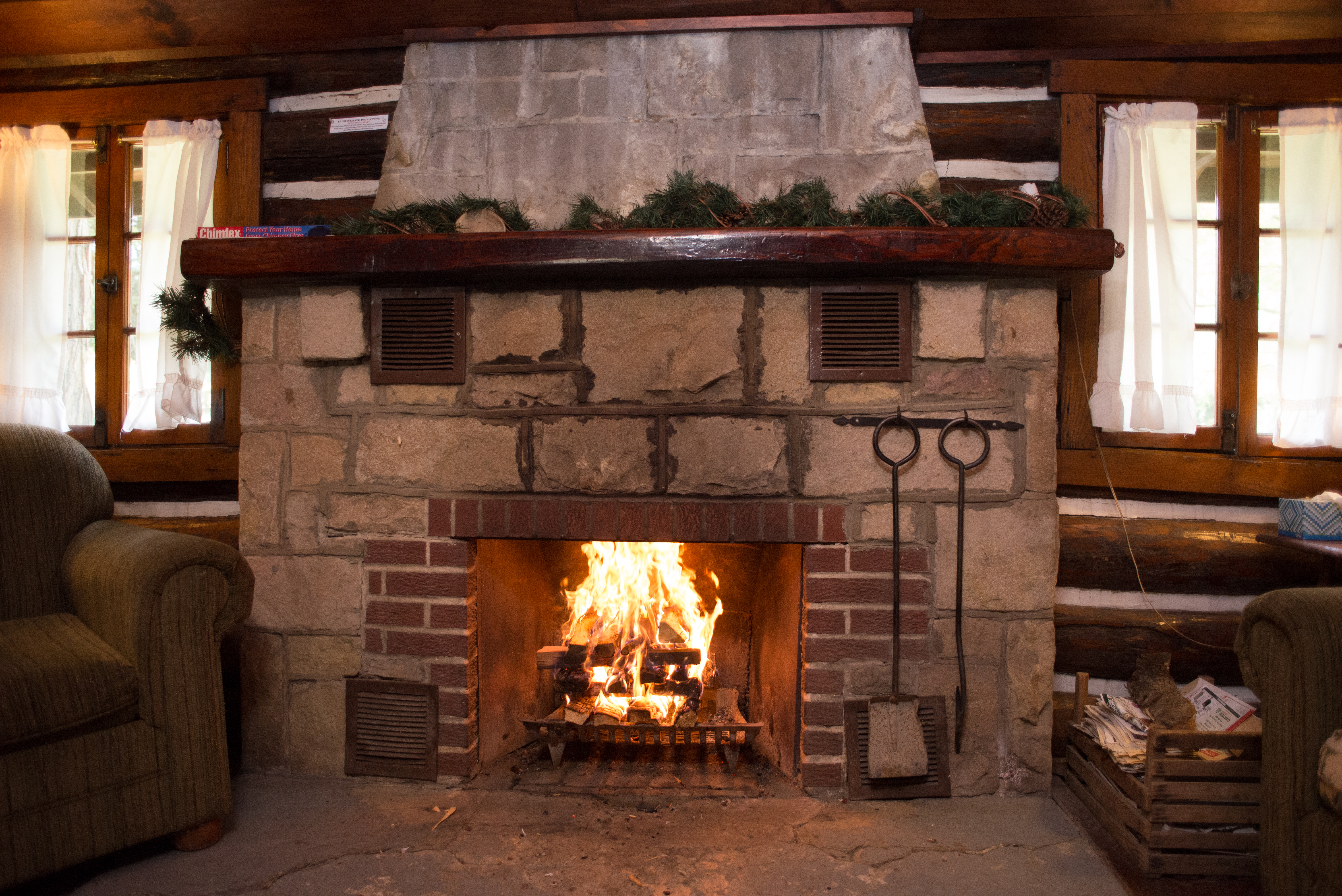 Cook Riverside Cabins
CABIN 2 - SLEEPS 4
Cabin 2, renovated in 2022, now has a spacious bedroom featuring a king-sized bed and whirlpool tub.  This log and knotty pine cabin has a stone, wood-burning fireplace and double sleeper sofa in the living area in addition to a fully renovated kitchen and bathroom.  Cabin 2 has a covered porch, picnic table, charcoal grill, and fire ring.  From the first weekend in June through the last weekend of August, Cabin 2 is a Saturday to Saturday weekly rental. Beds: 1 King, 1 Double Sleeper Sofa
Nightly Rental: $225
Weekly Rental: $1,015
Winter Rate: $180/night or $812/week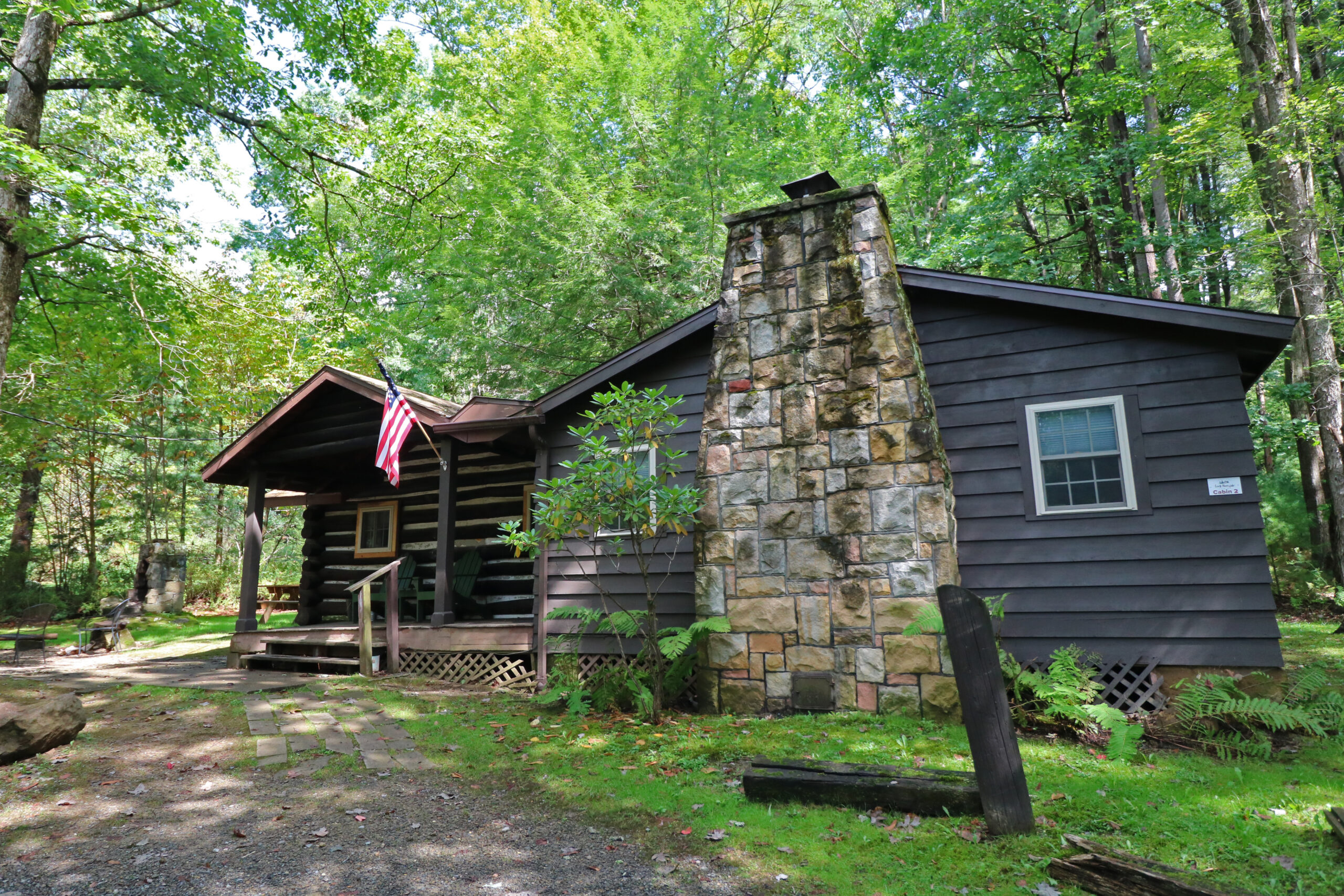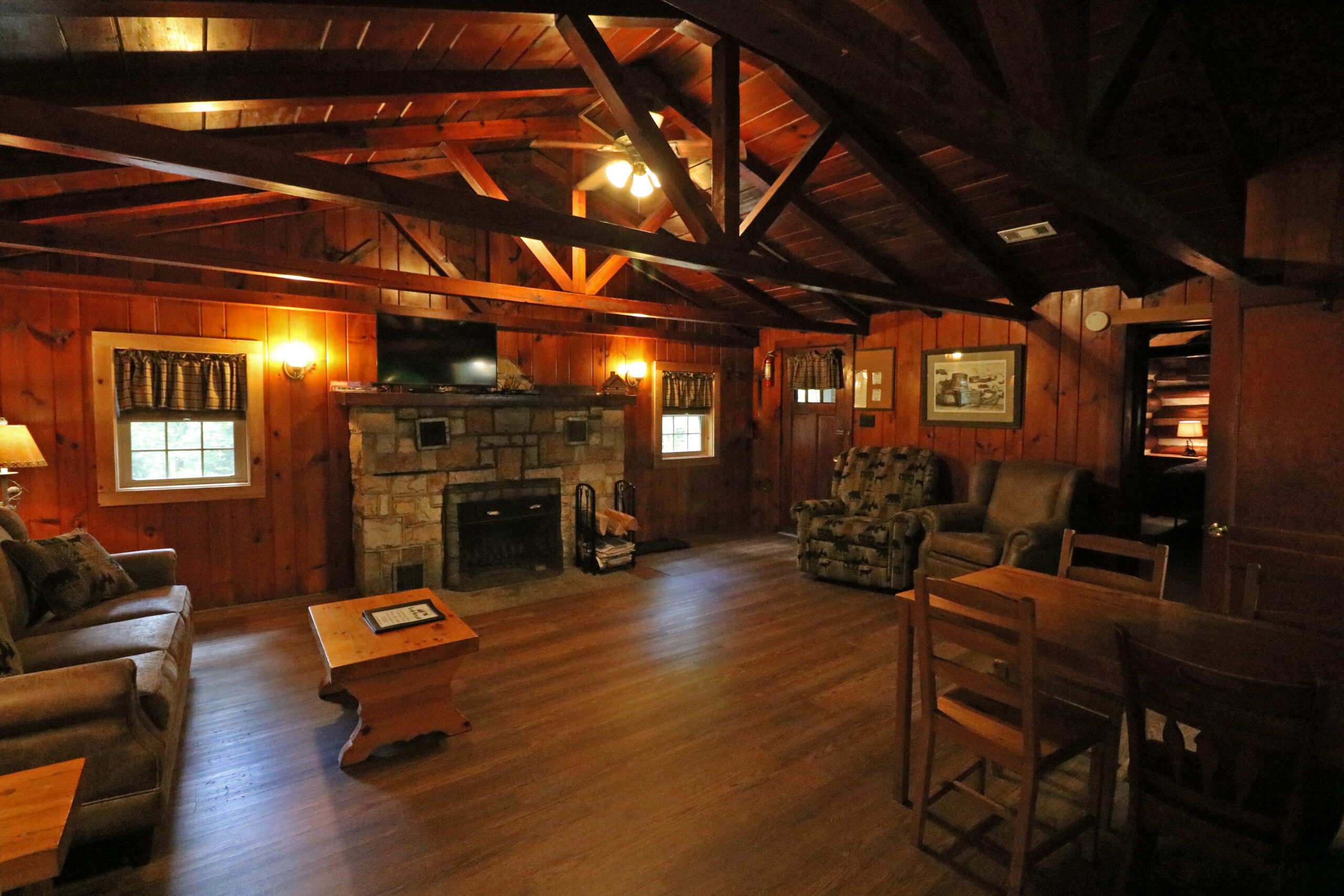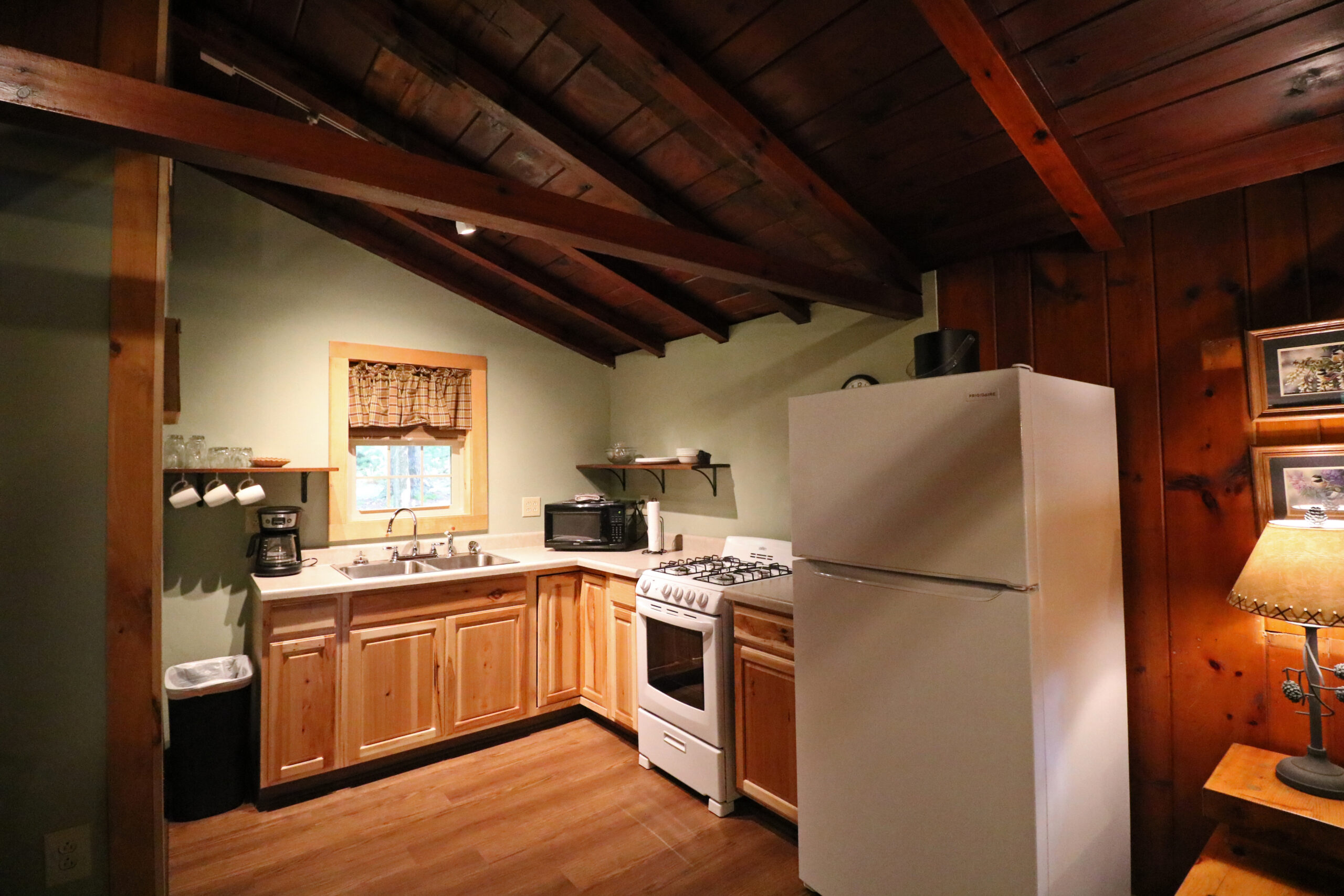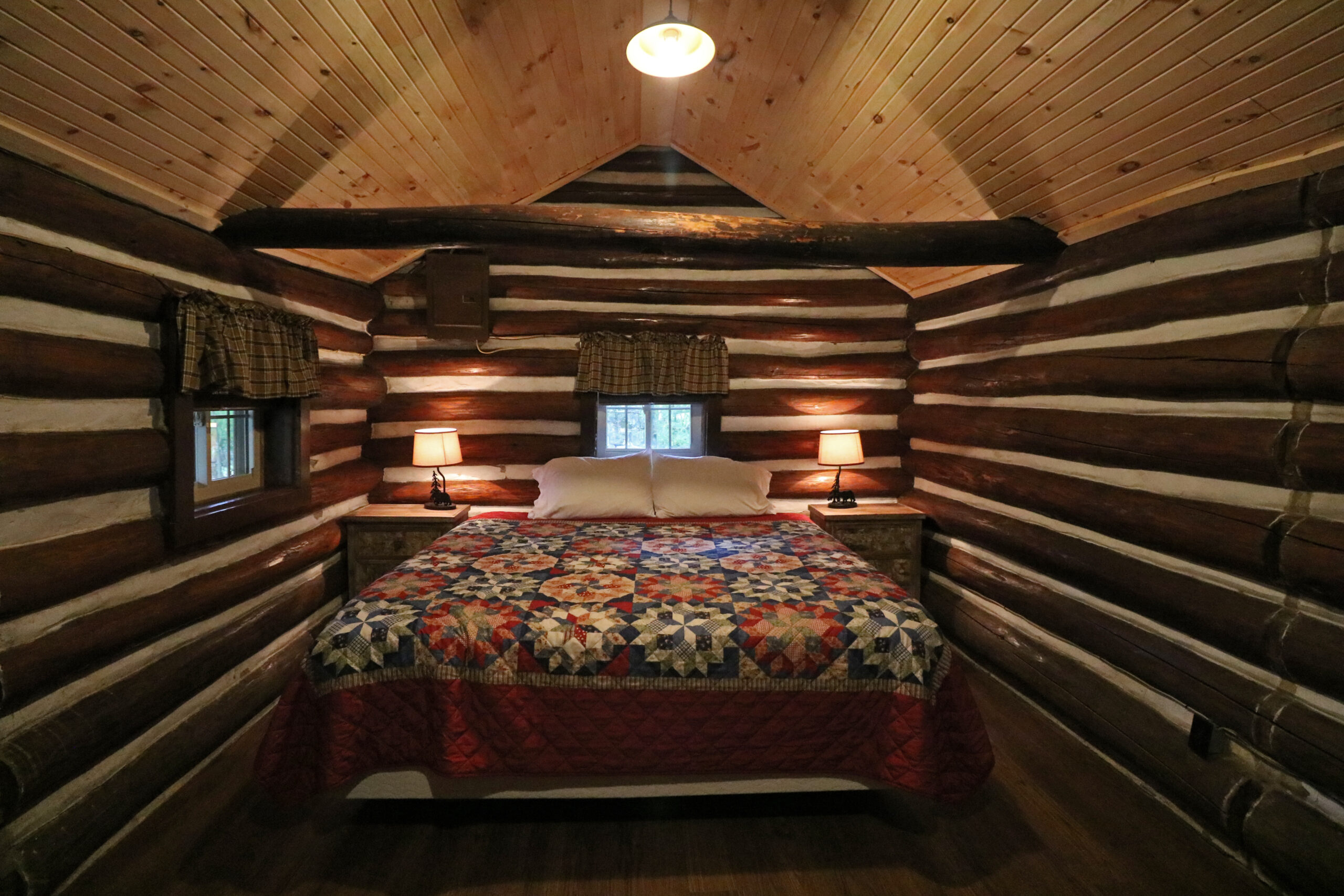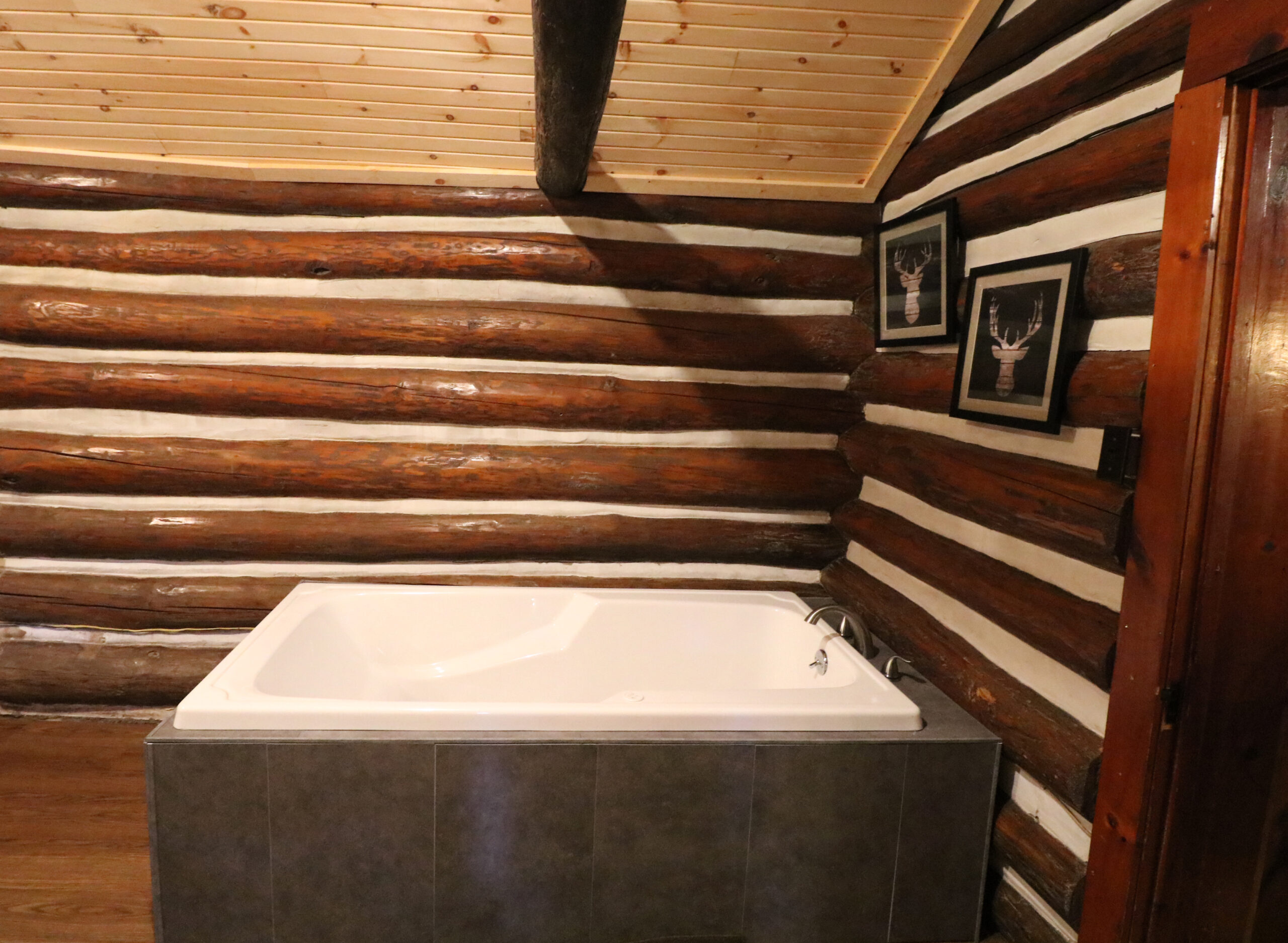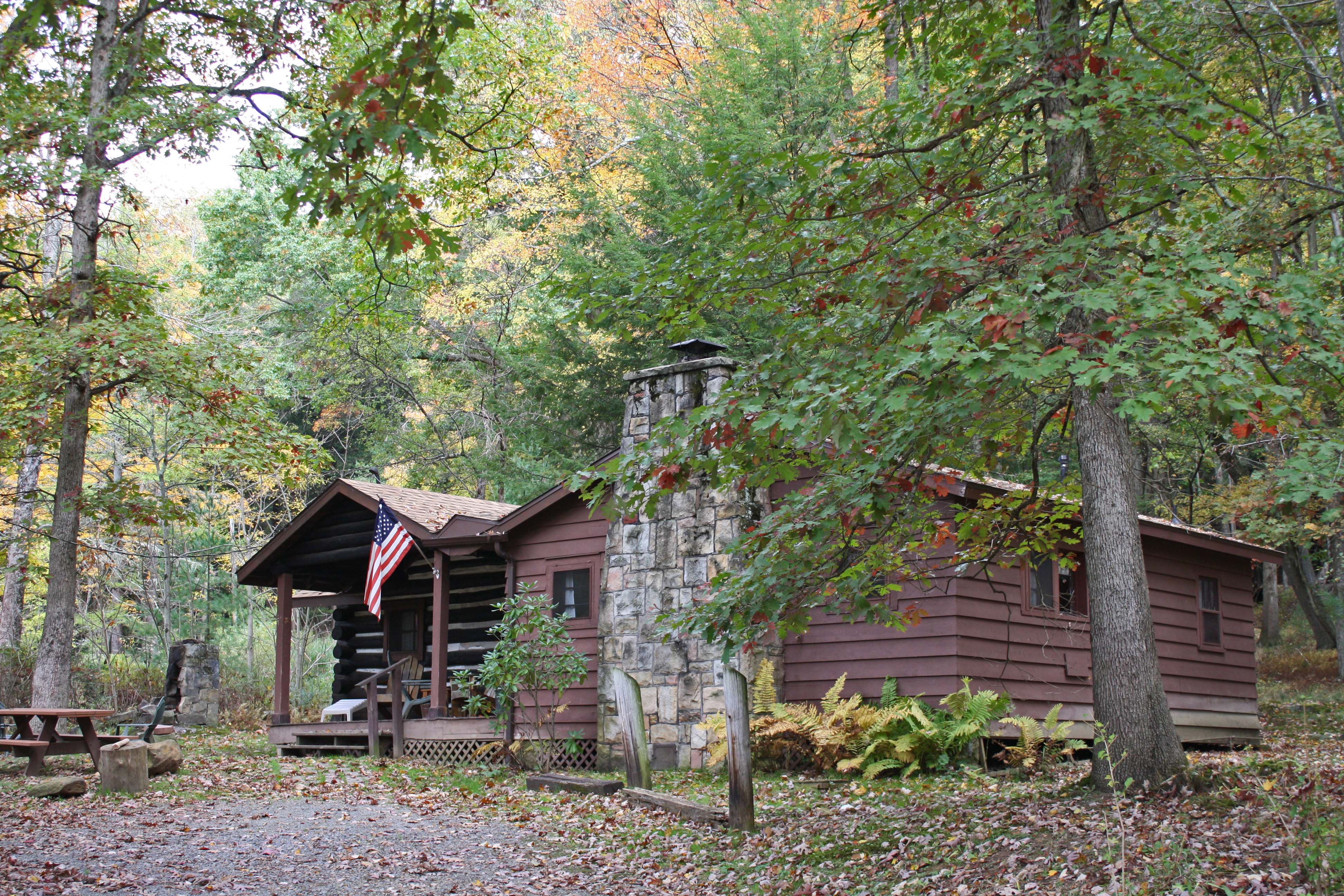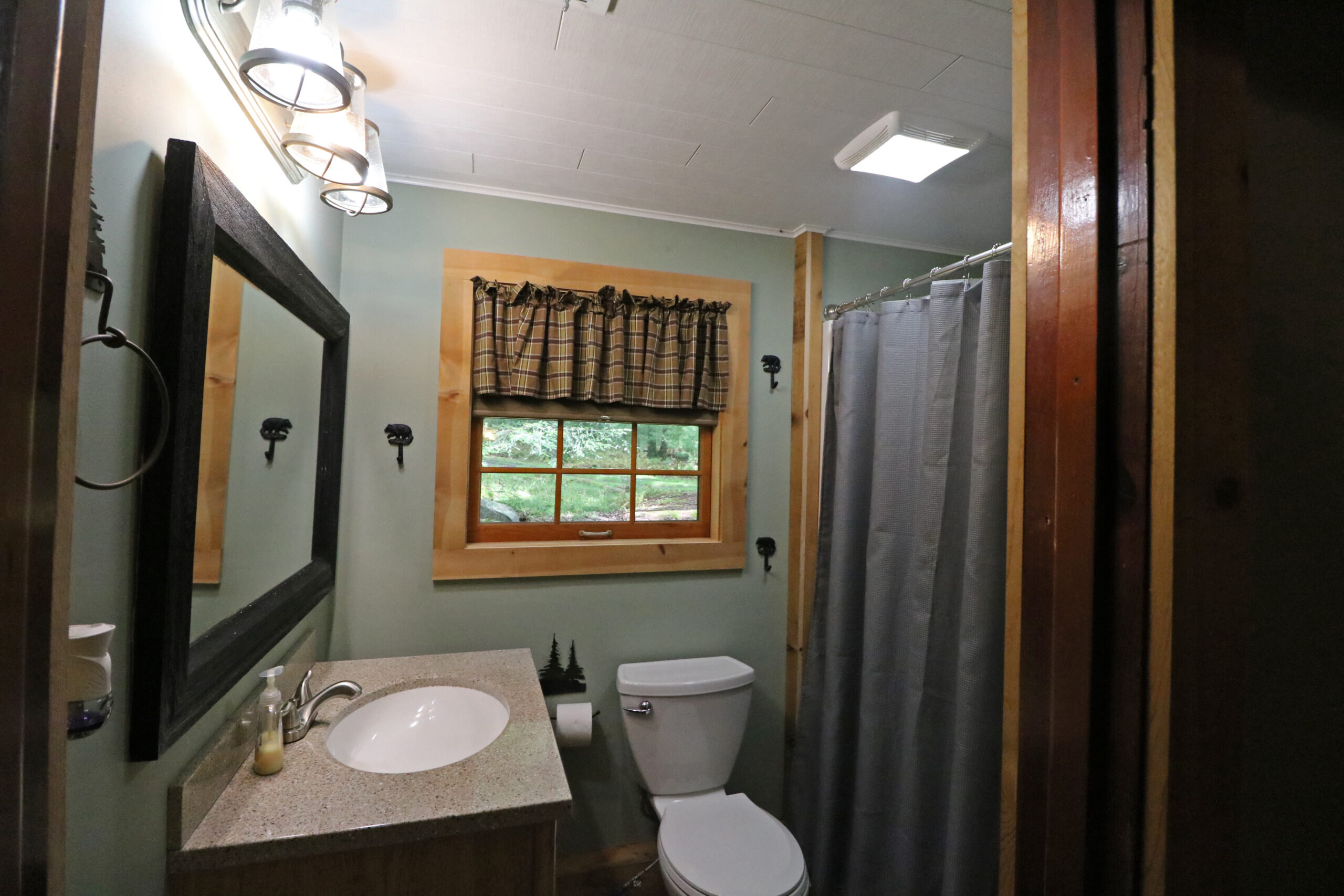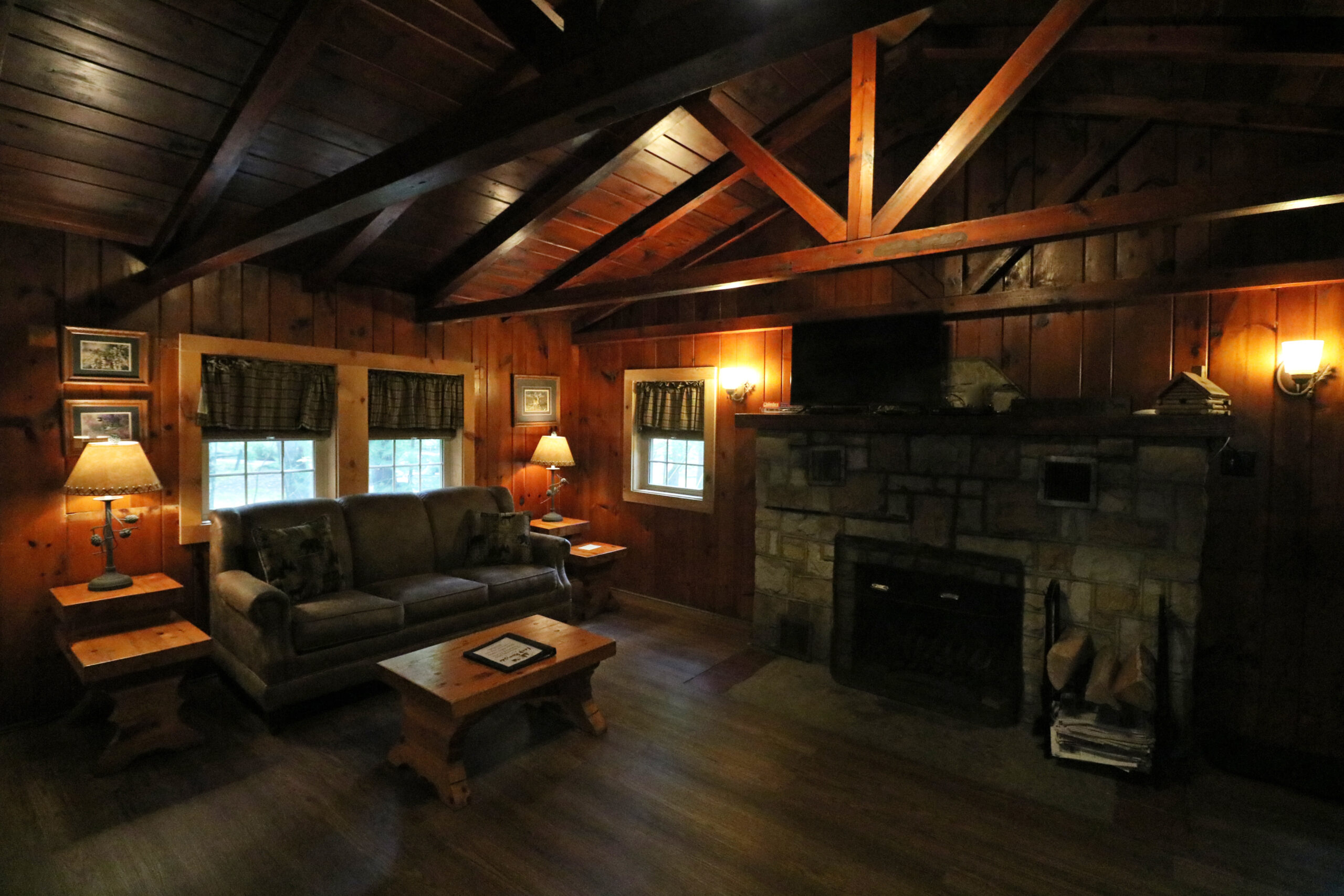 Cook Riverside Cabins
CABIN 3 - SLEEPS 8
Cabin 3 is a beautiful hand-hewn log and knotty pine cabin with stone fireplace in the living room.  This 8-person cabin features a full kitchen and bathroom.  This cabin has two bedrooms with a double bed and a set of bunk beds in each. Cabin 3 features a covered porch, picnic table, charcoal grill, and fire ring.  From the first weekend in June through the last weekend of August, Cabin 3 is a Sunday to Sunday weekly rental.   Beds: 2 Doubles, 2 Sets of Bunk Beds
Nightly Rental: $240
Weekly Rental: $1,075
Winter Rate: $192/night or $860/week
Cook Riverside Cabins
CABIN 4 - SLEEPS 4
Cabin 4 is a great getaway cabin with spacious bedroom featuring a king-sized bed, two-person whirlpool tub, and electric fireplace.  This log and knotty pine cabin also features a cozy stone, wood-burning fireplace and double sleeper sofa in the living area in addition to a full kitchen and bathroom.  Cabin 4 has a covered porch, picnic table, charcoal grill, and fire ring.  From the first weekend in June through the last weekend of August, Cabin 4 is a Sunday to Sunday weekly rental.  Beds: 1 King, 1 Double Sleeper Sofa
Nightly Rental: $215
Weekly Rental: $975
Winter Rate: $180/night or $812/weekly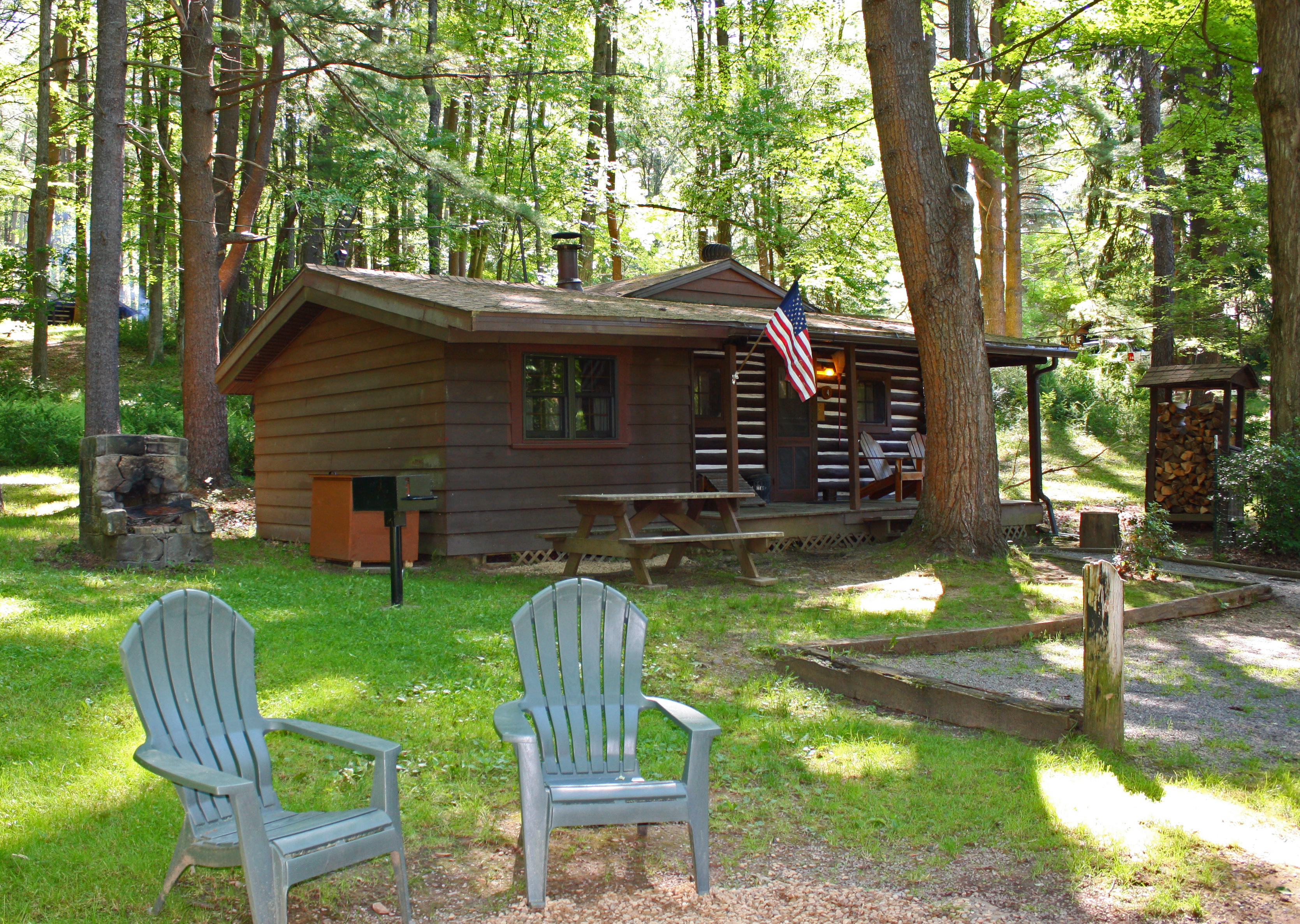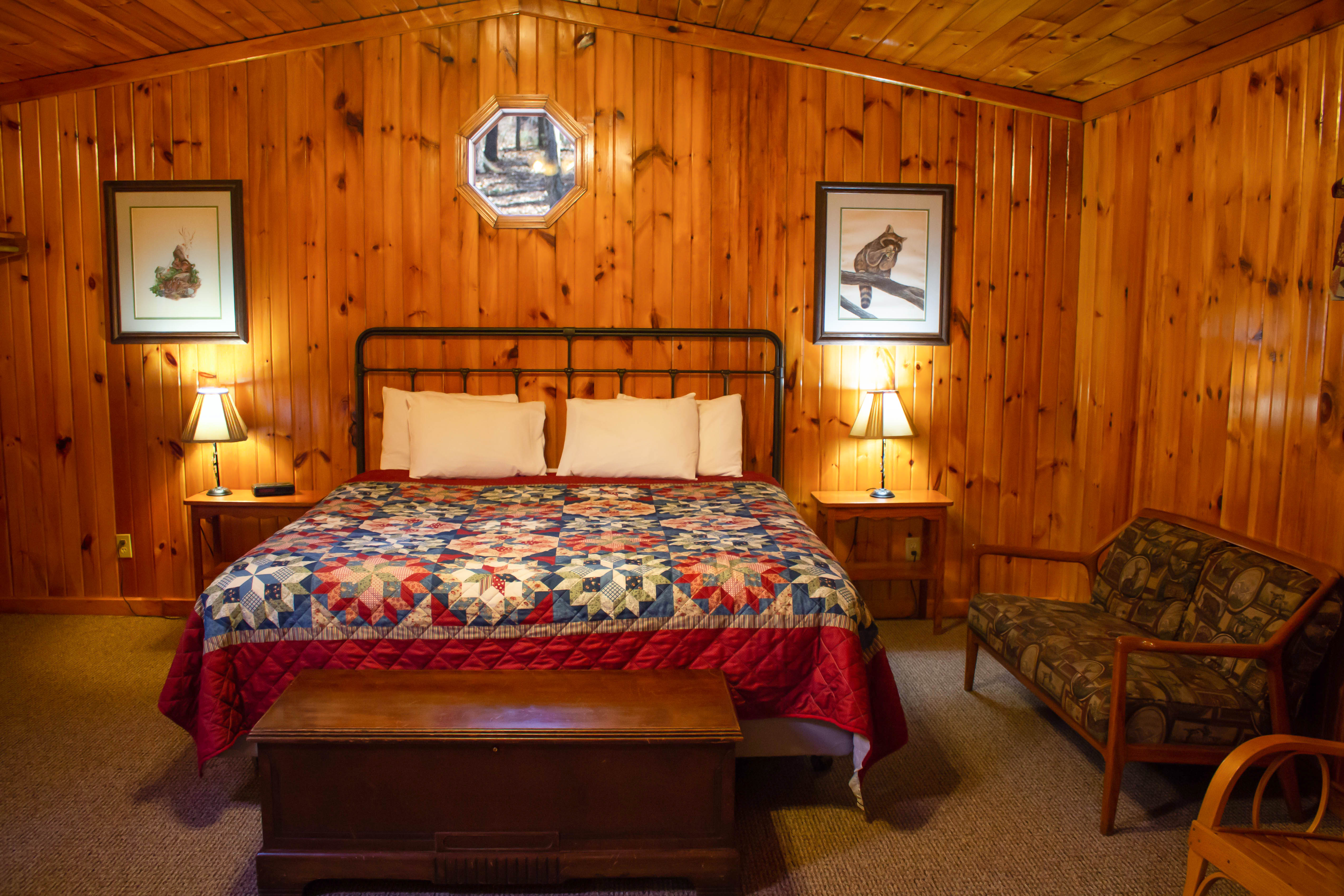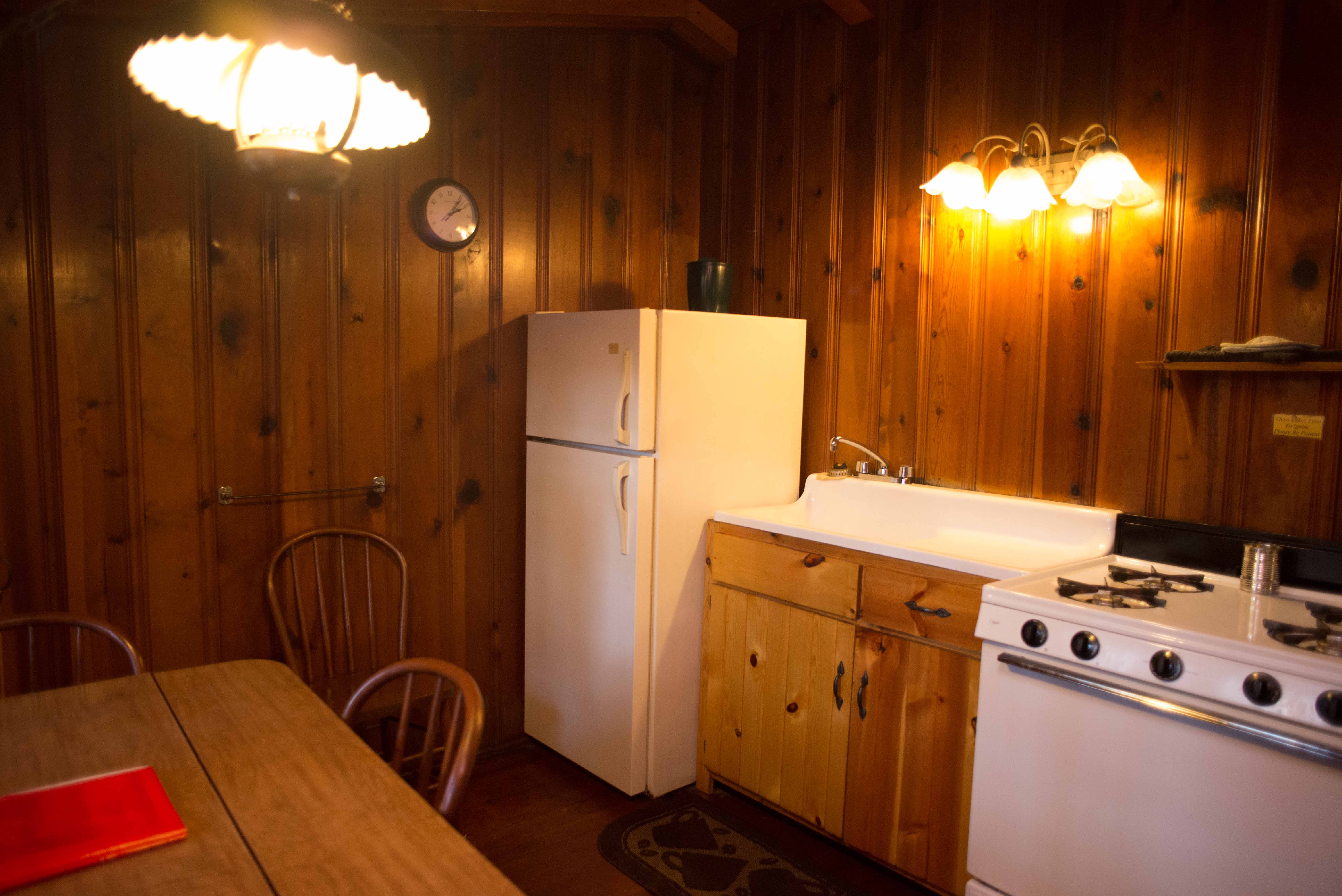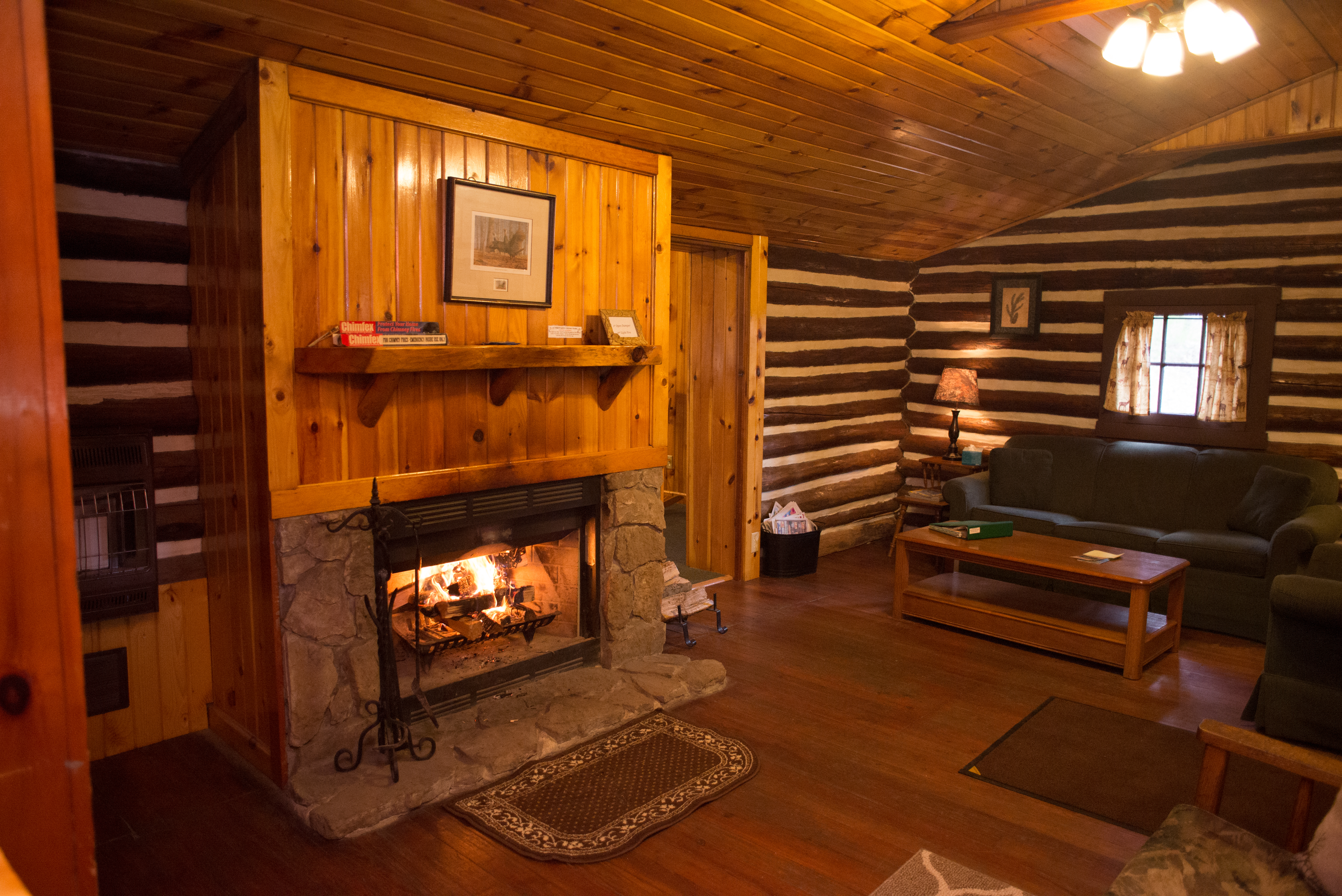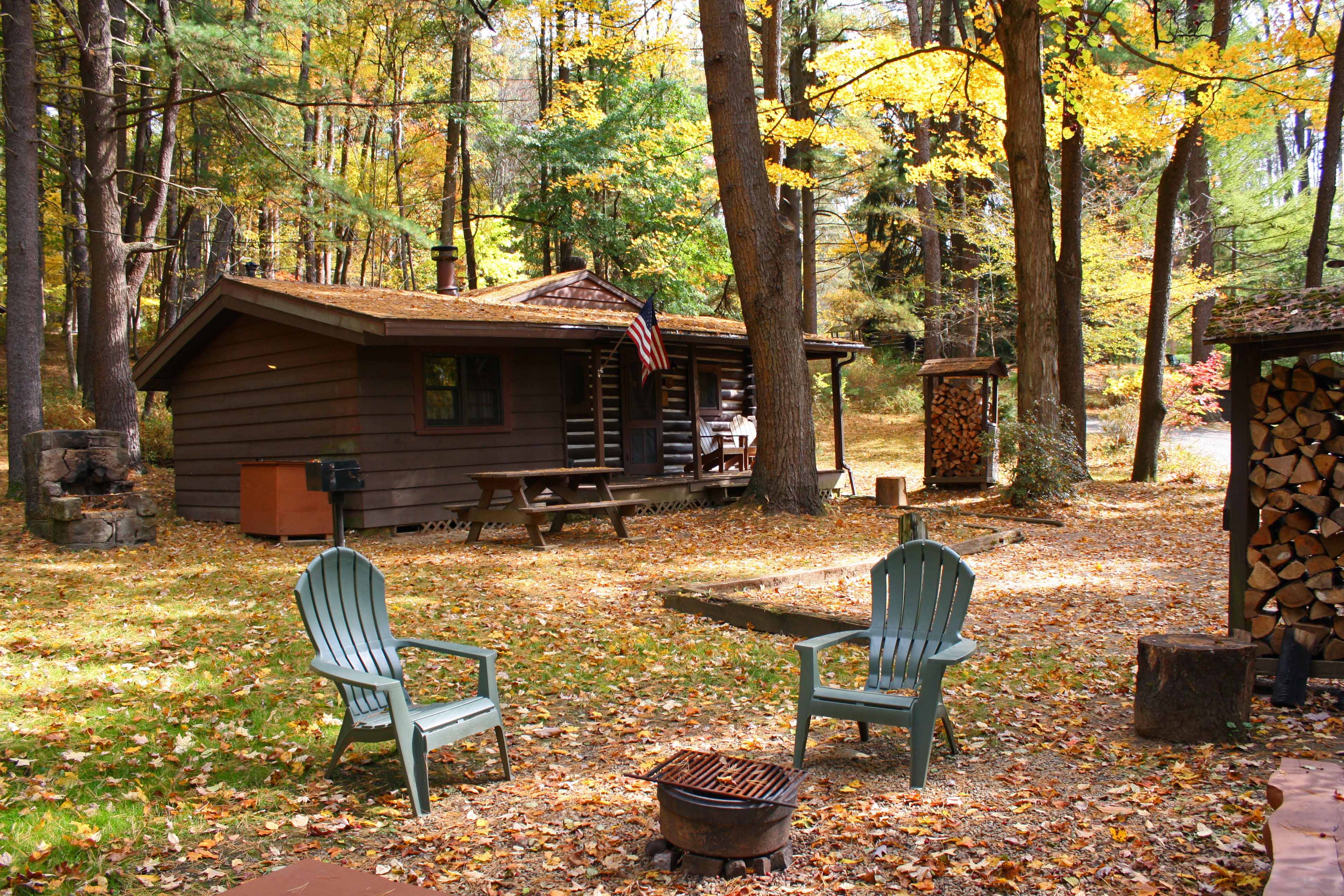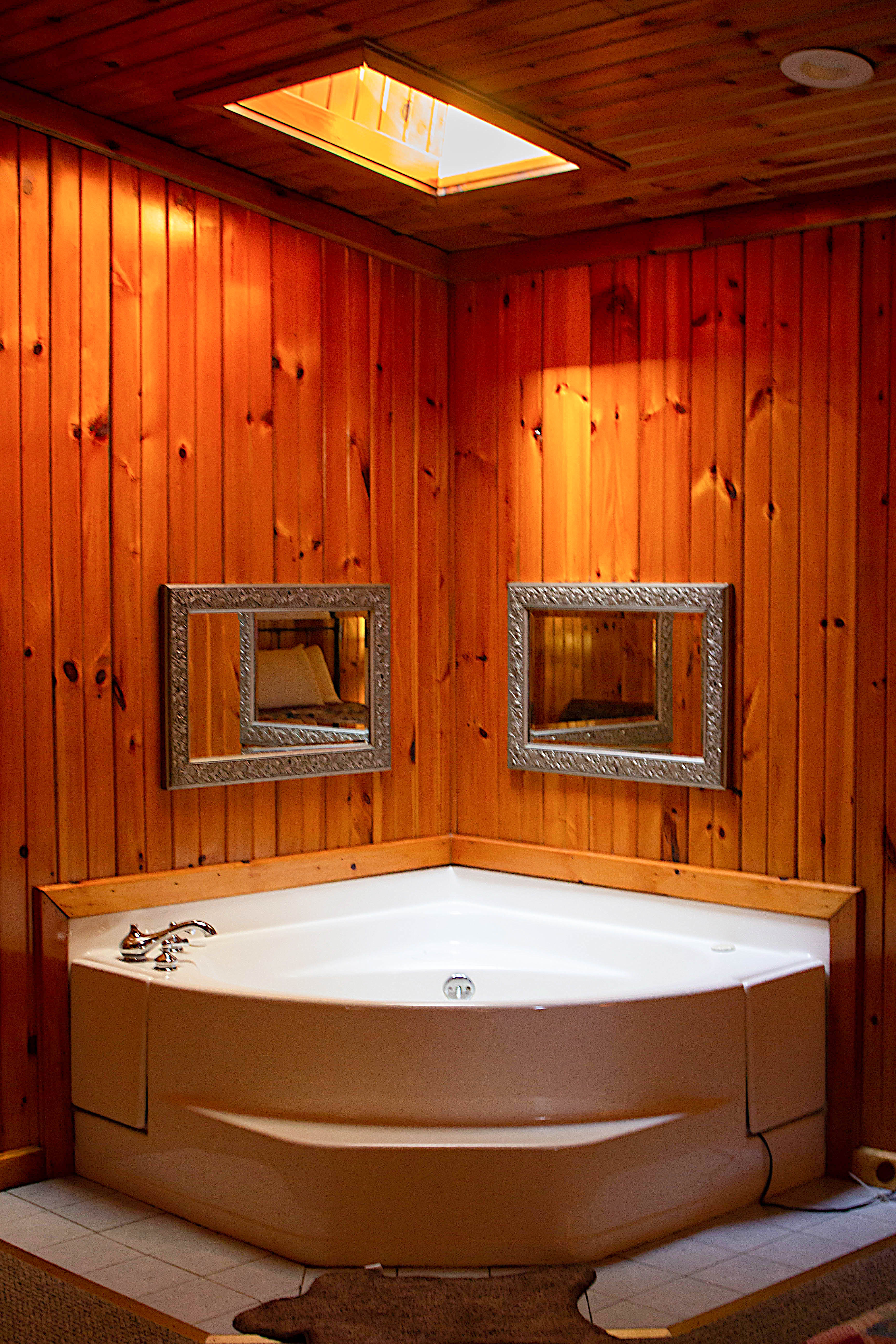 Cook Riverside Cabins
CABIN 5 - SLEEPS 4
Cabin 5 features a hand-hewn log bedroom with a two-person whirlpool tub and gas log fireplace.  The kitchen and bath feature knotty pine cathedral ceilings in addition to the log living area with sleeper sofa and wood-burning fireplace.  Cabin 5 features a covered porch, picnic table, charcoal grill, and fire ring. From the first weekend in June through the last weekend of August, Cabin 5 is a Saturday to Saturday weekly rental.  Beds: 1 Queen, 1 Double Sleeper Sofa
Nightly Rental: $215
Weekly Rental: $975
Winter Rate: $180/night or $812/weekly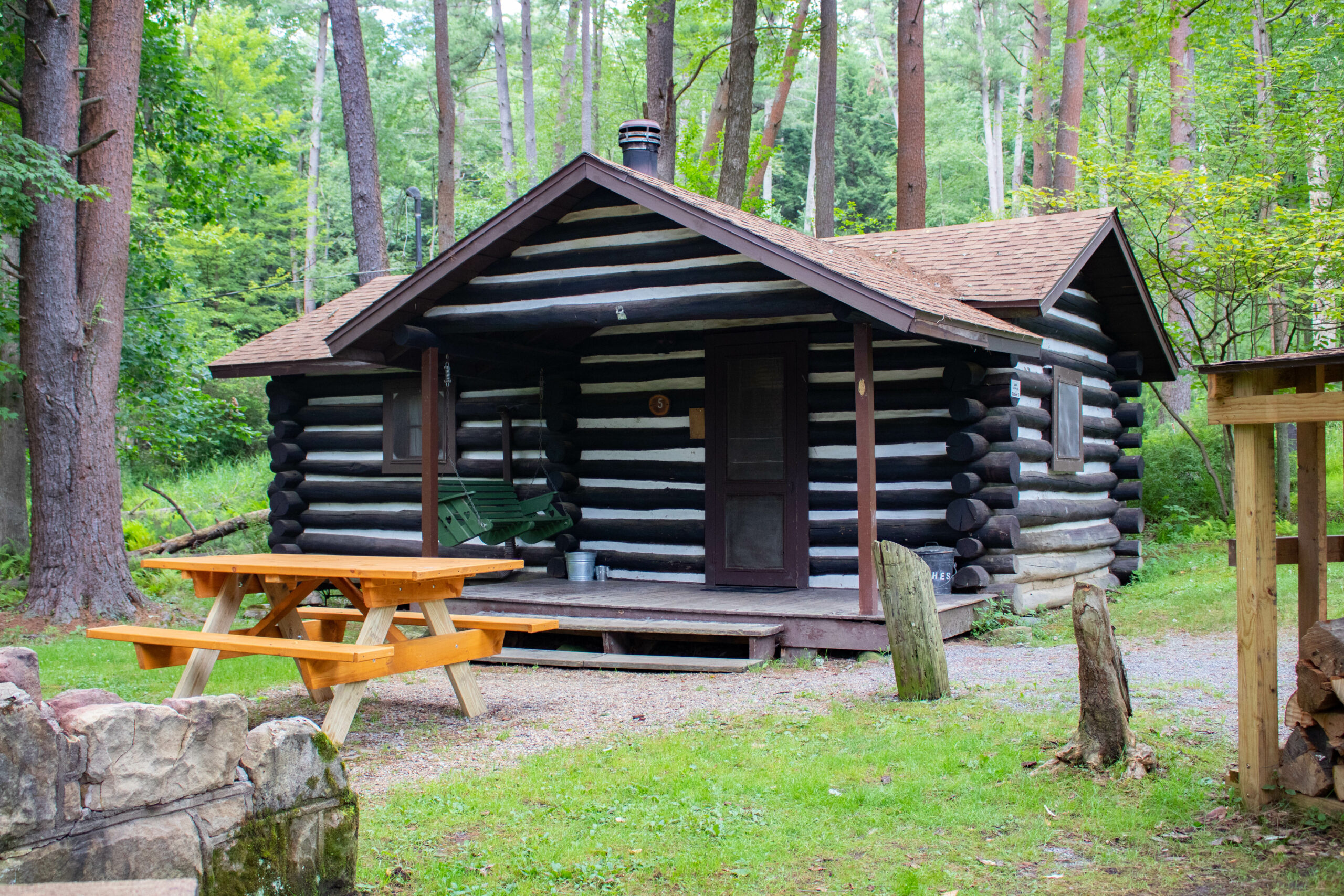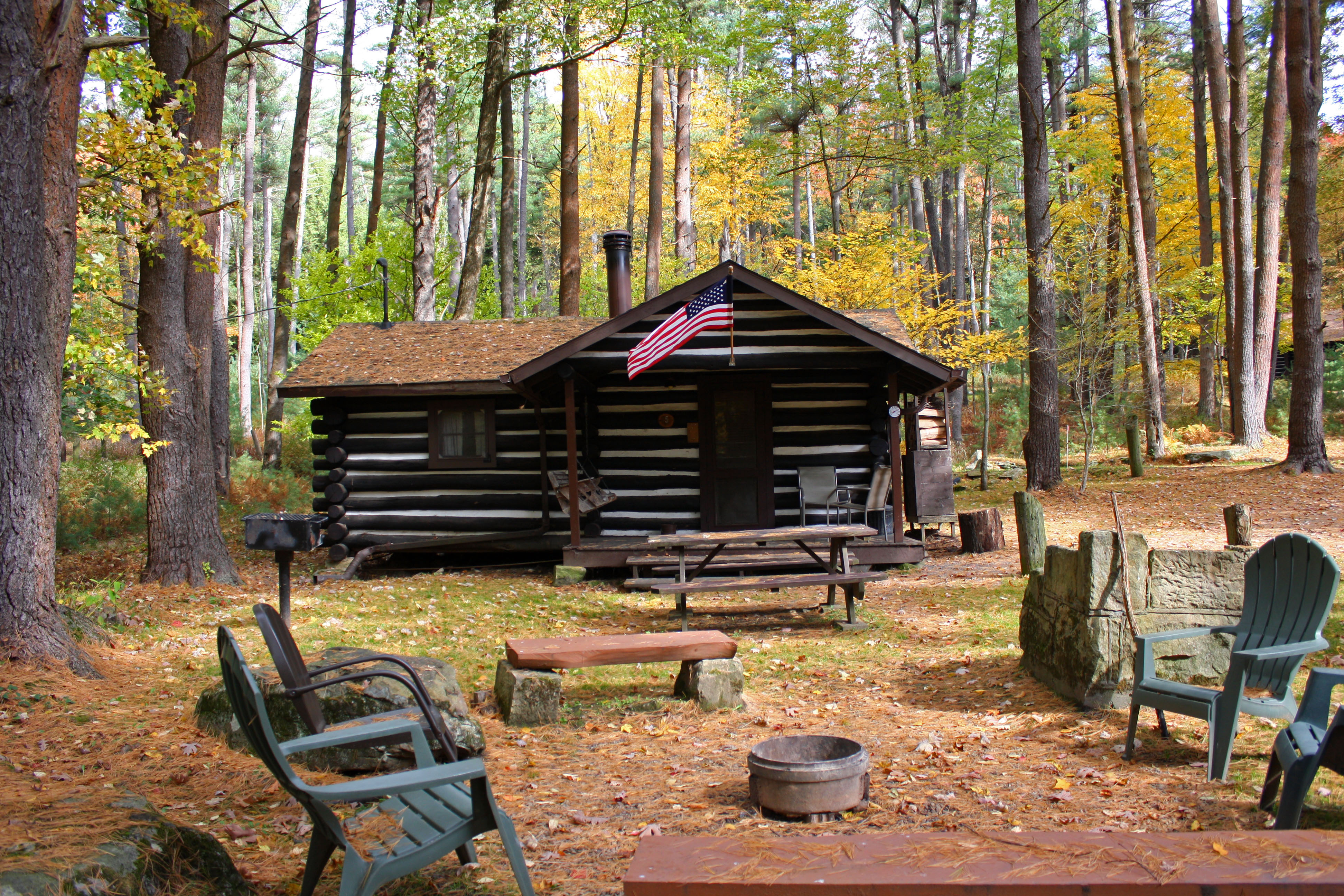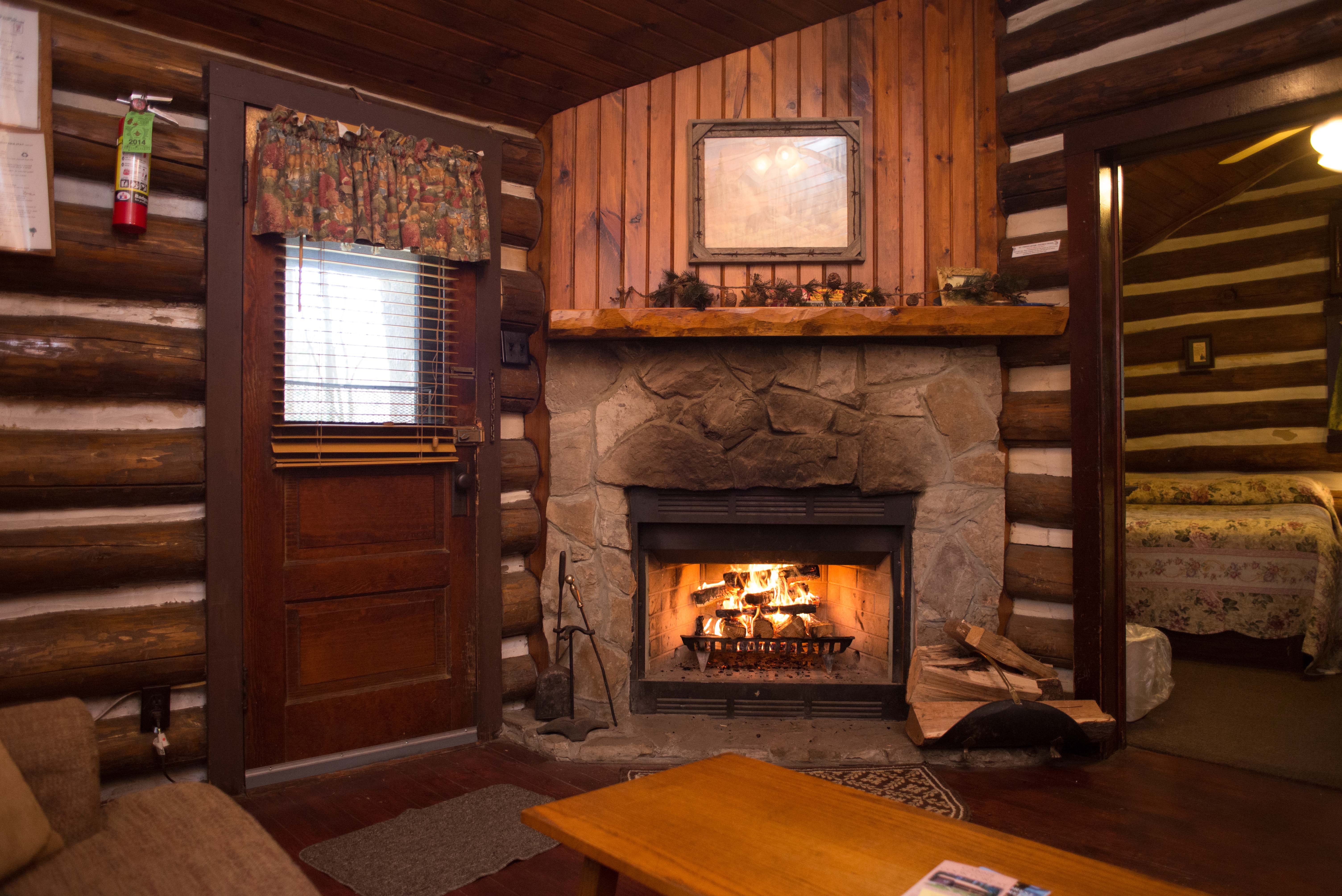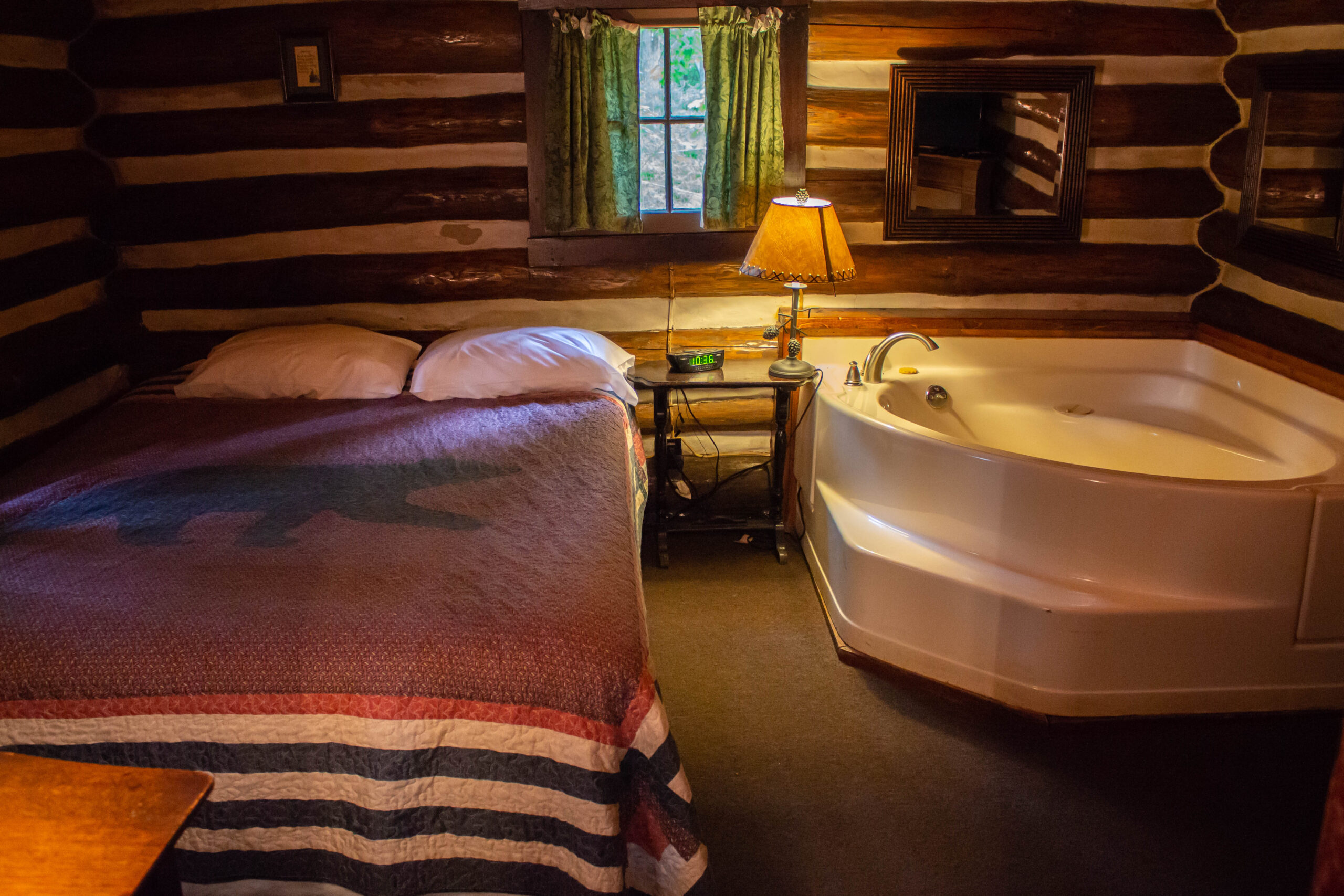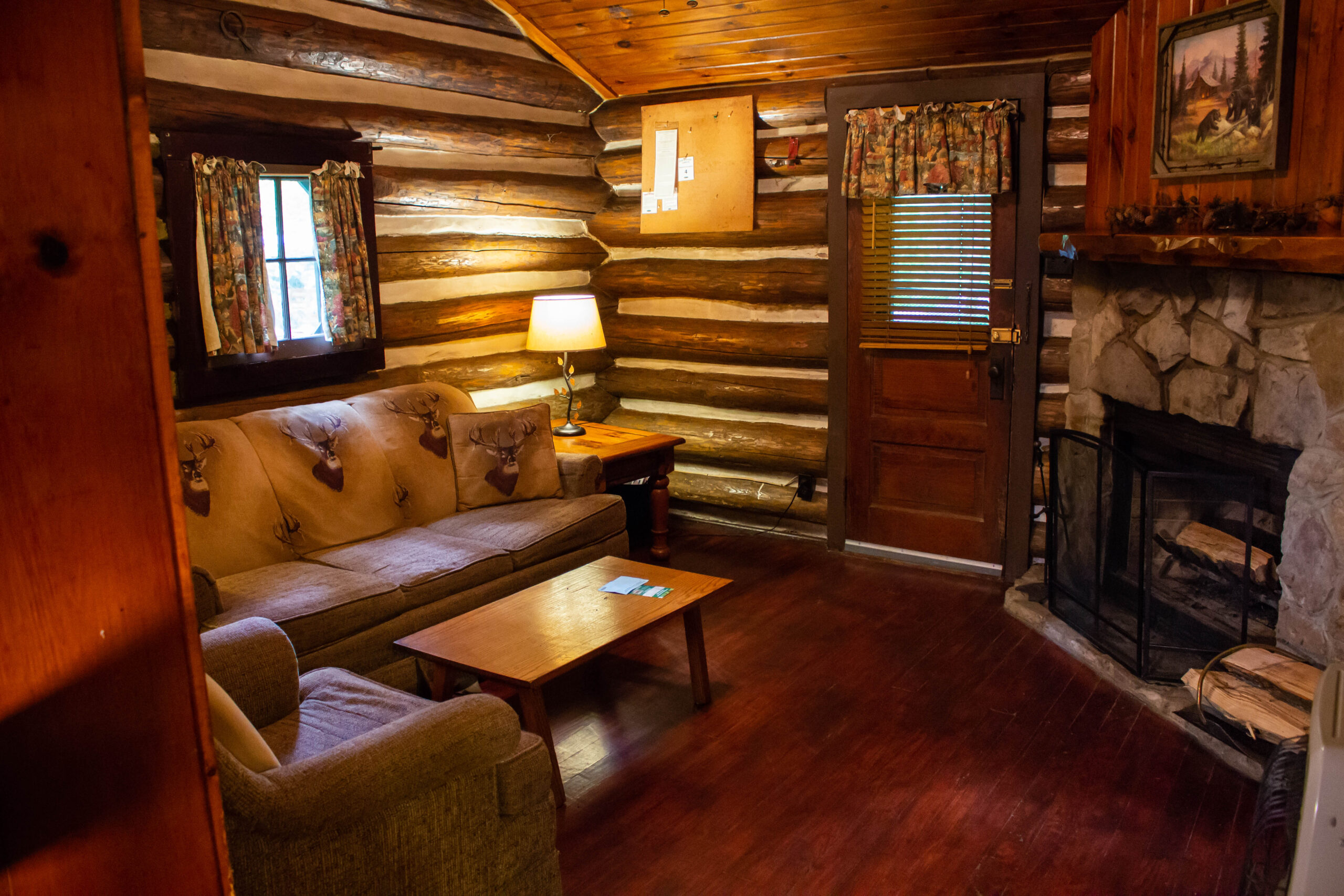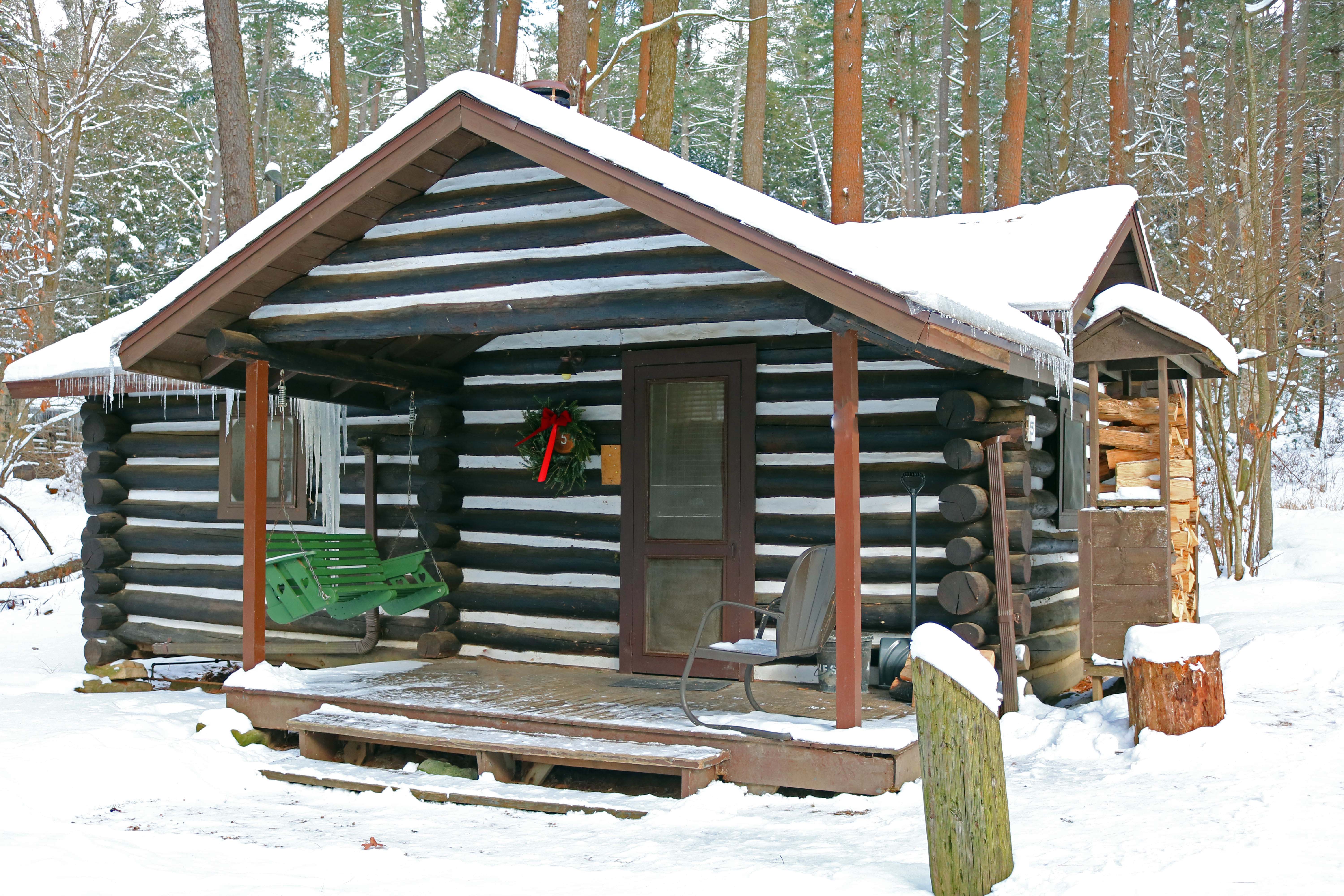 Cook Riverside Cabins
CABIN 6 - SLEEPS 8
Cabin 6 is a hand-hewn log cabin with a stone fireplace in the living area, two bedrooms, kitchen, and bath. Scenically situated at the top of the hill, Cabin 6 features a covered porch, picnic table, charcoal grill, and fire ring, which is a great place for viewing wildlife. From the first weekend in June through the last weekend of August, Cabin 6 is a Saturday to Saturday weekly rental.  Beds: 4 Doubles
Nightly Rental: $240
Weekly Rental: $1,075
Winter Rate: $192/night or $860/week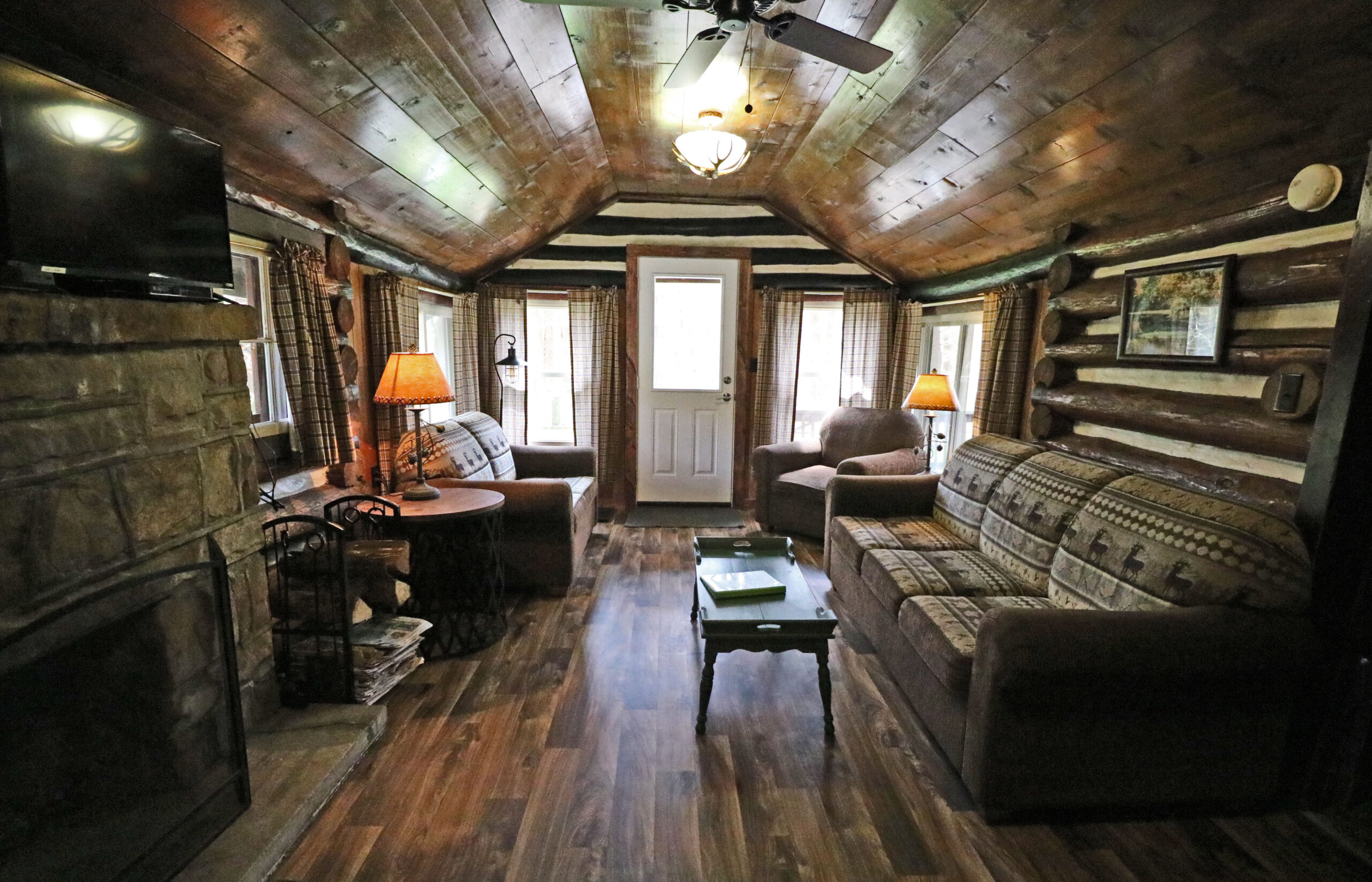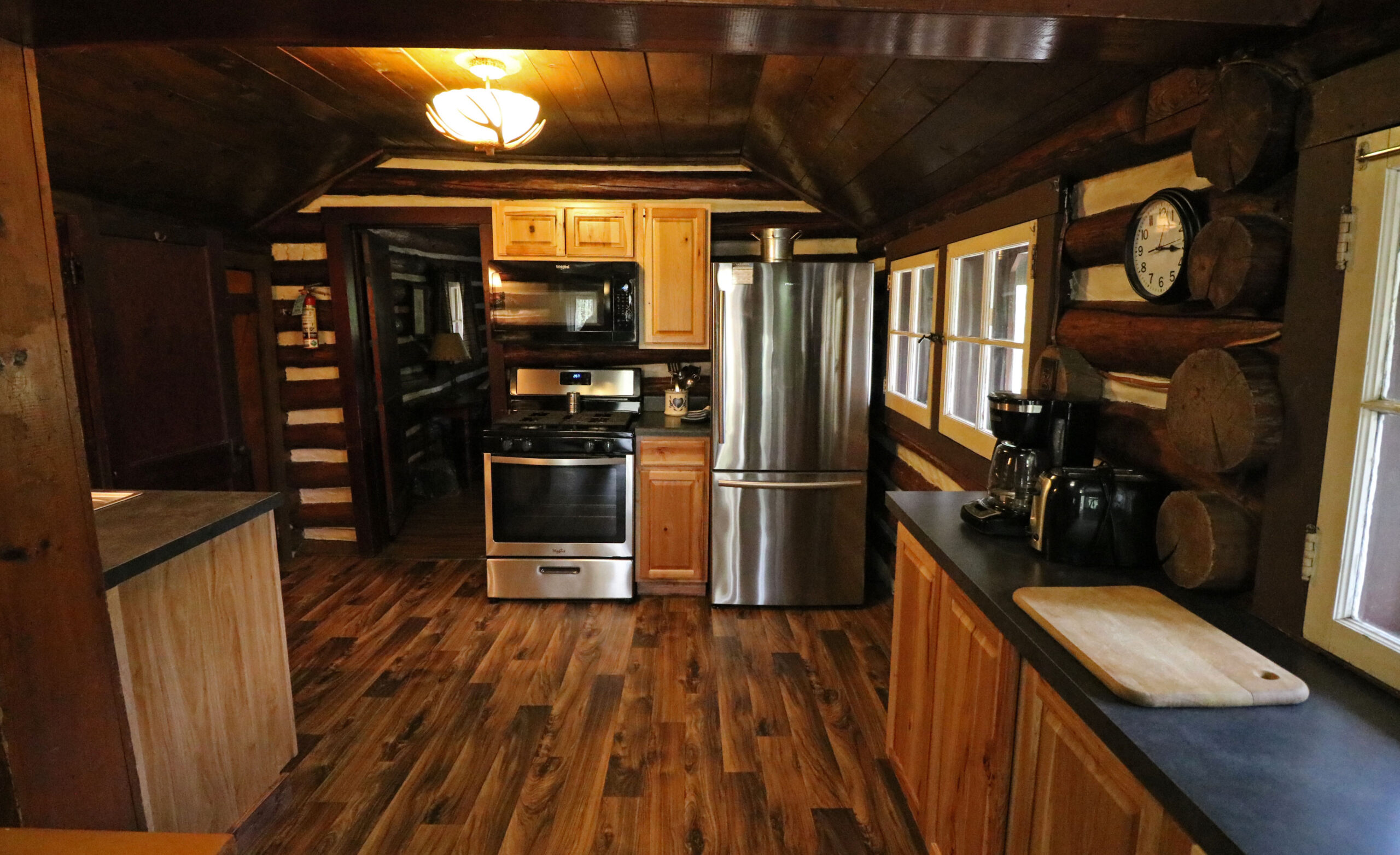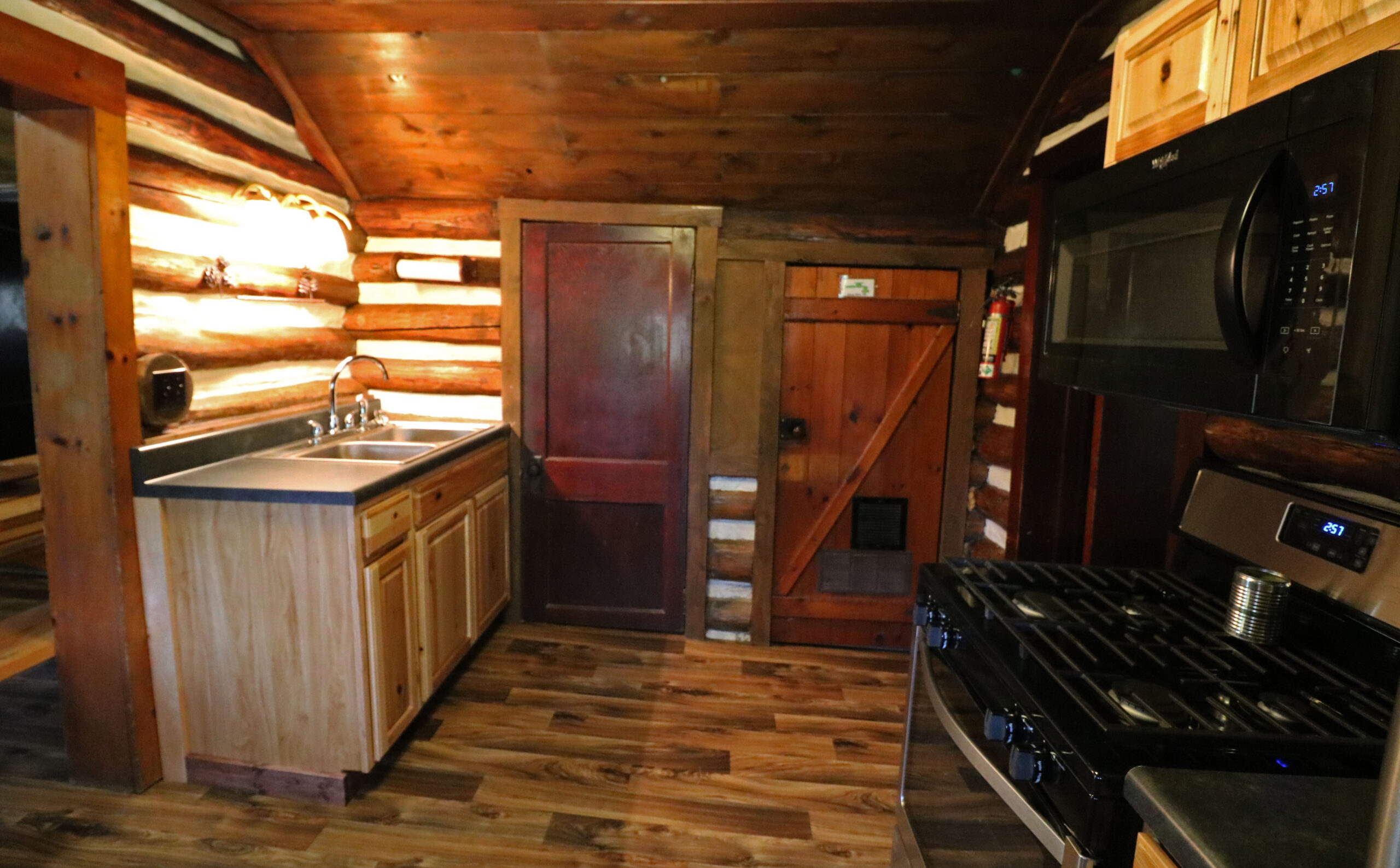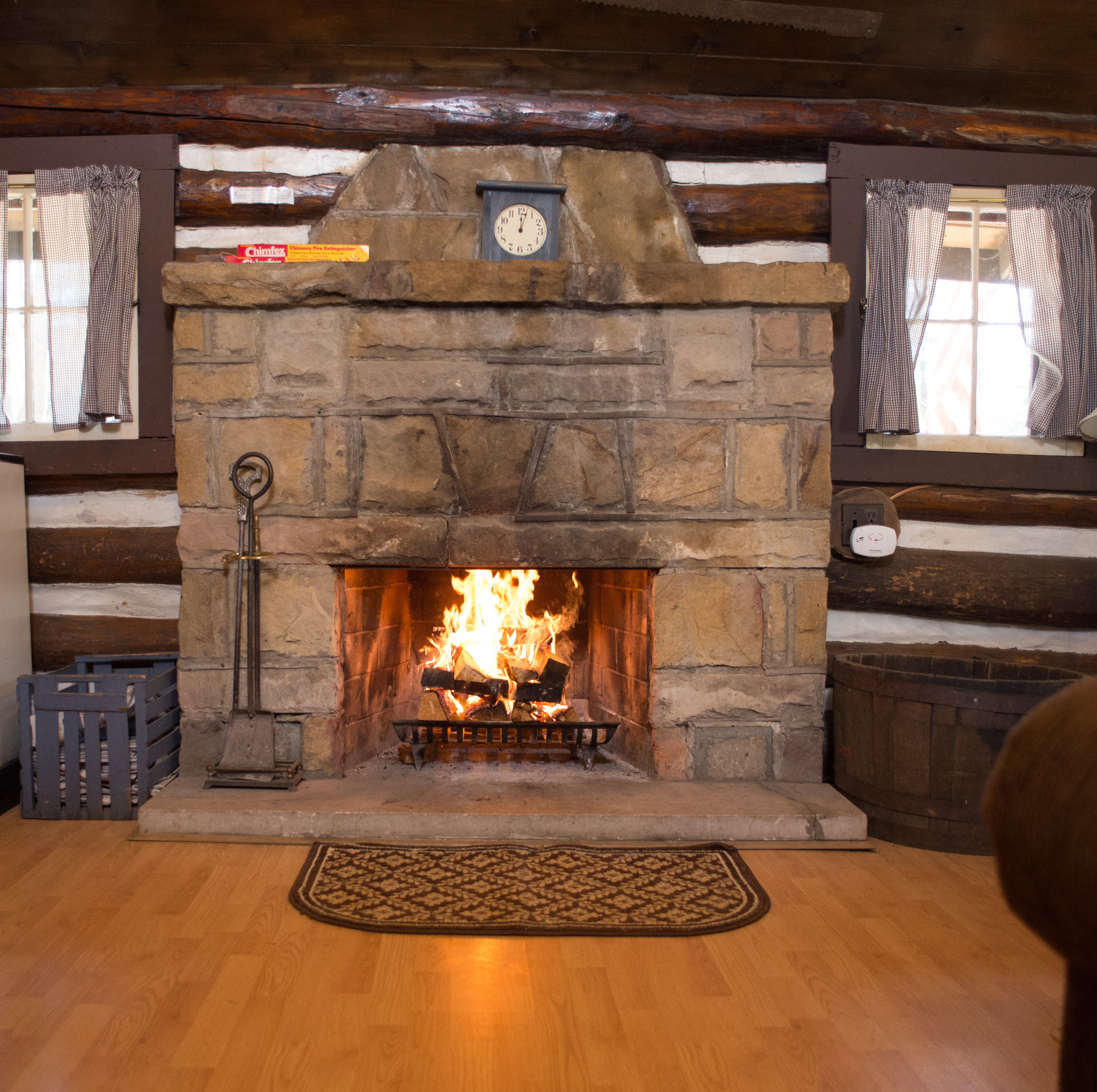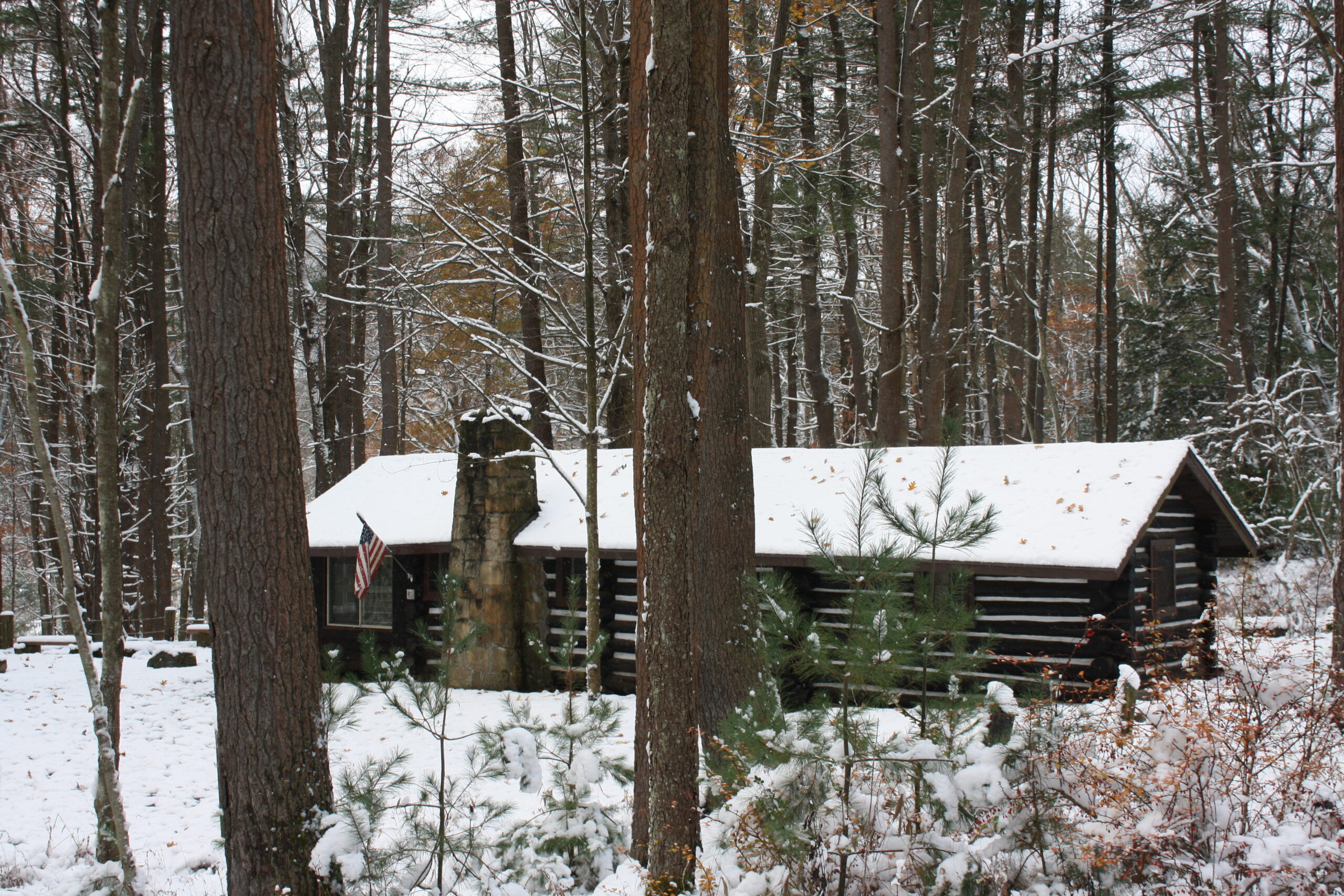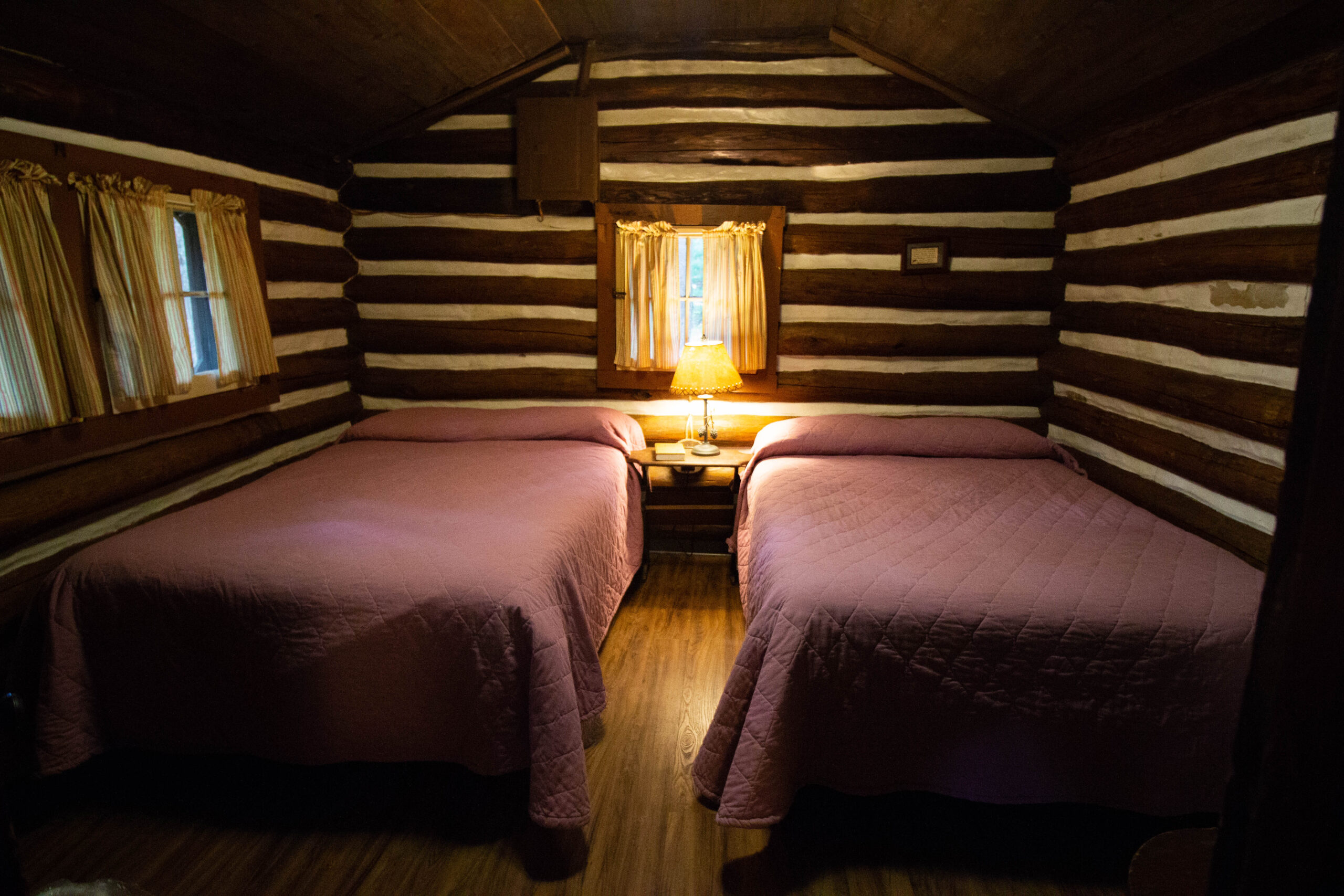 Cook Riverside Cabins
CABIN 7 - SLEEPS 8
Cabin 7 is a cottage with two bedrooms, kitchen, bath, and living room with a red brick fireplace. Cabin 7 was renovated Spring 2018. Situated near one of our playgrounds, Cabin 7 features a covered porch, picnic table, charcoal grill, and fire ring with a big yard around the cottage. From the first weekend in June through the last weekend of August, Cabin 7 is a Saturday to Saturday weekly rental. Beds: 4 Doubles
Nightly Rental: $240
Weekly Rental: $1,075
Winter Rate: $192/night or $860/week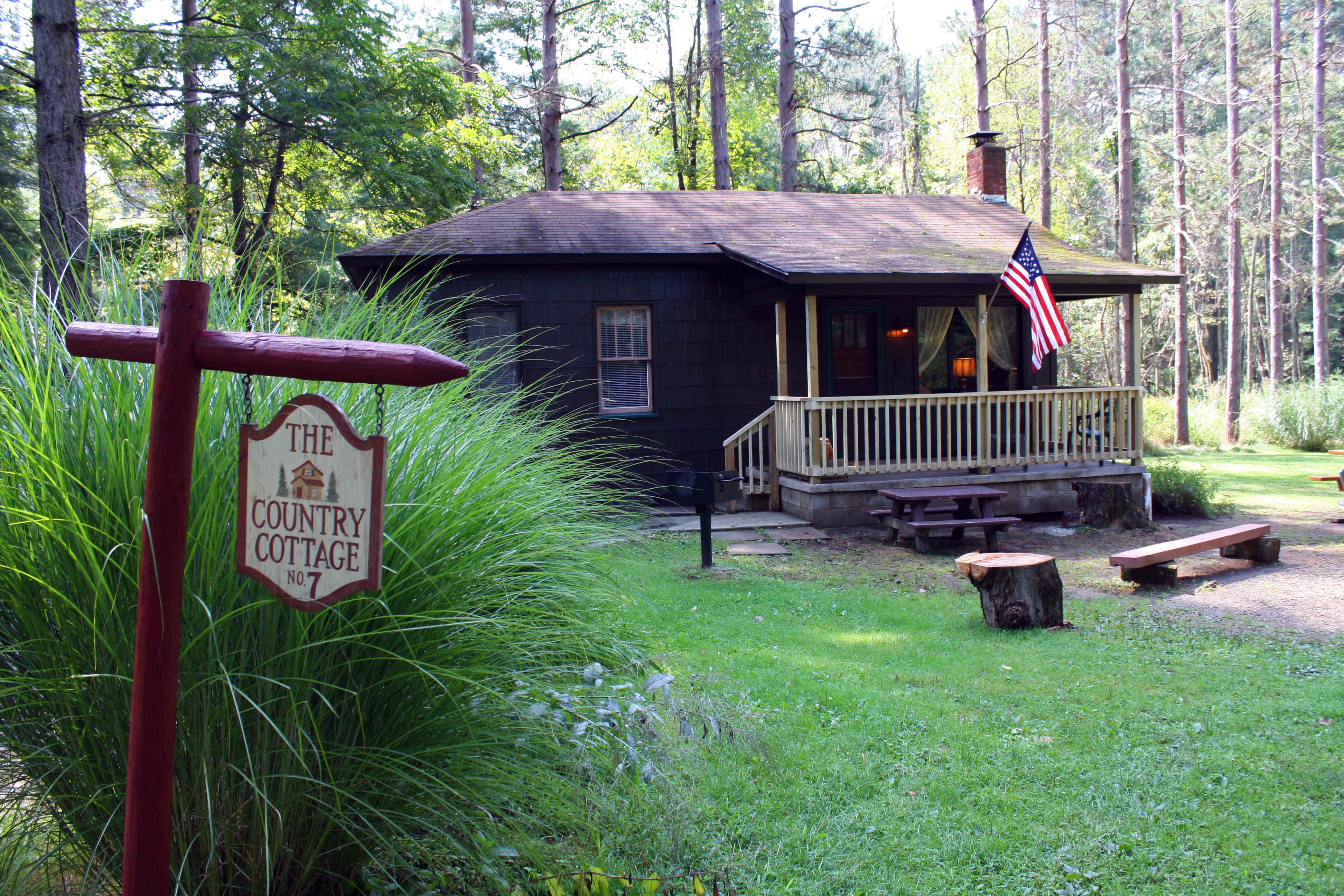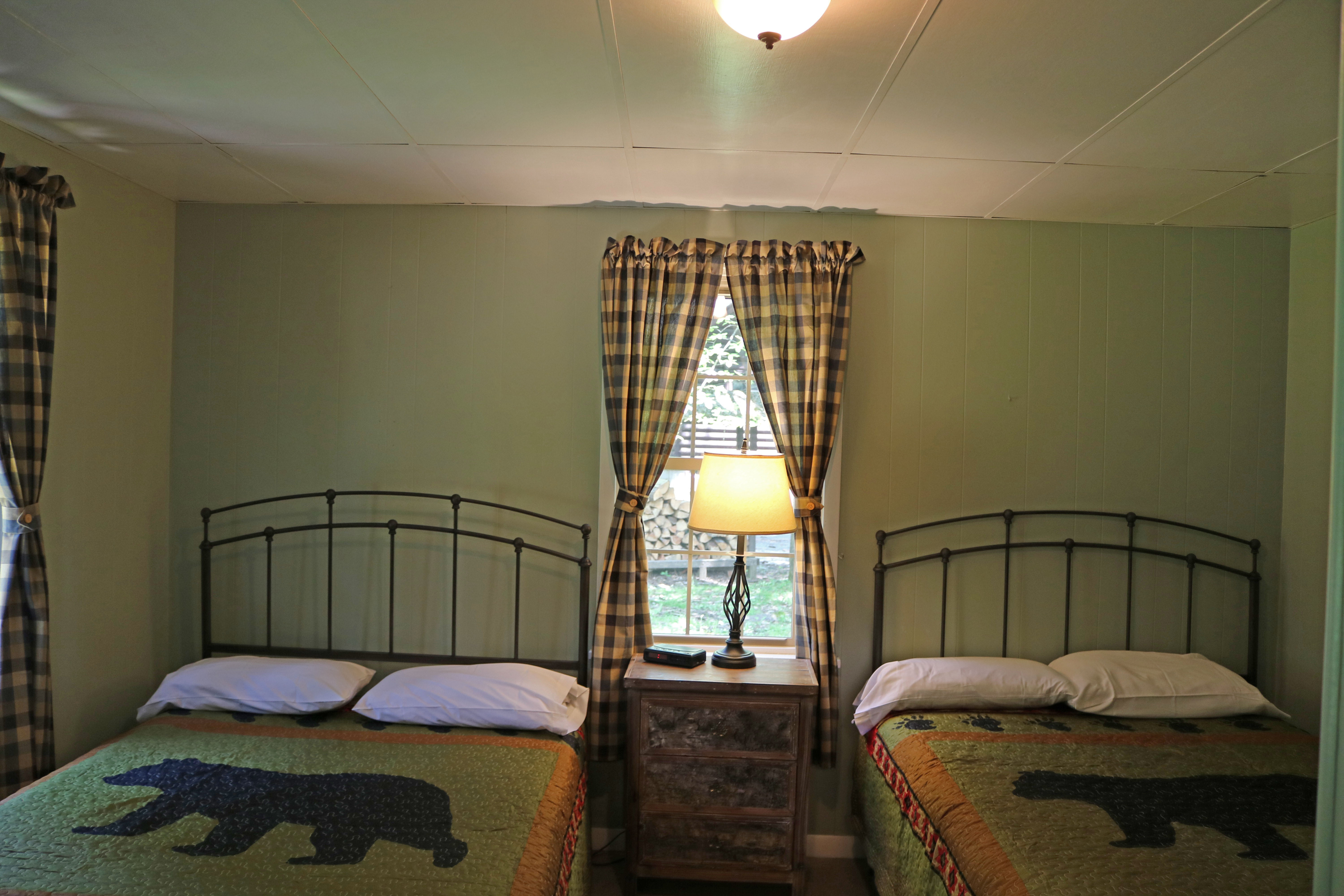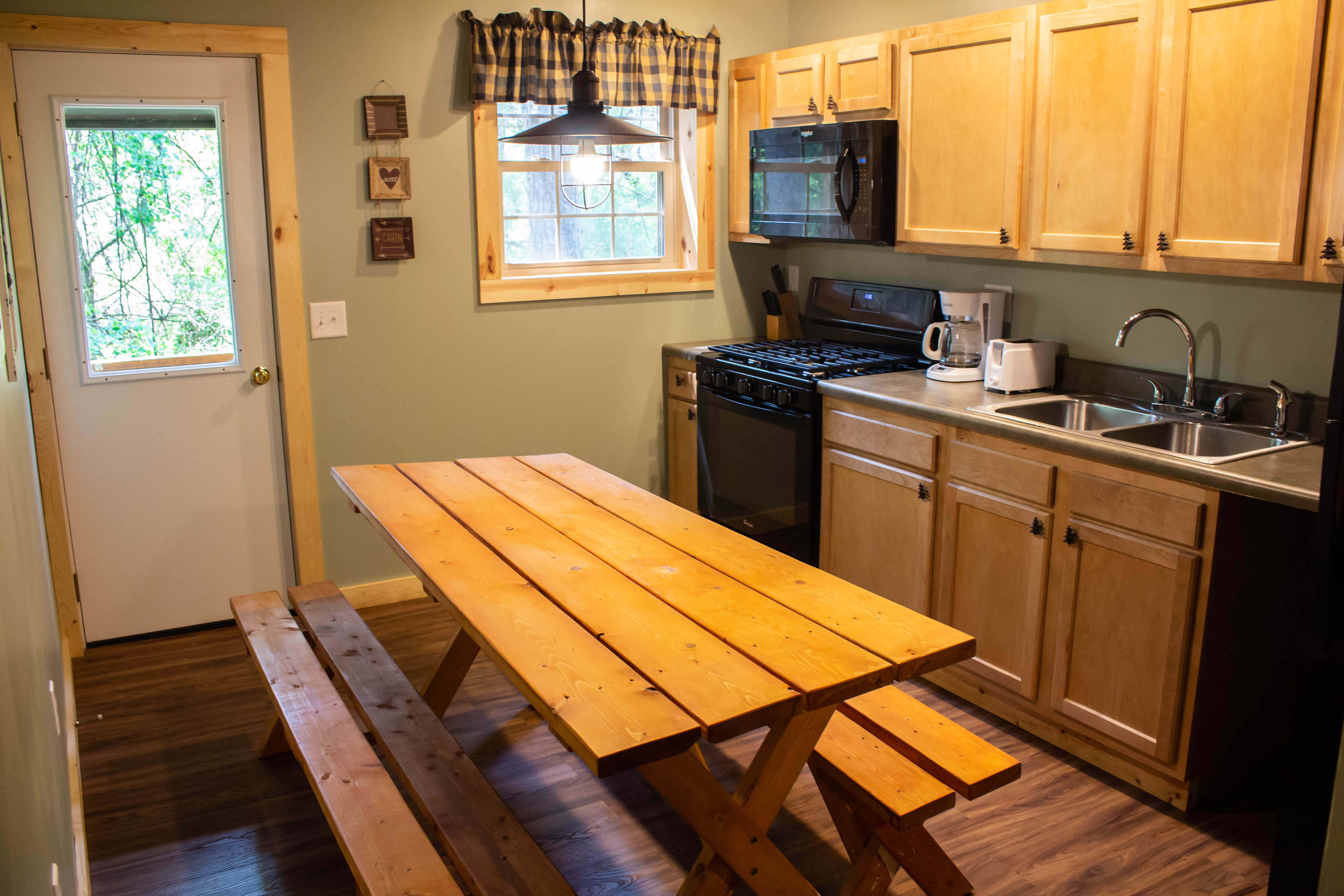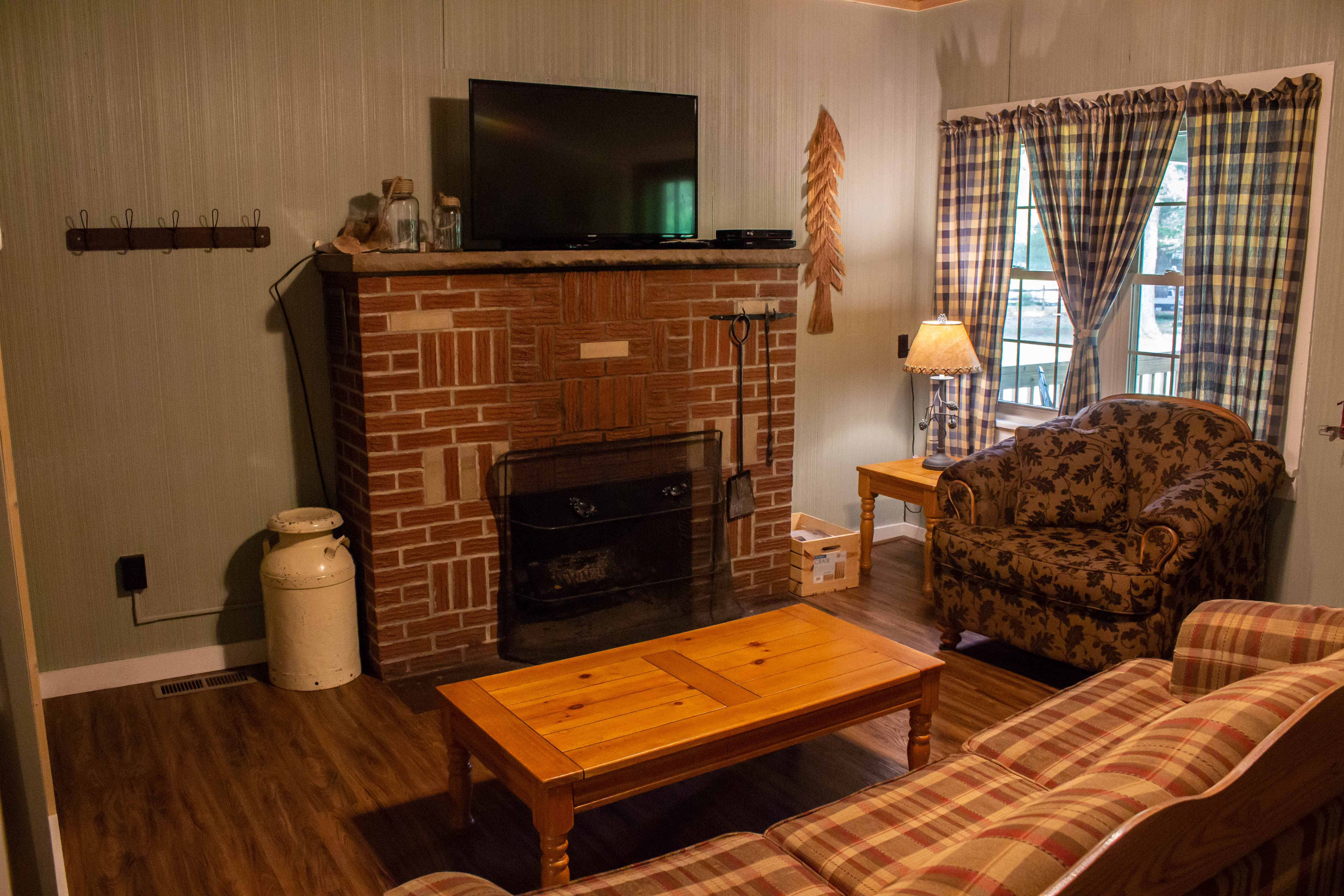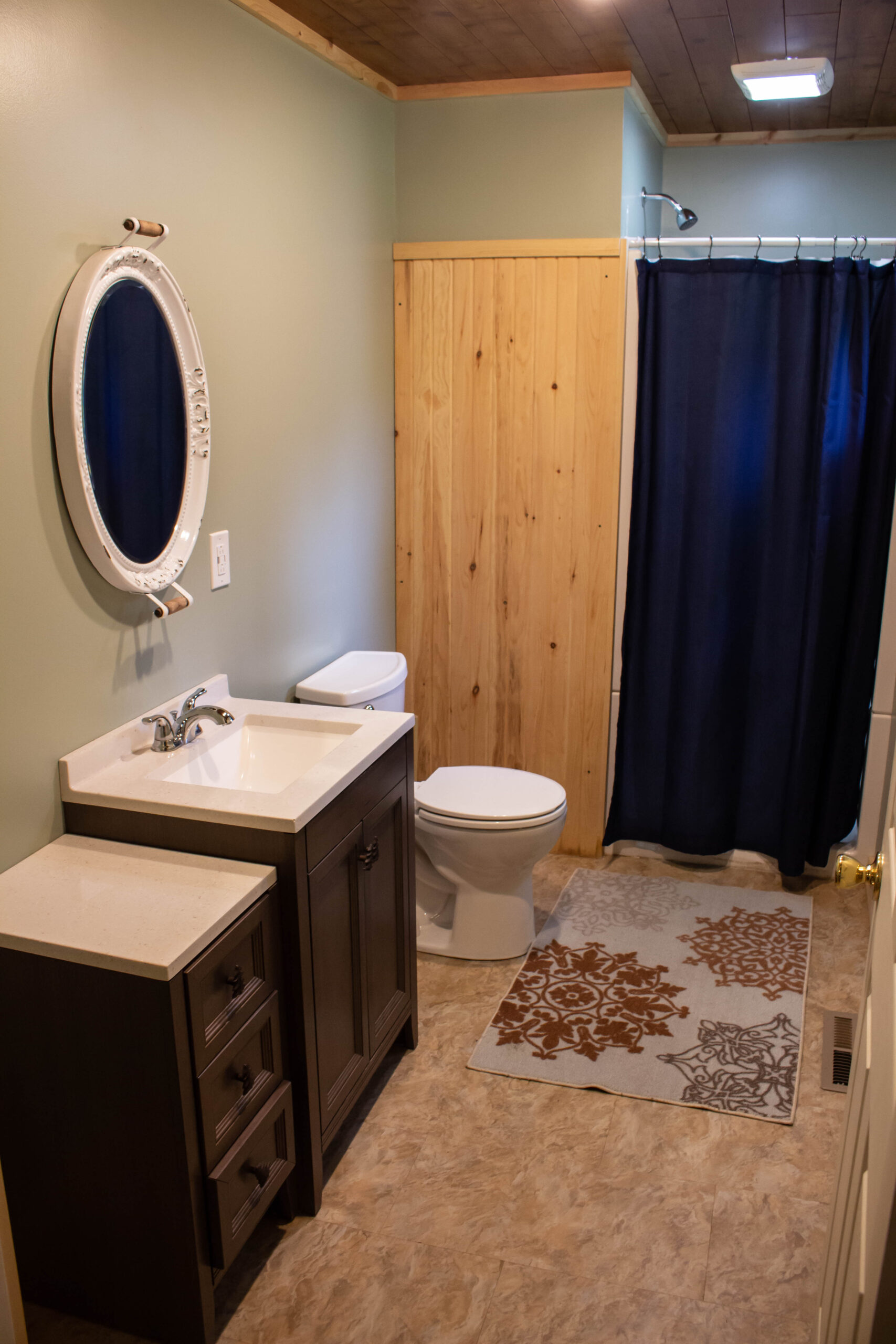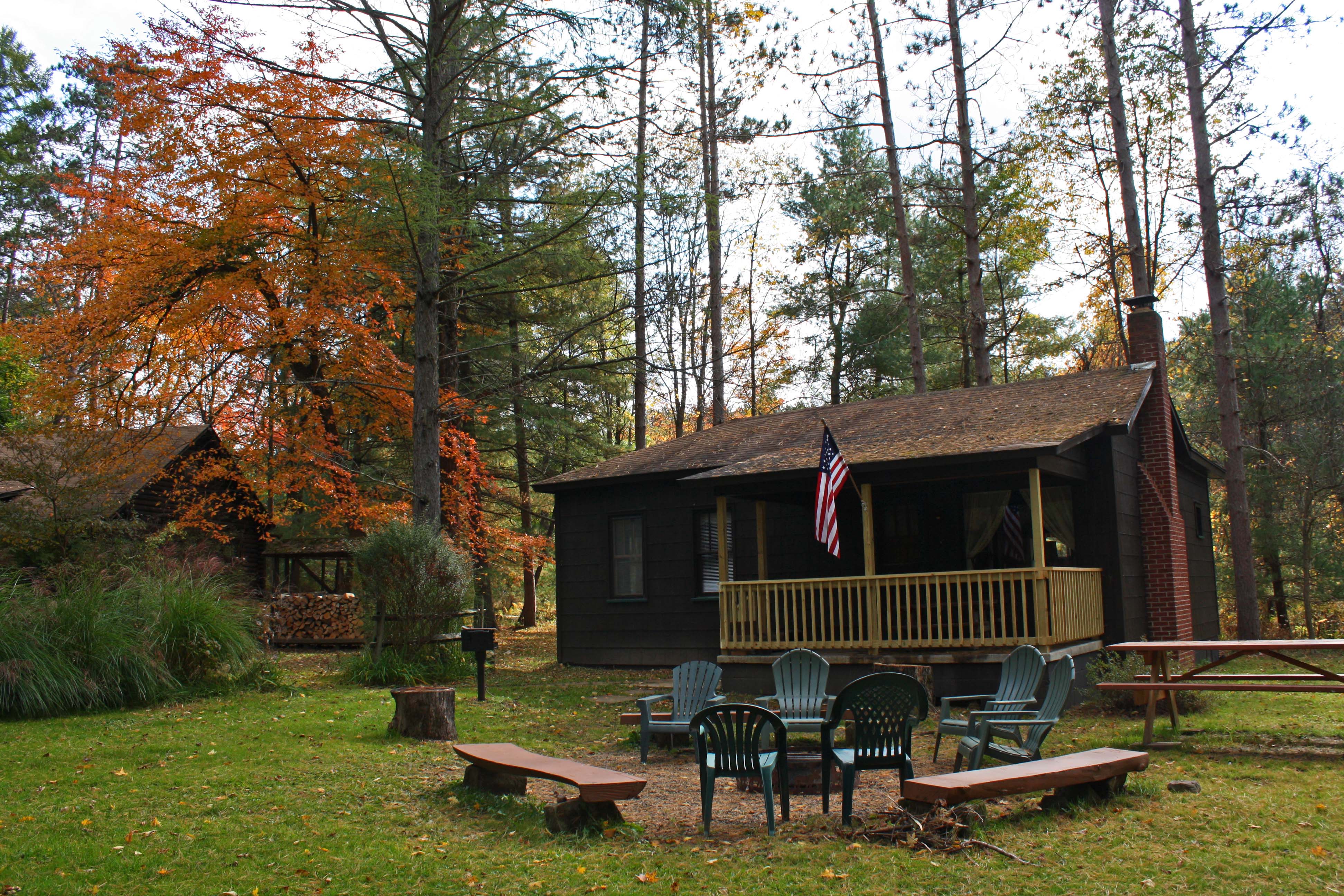 Cook Riverside Cabins
CABIN 8 - SLEEPS 8
Cabin 8 is a spacious log and knotty pine cabin with a beautiful stone fireplace.  This is a one-bedroom cabin with two double beds in addition to two sleeper sofas in the living area, two bathrooms (1 full, 1 half), and kitchen.  Cabin 8 has a large covered porch, picnic table, charcoal grill, and fire ring.  From the first weekend in June through the last weekend of August, Cabin 8 is a Sunday to Sunday weekly rental. Beds: 2 Doubles, 2 Double Sleeper Sofas
Nightly Rental: $240
Weekly Rental: $1,075
Winter Rate: $192/night or $860/week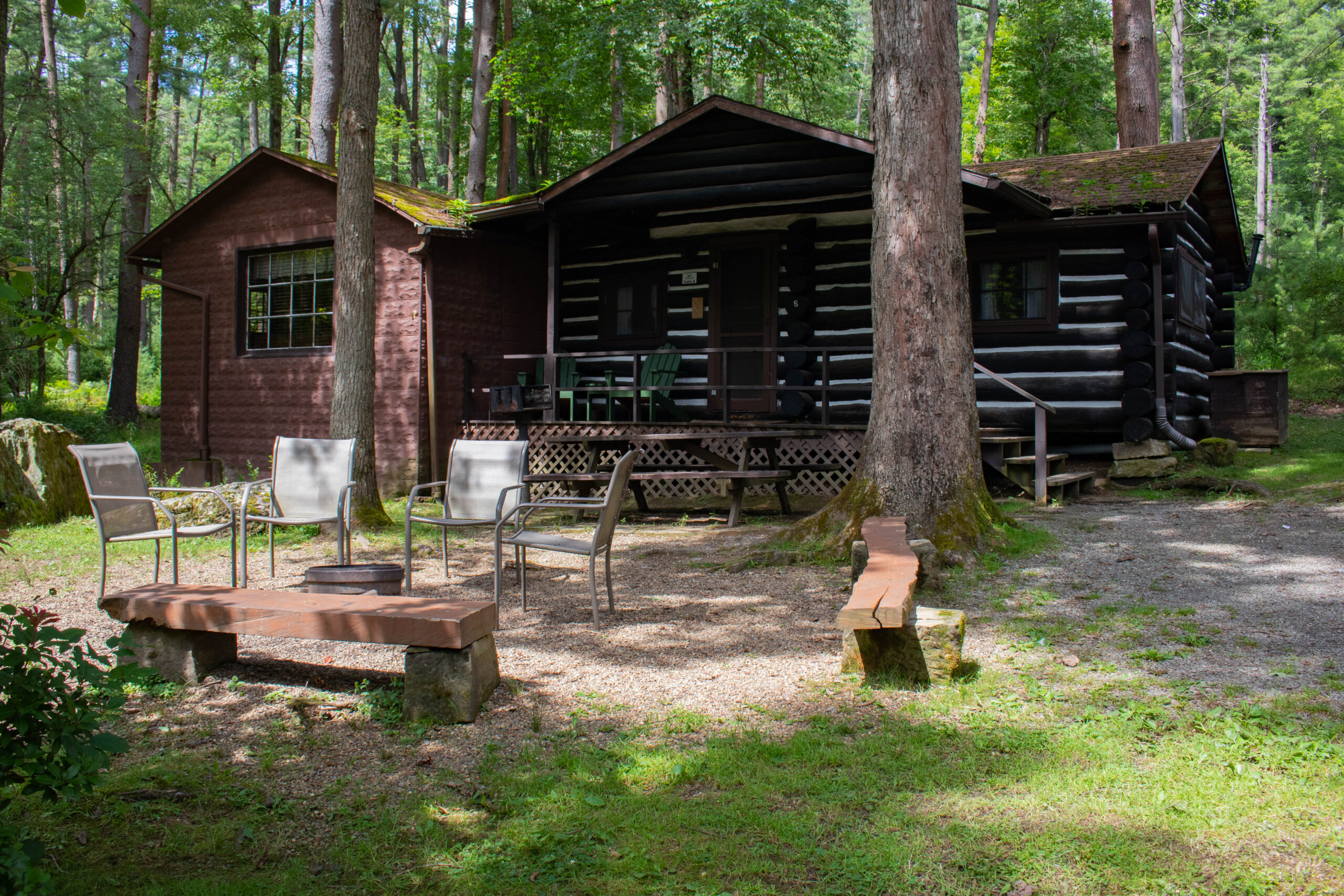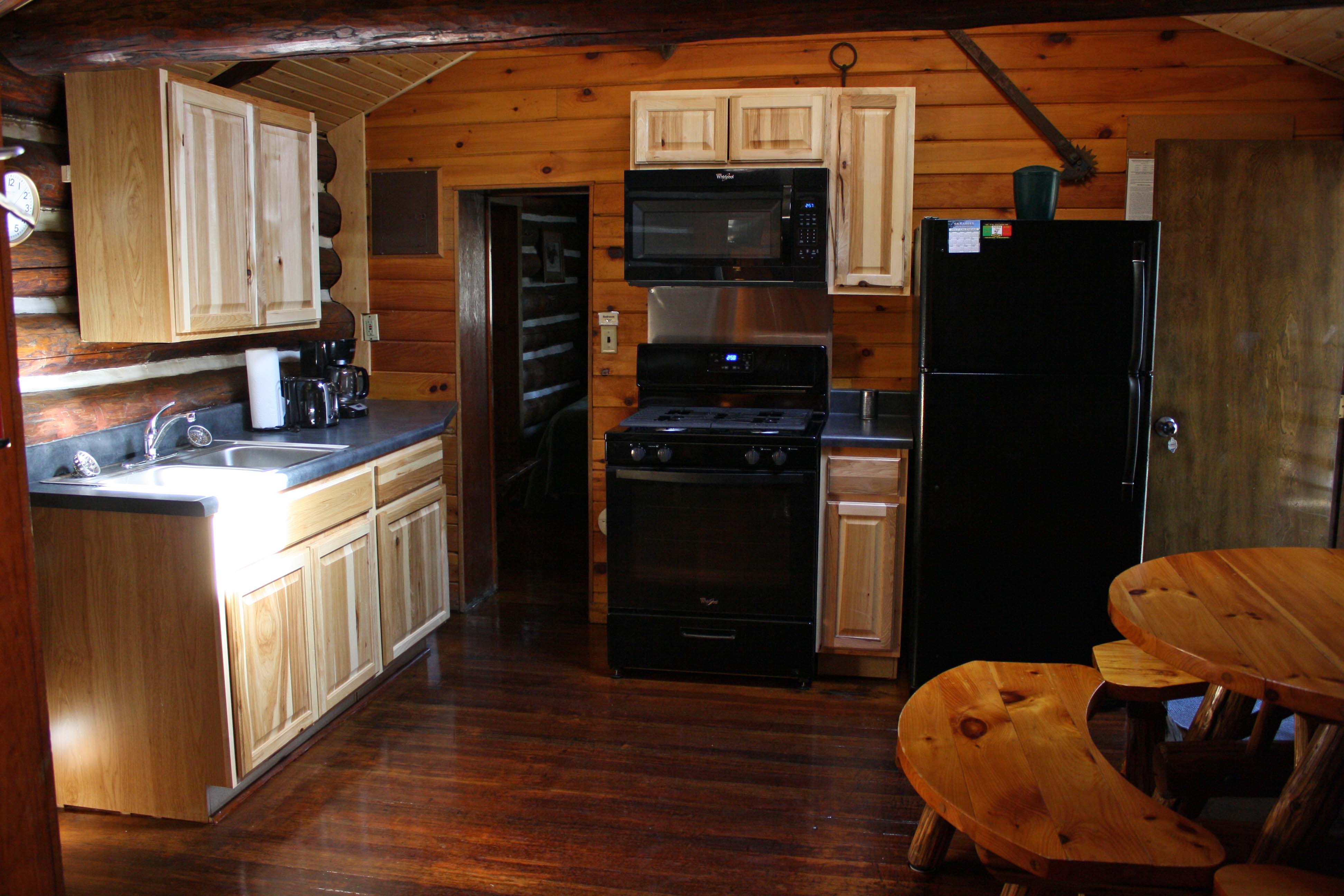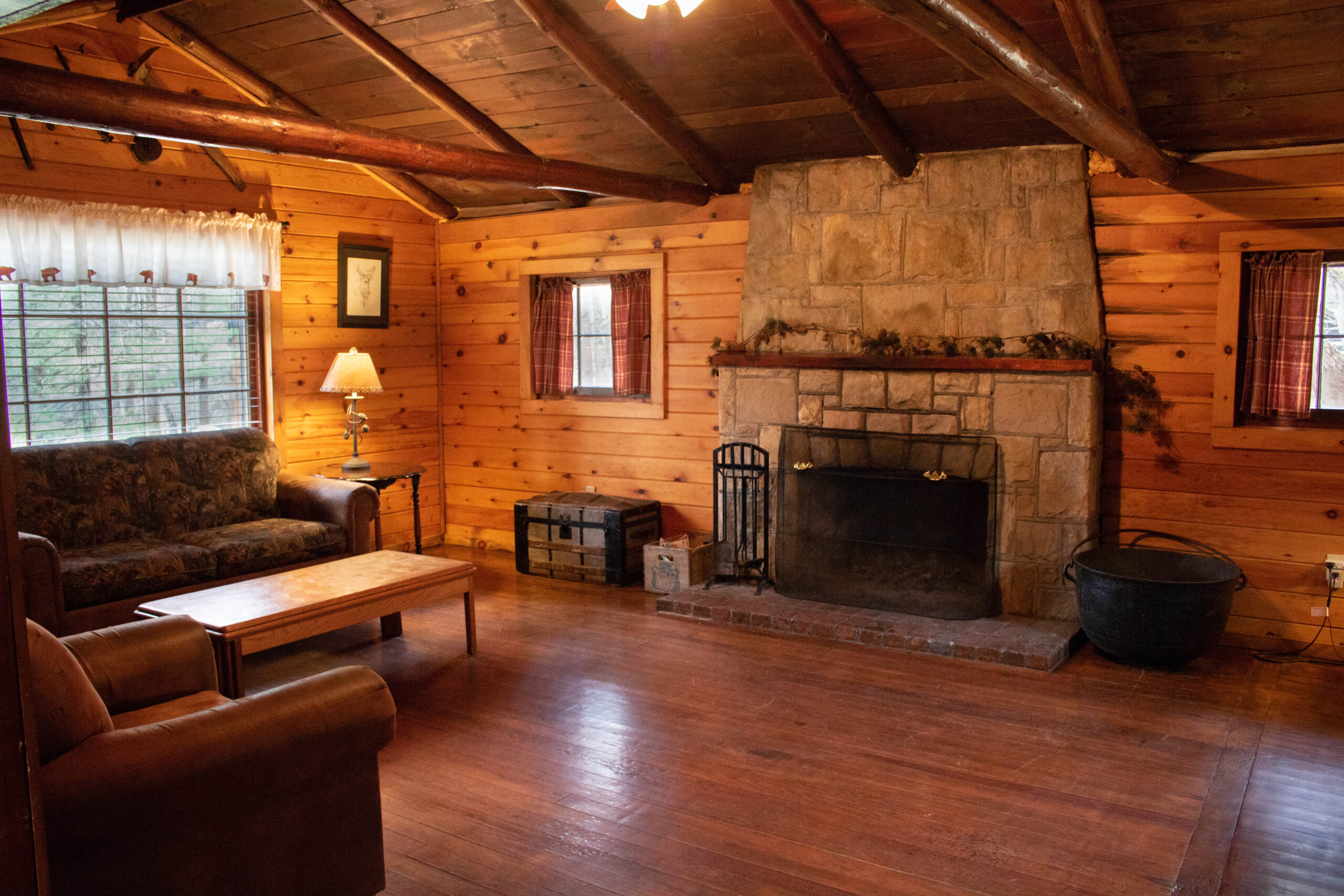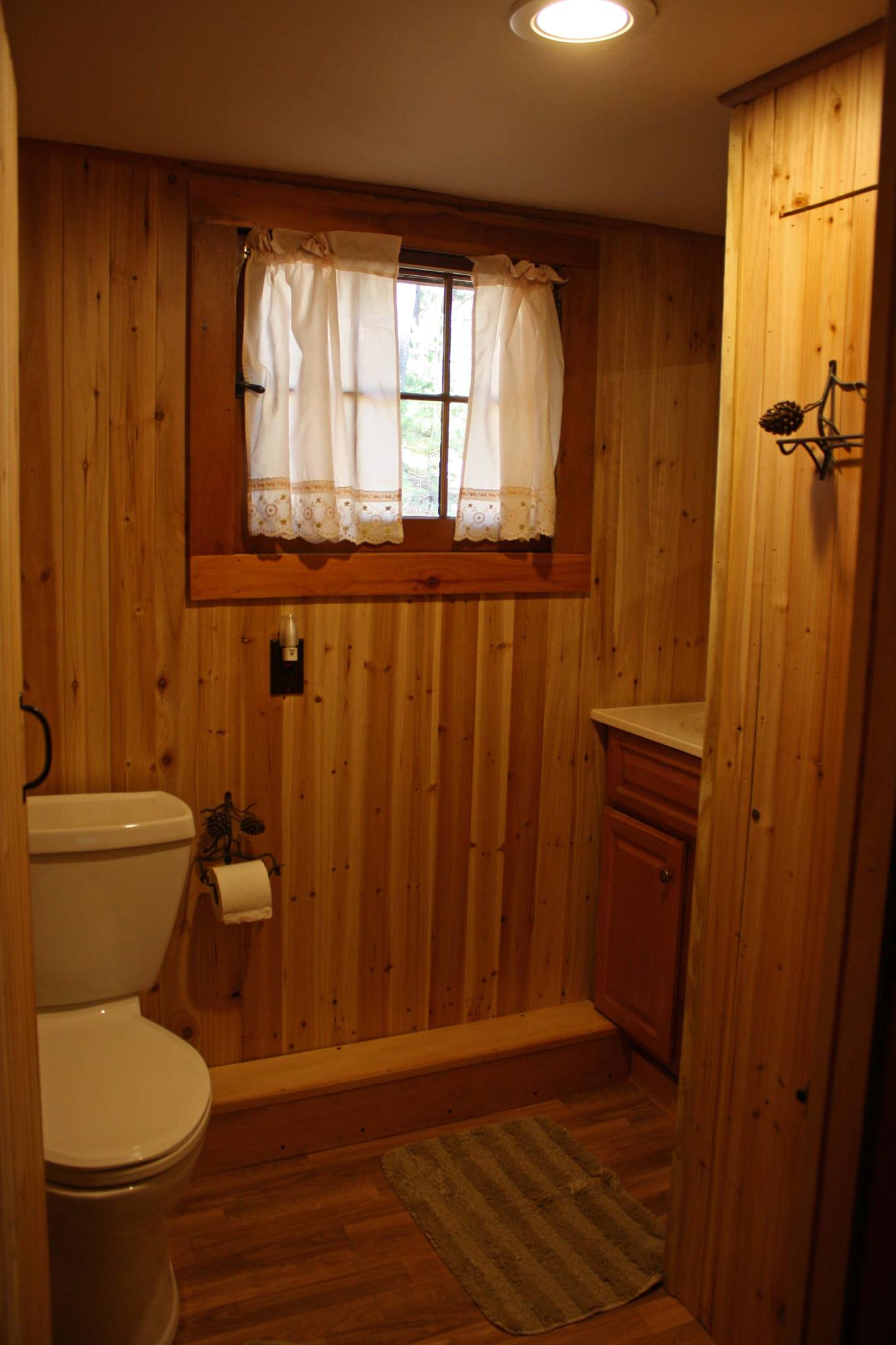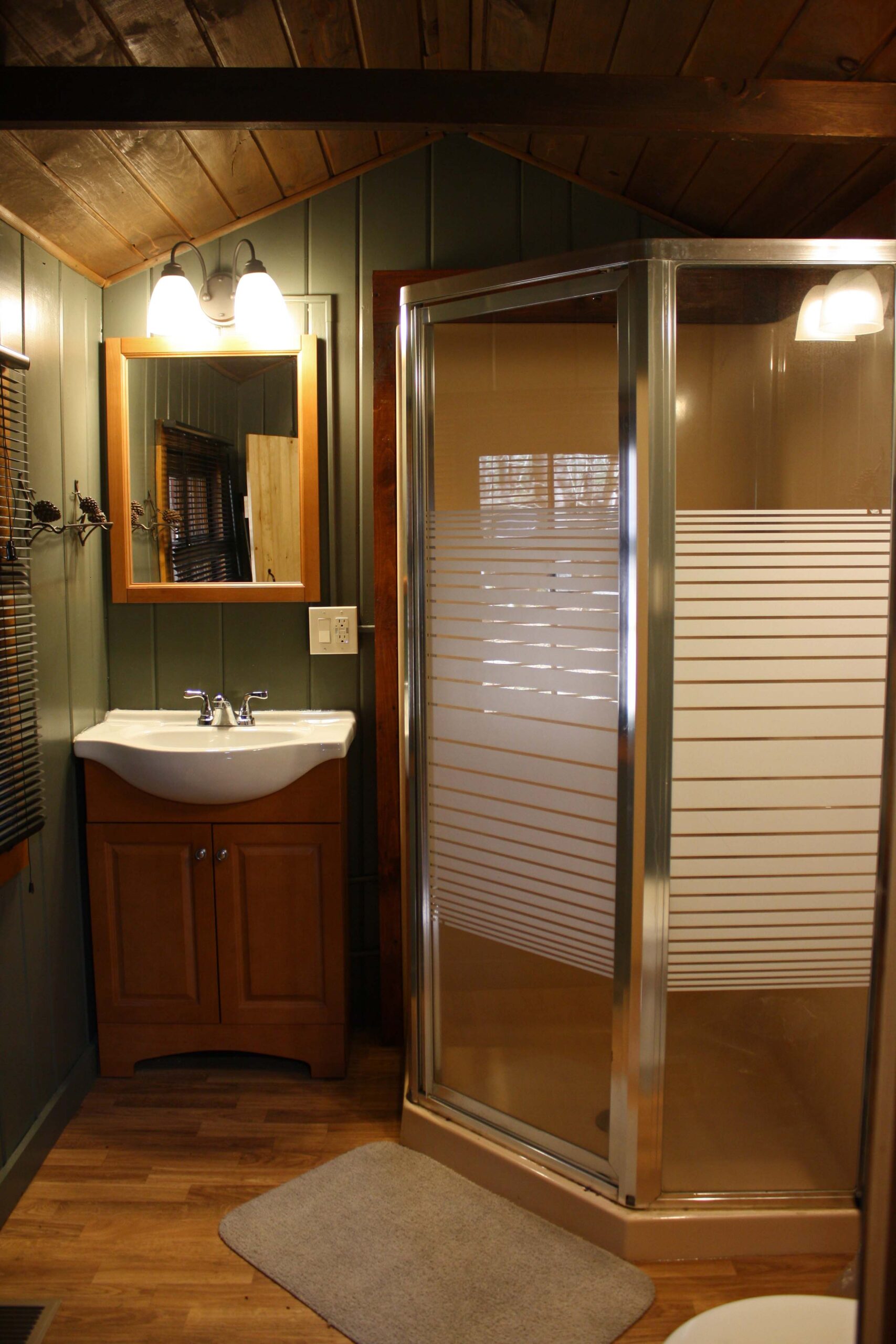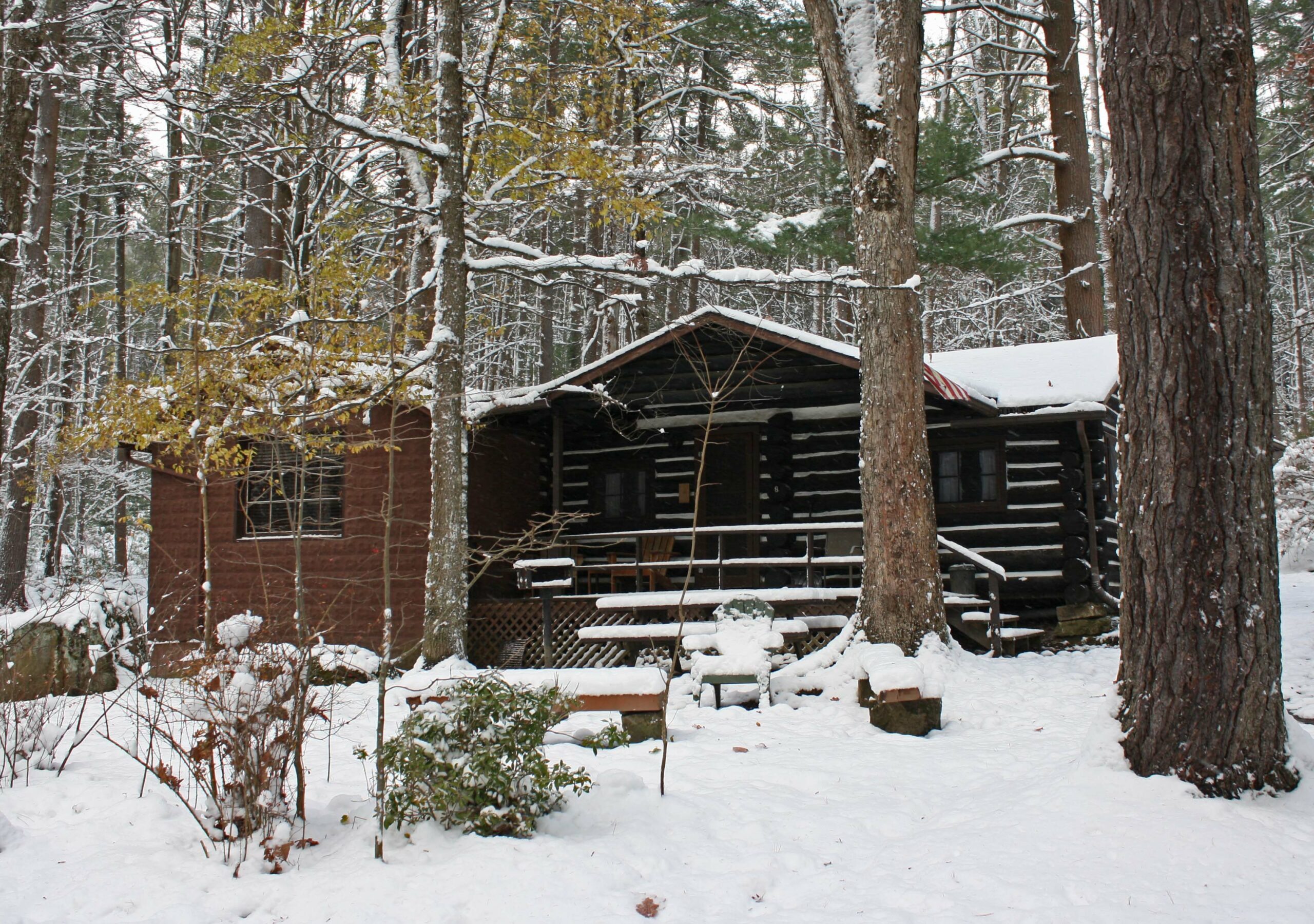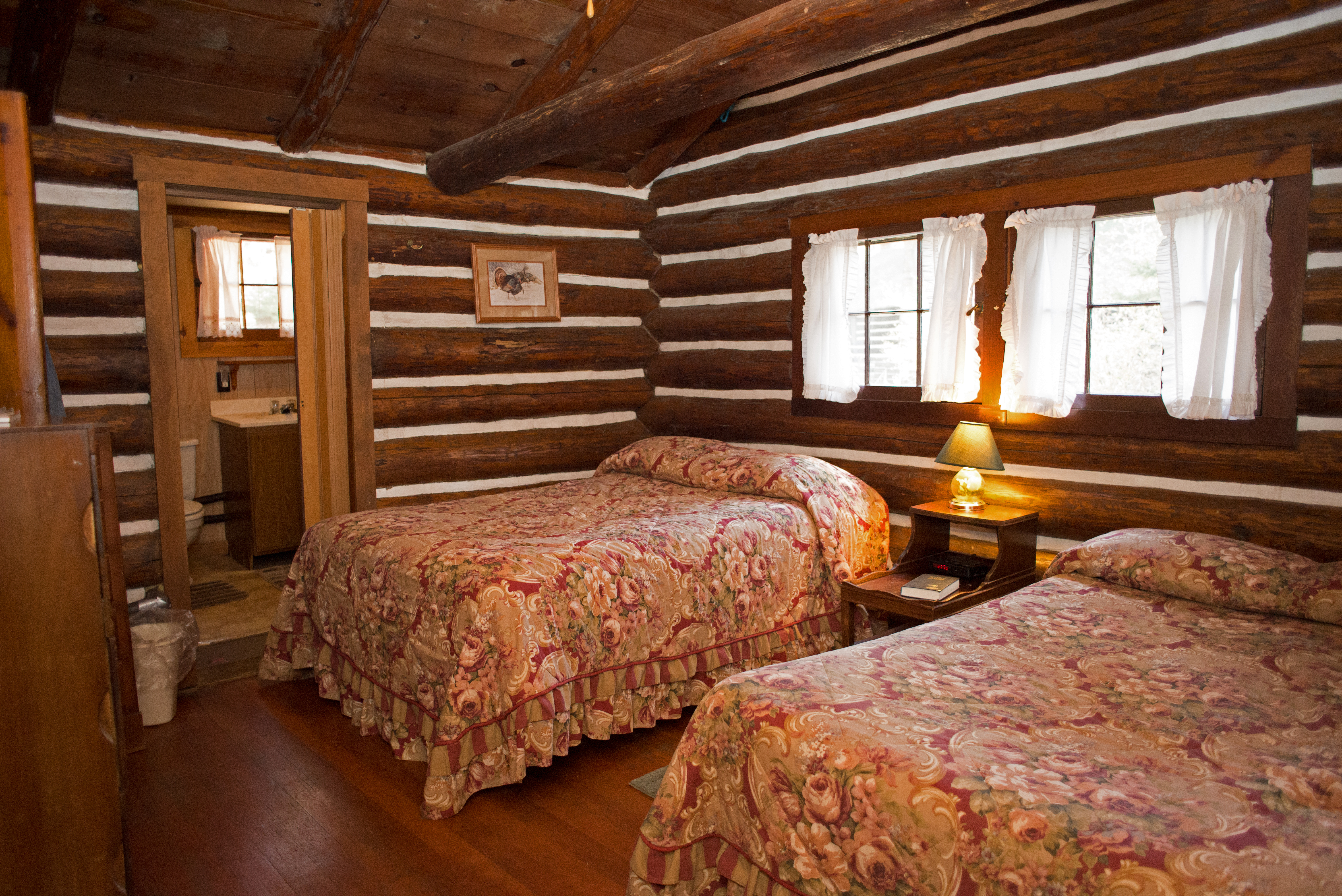 Cook Riverside Cabins
CABIN 9 - SLEEPS 8
Cabin 9 is a beautiful two bedroom log cabin with kitchen and bathroom.  This hand-hewn log and knotty pine cabin features a cozy, wood-burning fireplace in the living room.  Cabin 9 has a covered porch, picnic table, charcoal grill, and fire ring. From the first weekend in June through the last weekend of August, Cabin 9 is a Saturday to Saturday weekly rental.  Beds: 3 Doubles, 1 Set of Bunk Beds
Nightly Rental: $240
Weekly Rental: $1,075
Winter Rate: $192/night or $860/week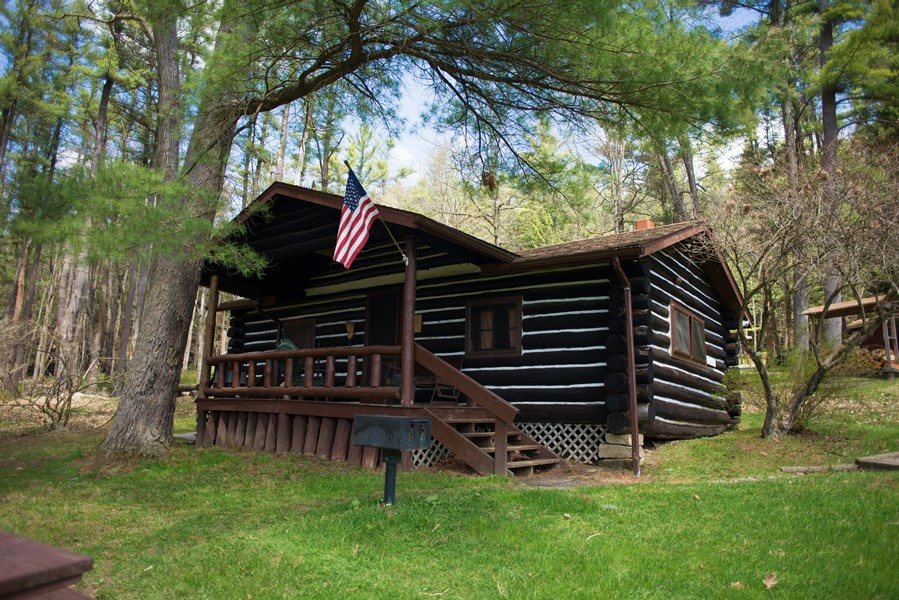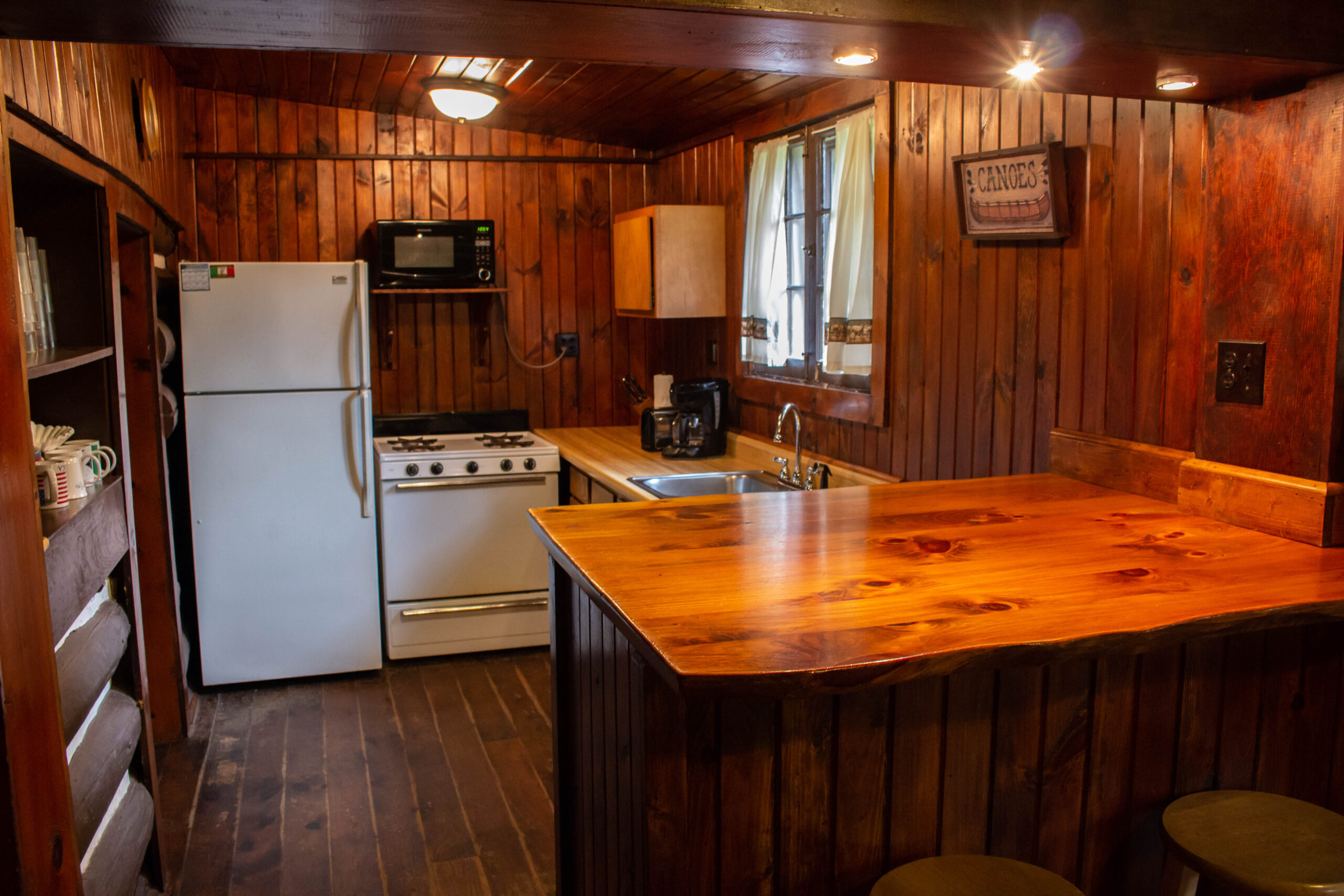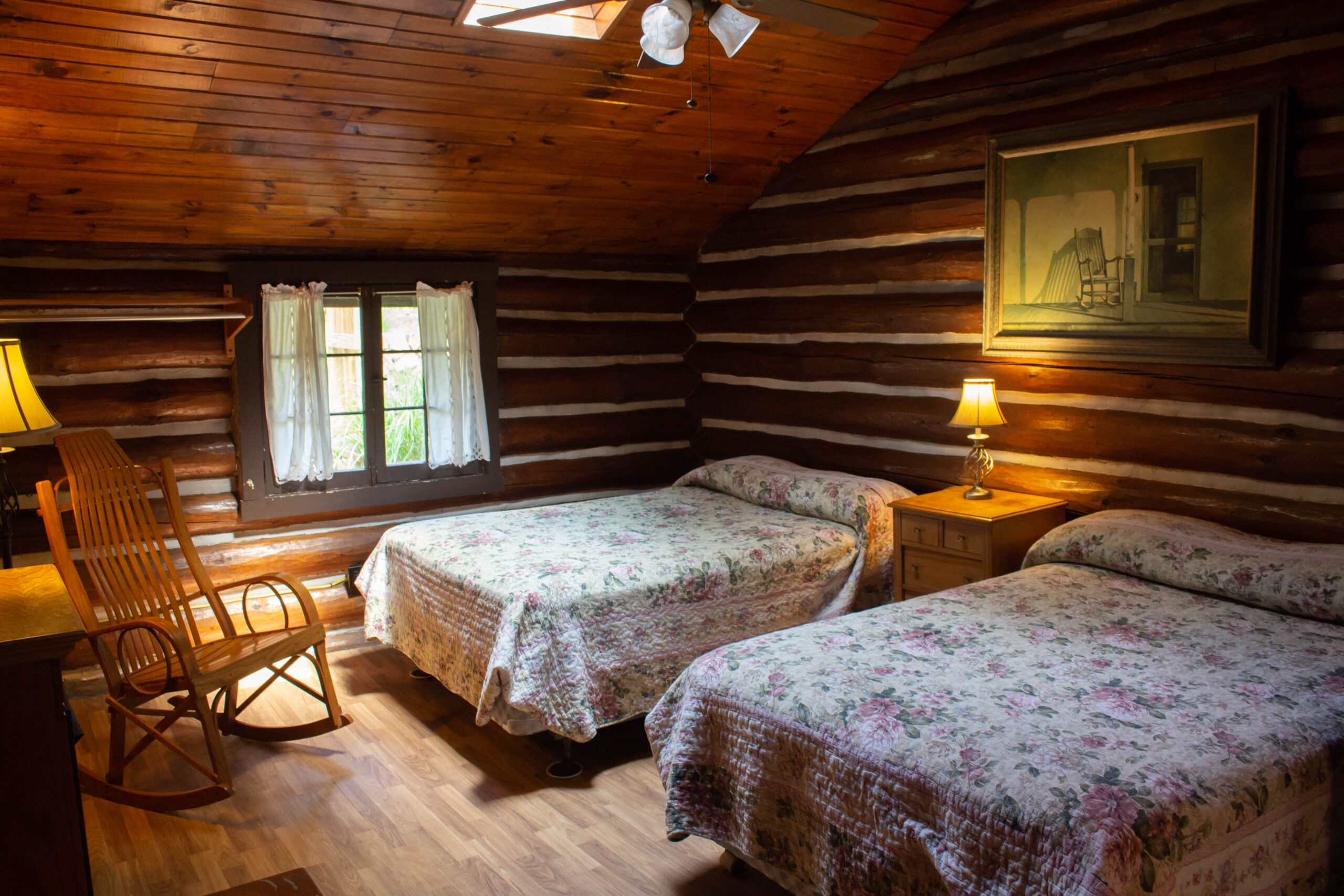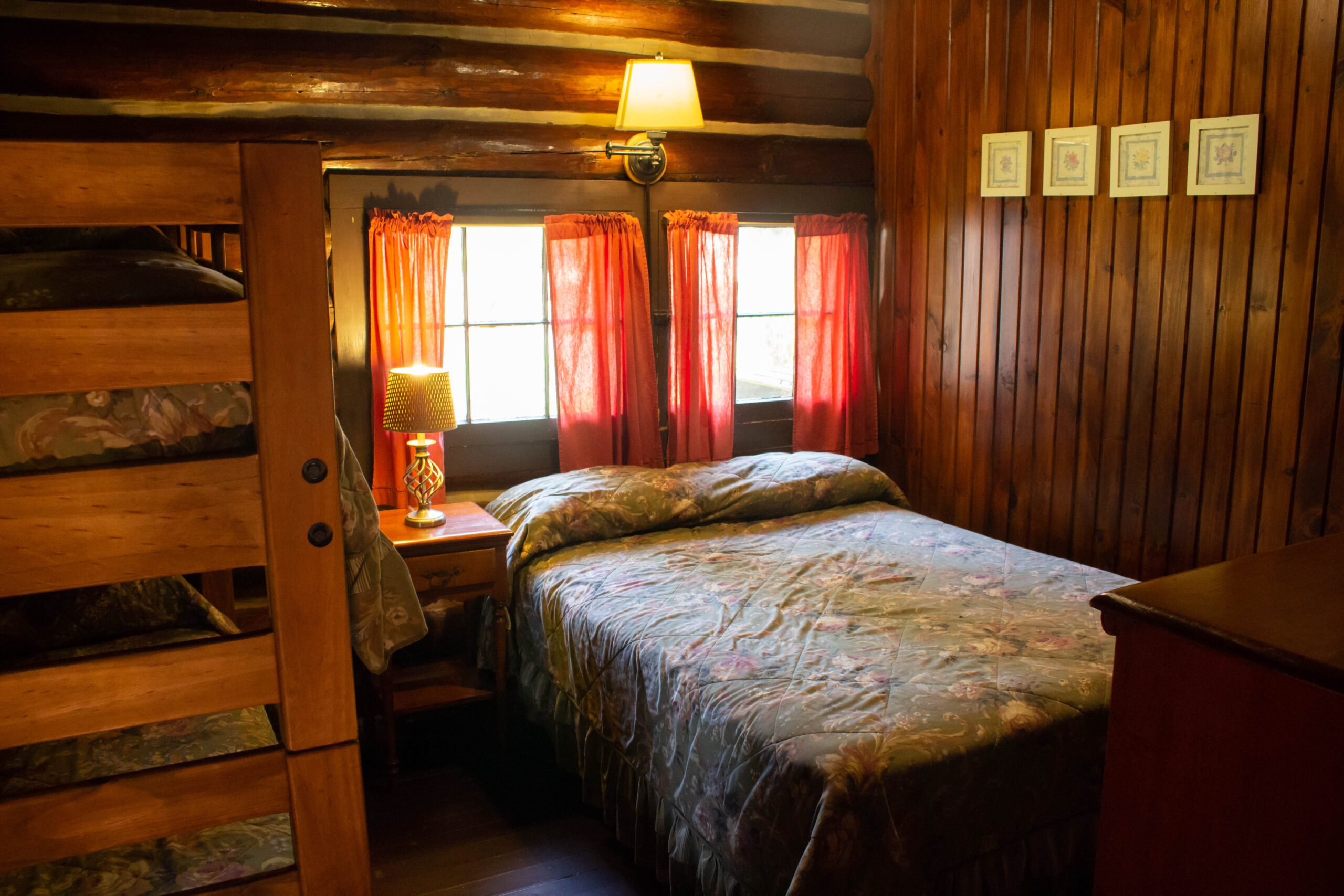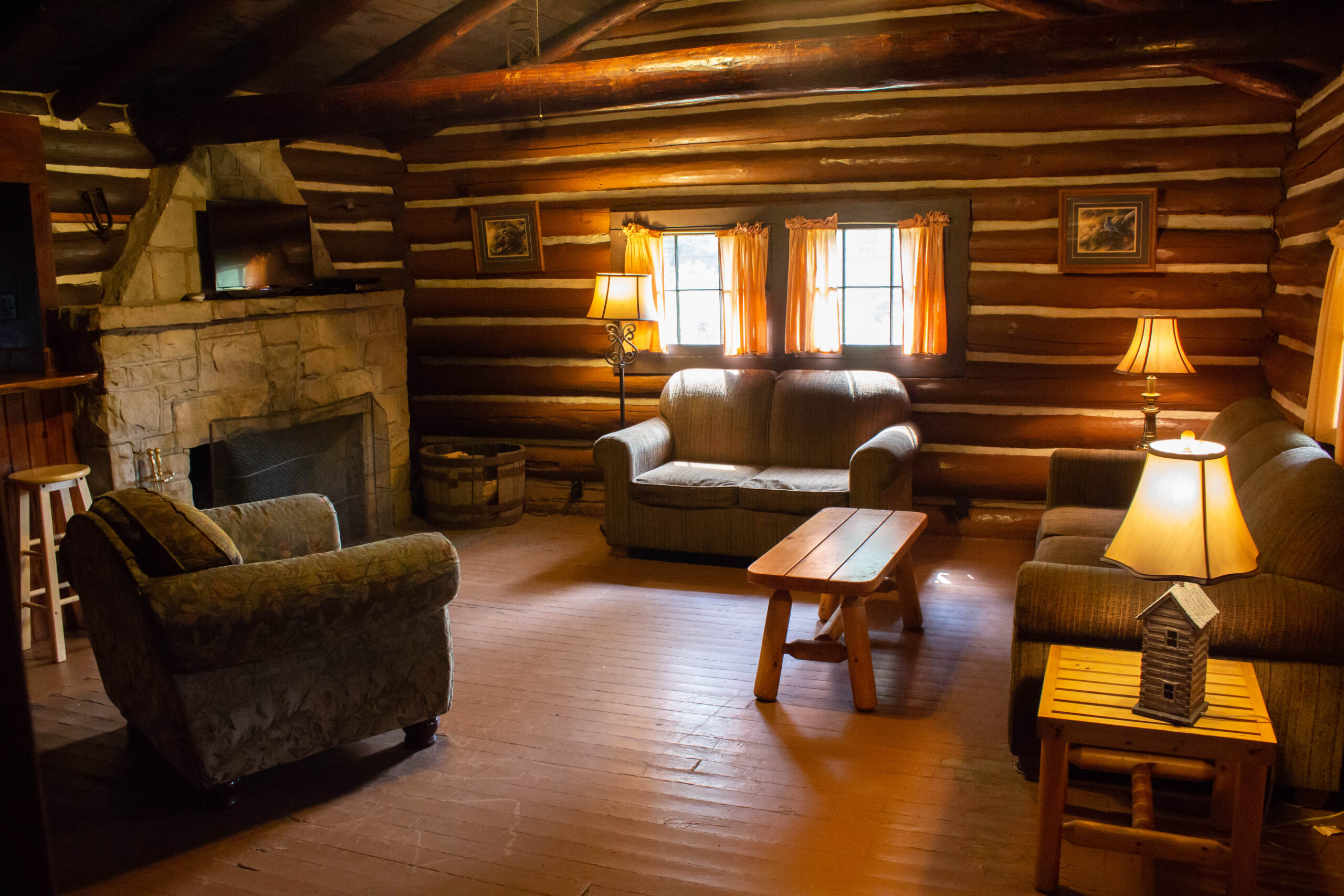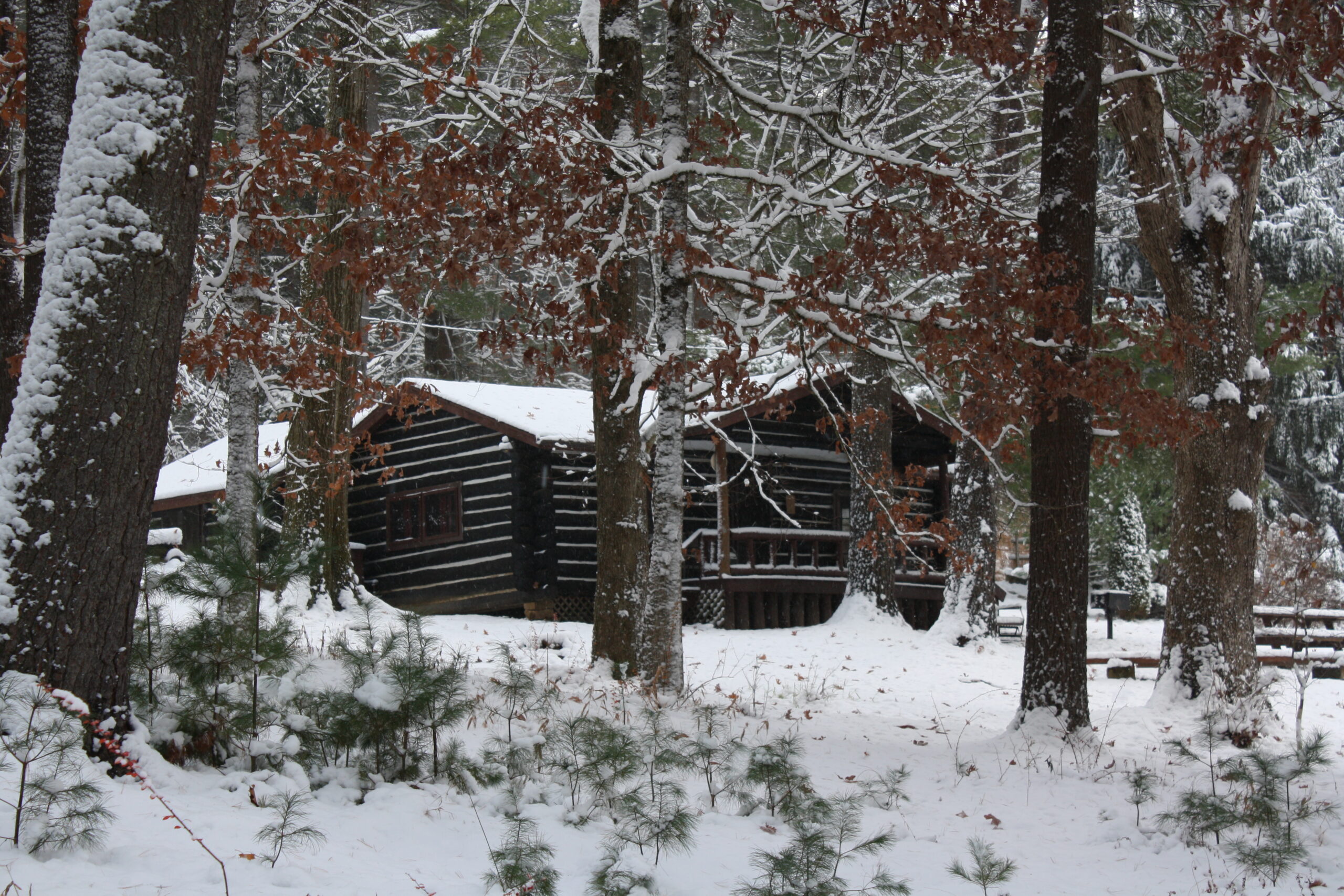 Cook Riverside Cabins
CABIN 10 - SLEEPS 4
Cabin 10 is a hand-hewn log and knotty pine cabin with a cozy, wood-burning fireplace and sleeper sofa in the living area along with kitchen and bathroom.  Frequently referred to as the "honeymoon" cabin, a great bedroom with a king sized bed and 2-person whirlpool tub.. Cabin 10 has a covered porch, picnic table, charcoal grill, and fire ring. From the first weekend in June through the last weekend of August, Cabin 10 is a Sunday to Sunday weekly rental.  Beds: 1 King, 1 Double Sleeper Sofa
Nightly Rental: $215
Weekly Rental: $975
Winter Rate: $180/night or $812/weekly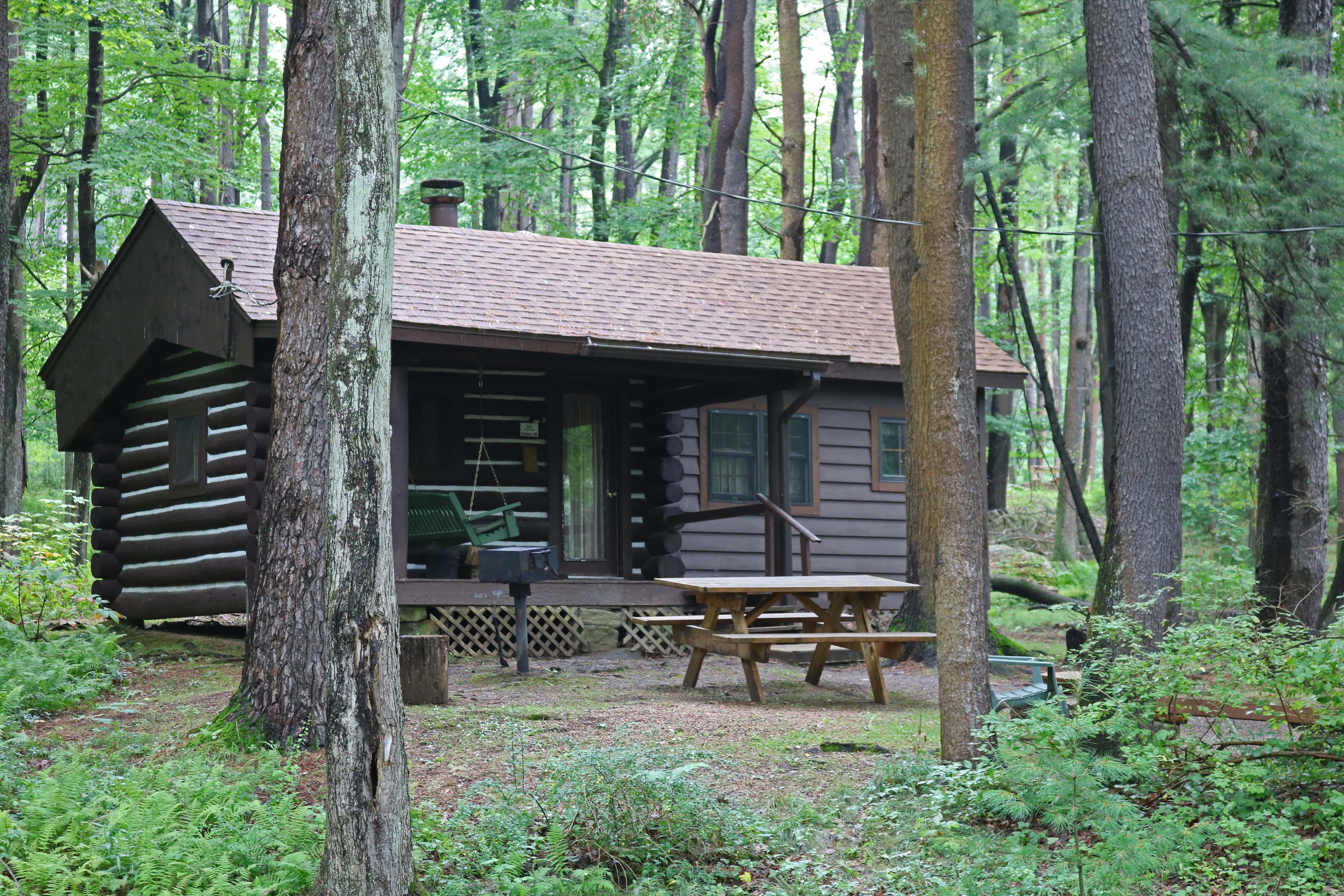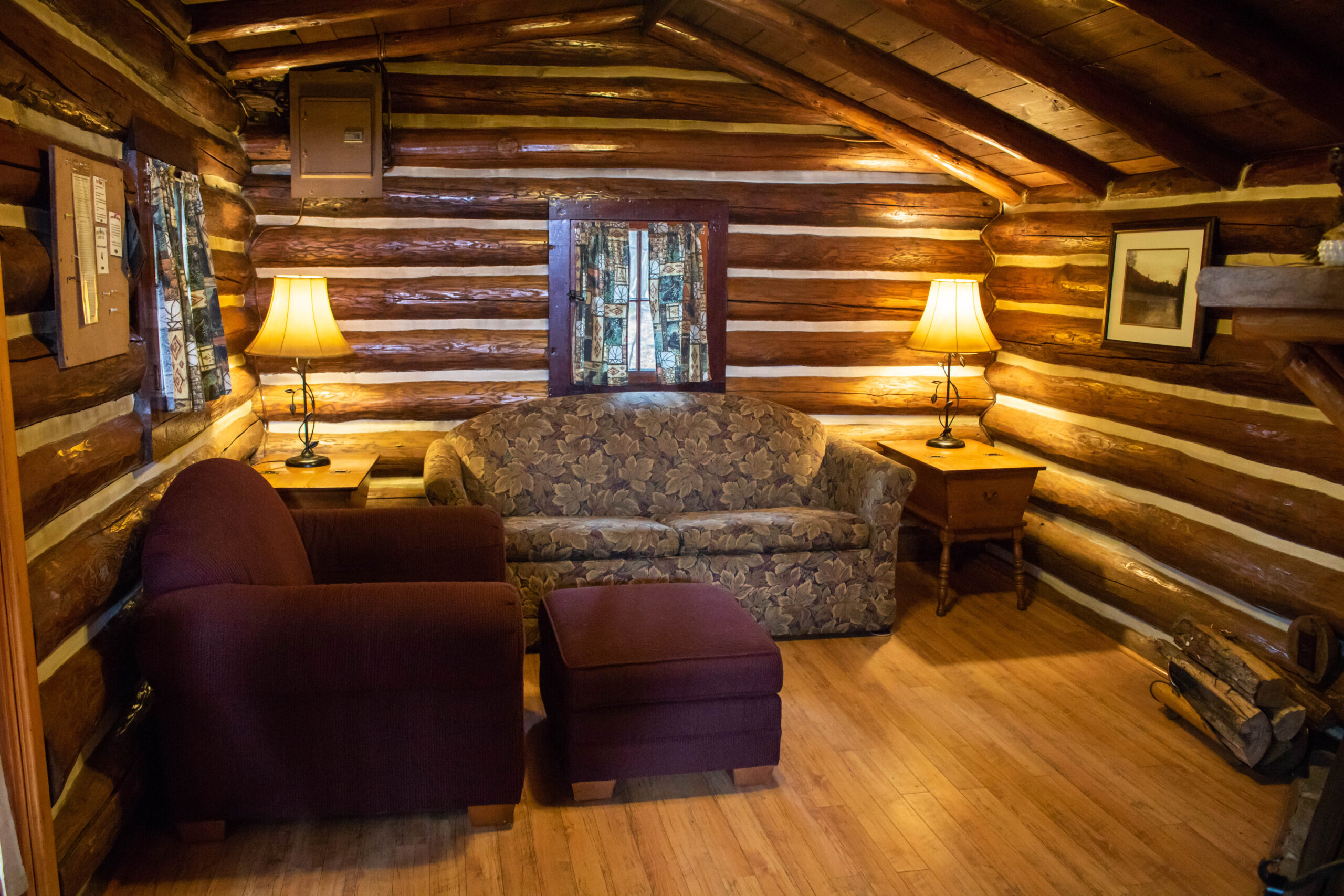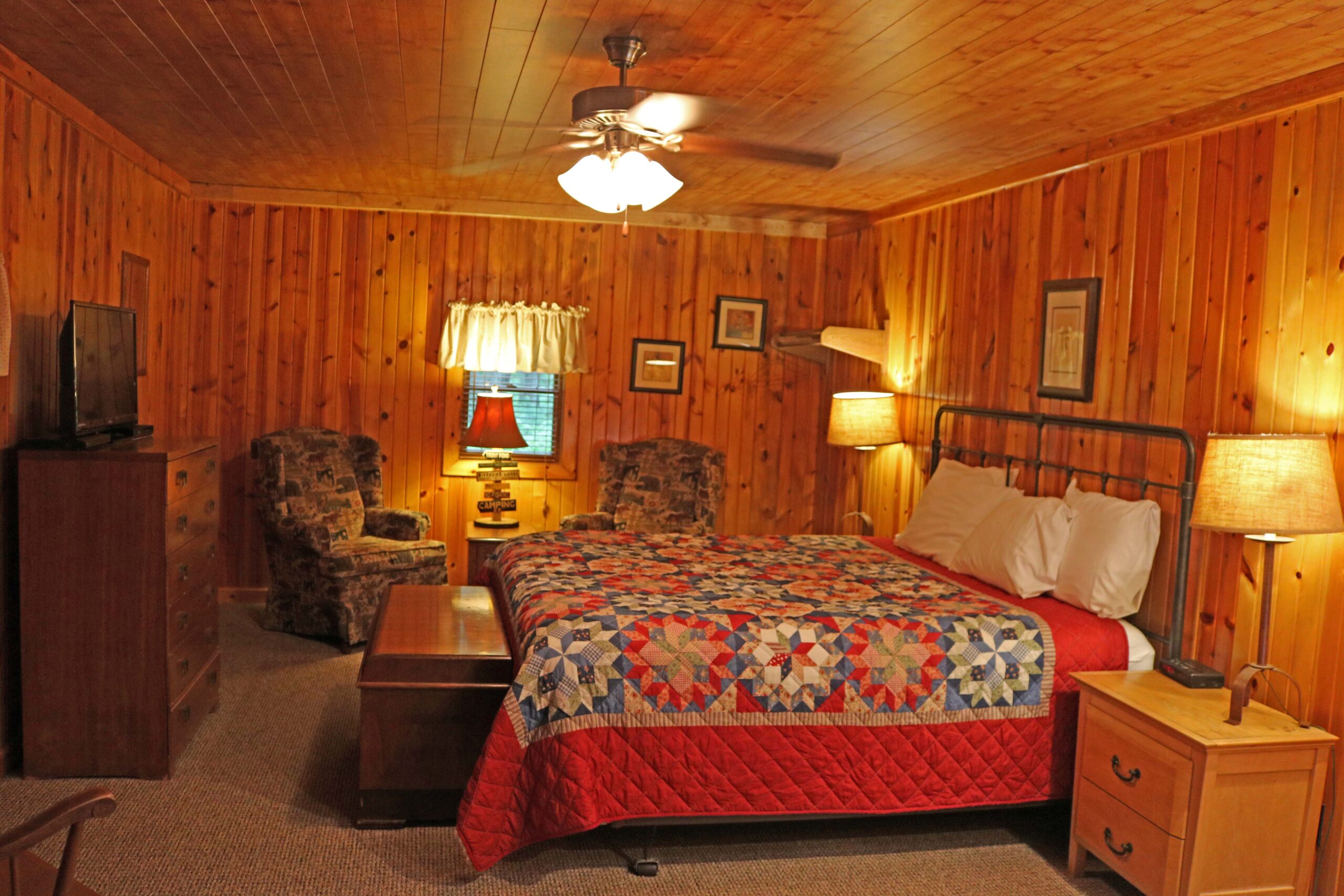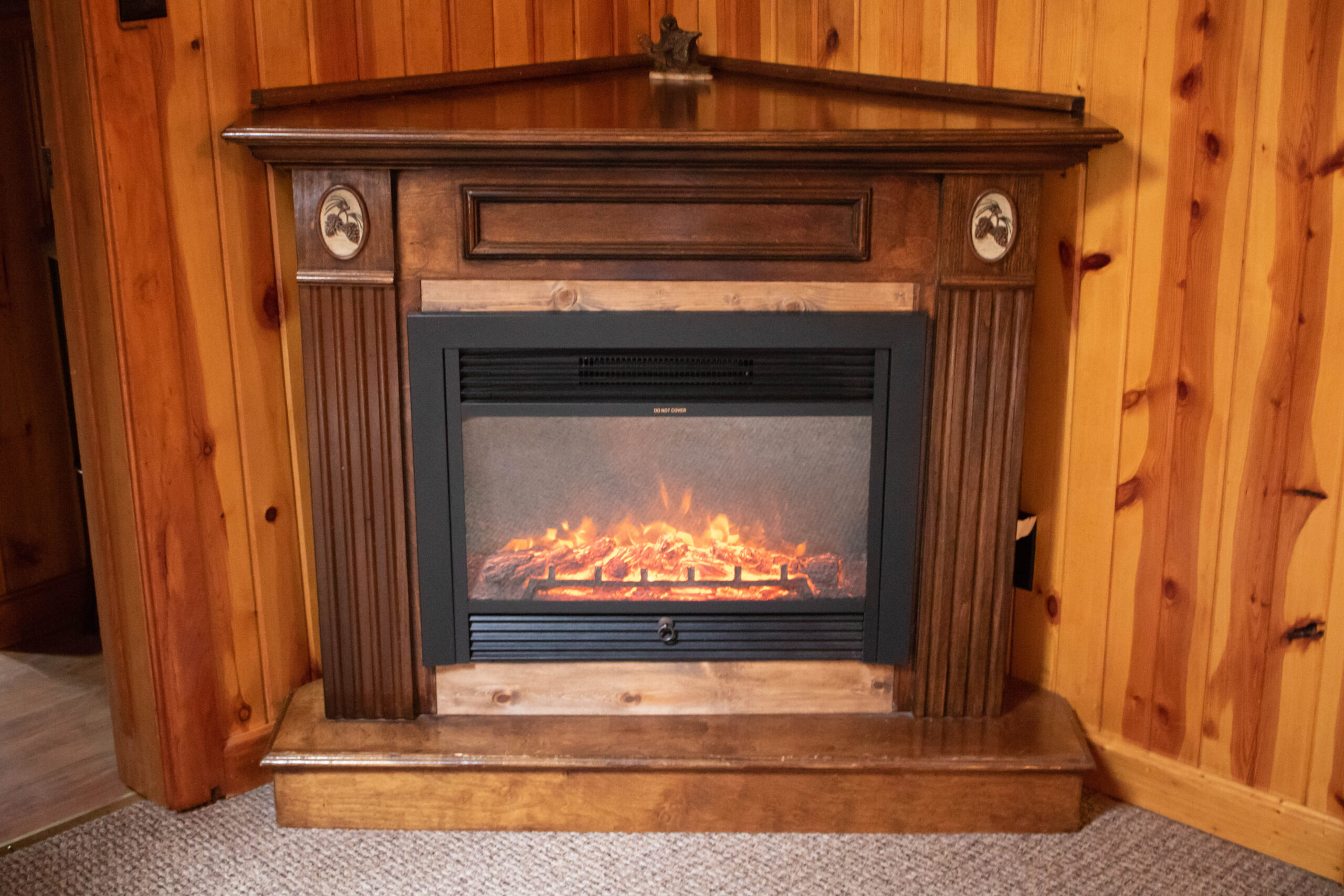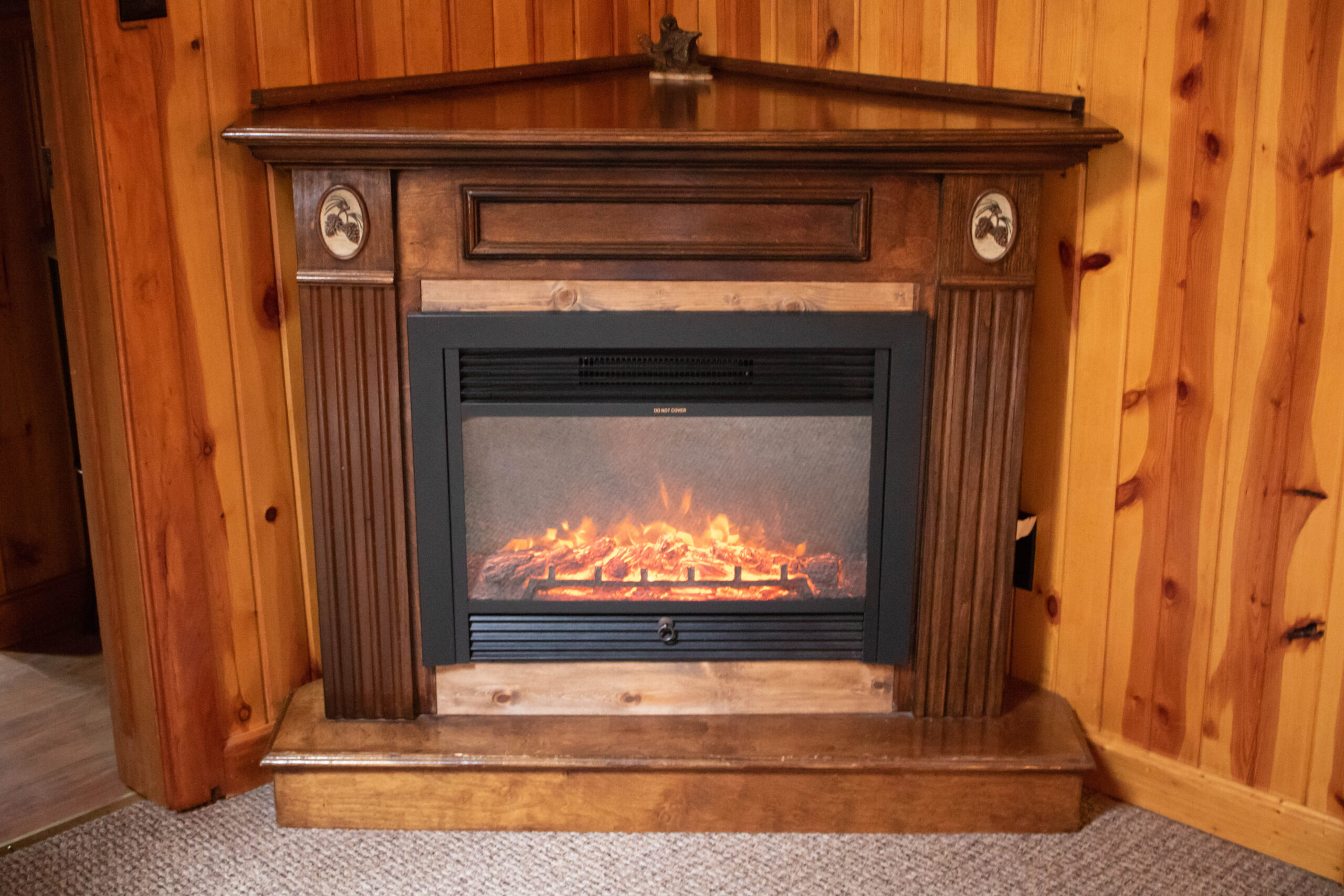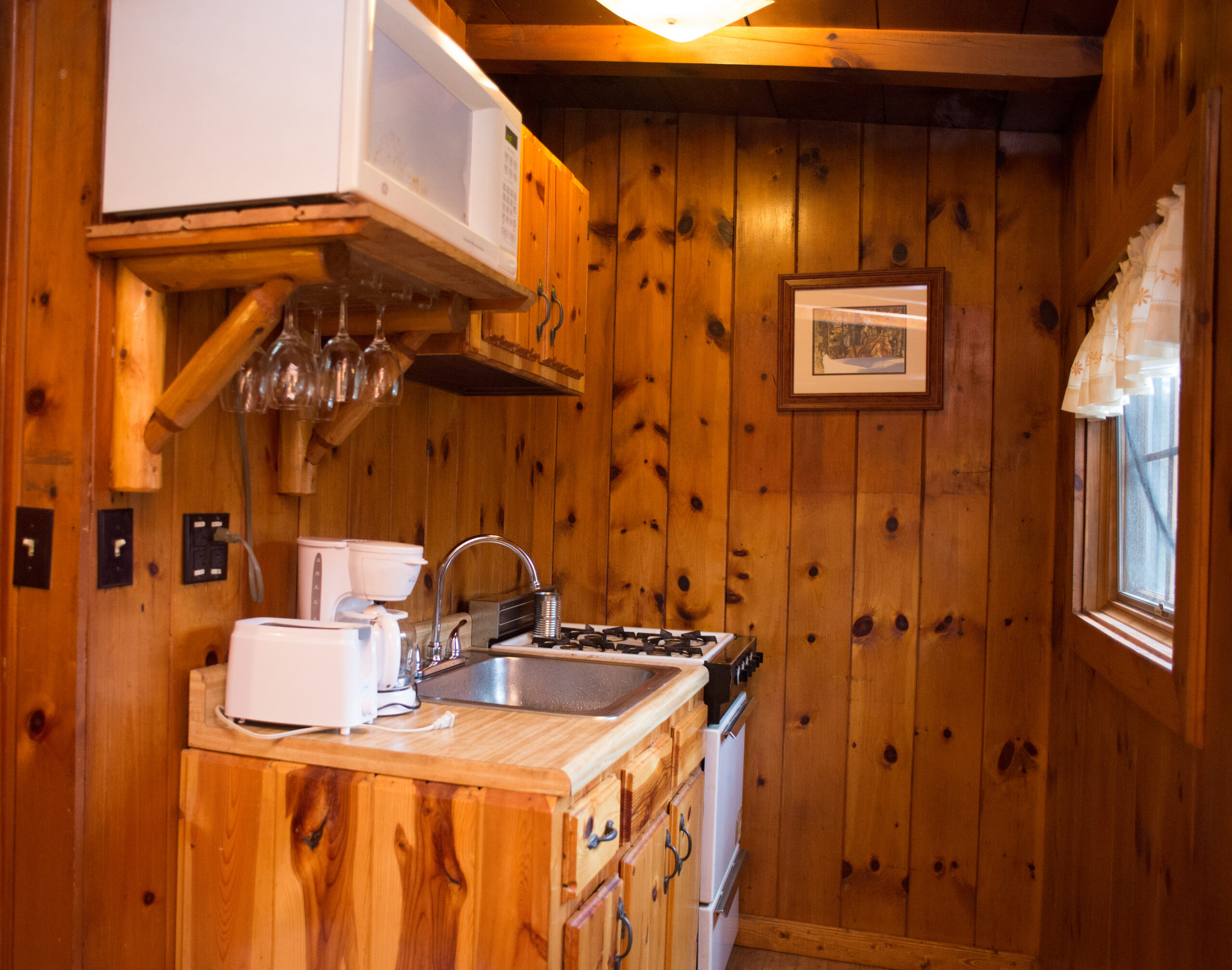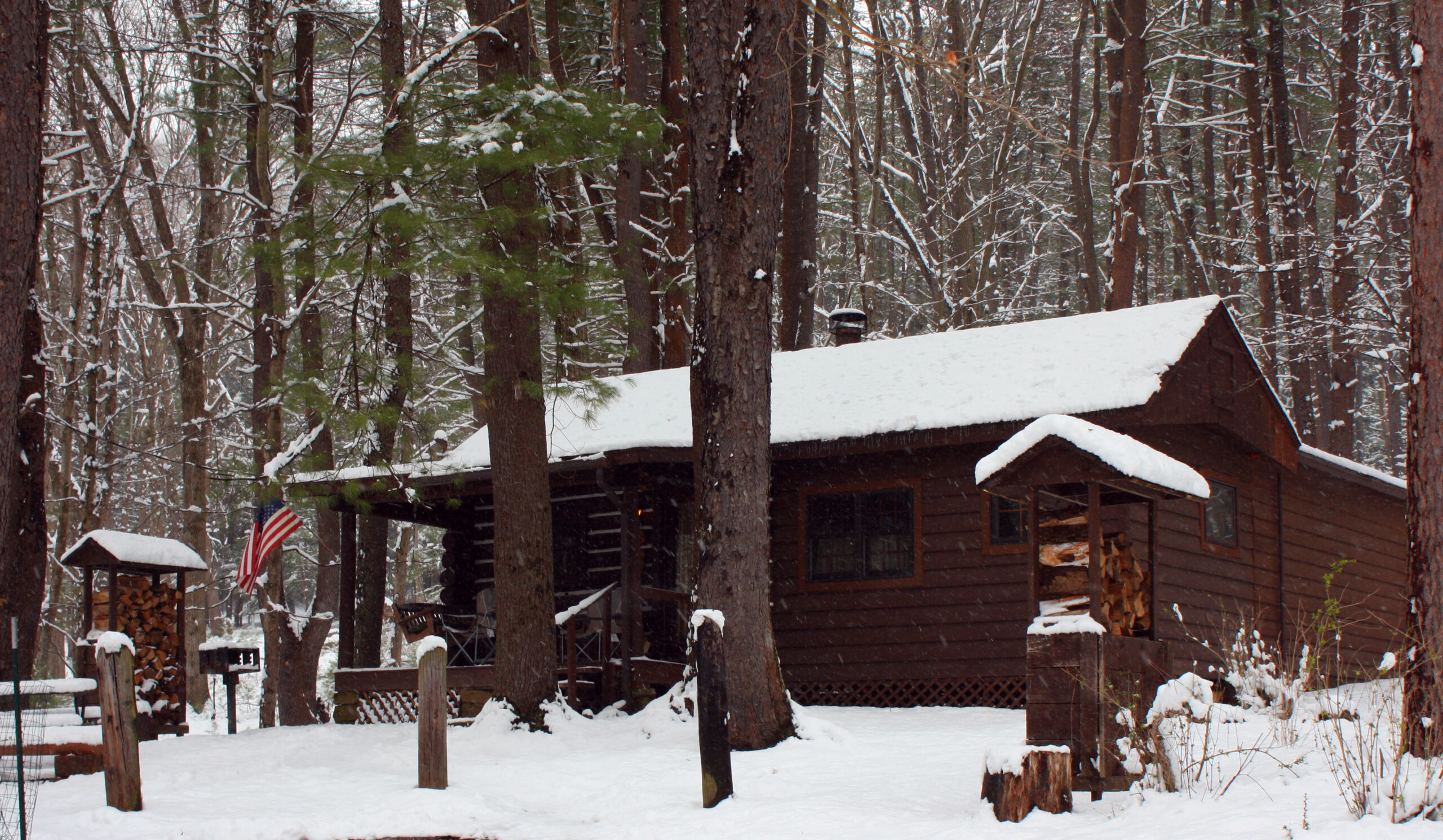 Cook Riverside Cabins
CABIN 11 - SLEEPS 8
Cabin 11 is a hand-hewn log cabin with a field stone, wood-burning fireplace and hardwood floors.  Two bedrooms, with two double beds in each, accommodate up to 8 guests. Cabin 11 has a roomy covered porch, picnic table, charcoal grill, and fire ring. From the first weekend in June through the last weekend of August, Cabin 11 is a Saturday to Saturday weekly rental.   Beds: 4 Doubles
Nightly Rental: $240
Weekly Rental: $1,075
Winter Rate: $192/night or $860/week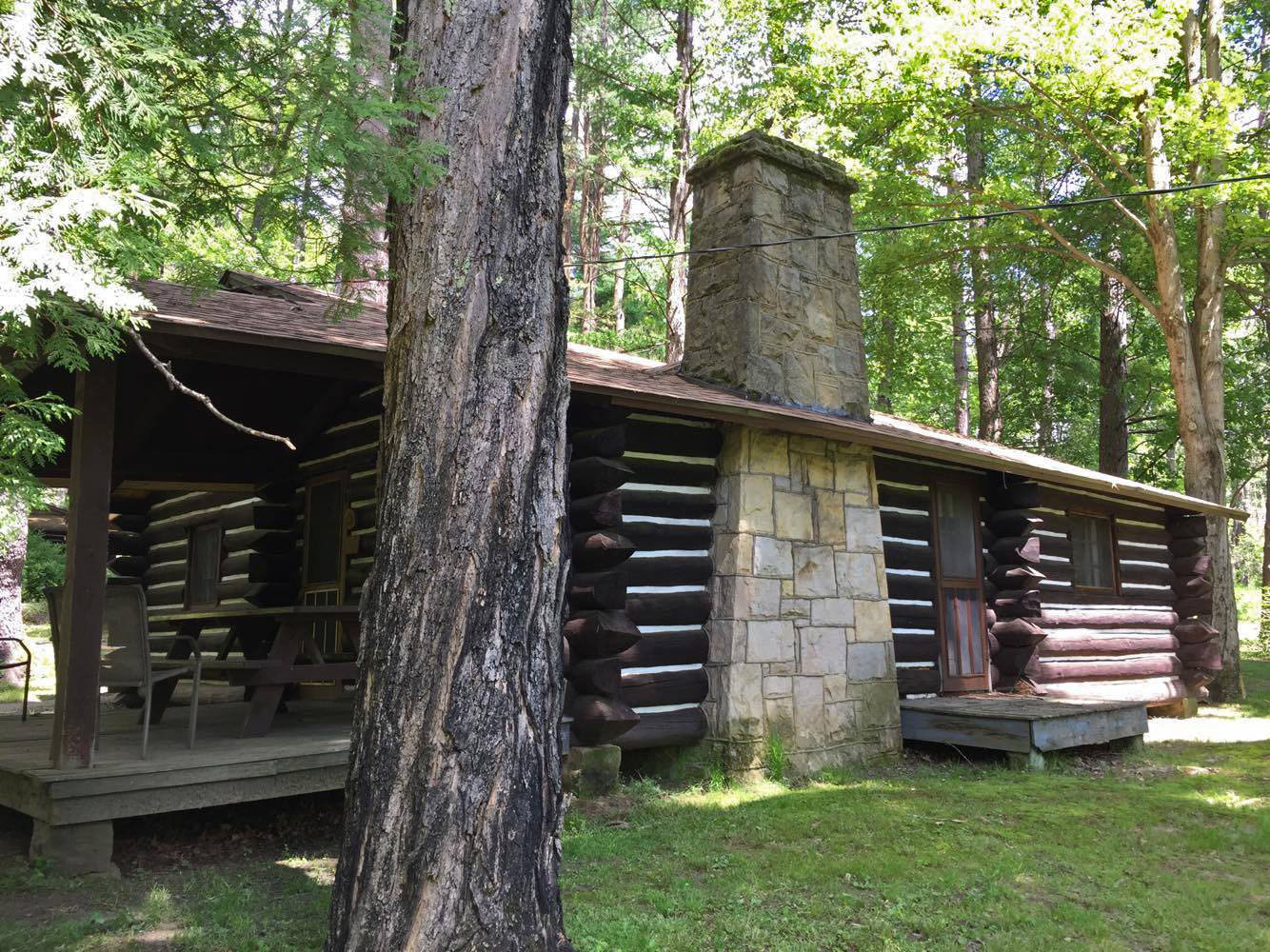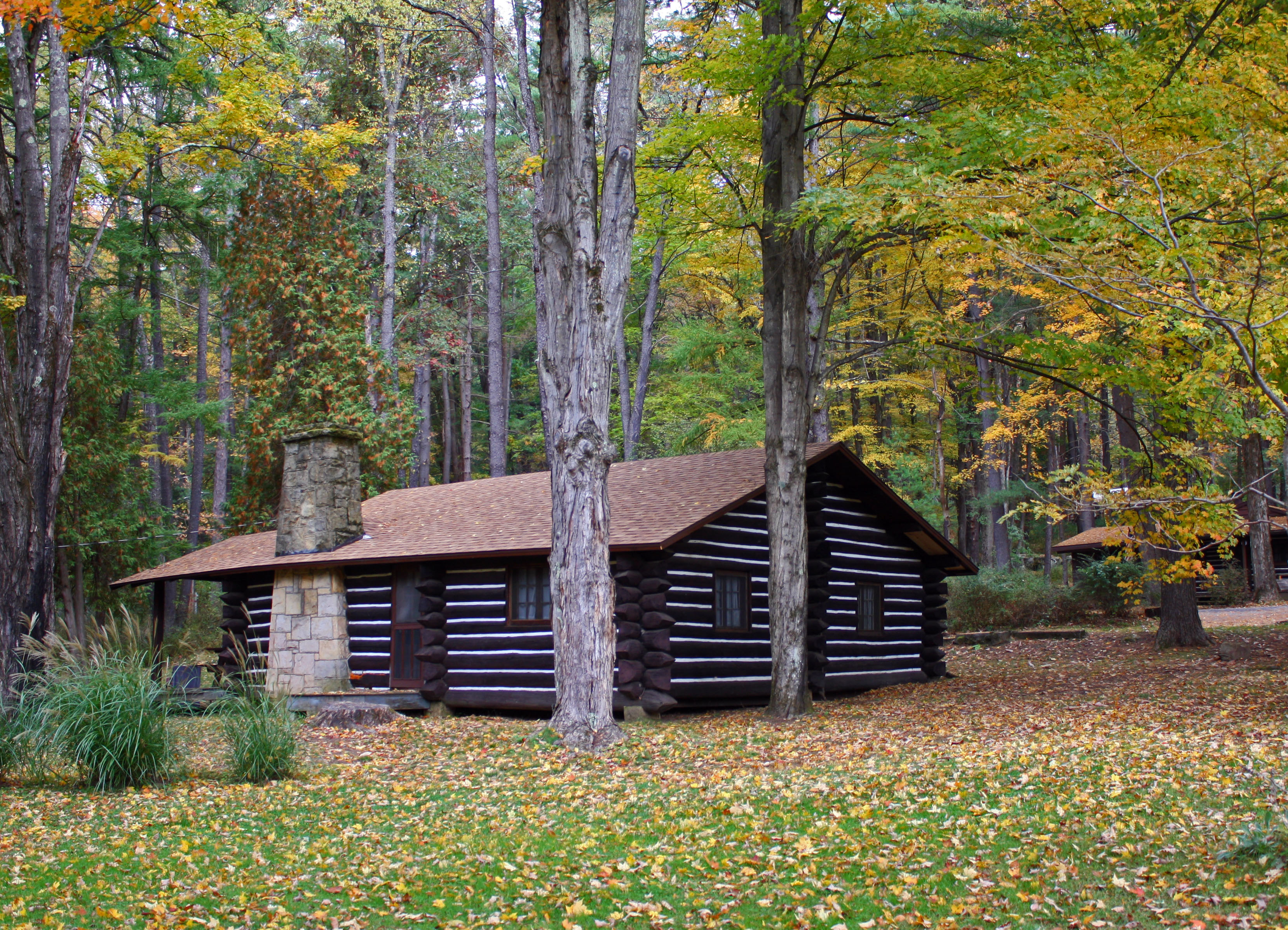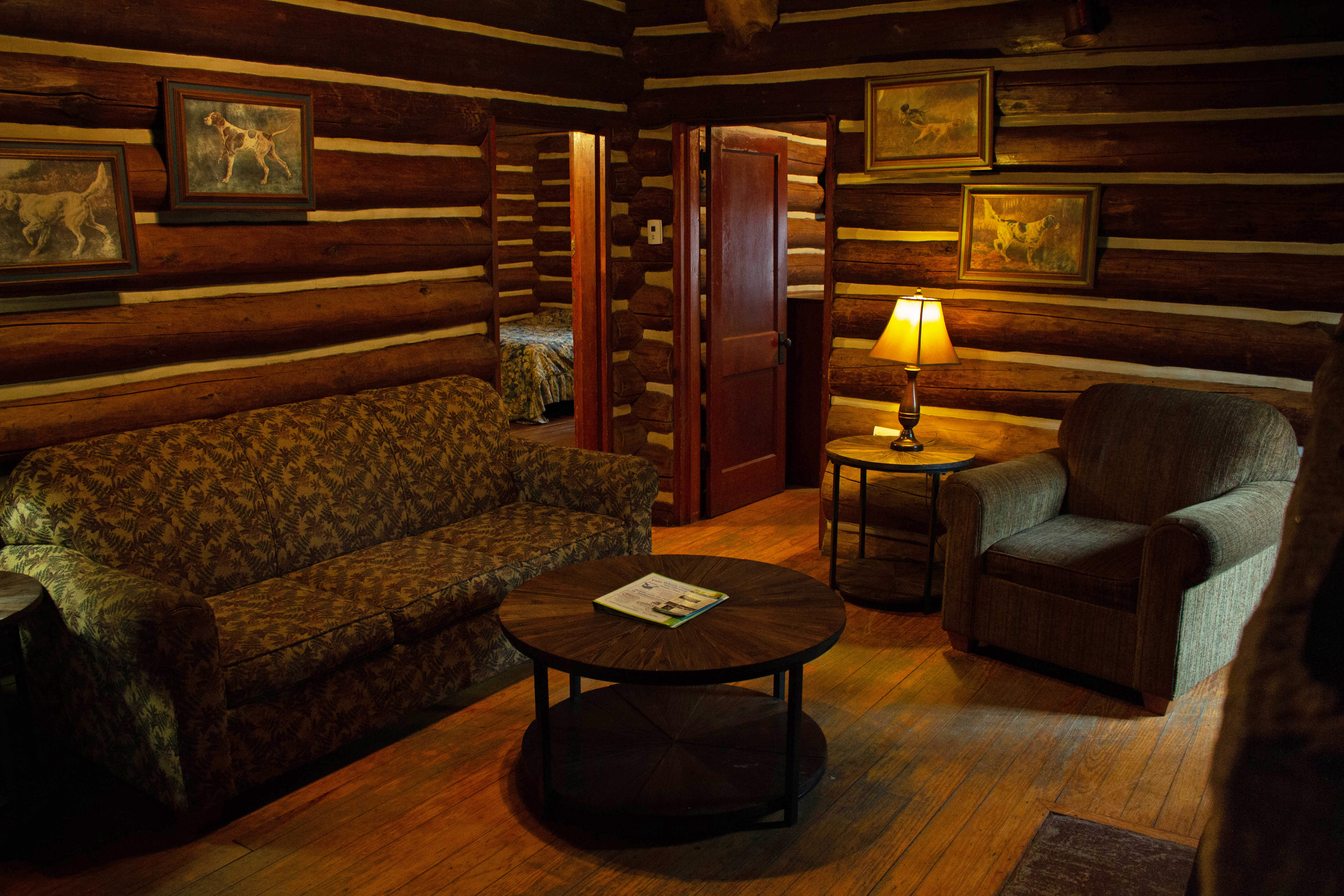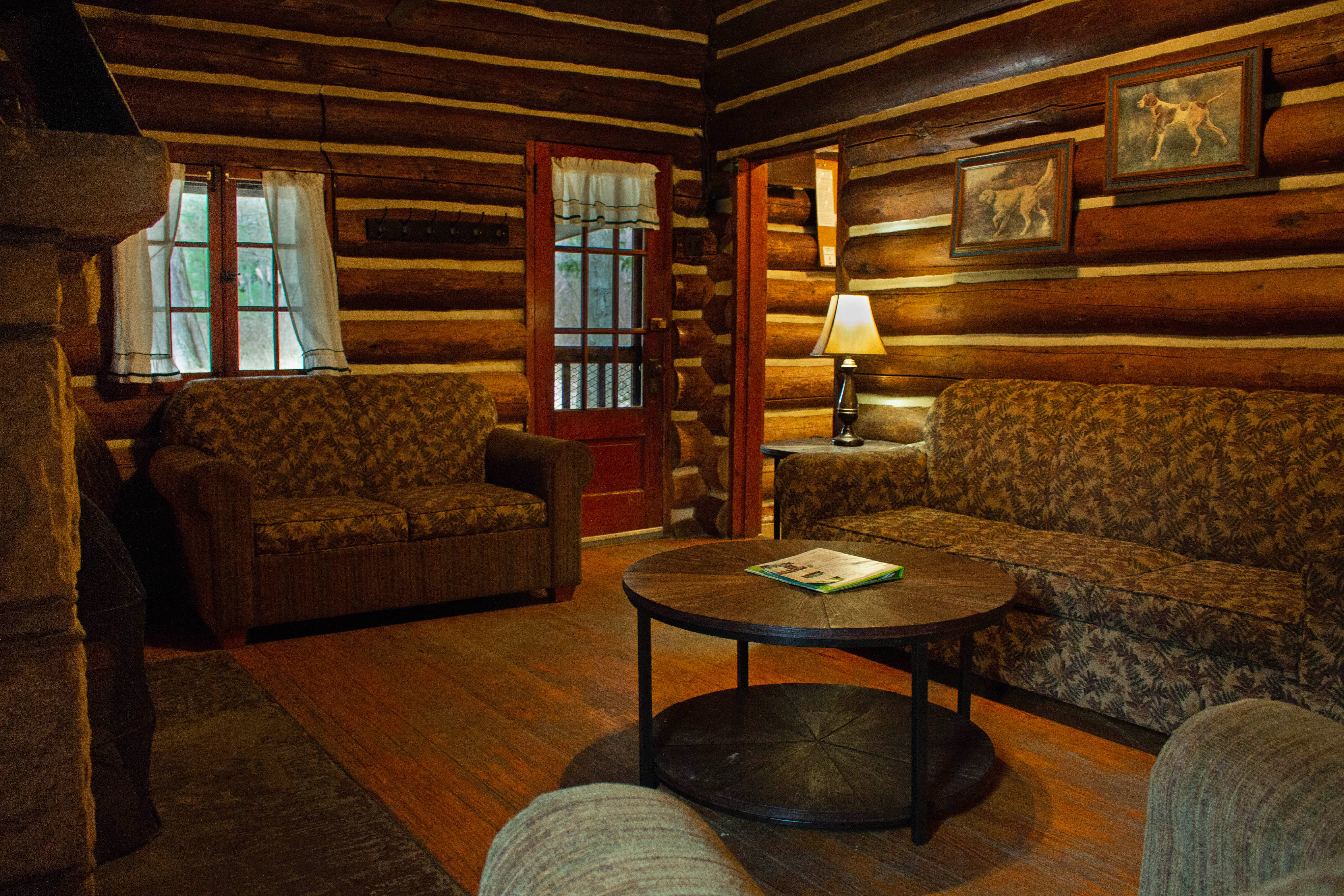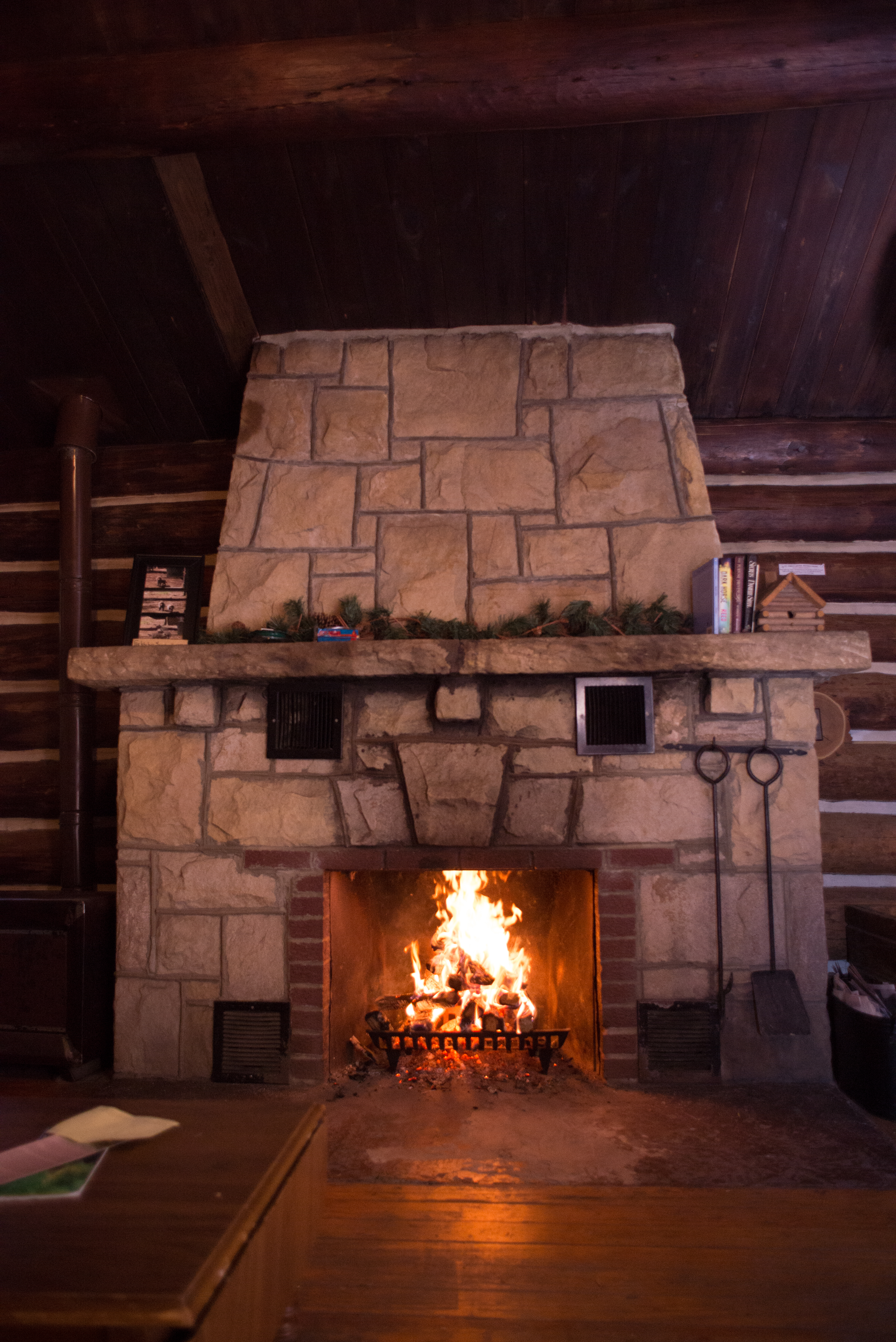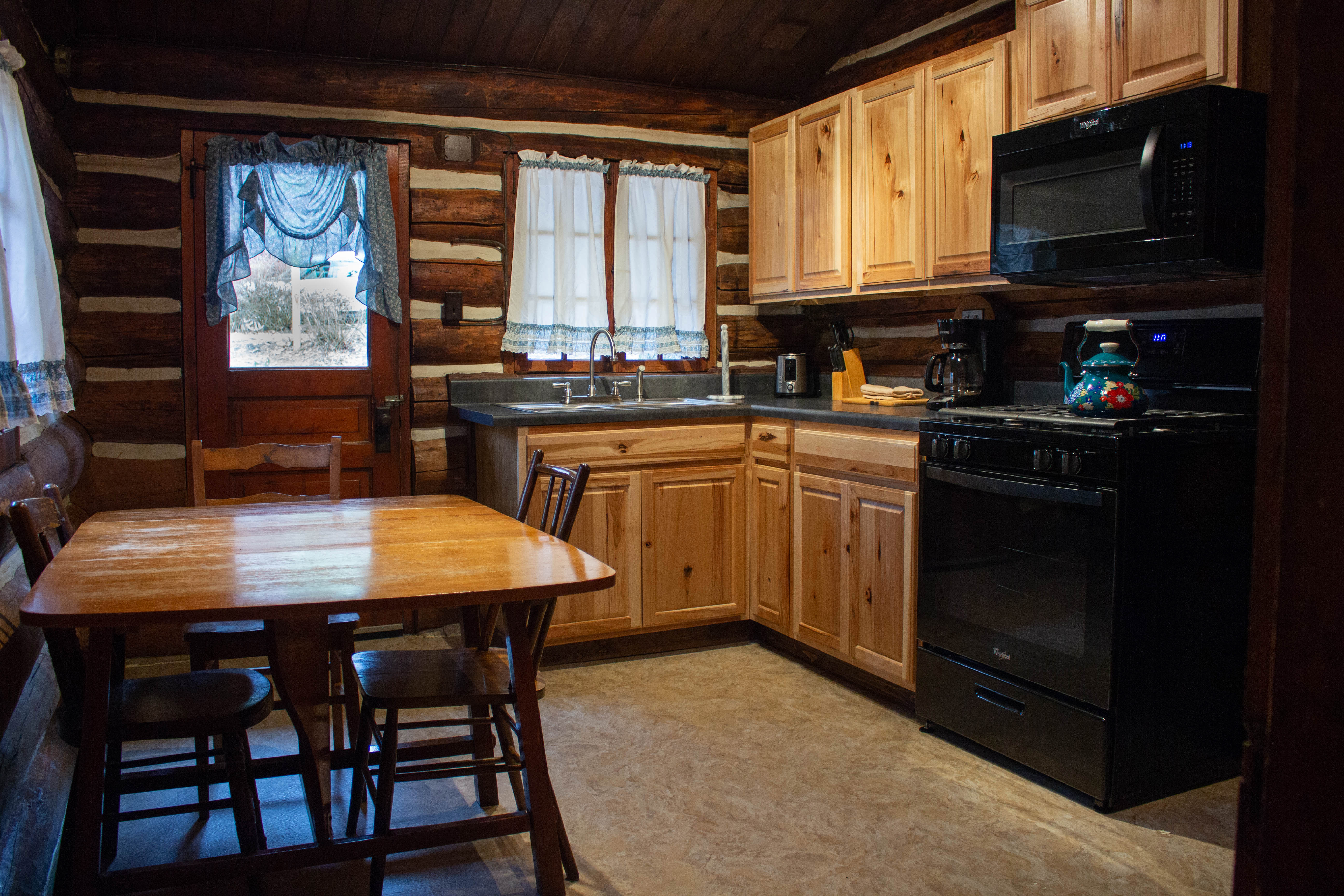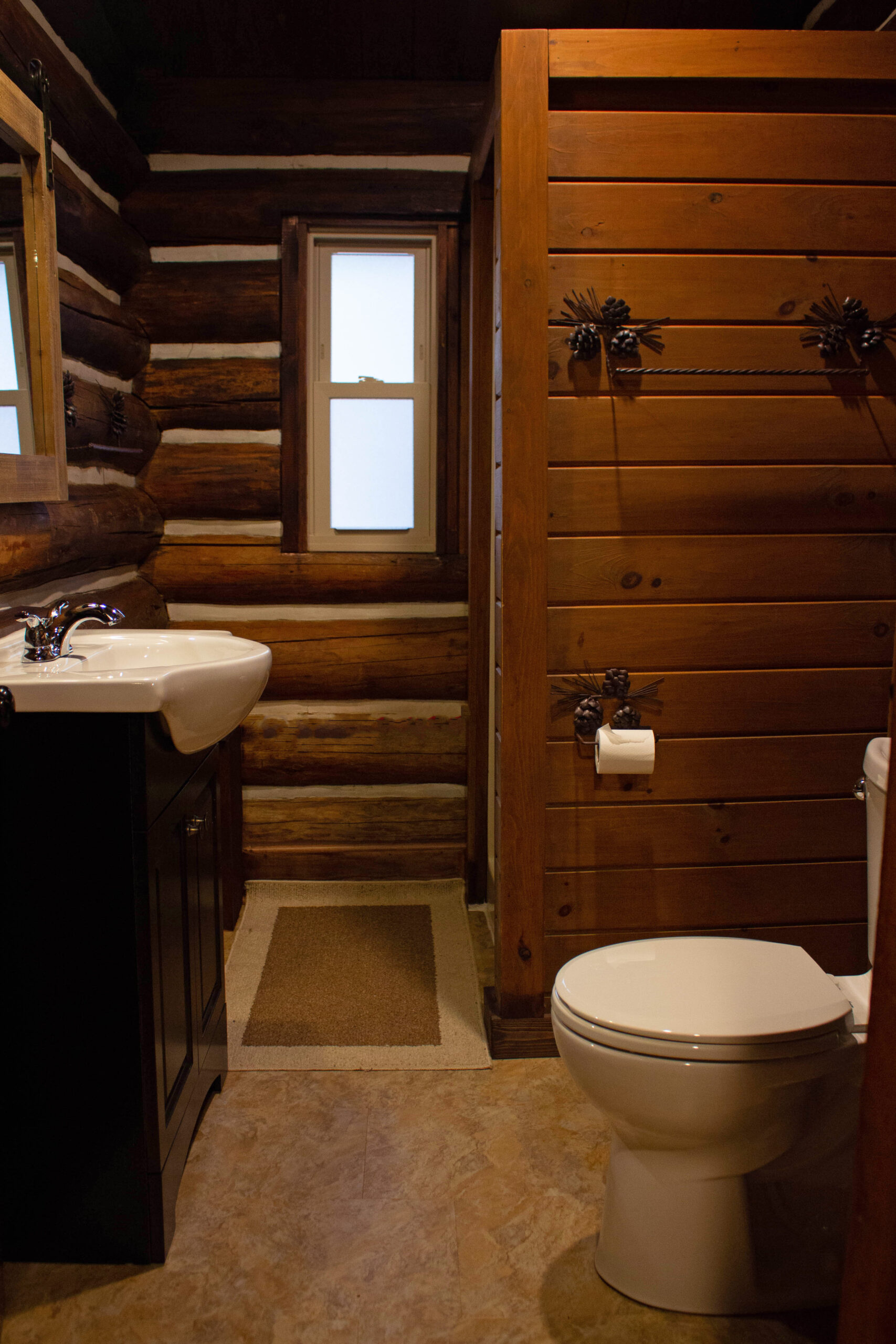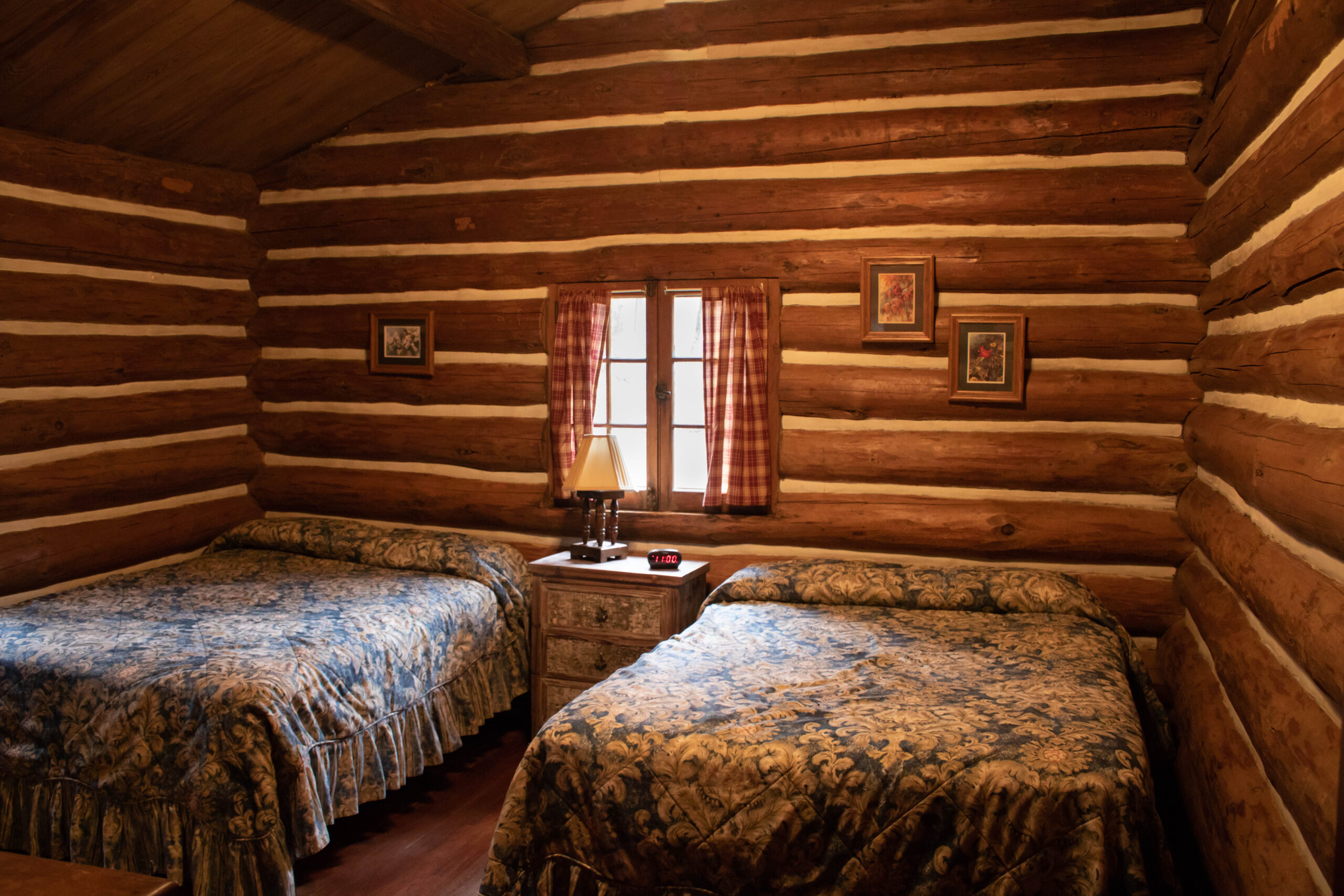 Cook Riverside Cabins
CABIN 12 - SLEEPS 8
Cabin 12 is a beautiful hand-hewn log and knotty pine cabin with field stone fireplace and cathedral ceiling in the living room. This cabin was renovated Spring 2020 from two bedroom to three bedrooms cabin along with a new kitchen and bathroom. Cabin 12 features a porch, picnic table, charcoal grill, and fire ring. From the first weekend in June through the last weekend of August, Cabin 12 is a Sunday to Sunday weekly rental.  Beds: 3 Double, 1 Set of Bunk Beds
Nightly Rental: $250
Weekly Rental: $1,125
Winter Rate: $200/night or $900/week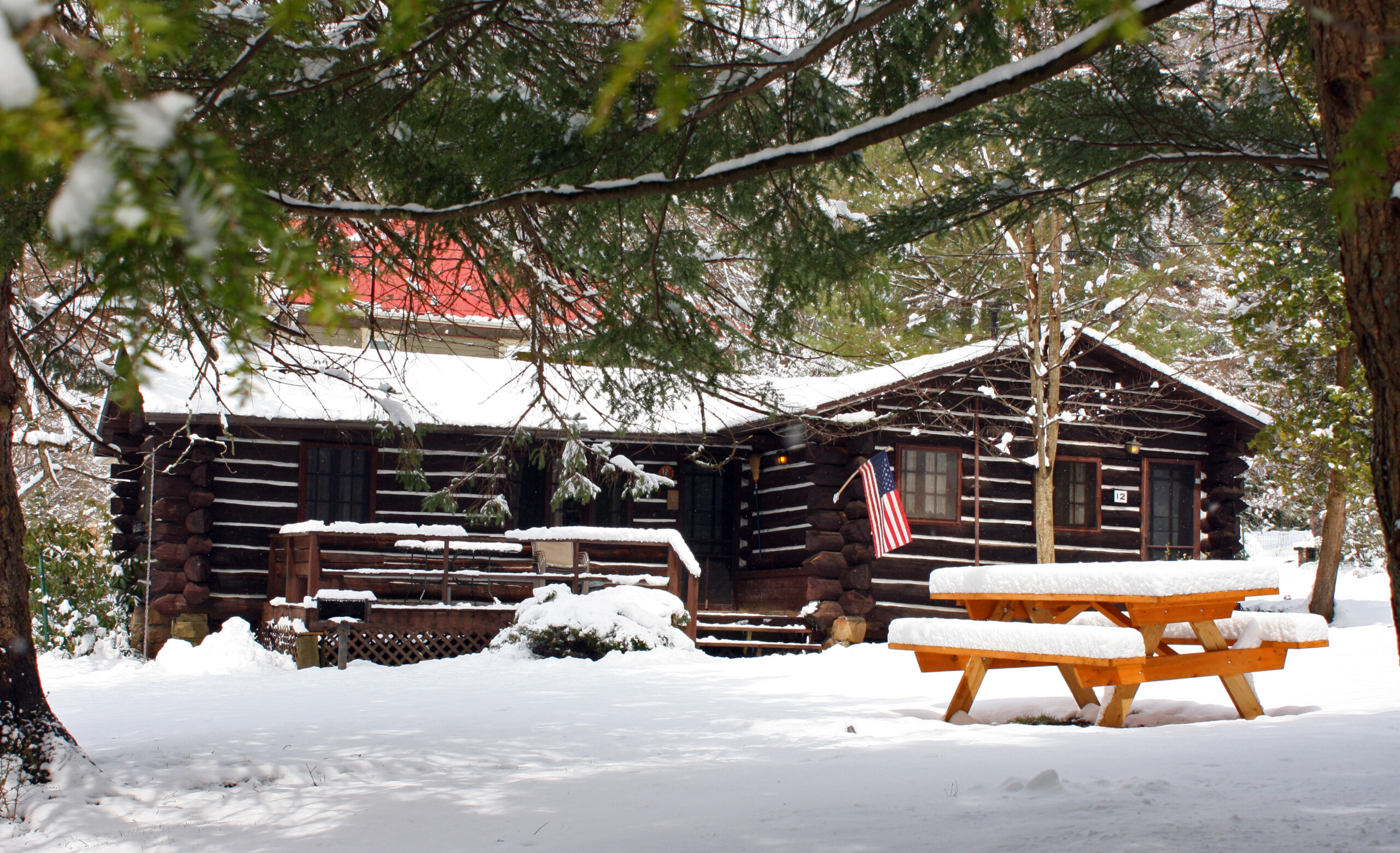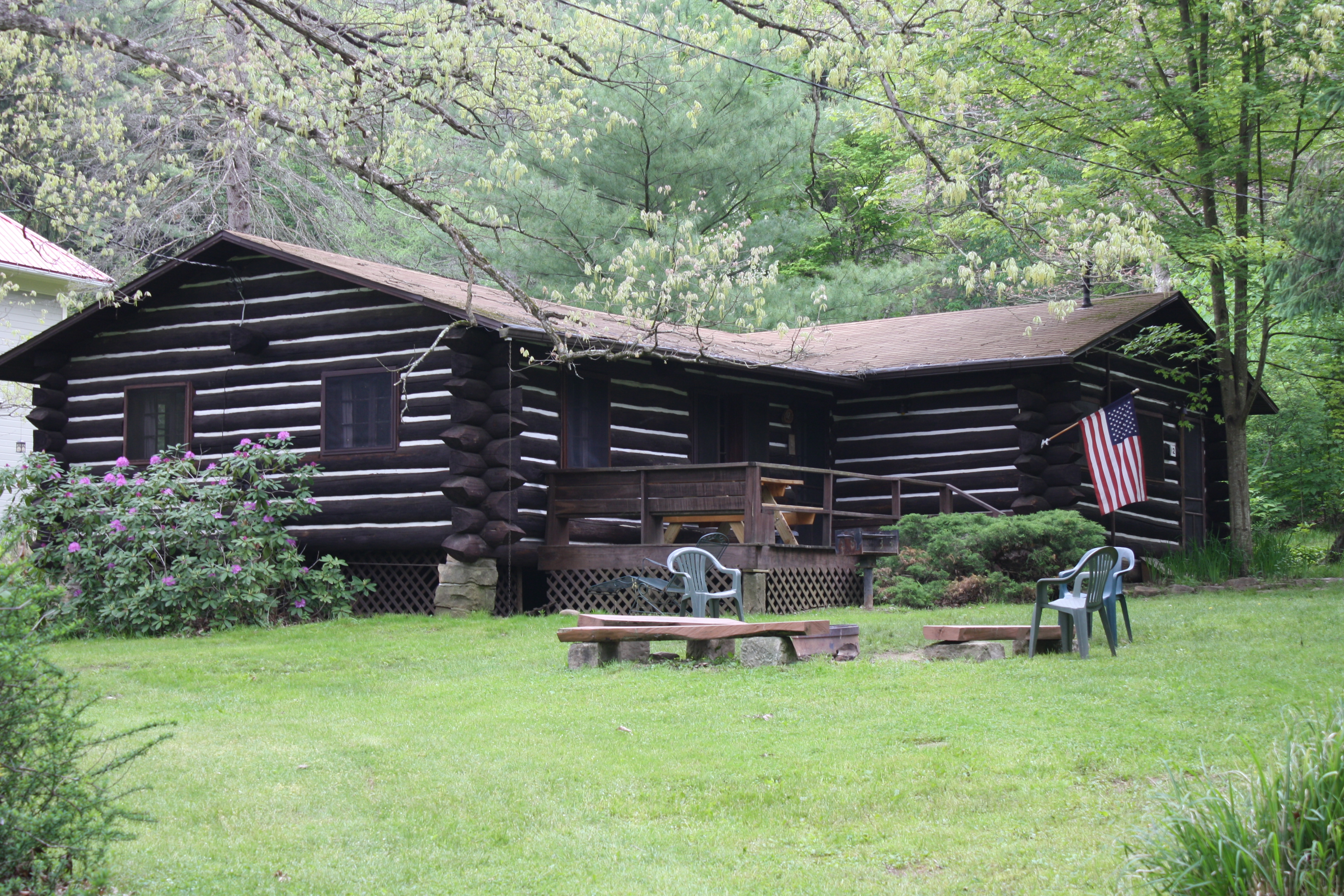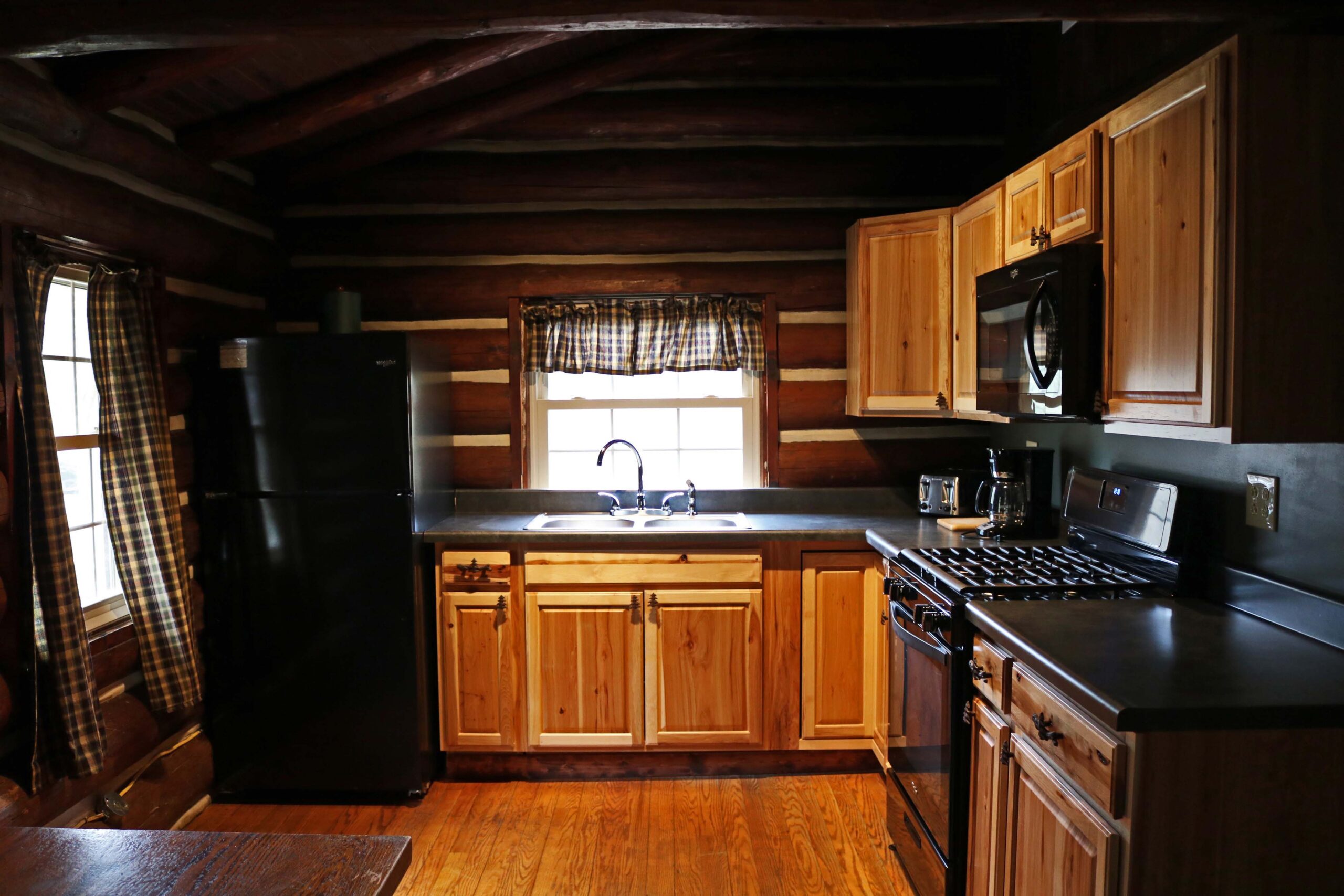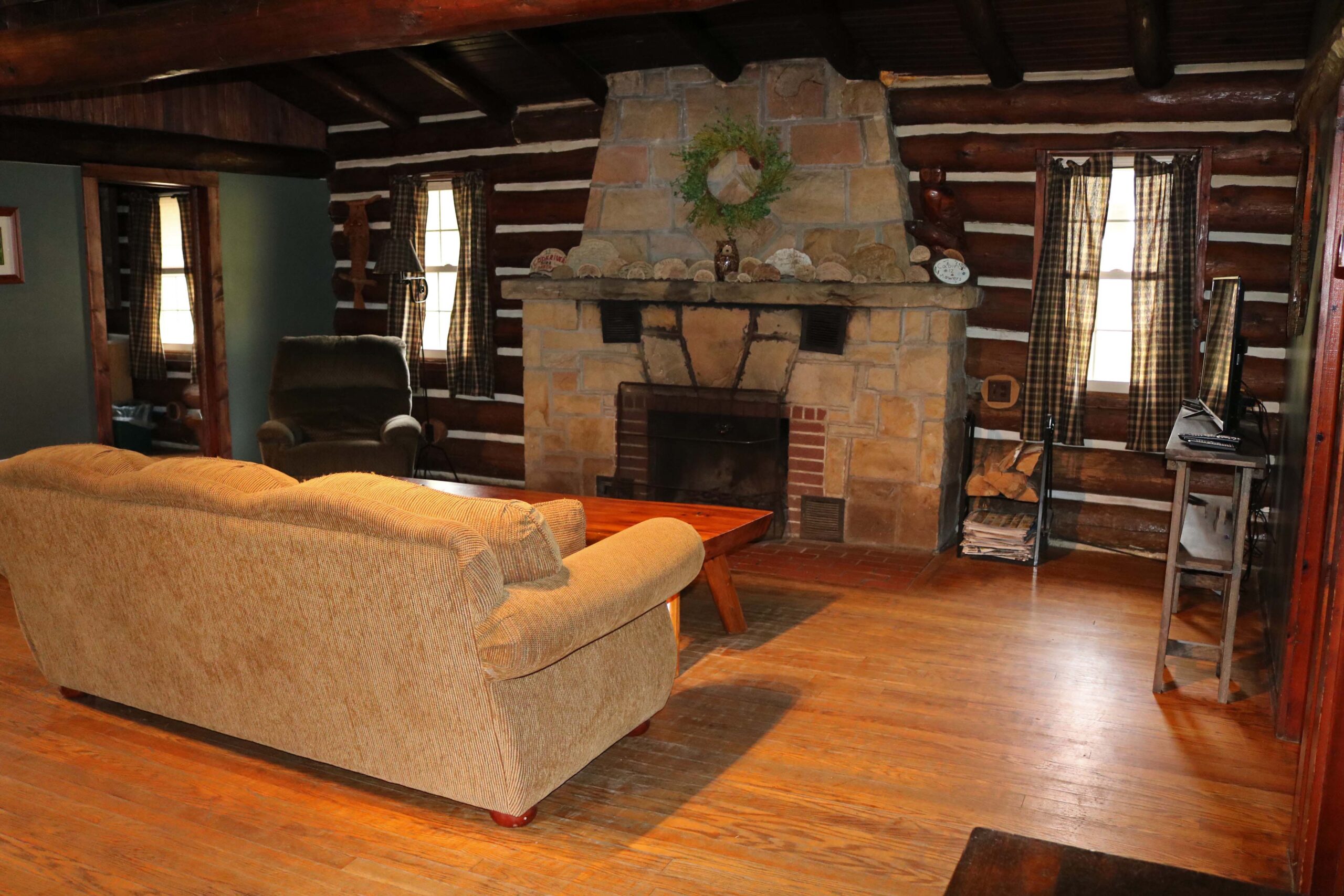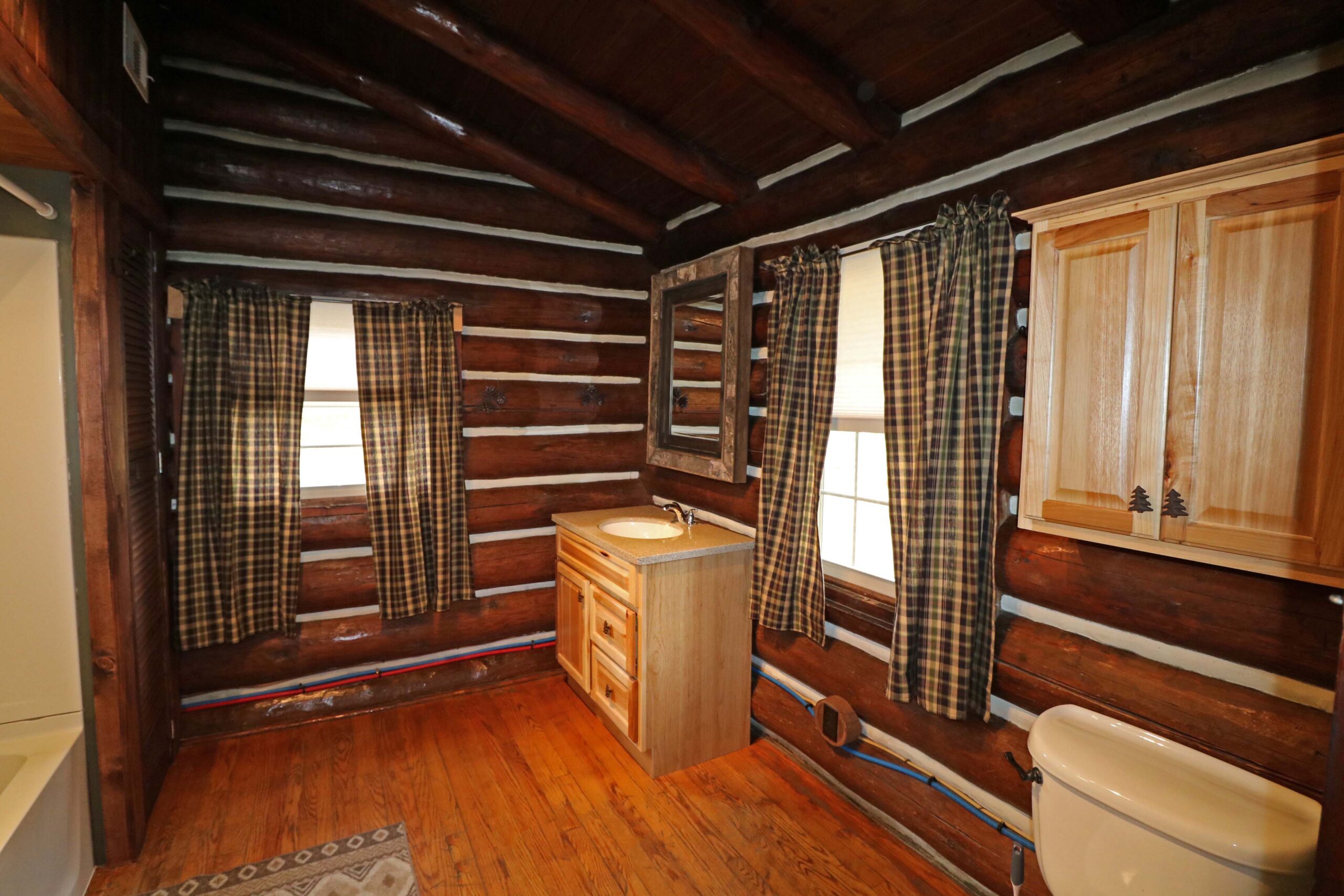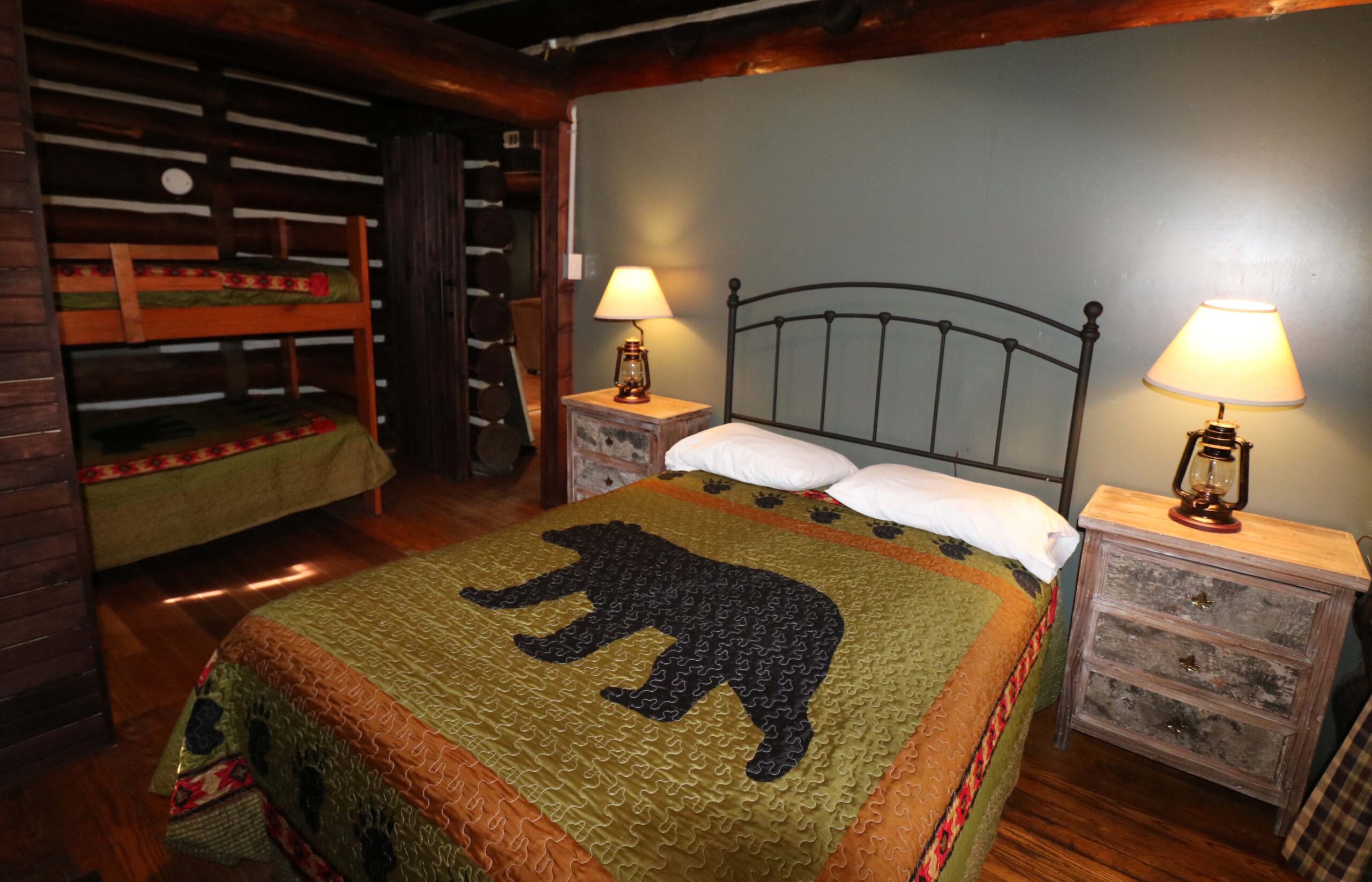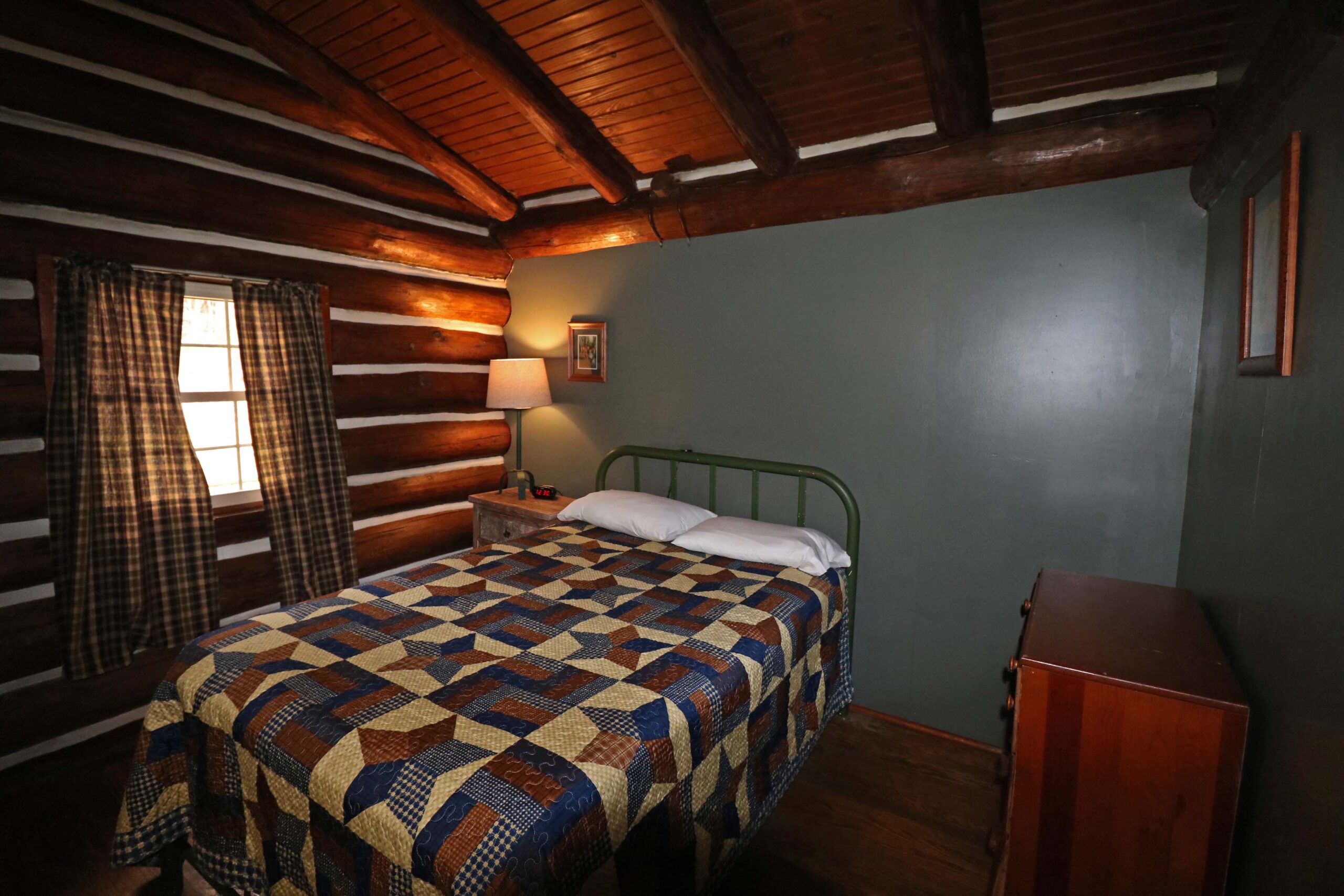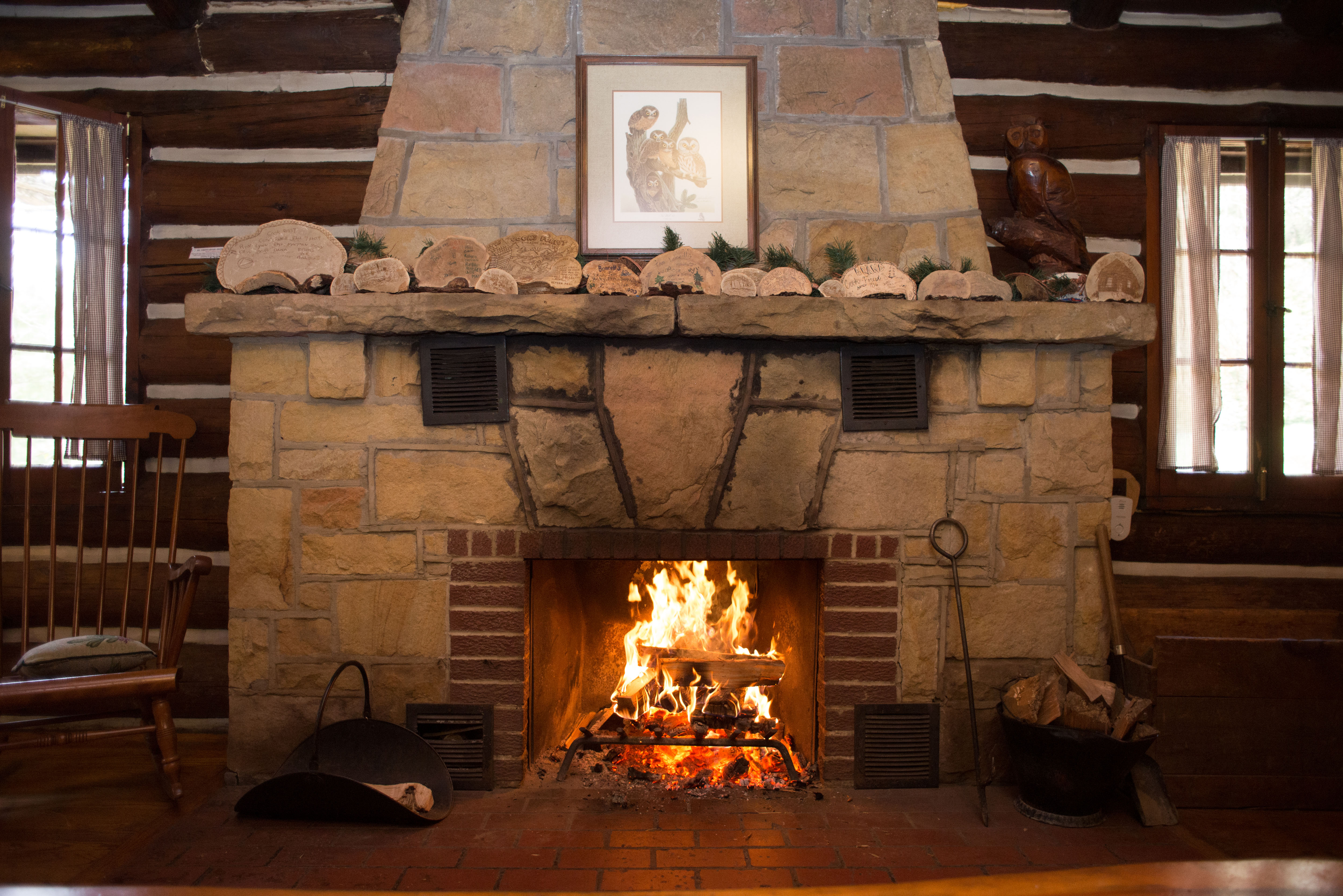 Cook Riverside Cabins
CABIN 13 - SLEEPS 12
Cabin 13 is a spacious cabin, perfect for larger groups, with two bedrooms and a loft.  The living room features cathedral ceilings and a cozy fireplace.  Kitchen renovated in 2019. Bathroom with shower. Cabin 13 has a covered front porch, picnic tables, charcoal grill, and fire ring. From the first weekend in June through the last weekend of August, Cabin 13 is a Saturday to Saturday weekly rental. Beds: 3 Double, 4 Singles, 1 Set of Bunk Beds
Nightly Rental: $270
Weekly Rental: $1,215
Winter Rate: $216/night or $972/week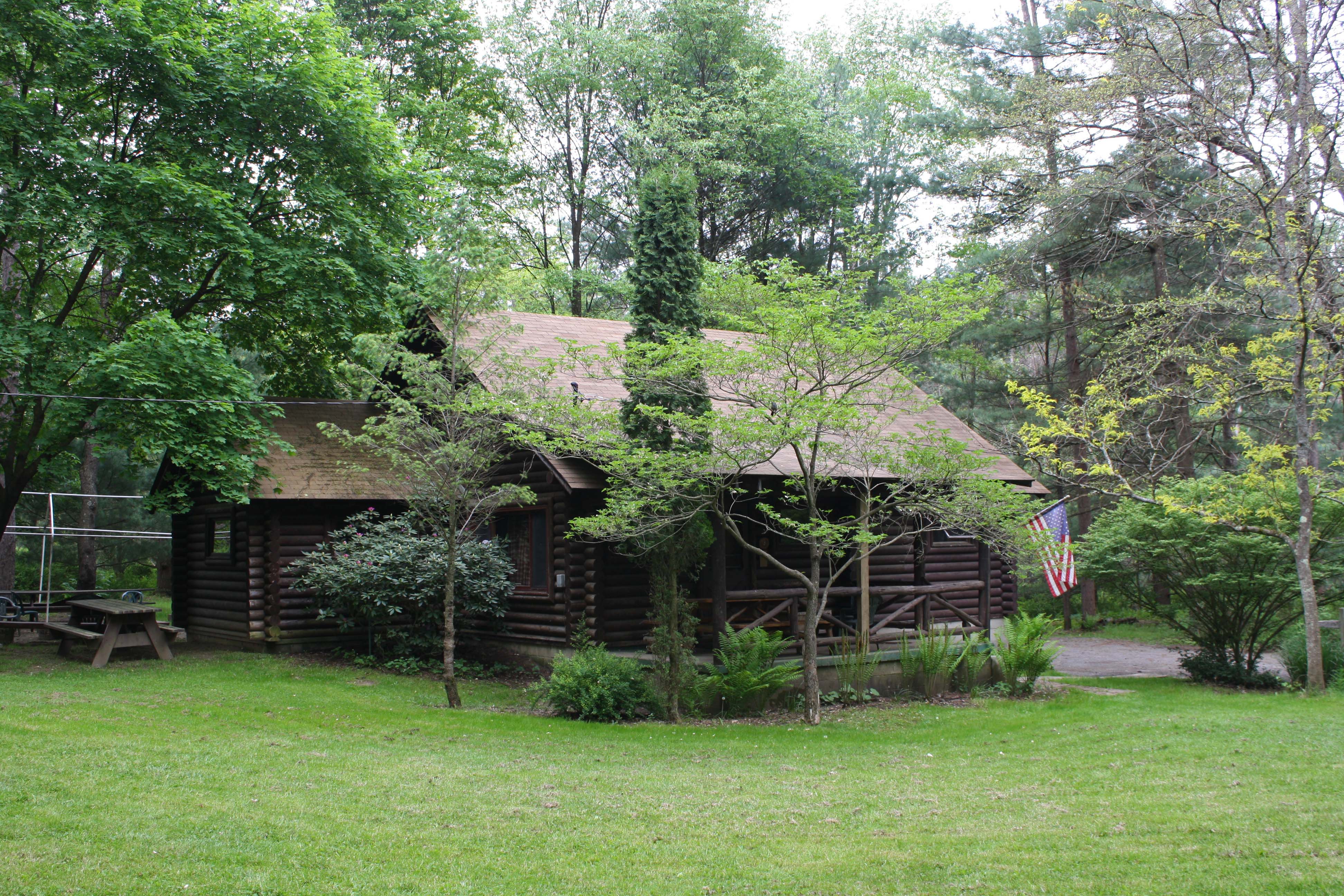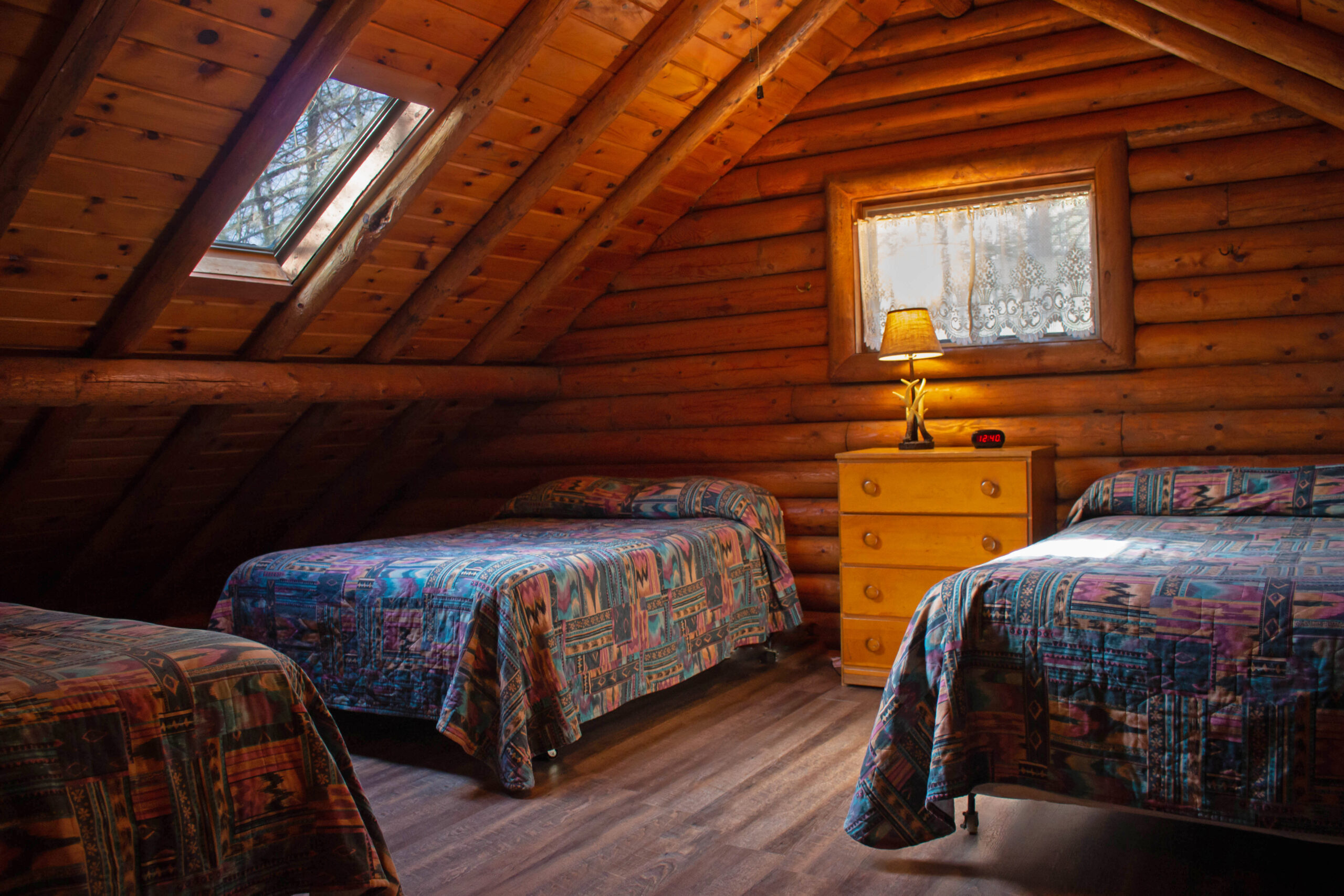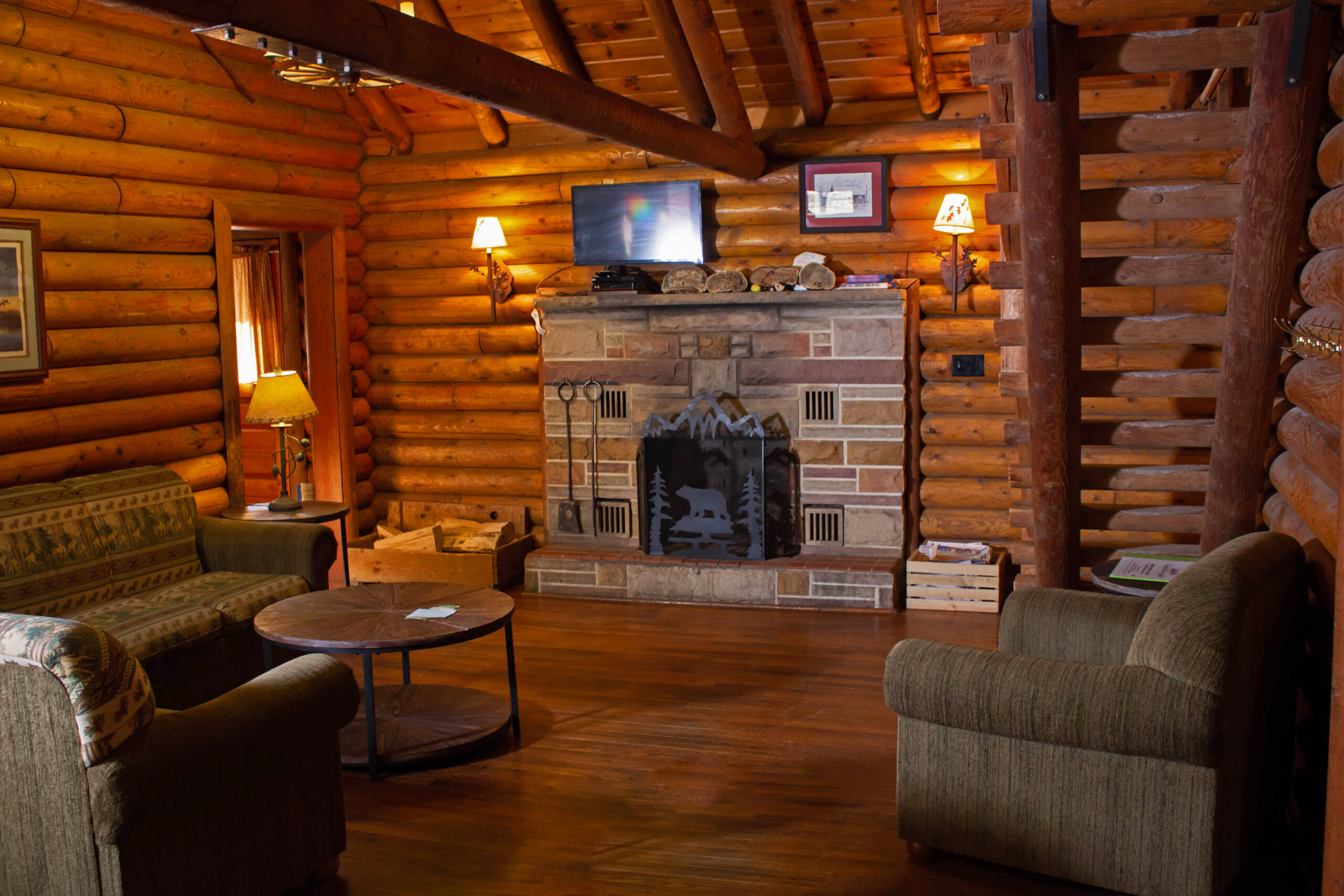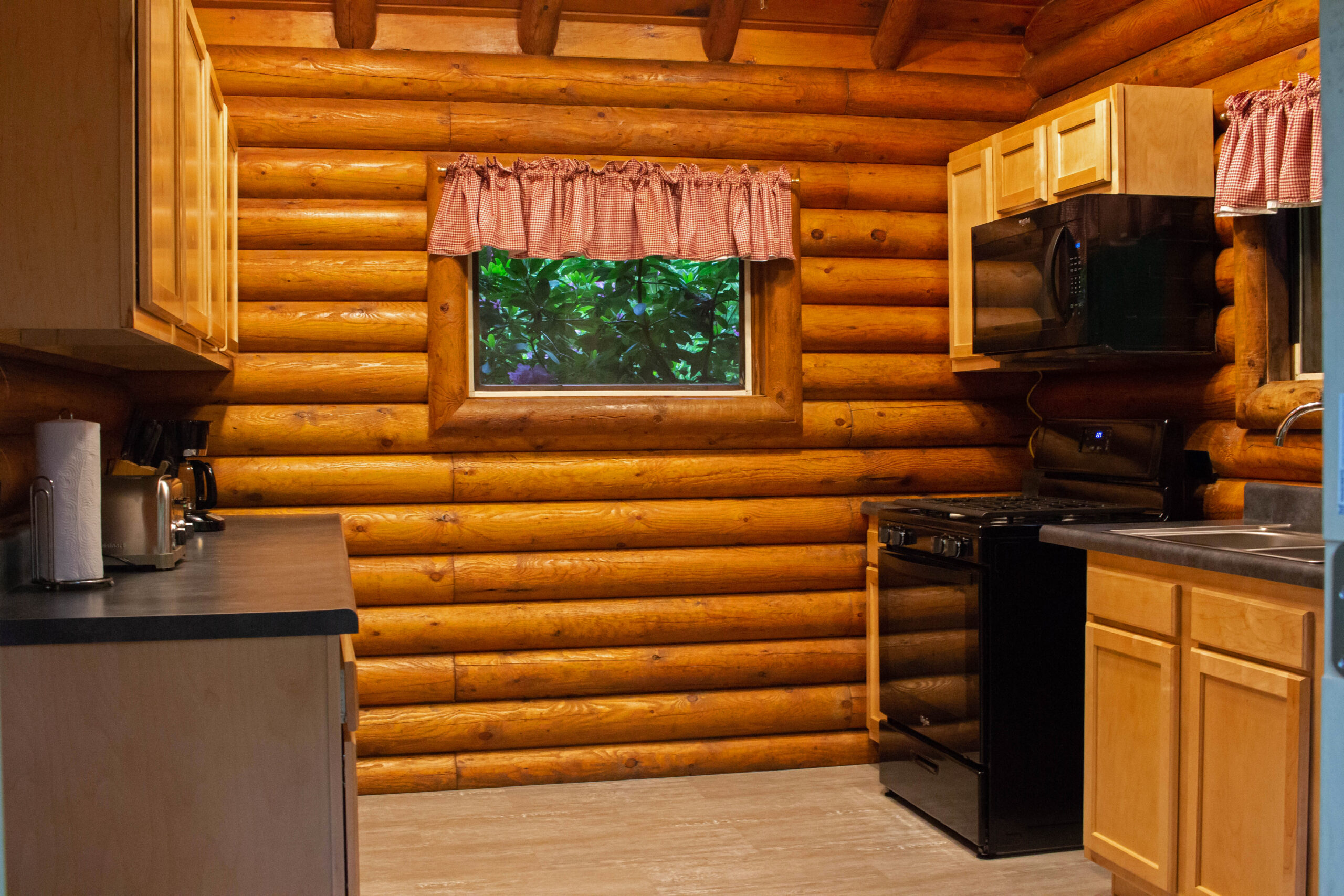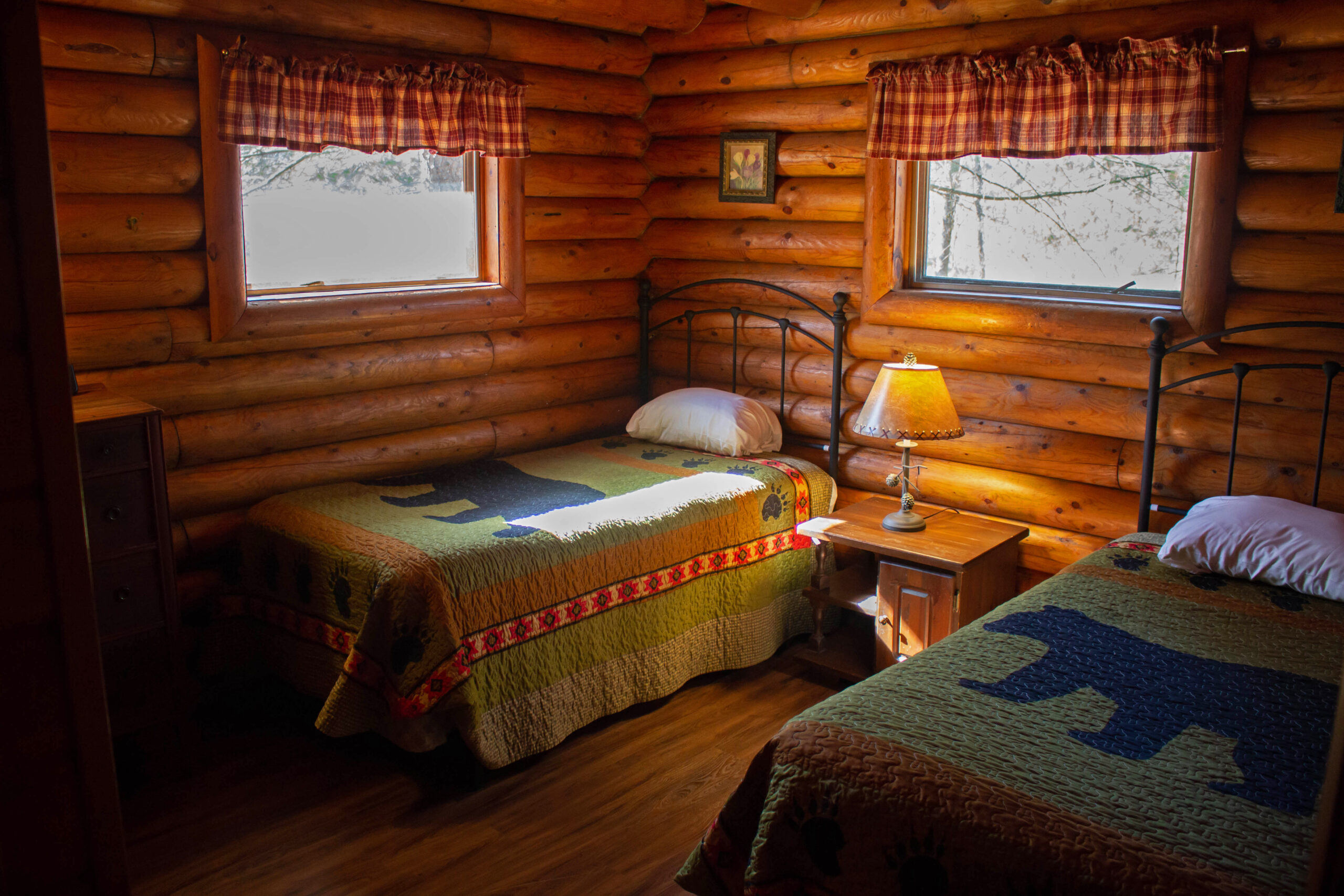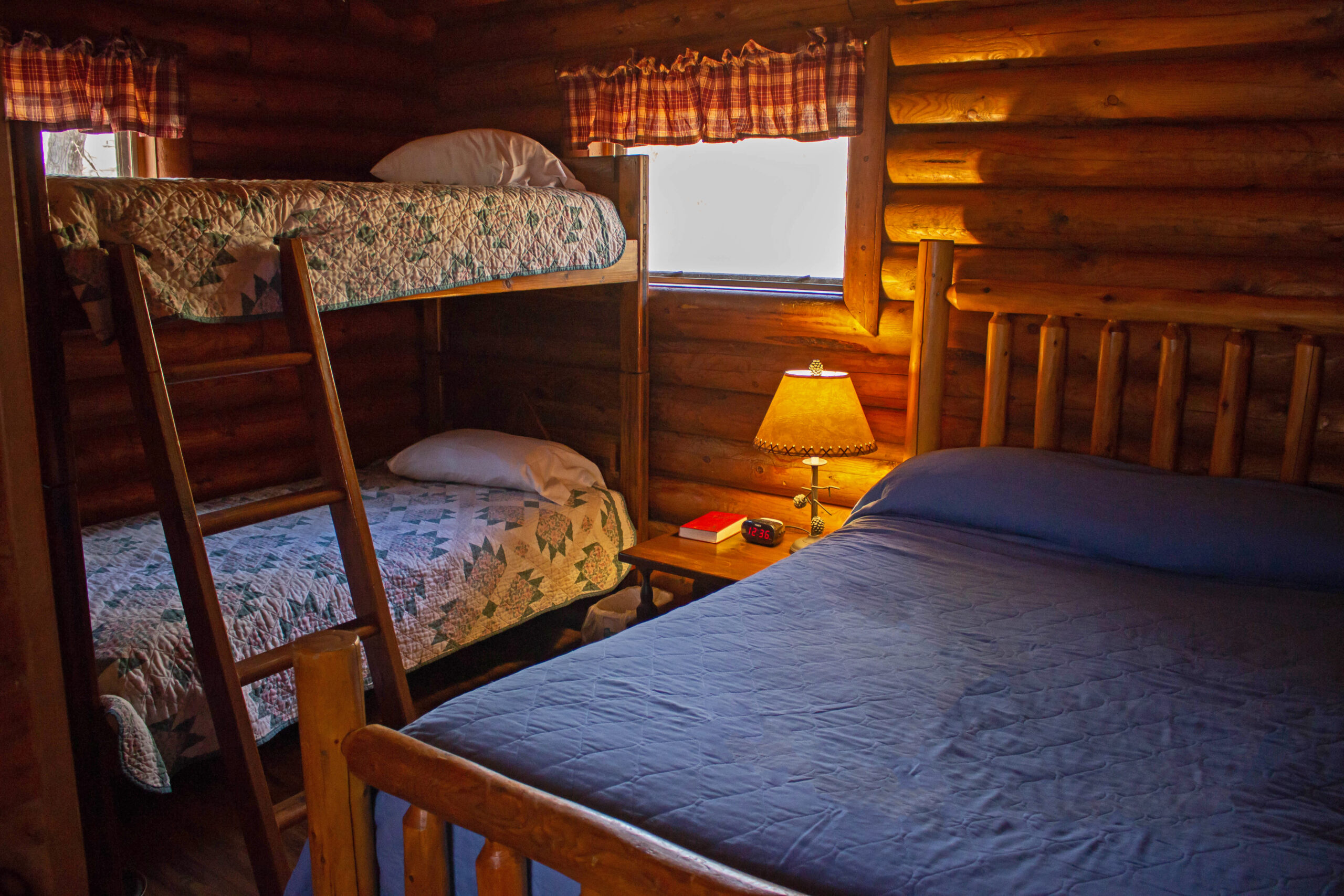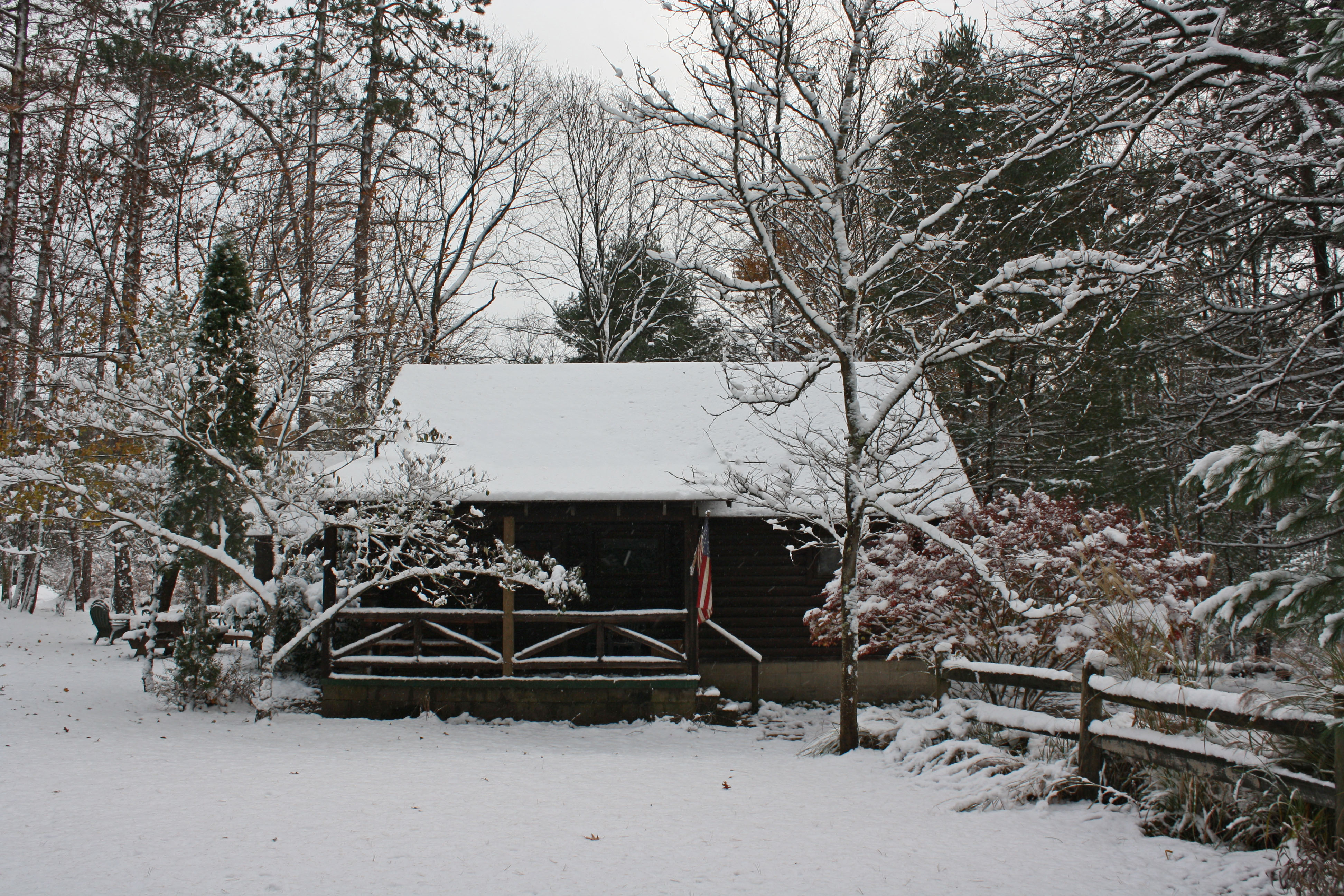 Cook Riverside Cabins
CABIN 14 - SLEEPS 6
Cabin 14 is a mid-size cabin of hand-hewn logs and knotty pine construction.  This two-bedroom cabin has a welcoming stone fireplace.  Kitchen renovated and bathroom updated in 2019. Cabin 14 has a large front porch, picnic table, charcoal grill, and fire ring. From the first weekend in June through the last weekend of August, Cabin 14 is a Sunday to Sunday weekly rental. Beds: 2 Doubles, 2 Singles
Nightly Rental: $225
Weekly Rental: $1,015
Winter Rate: $180/night or $812/week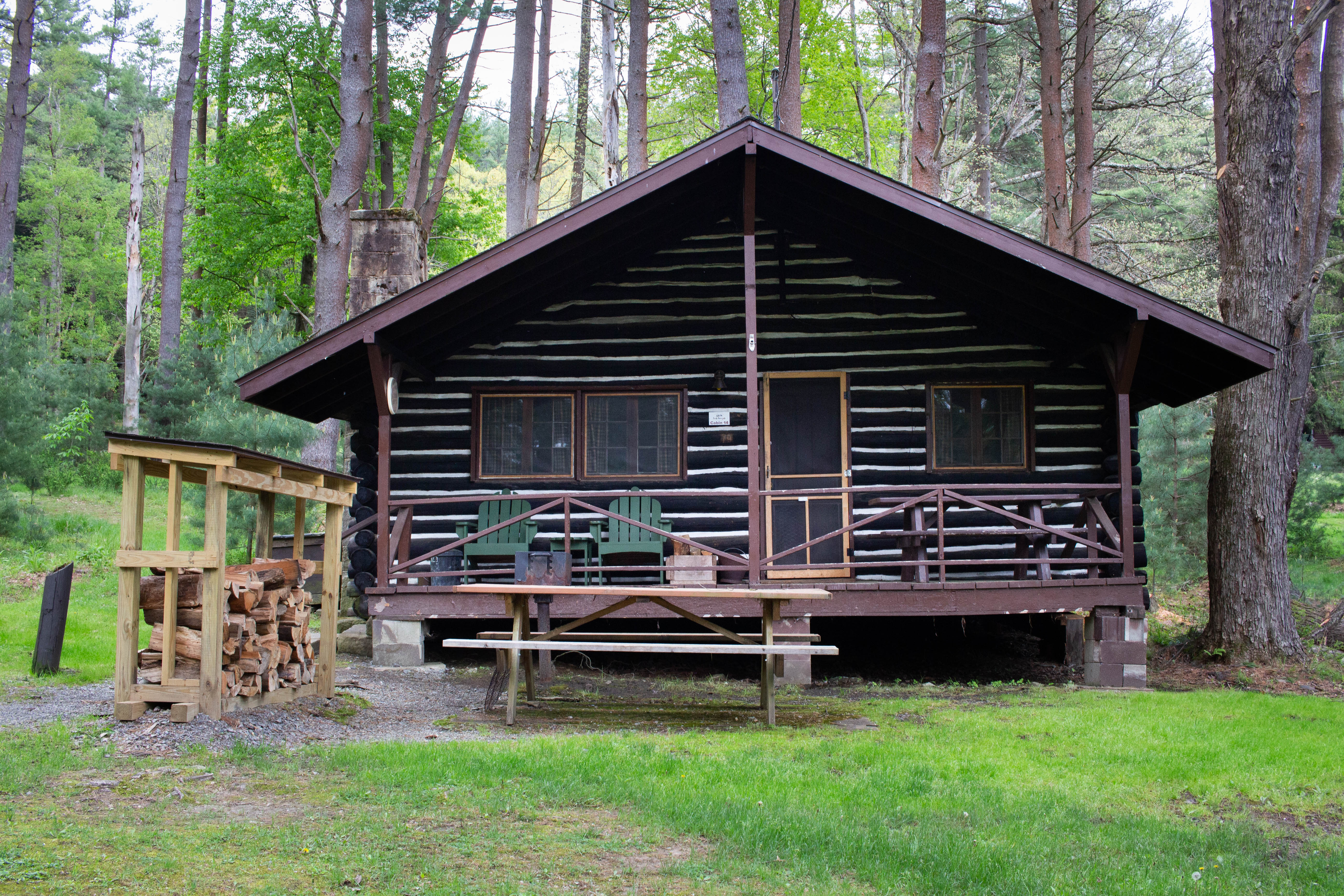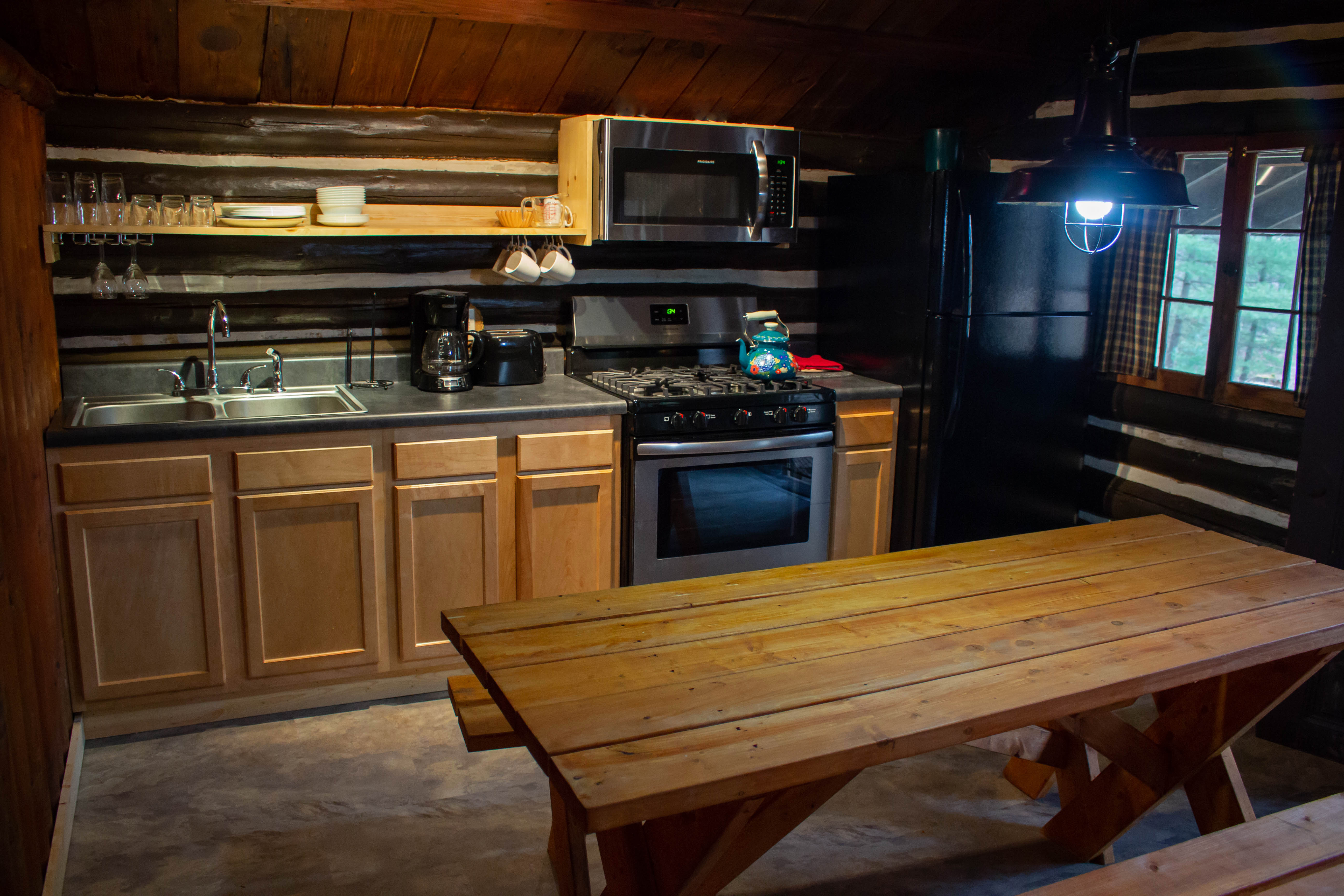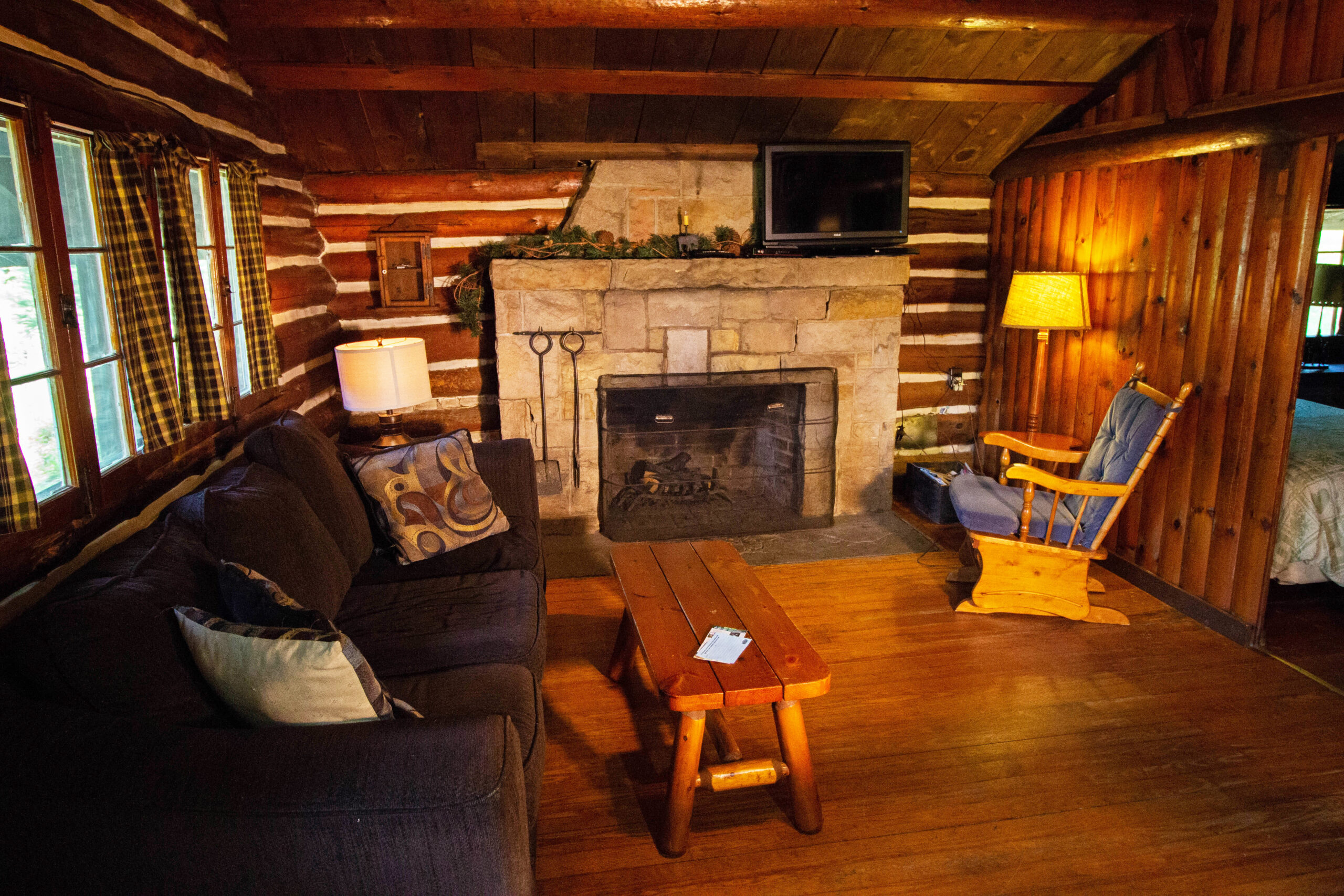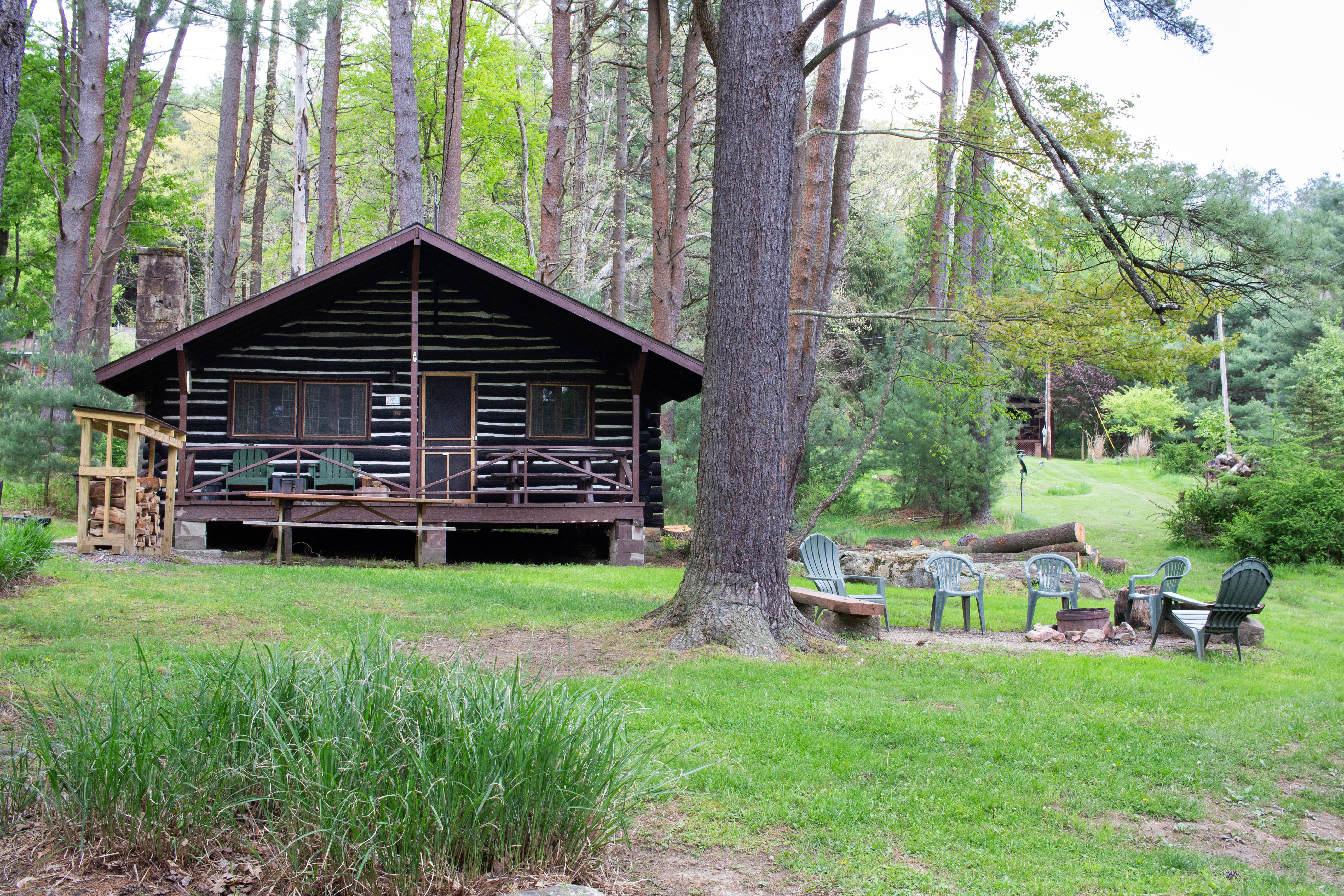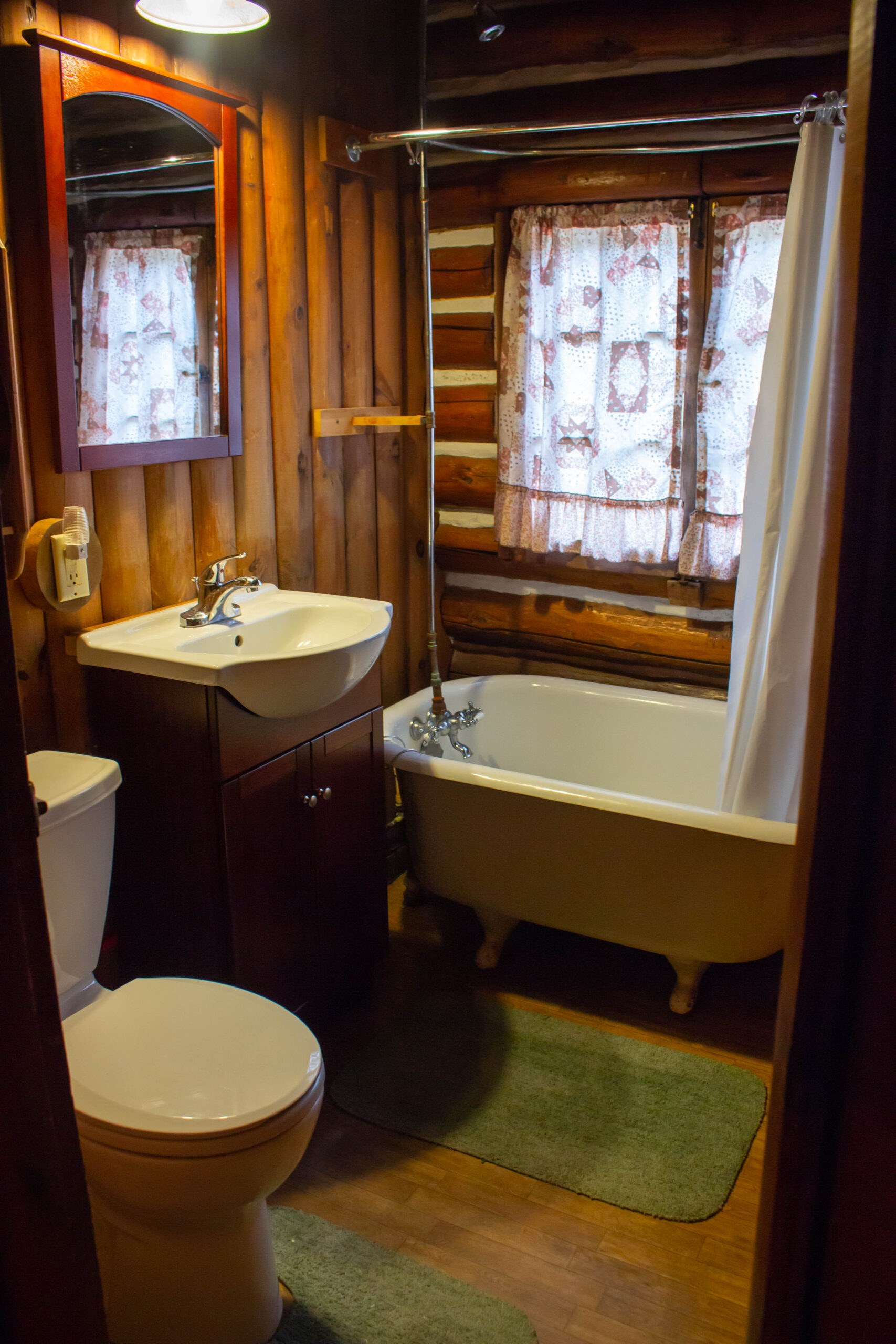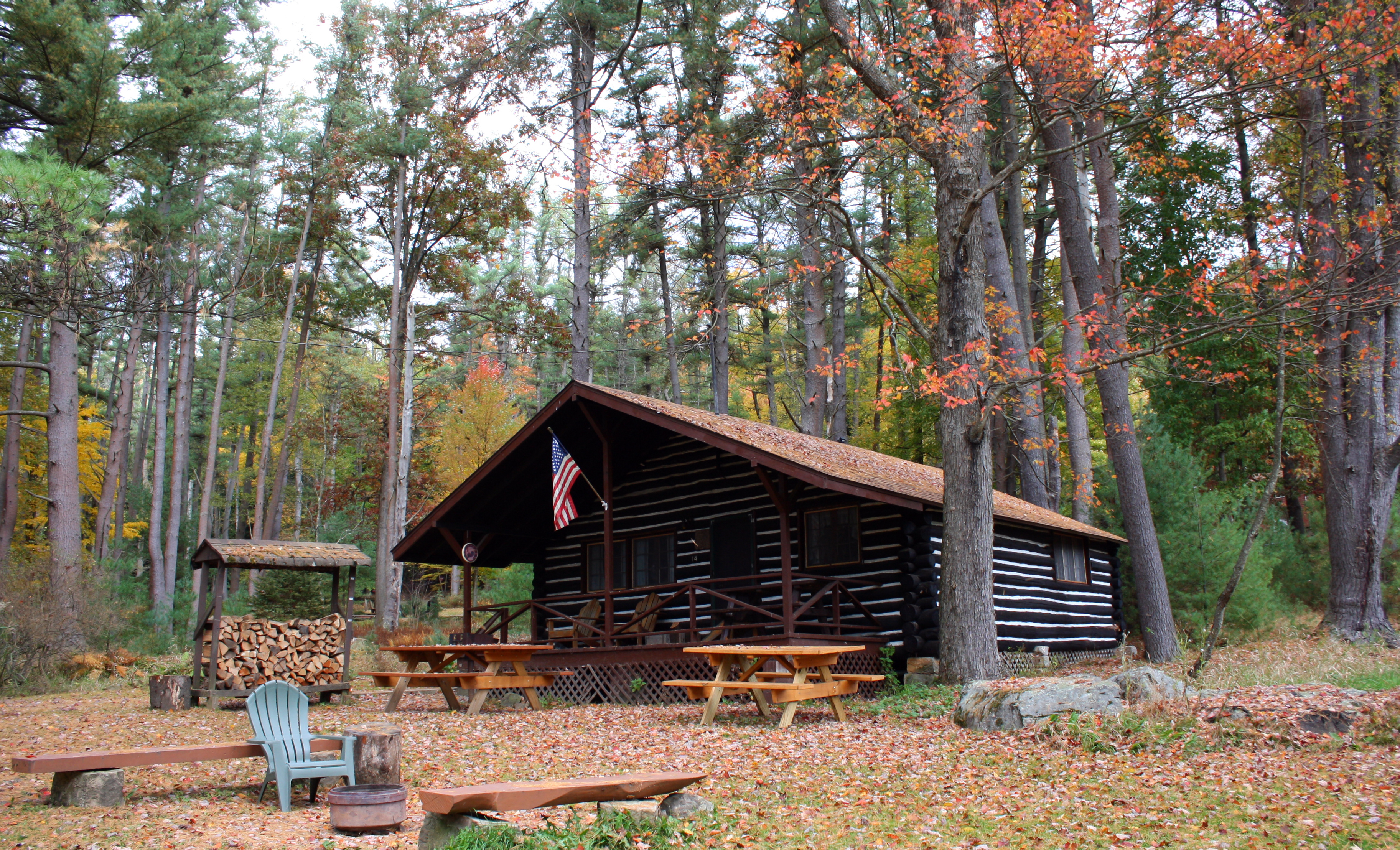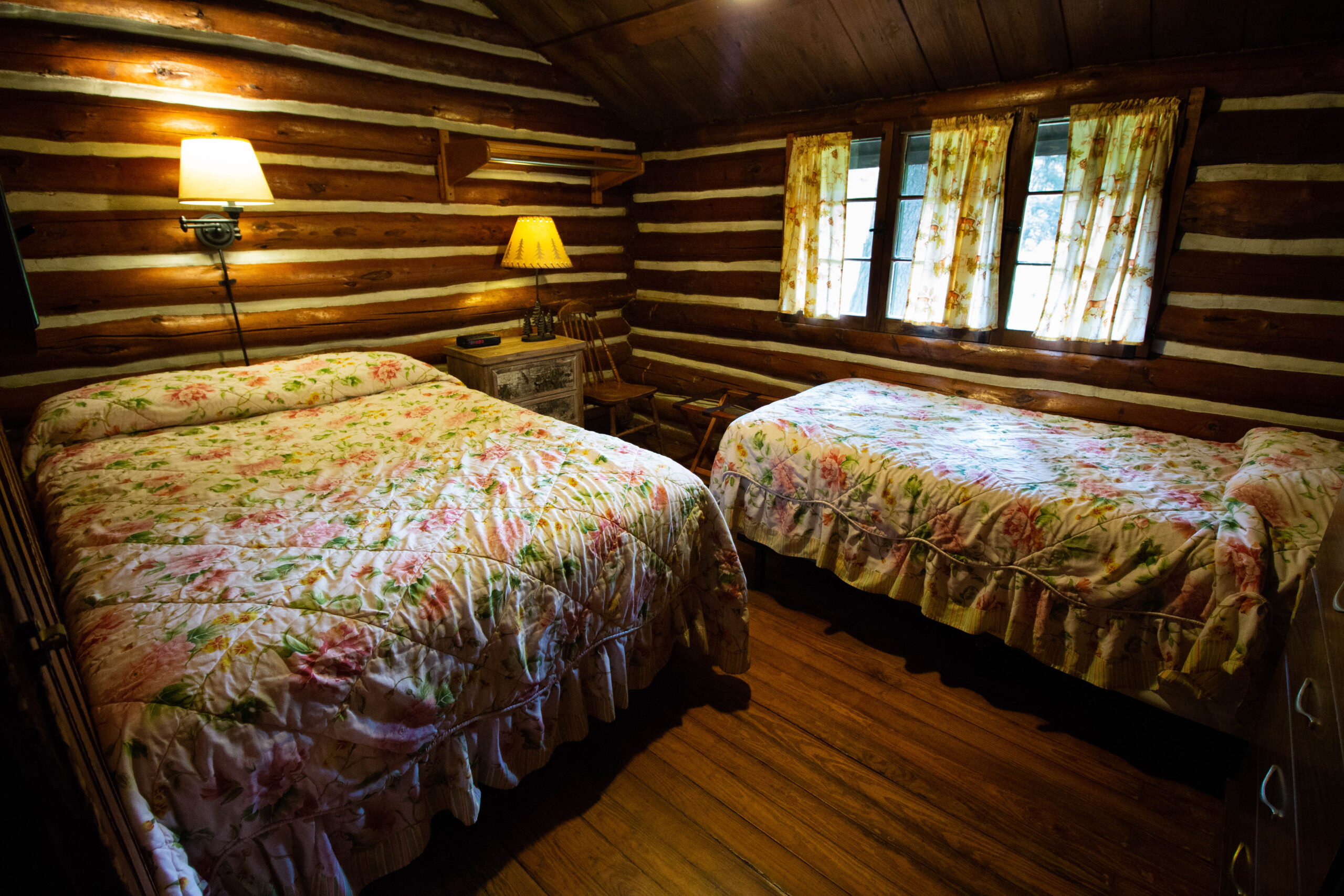 Cook Riverside Cabins
CABIN 15 - SLEEPS 12
Cabin 15, our "Knotty Pine Lodge", features beautiful woodwork and a beautiful stone fireplace.  Three bedrooms, two full bathrooms, and large kitchen with dining area are great for larger groups.  Cabin 15 has a large front porch, picnic table, charcoal grill, and fire ring. From the first weekend in June through the last weekend of August, Cabin 15 is a Sunday to Sunday weekly rental.  Beds: 5 Doubles, 1 Double Sleeper Sofa
Nightly Rental: $275
Weekly Rental: $1,250
Winter Rate: $220/night or $1,000/week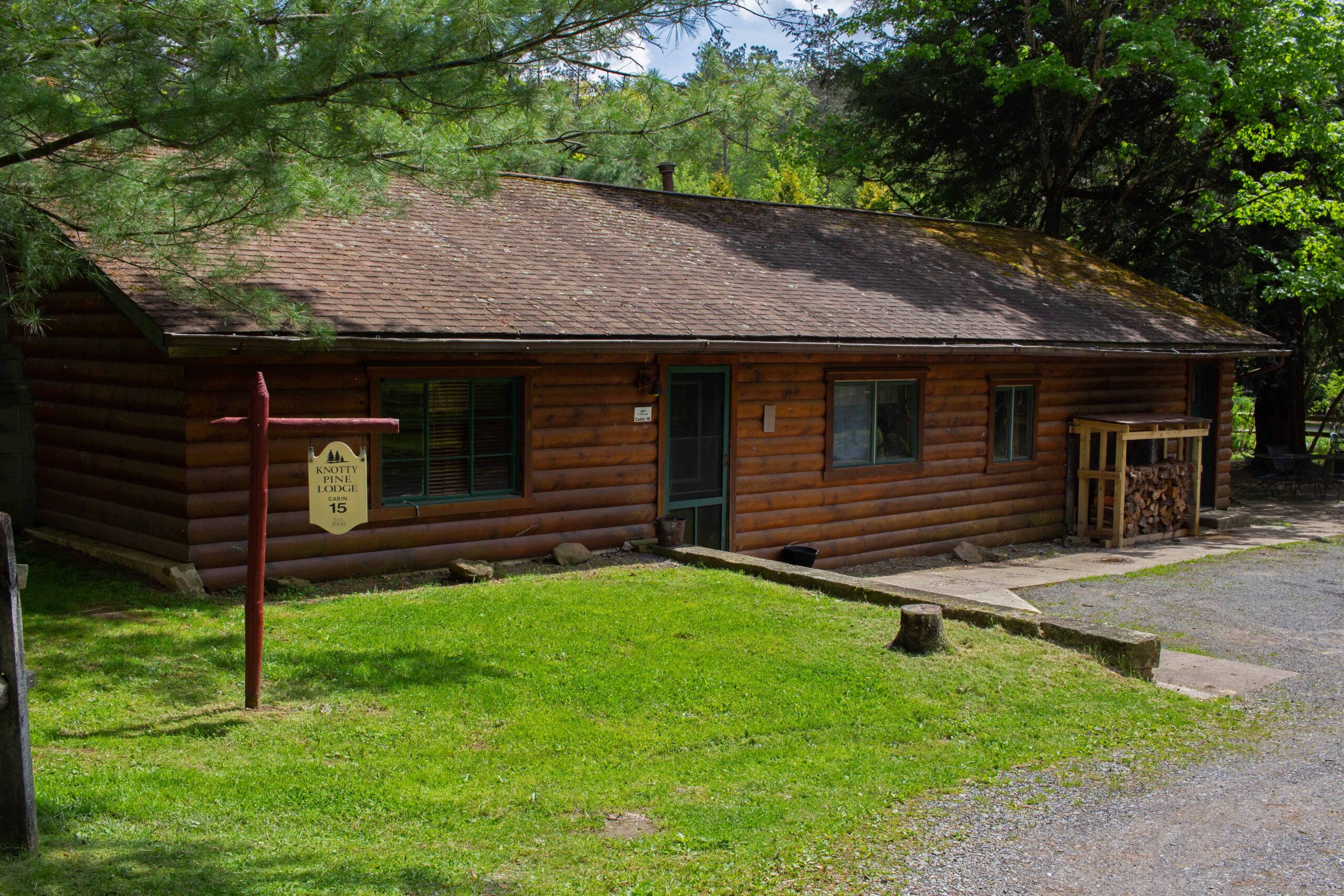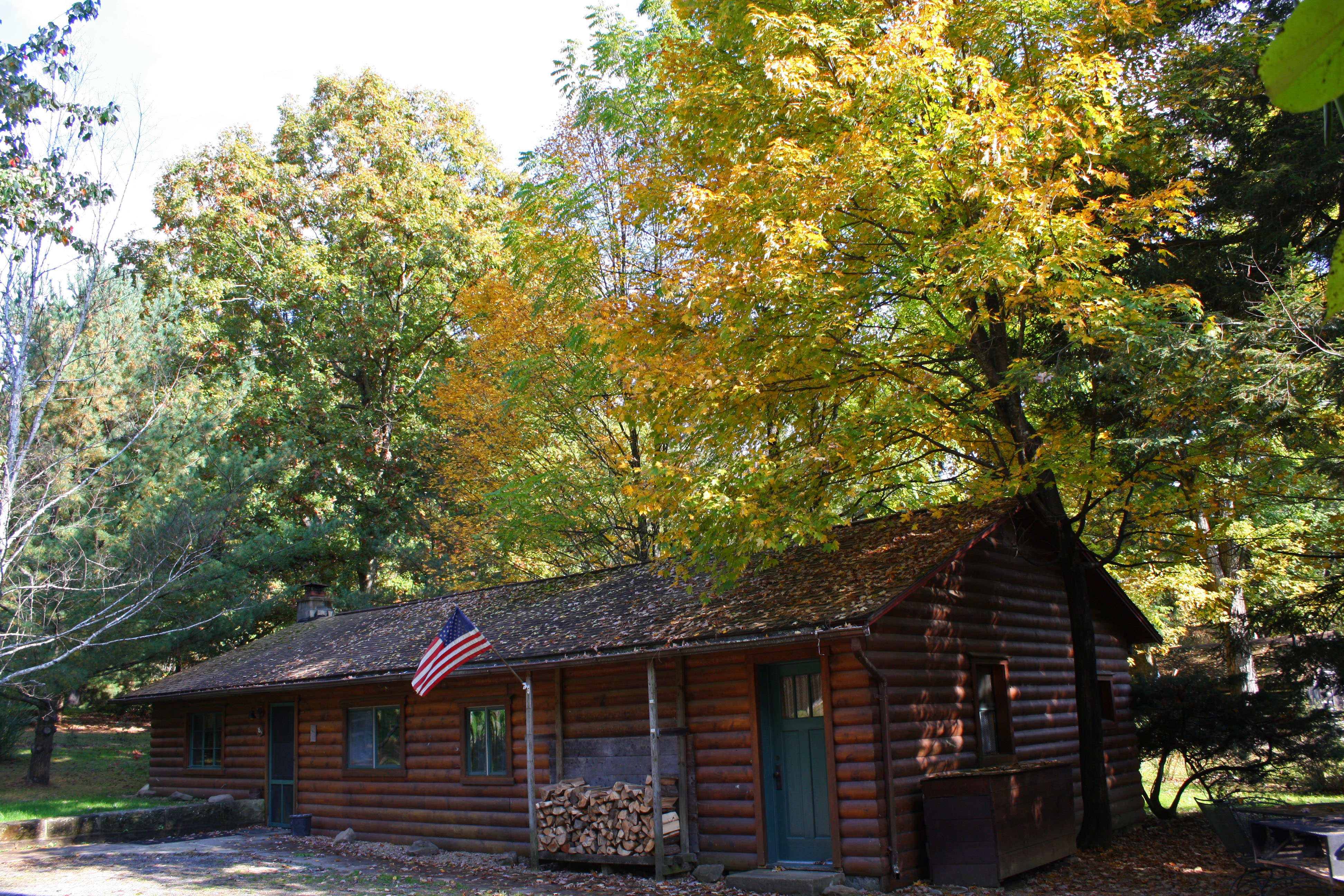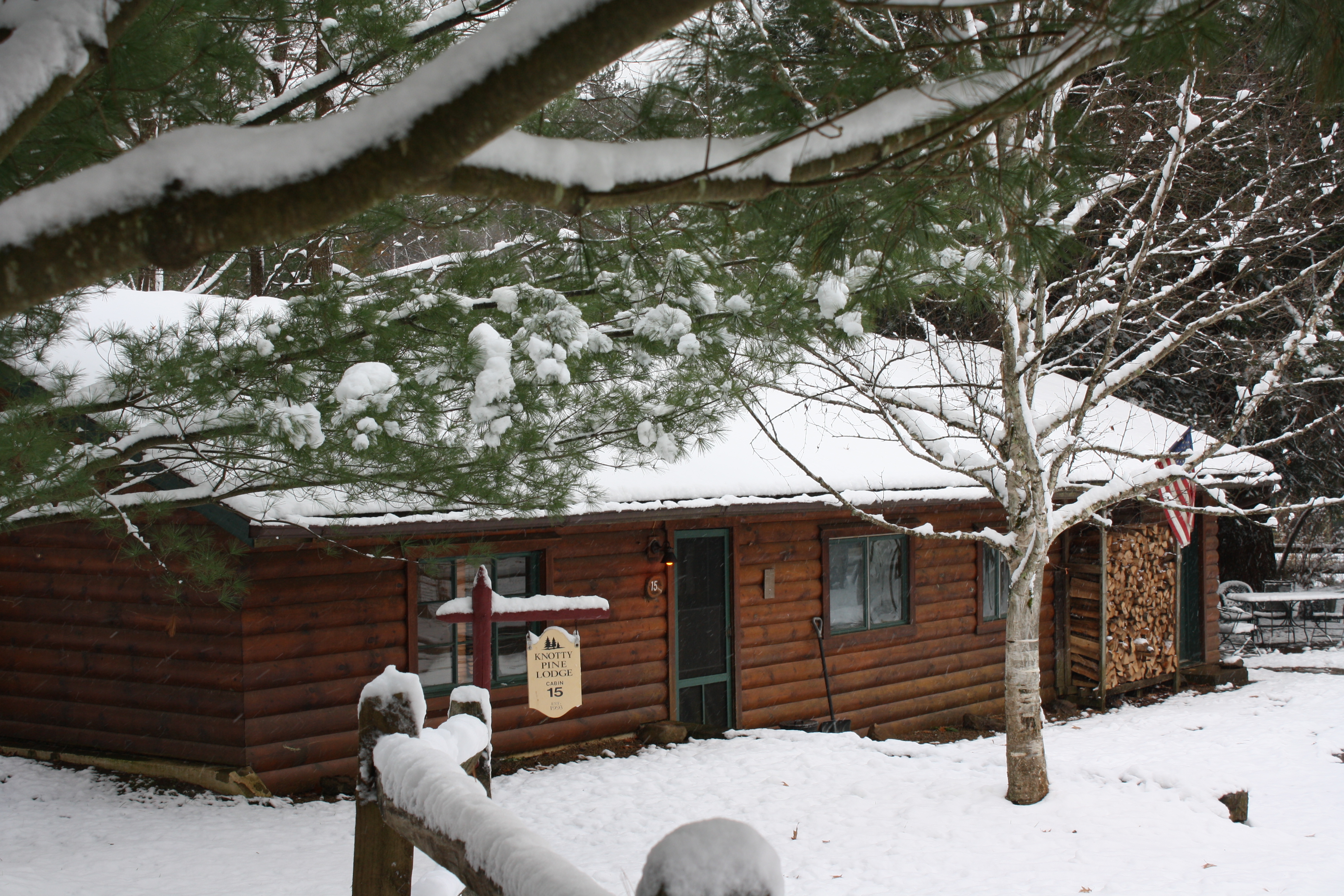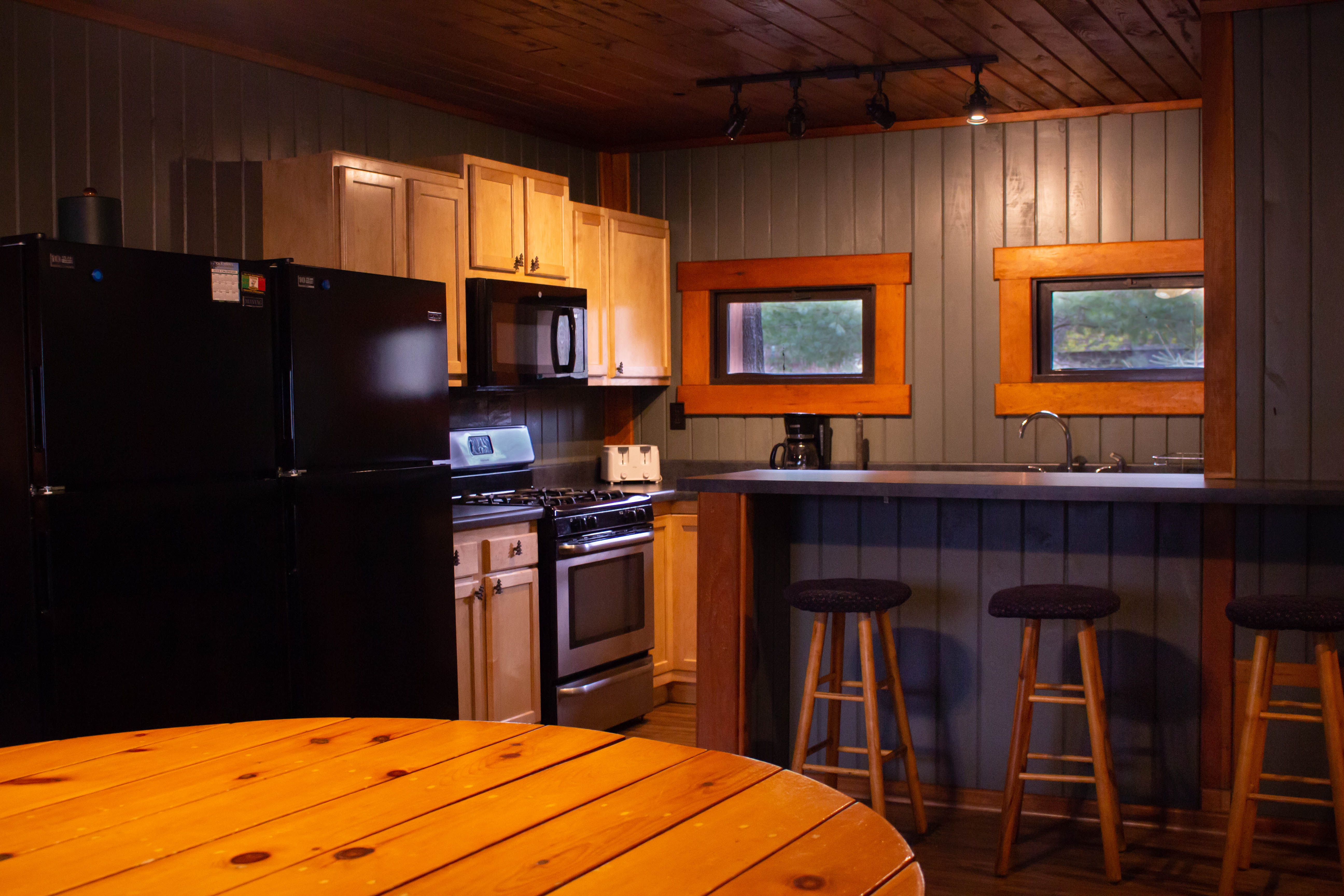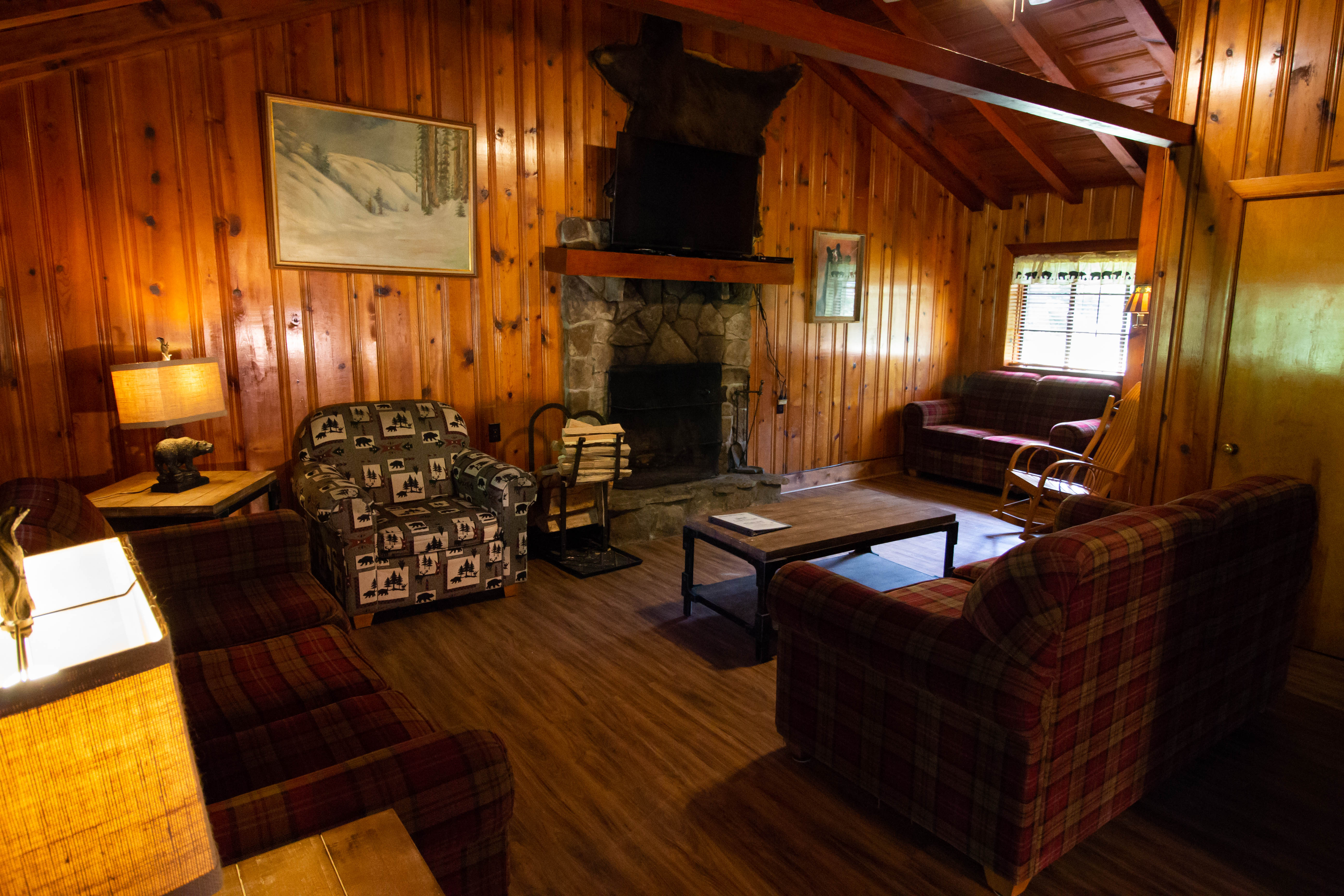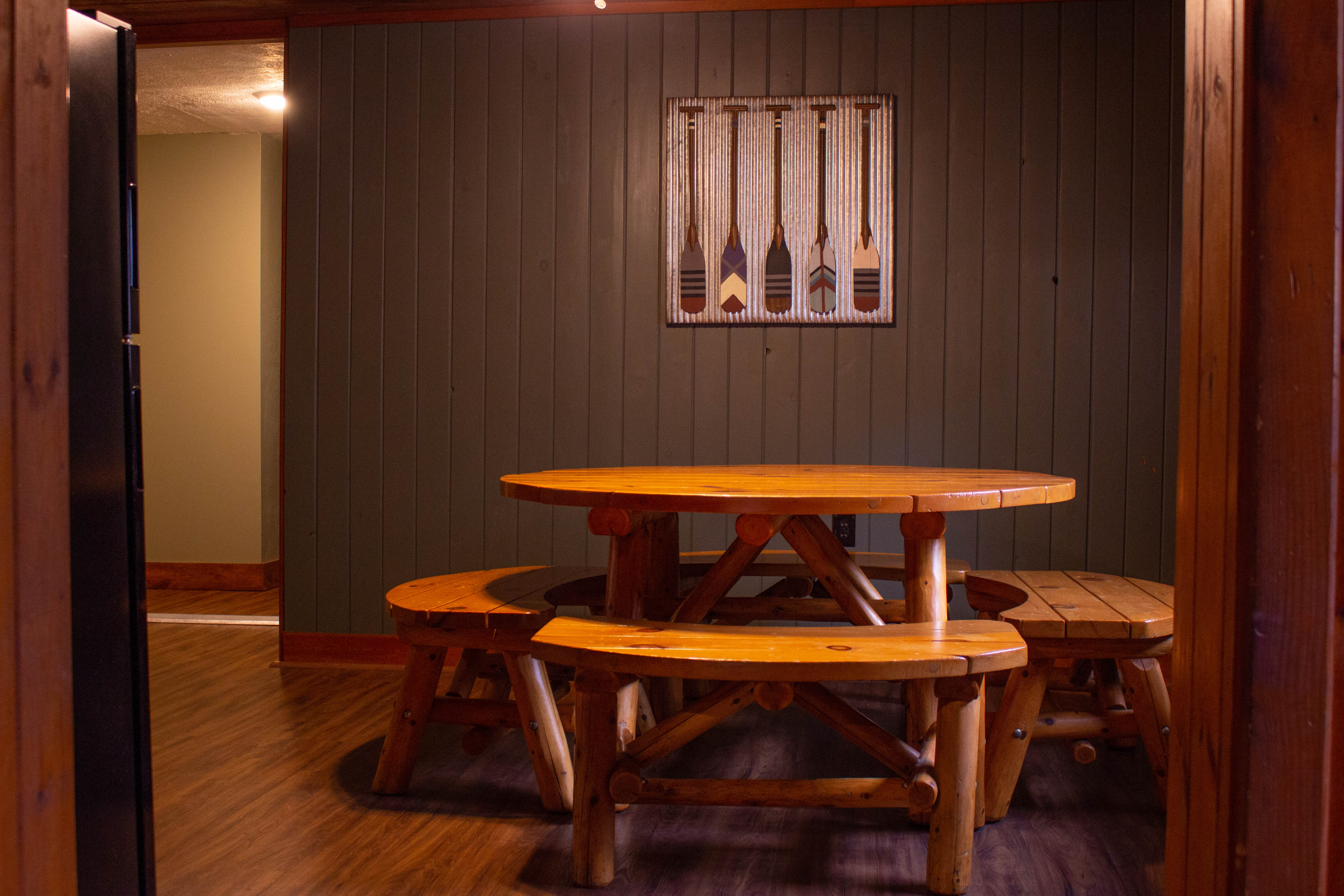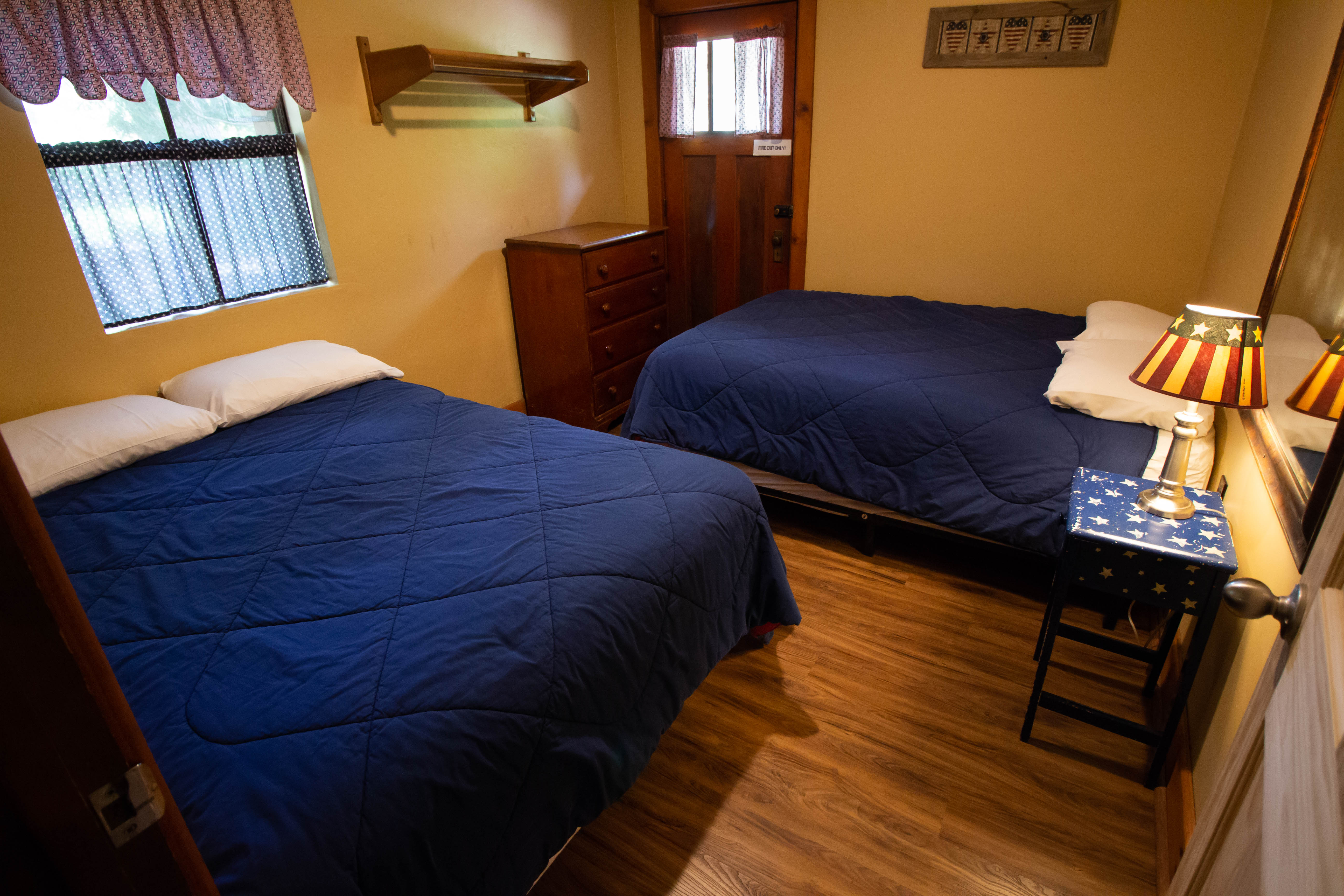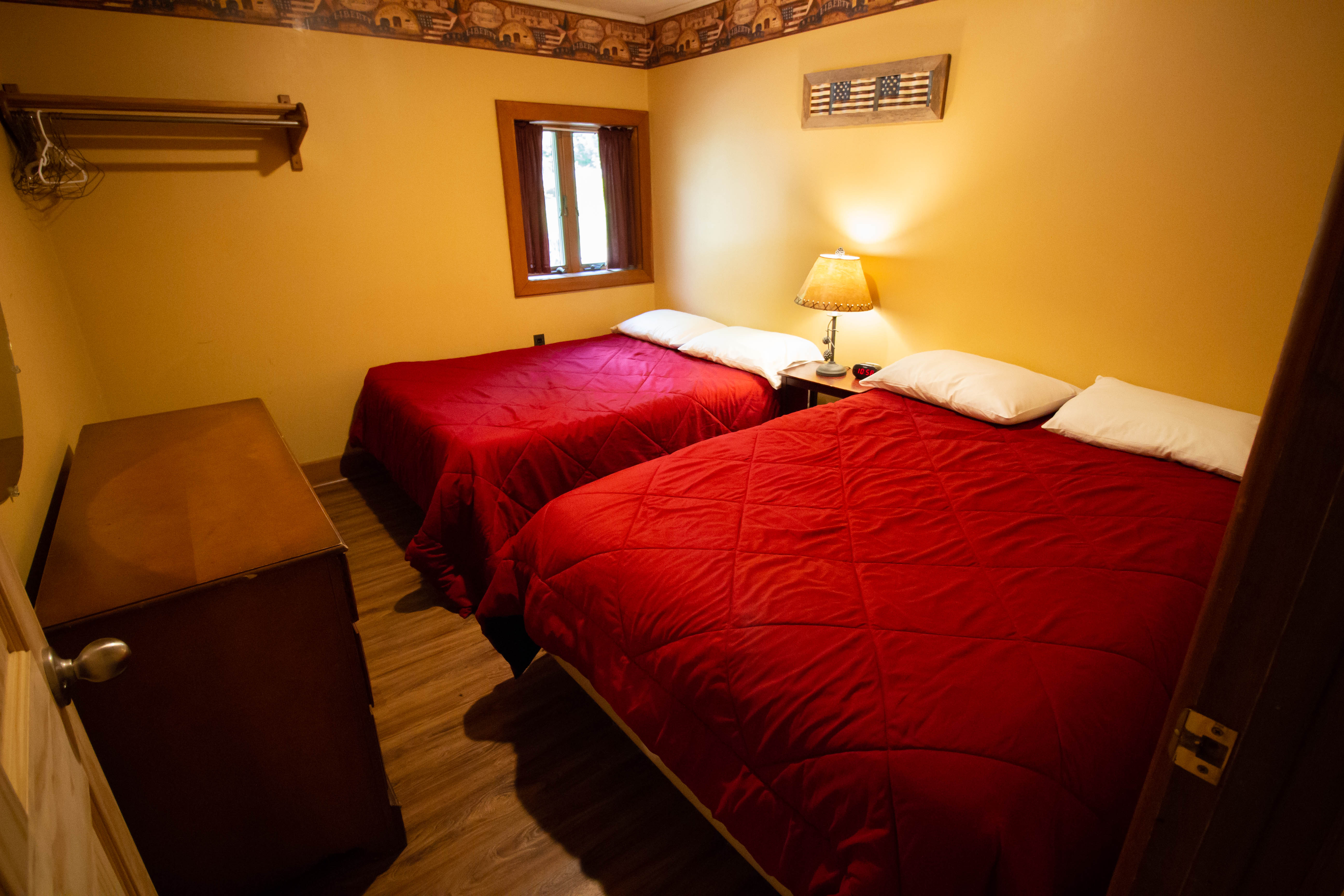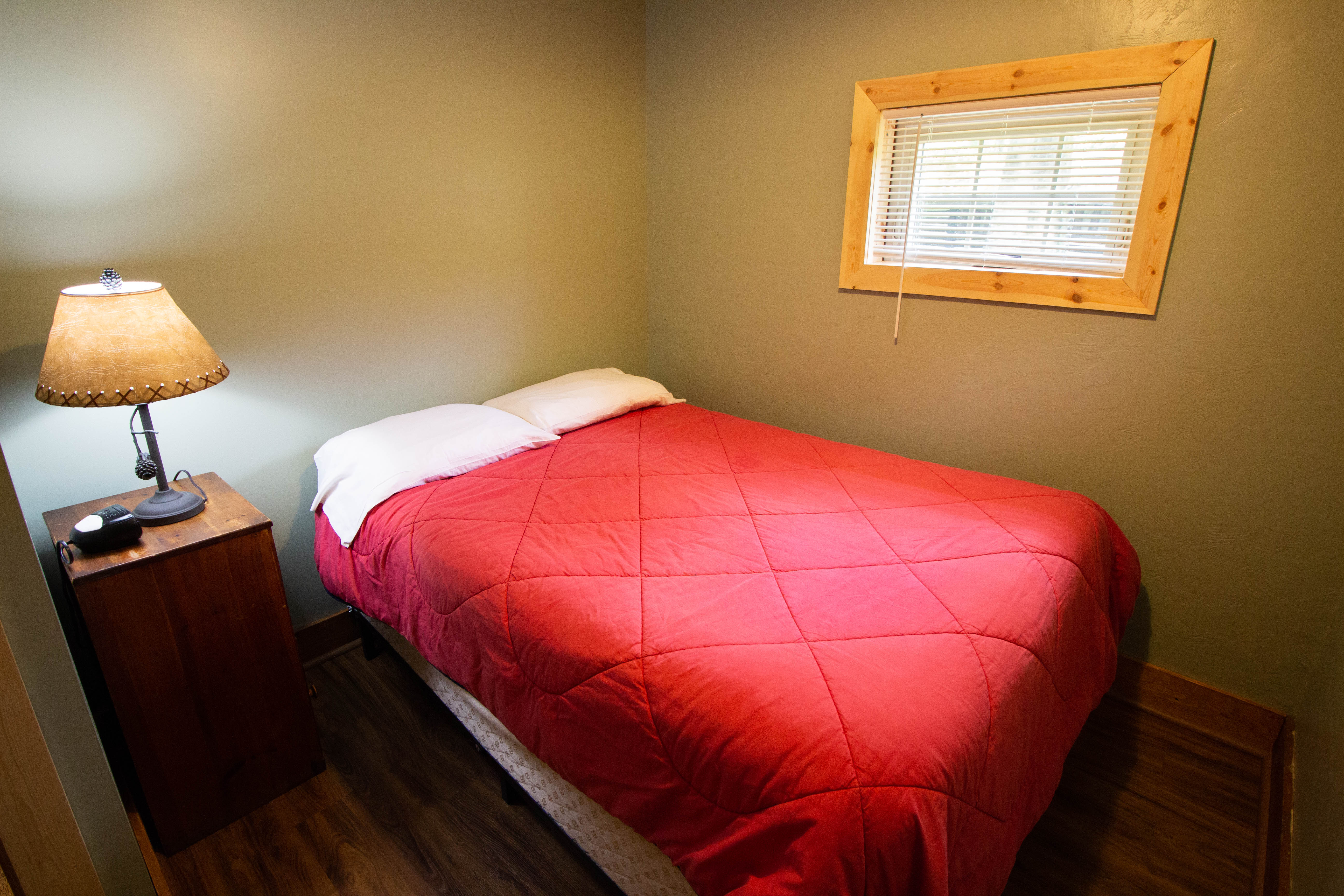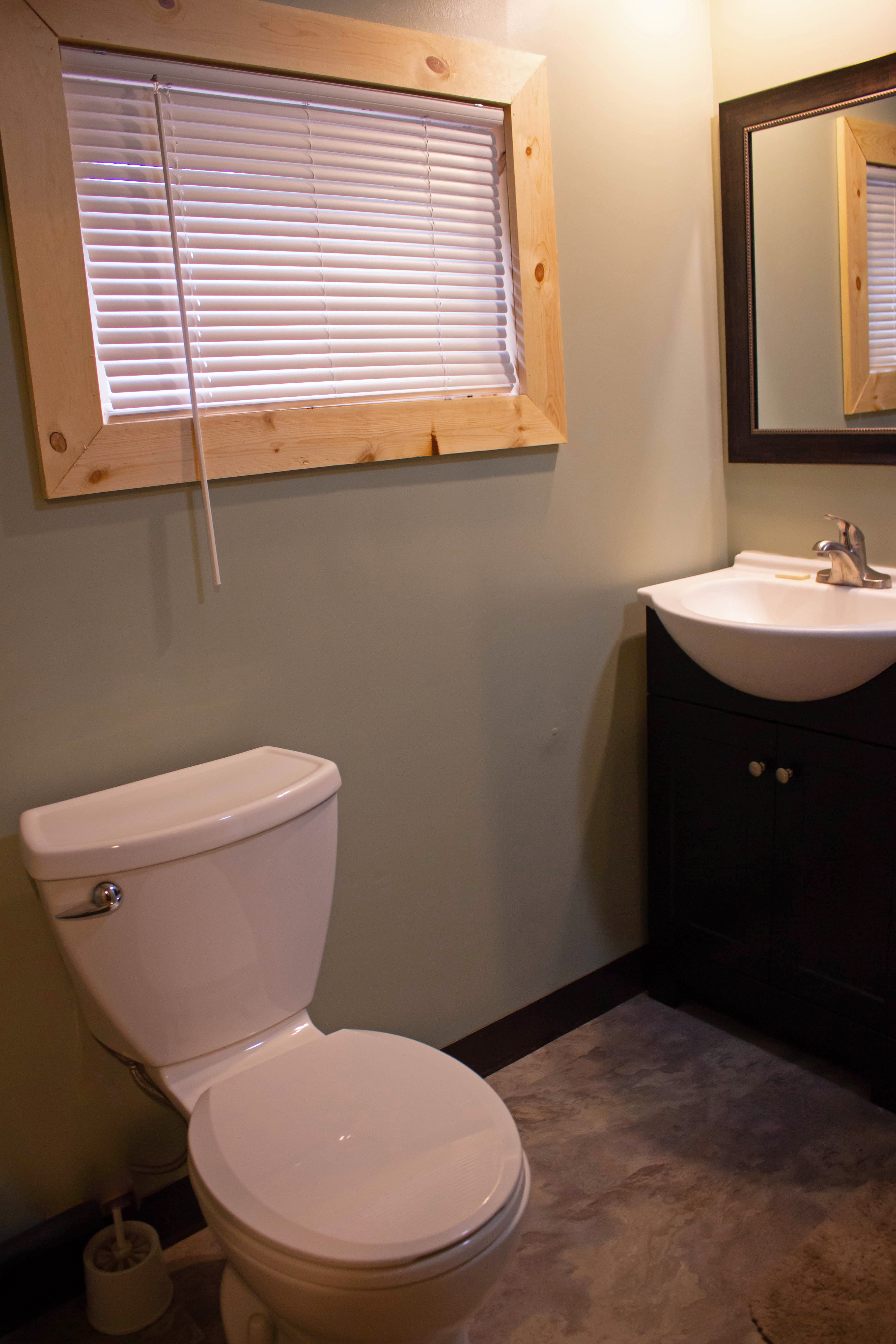 Cook Riverside Cabins
CABIN 16 - SLEEPS 8
Cabin 16 is a spacious hand-hewn log cabin with a gorgeous stone fireplace, kitchen and bath.  This two-bedroom cabin has plenty of room for up to eight guests.  Cabin 16 has a large covered front porch with a deck that wraps around the side, picnic table, charcoal grill, and fire ring. From the first weekend in June through the last weekend of August, Cabin 16 is a Sunday to Sunday weekly rental. Beds: 4 Doubles
Nightly Rental: $250
Weekly Rental: $1,125
Winter Rate: $200/night or $900/week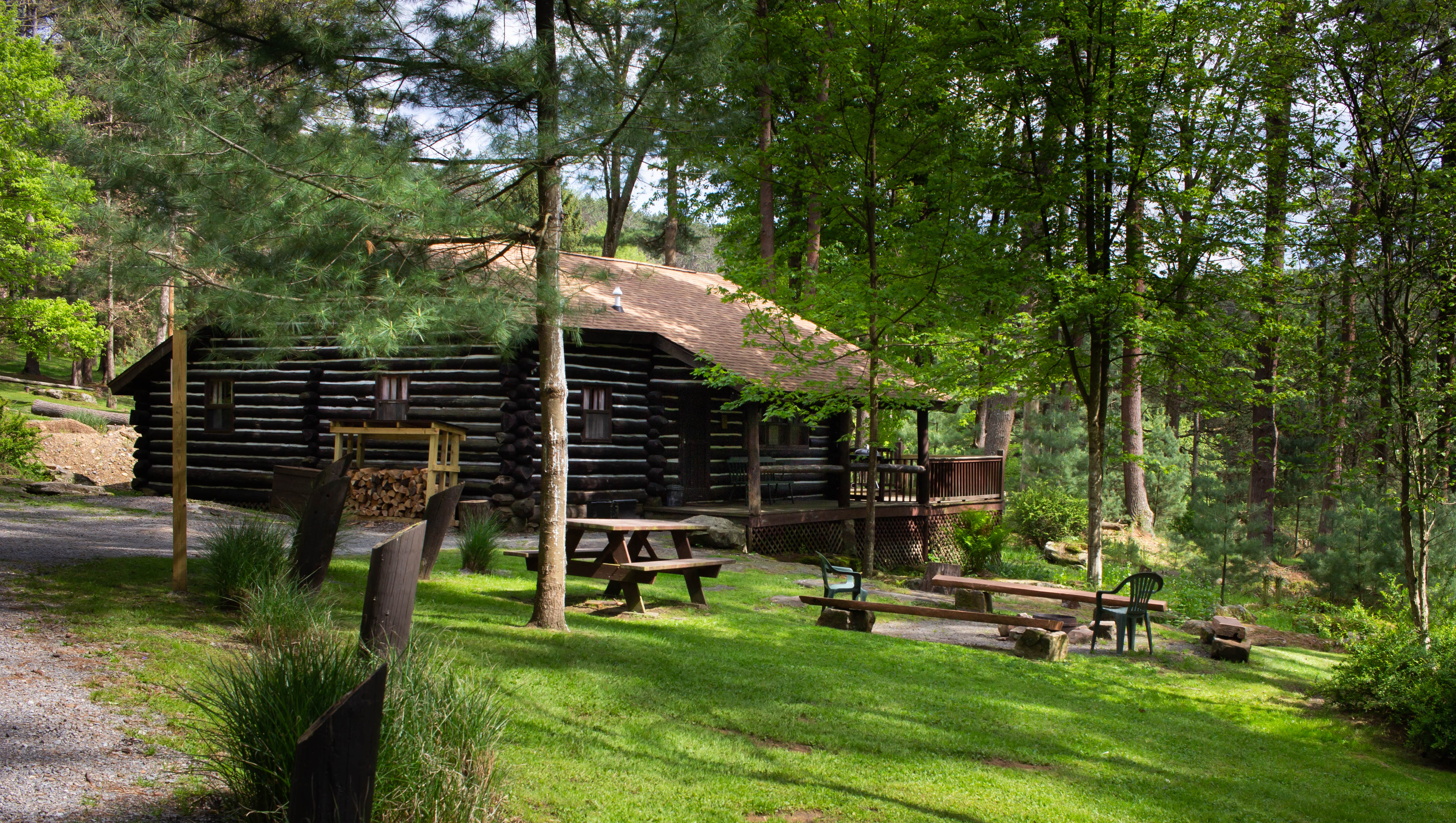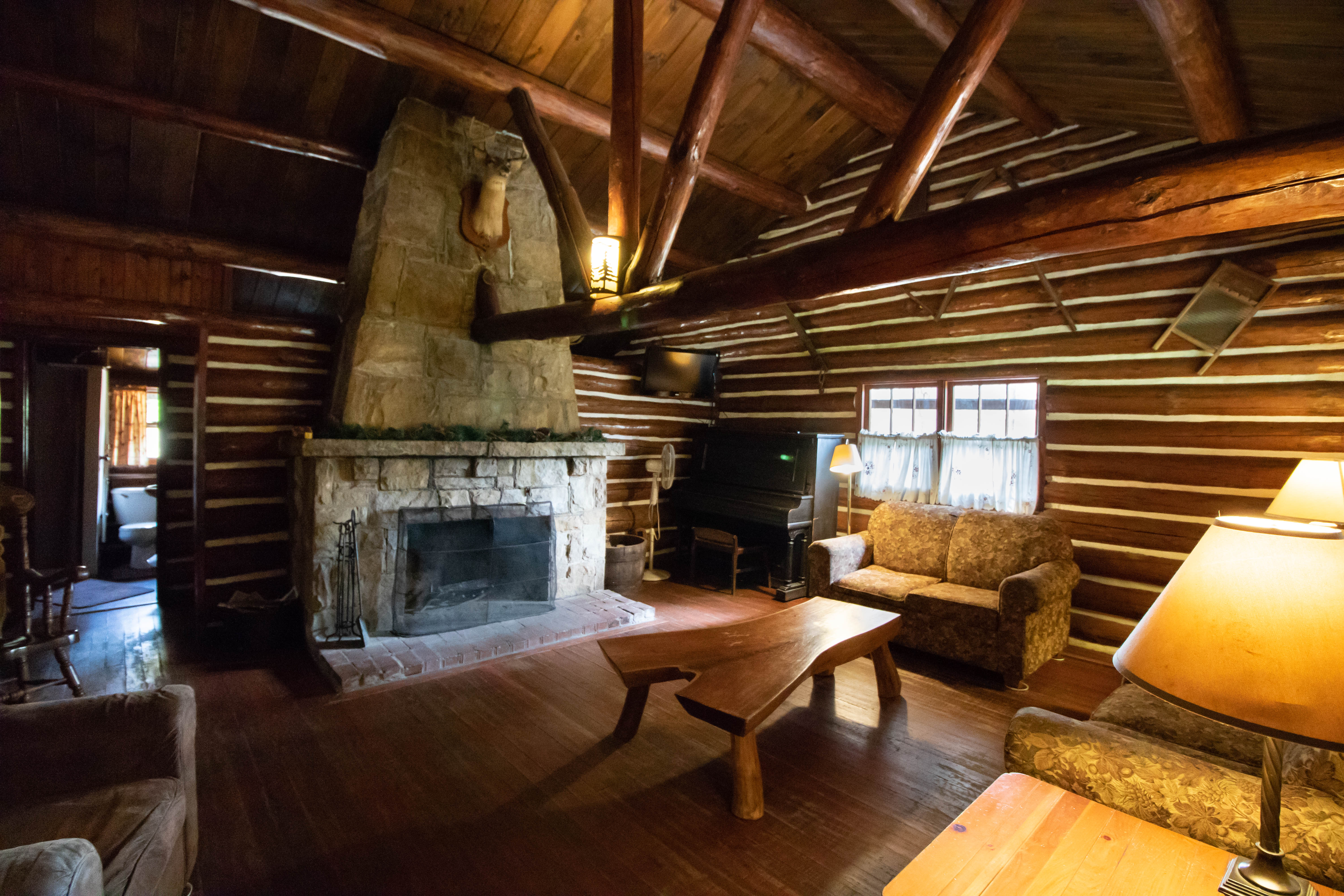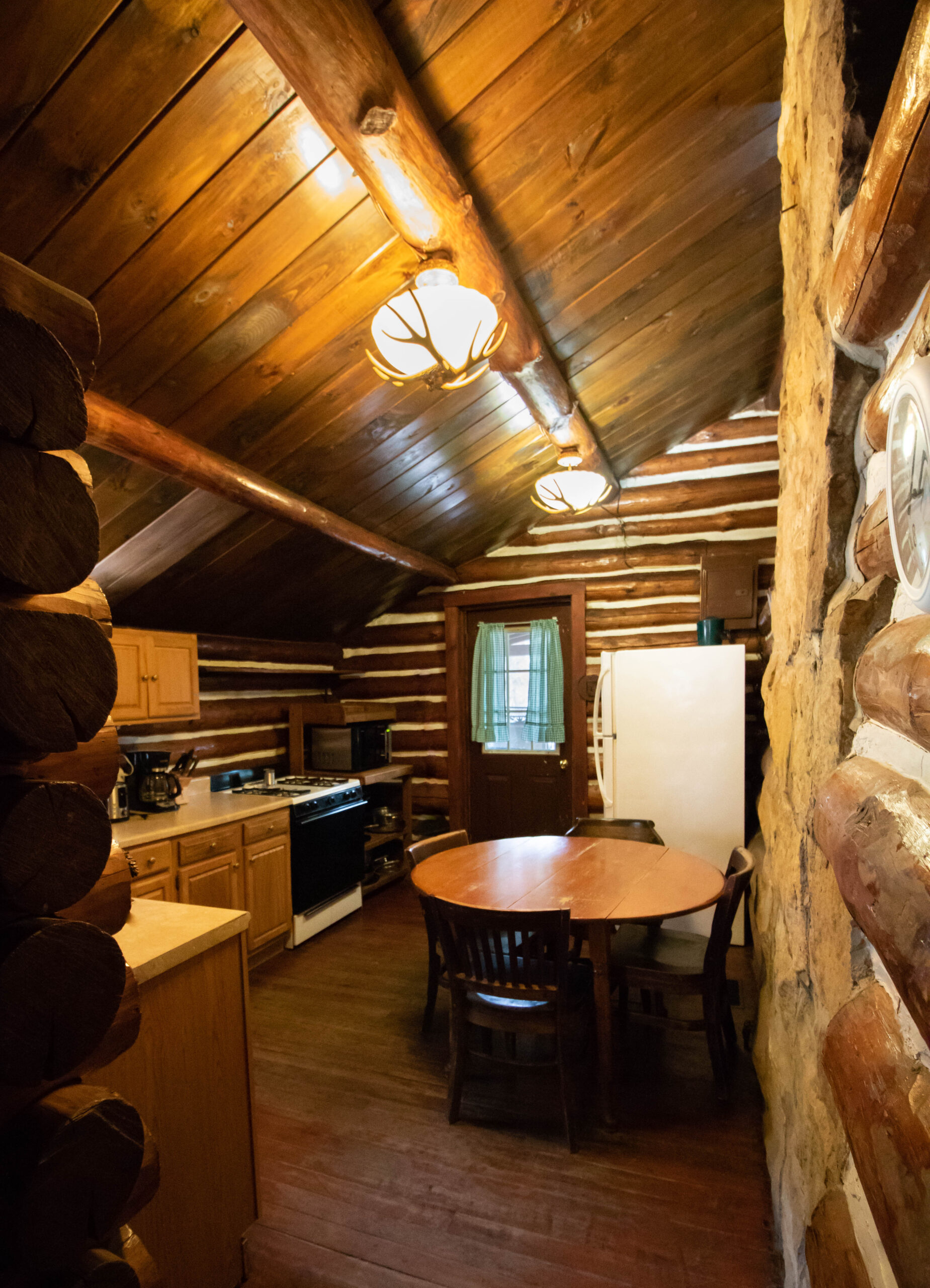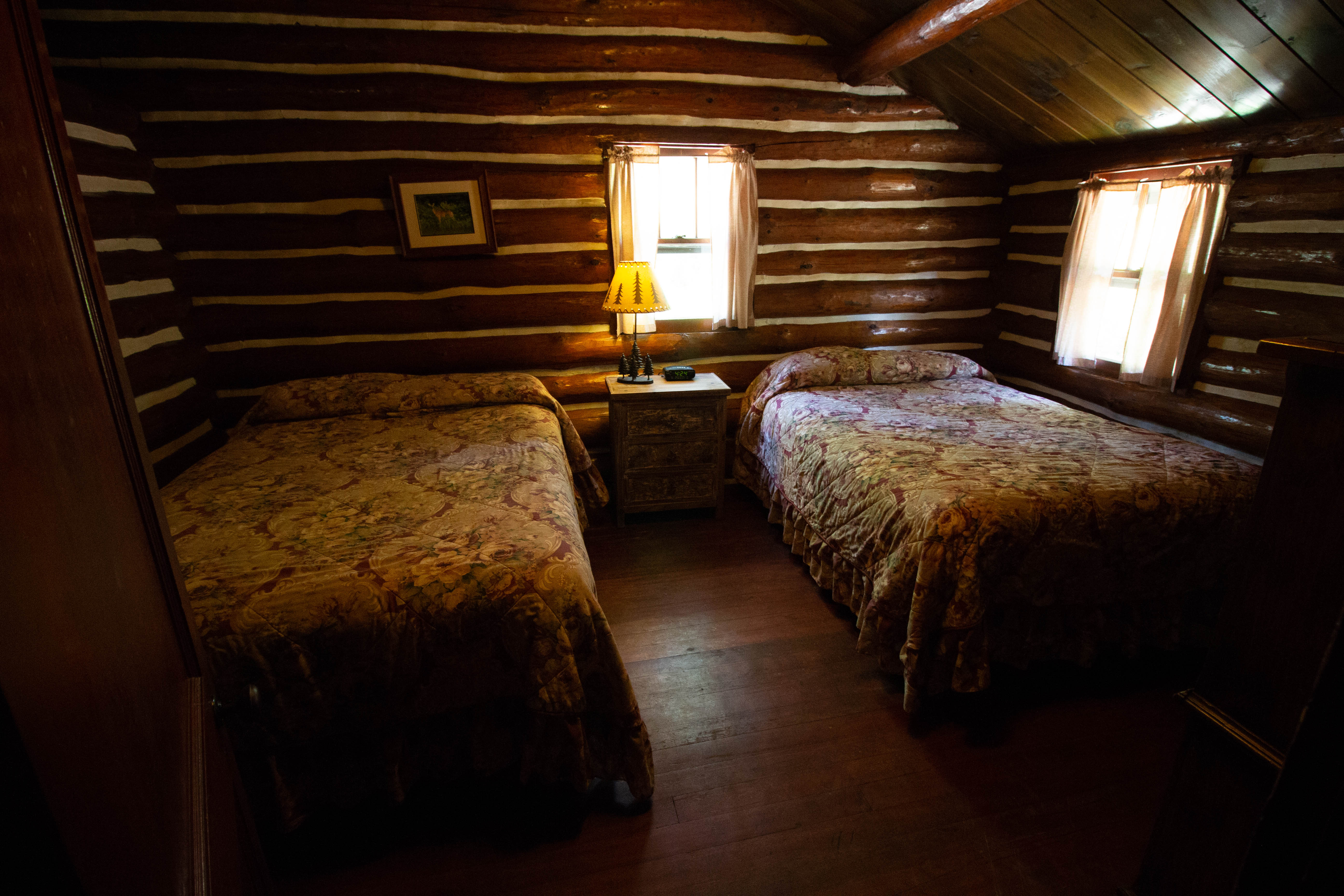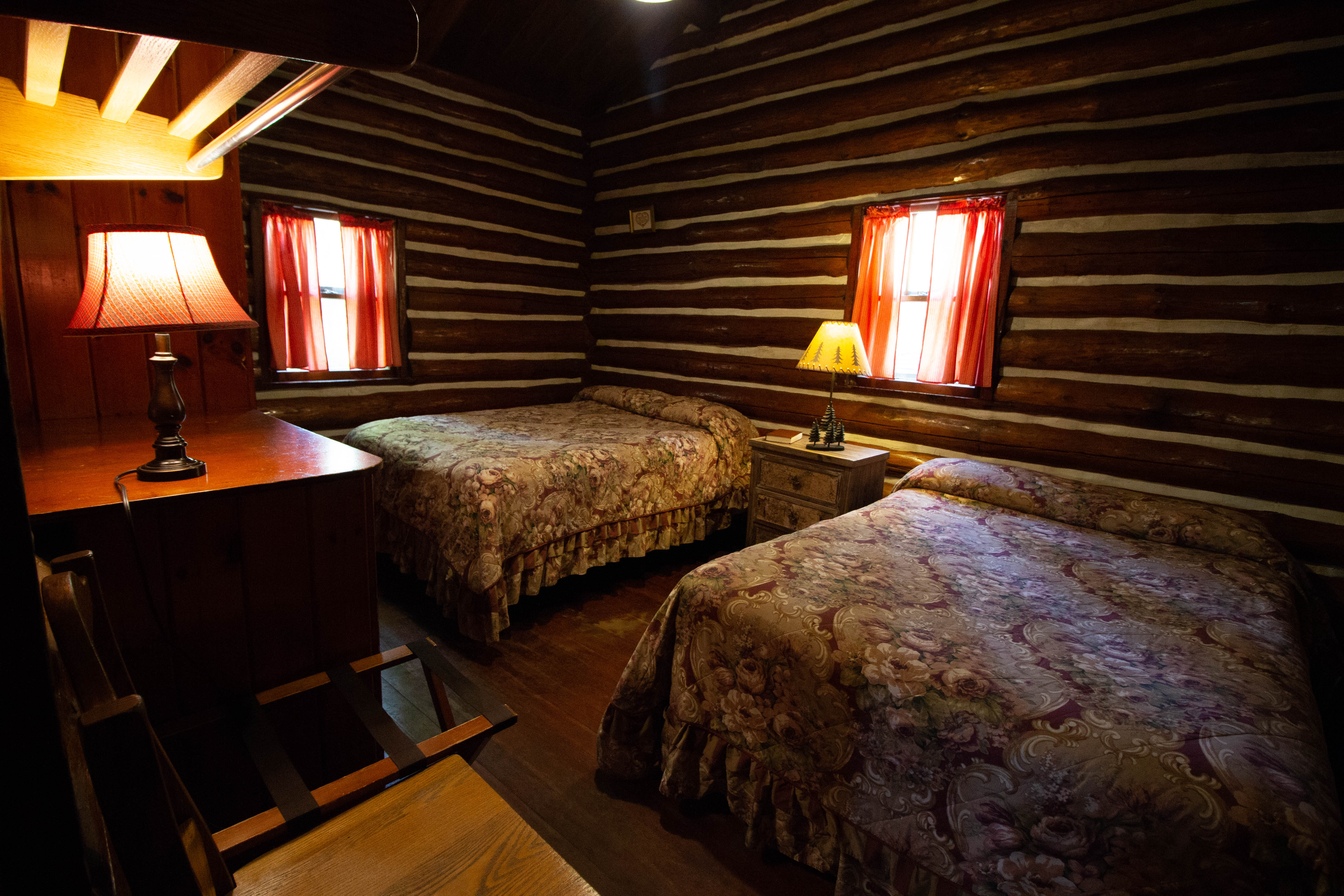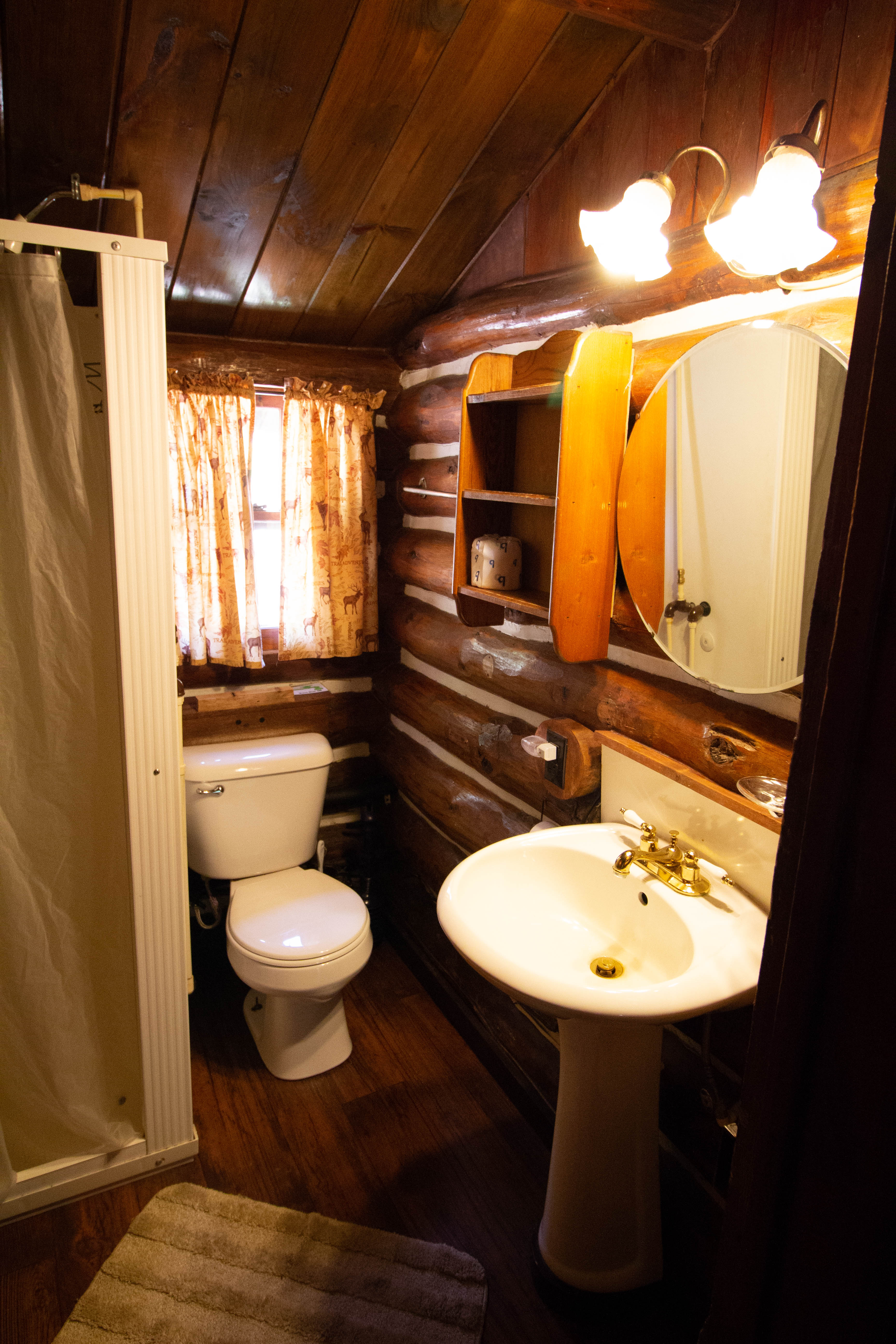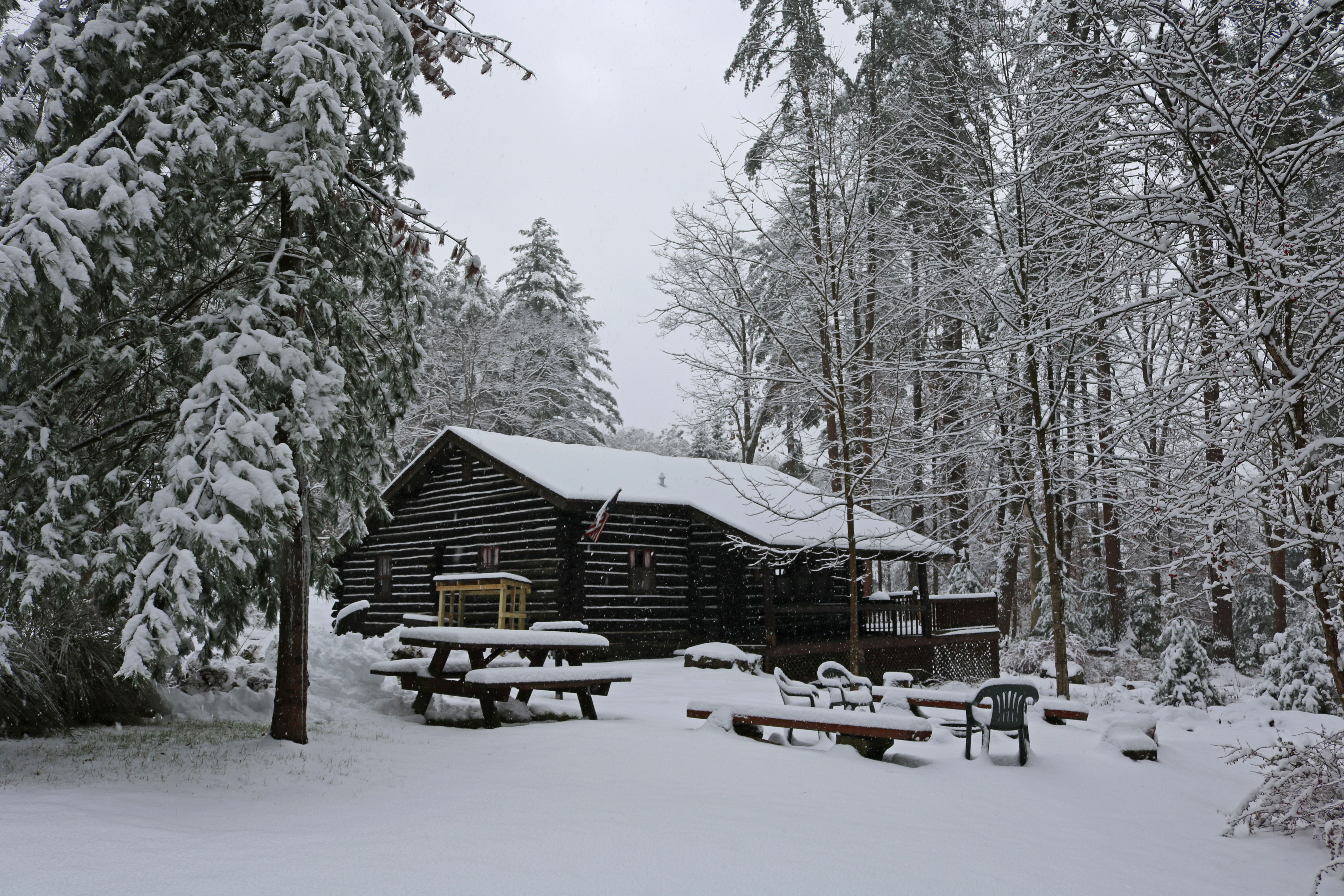 Cook Riverside Cabins
CABIN 17 - SLEEPS 8
Cabin 17 is a beautiful hand-hewn log cabin with a large brick fireplace and hardwood floors. Kitchen renovated in 2019.  This two-bedroom, one bath cabin comfortably sleeps 8 guests.  Cabin 17 has a covered front porch, picnic table, charcoal grill, and fire ring. From the first weekend in June through the last weekend of August, Cabin 17 is a Saturday to Saturday weekly rental. Beds: 4 Doubles
Nightly Rental: $240
Weekly Rental: $1,075
Winter Rate: $192/night or $860/week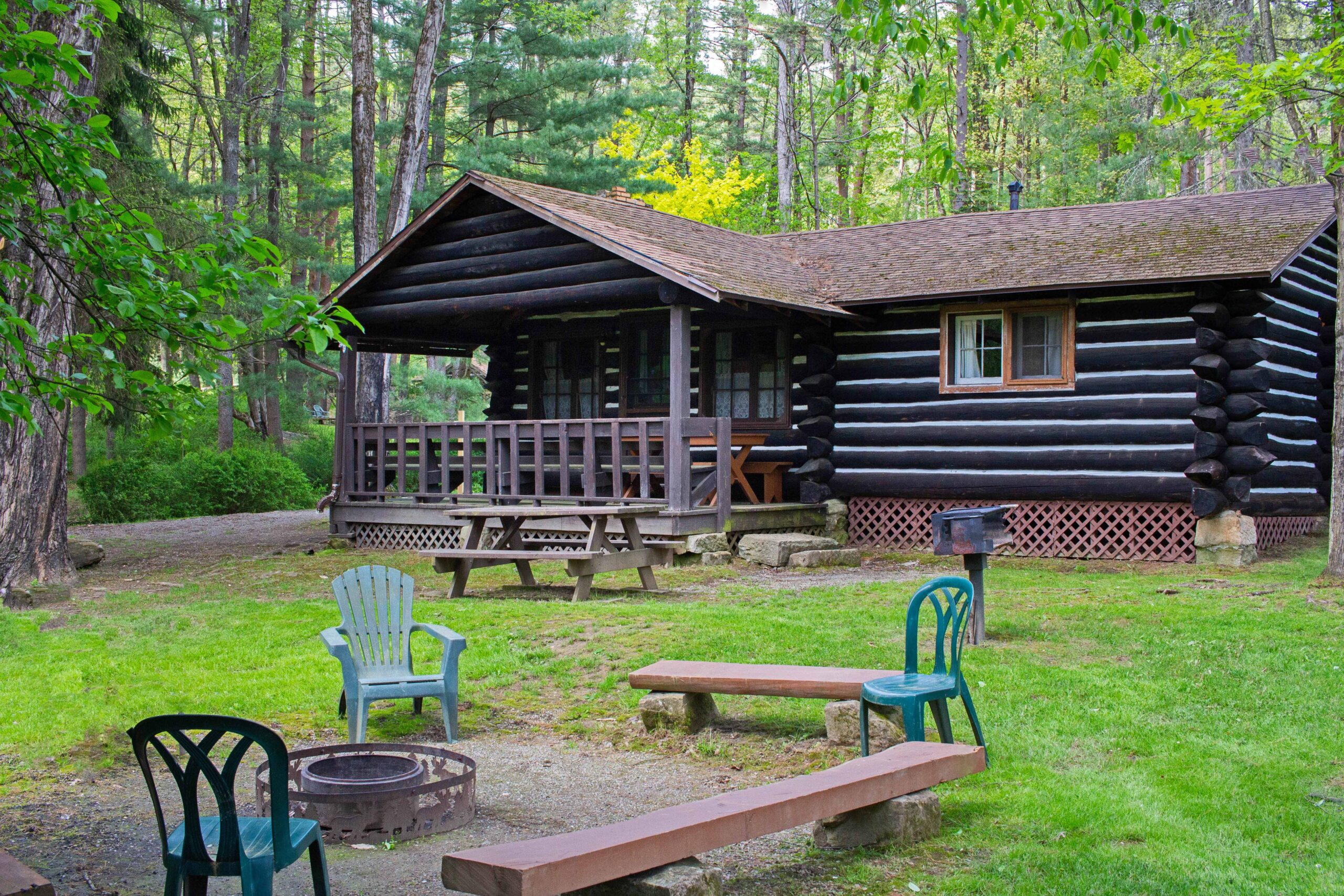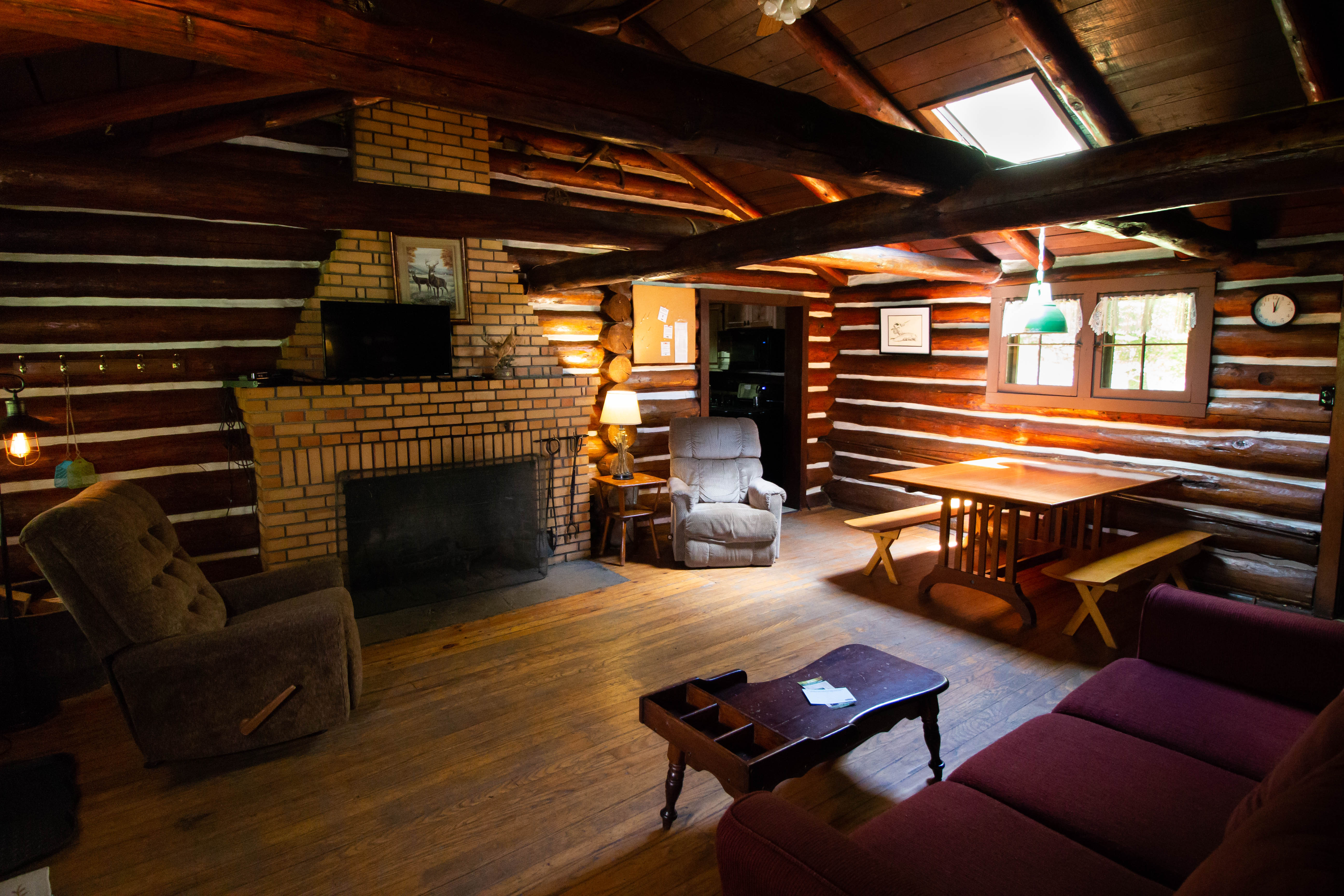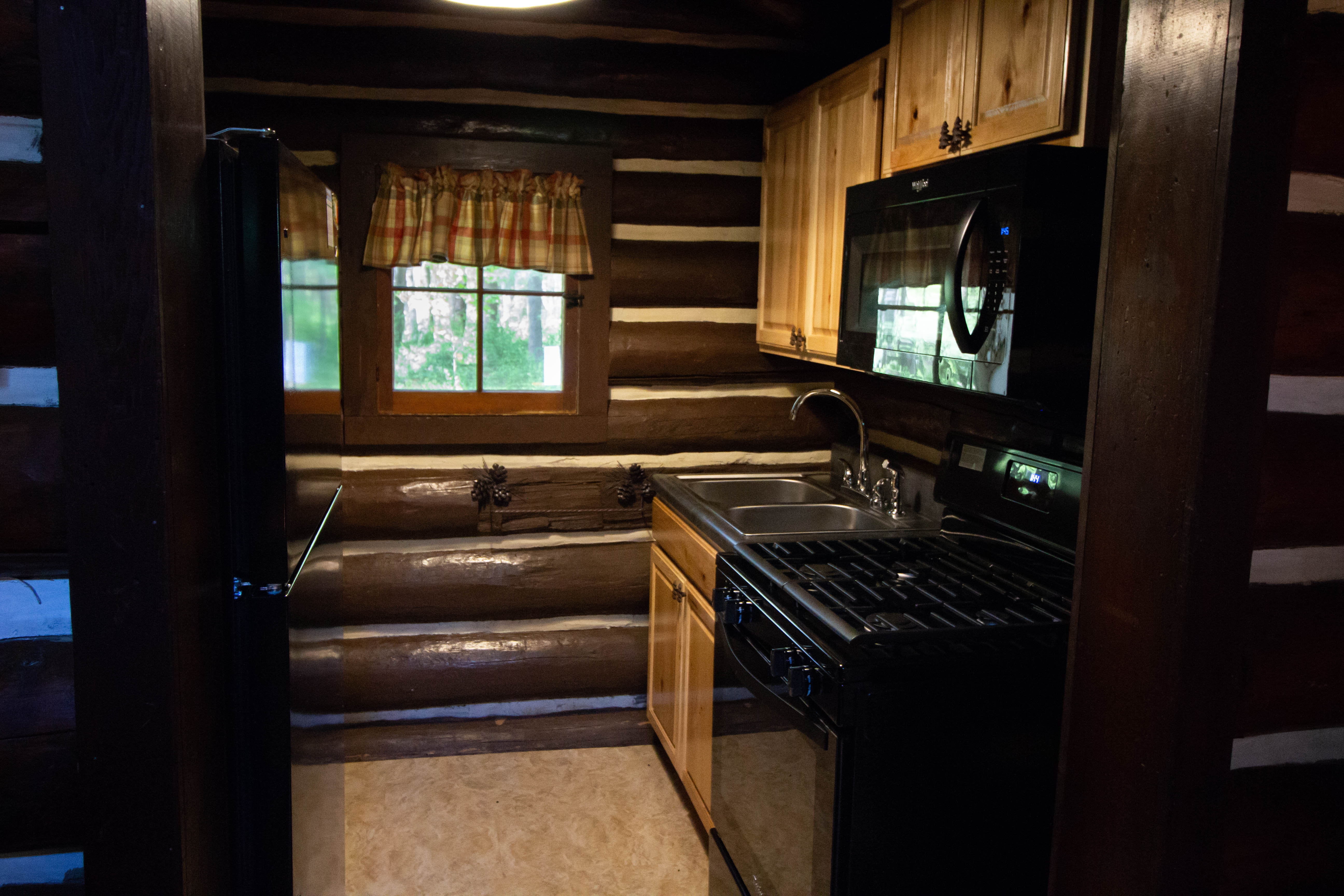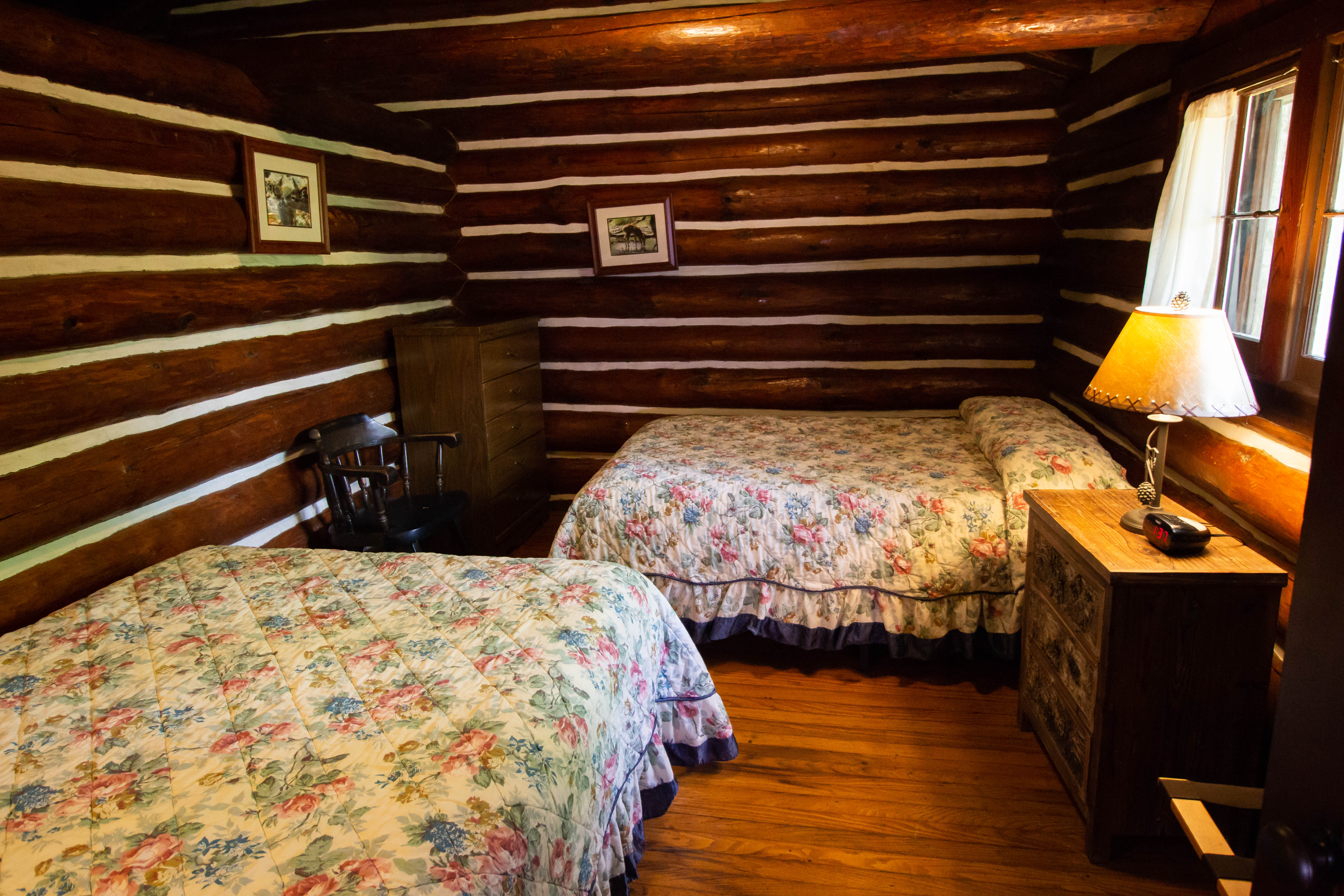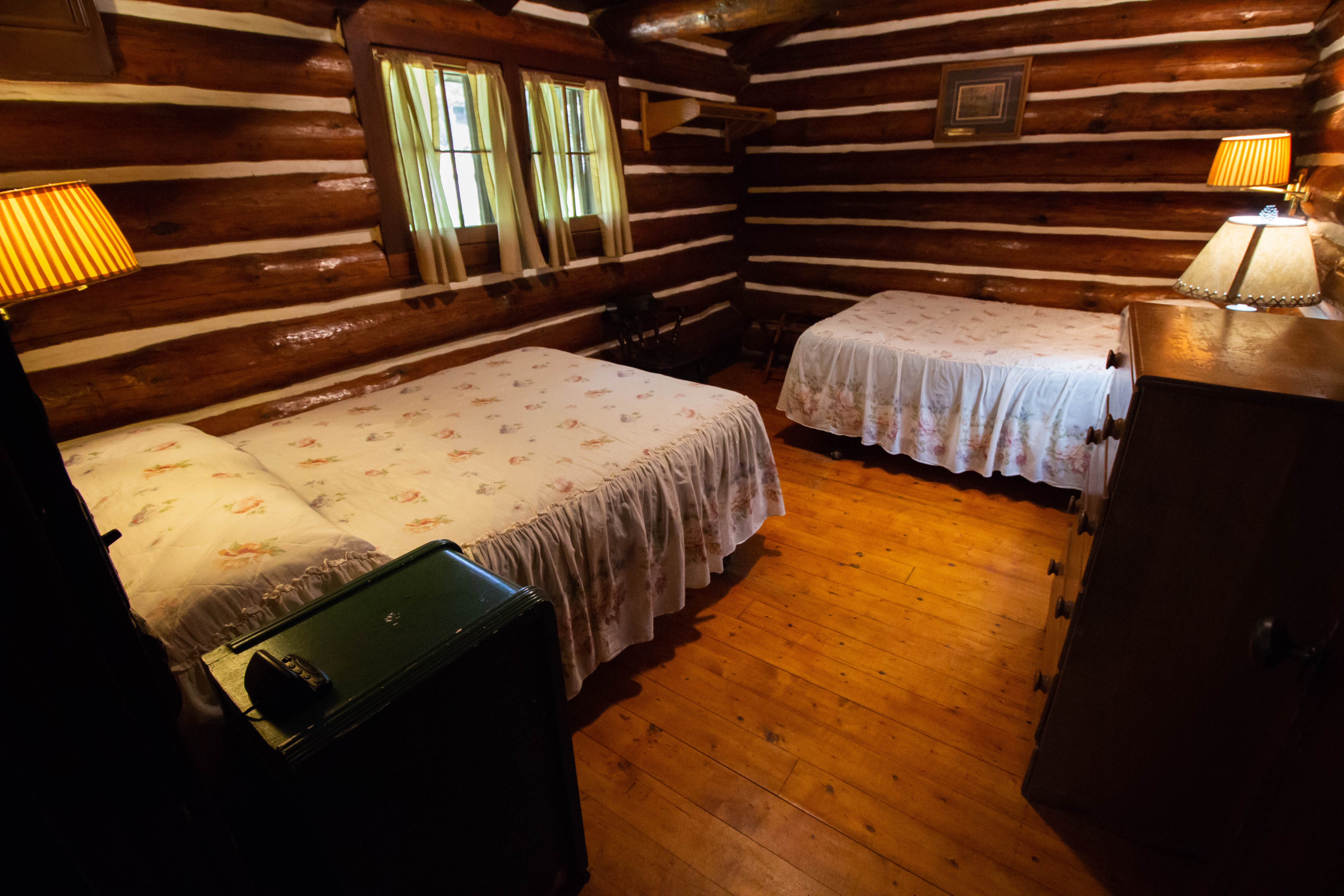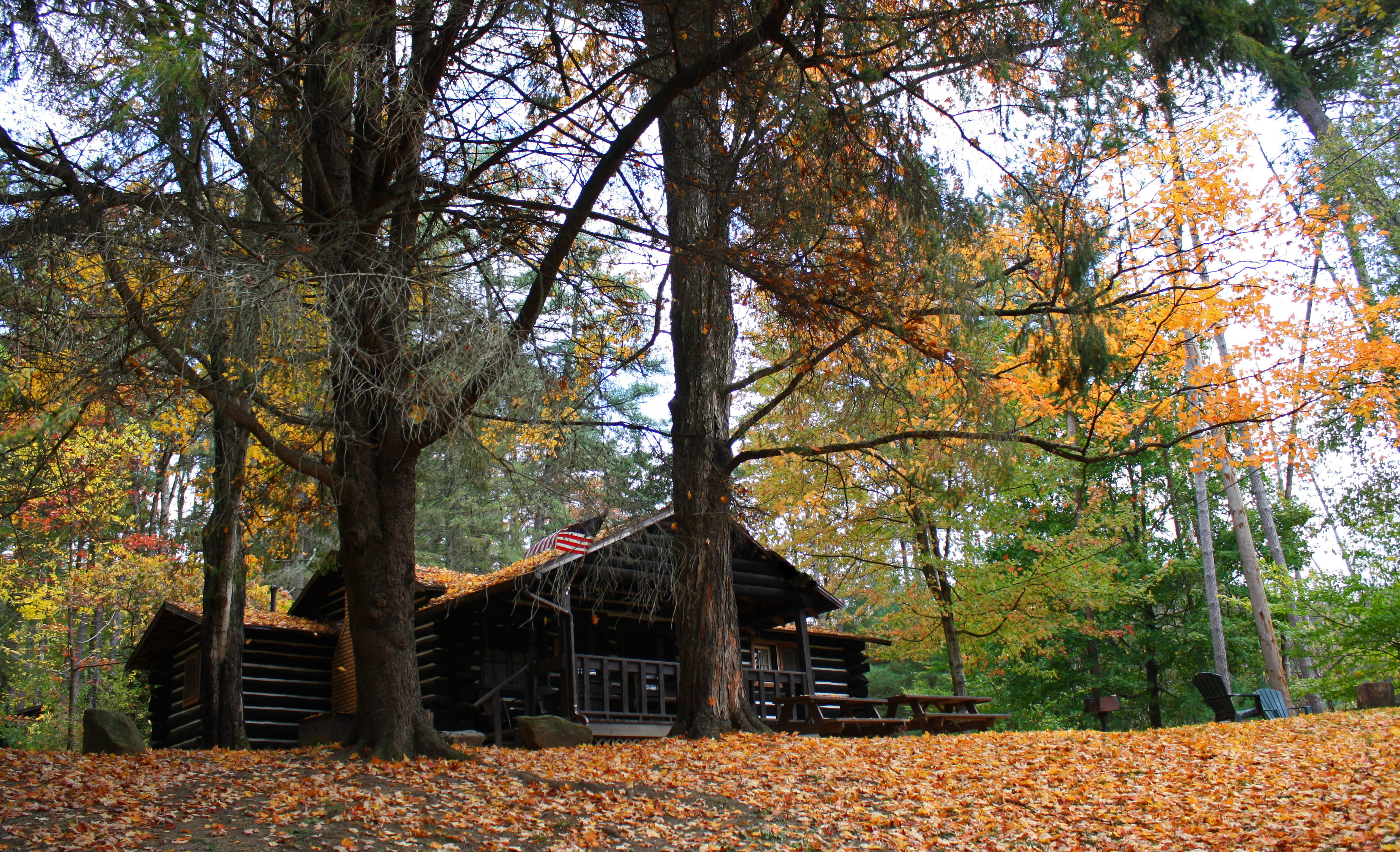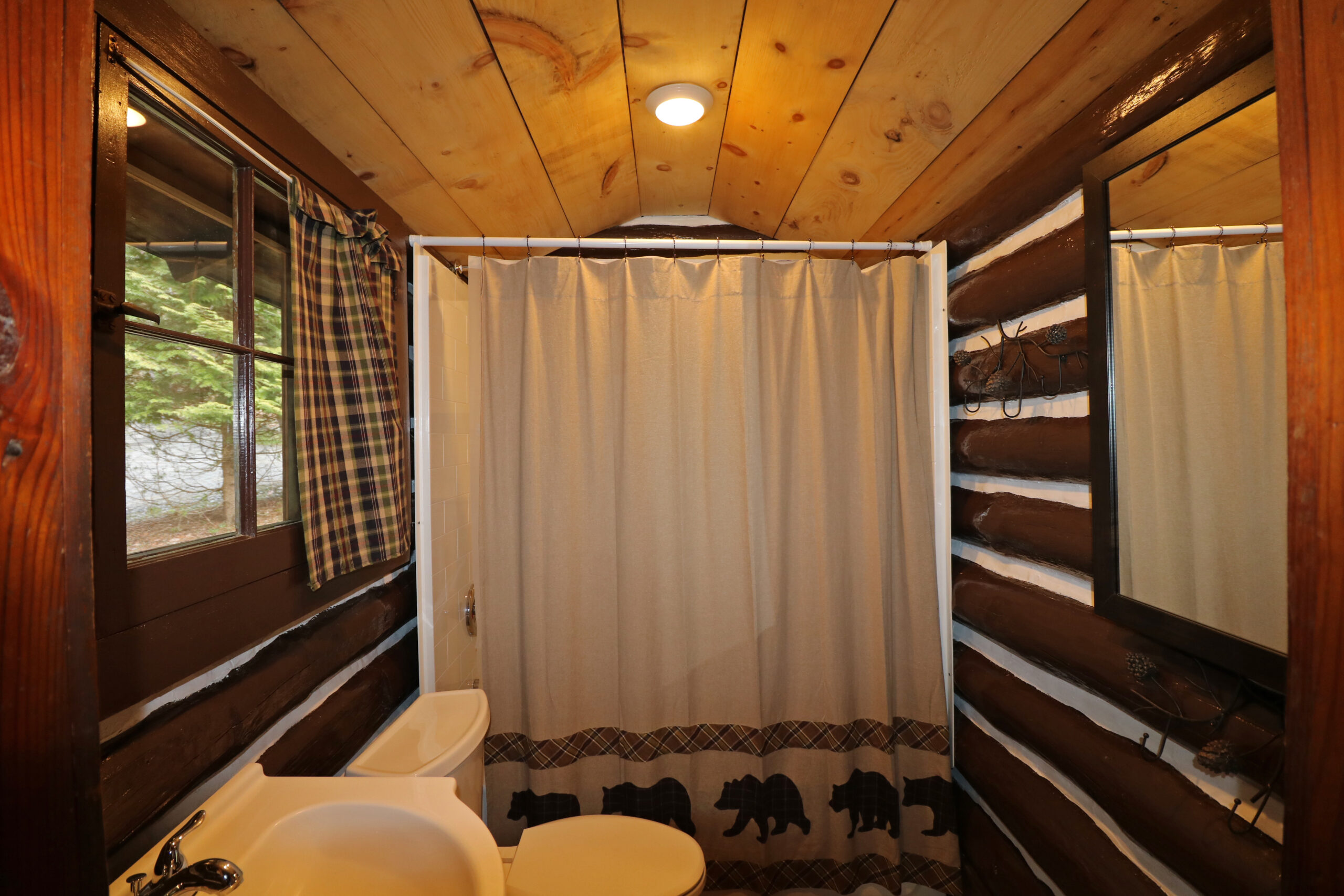 Cook Riverside Cabins
CABIN 18 - SLEEPS 6
Cabin 18 is situated in the midst of a nice yard bordering the state park.  This cabin had a complete interior renovation during the winter of 2018.  It has one bedroom with two queen beds in addition to a queen sleeper sofa in the living room with a stone fireplace and bathroom with shower.  Cabin 18 has a covered front porch, picnic table, charcoal grill, and fire ring. From the first weekend in June through the last weekend of August, Cabin 18 is a Saturday to Saturday weekly rental.  Beds: 2 Queens,  1 Queen Sleeper Sofa
Nightly Rental: $225
Weekly Rental: $1,015
Winter Rate: $180/night or $812/week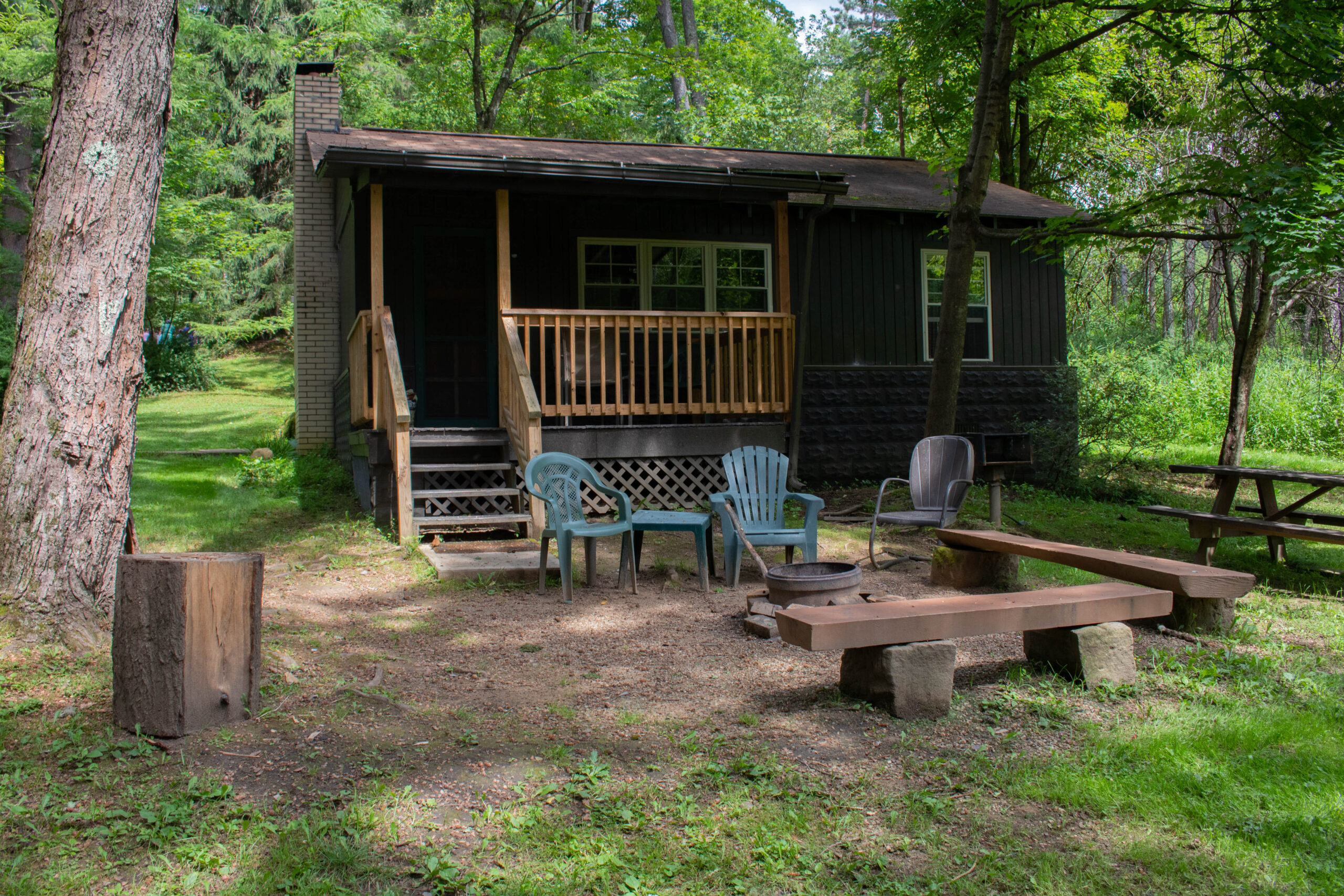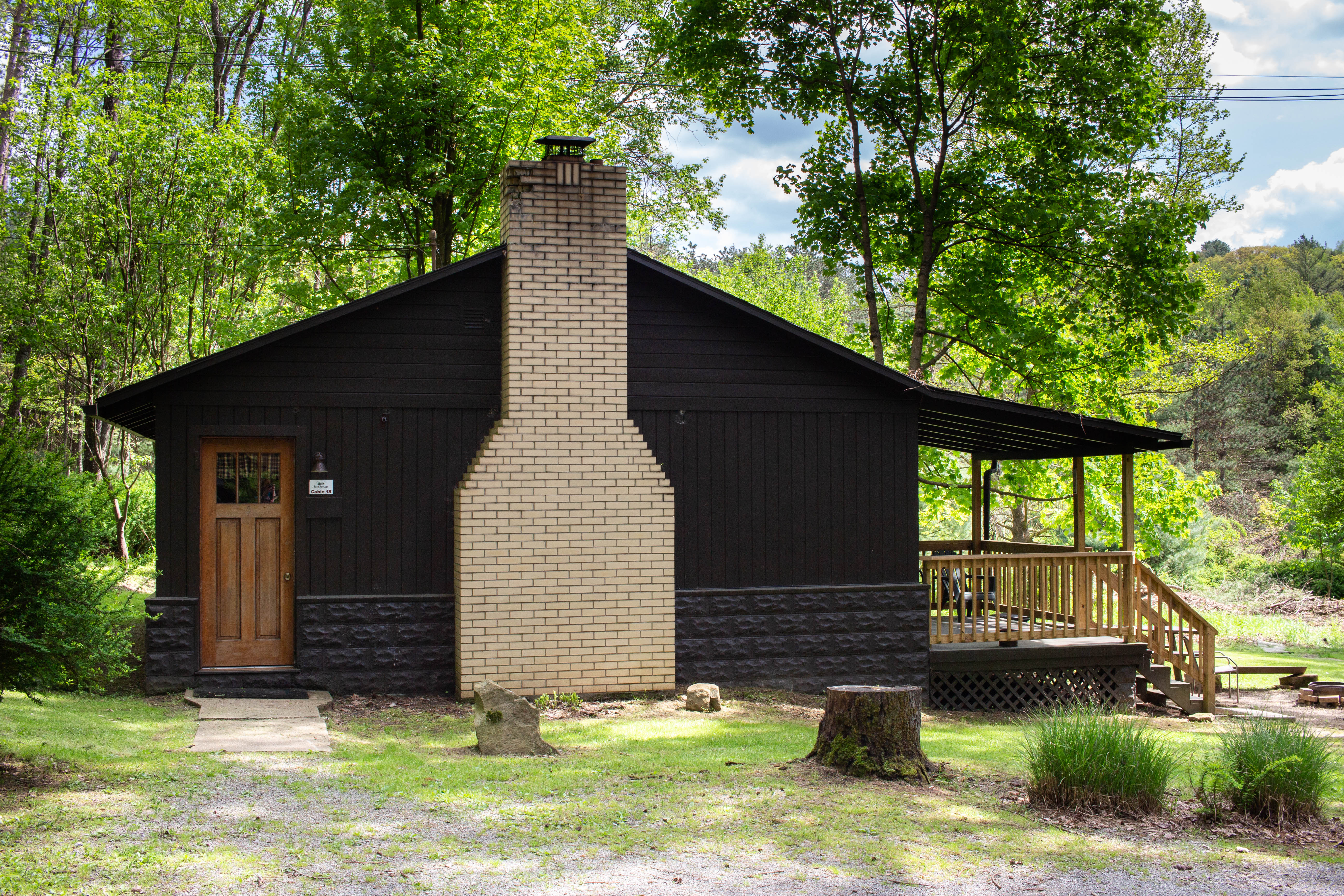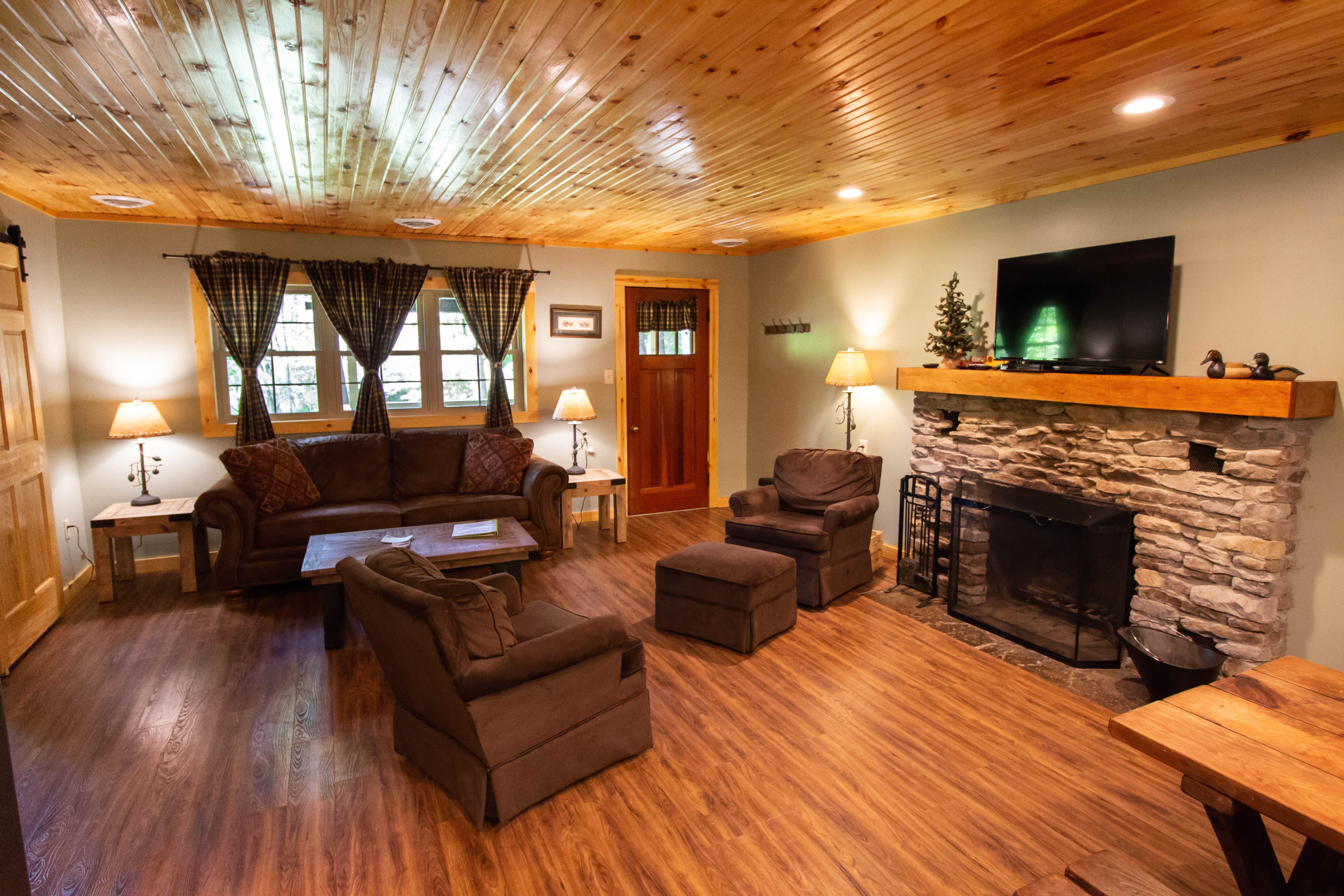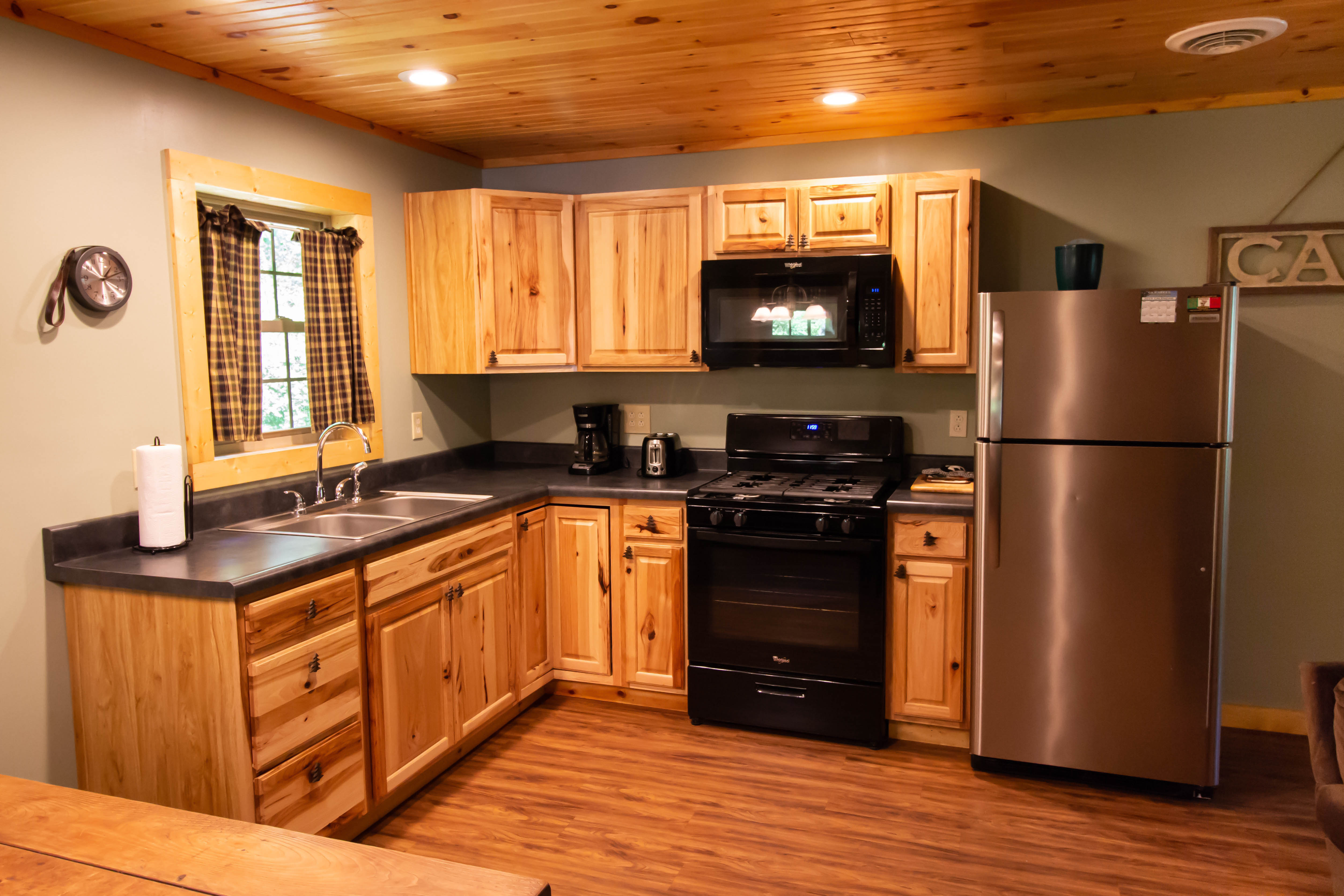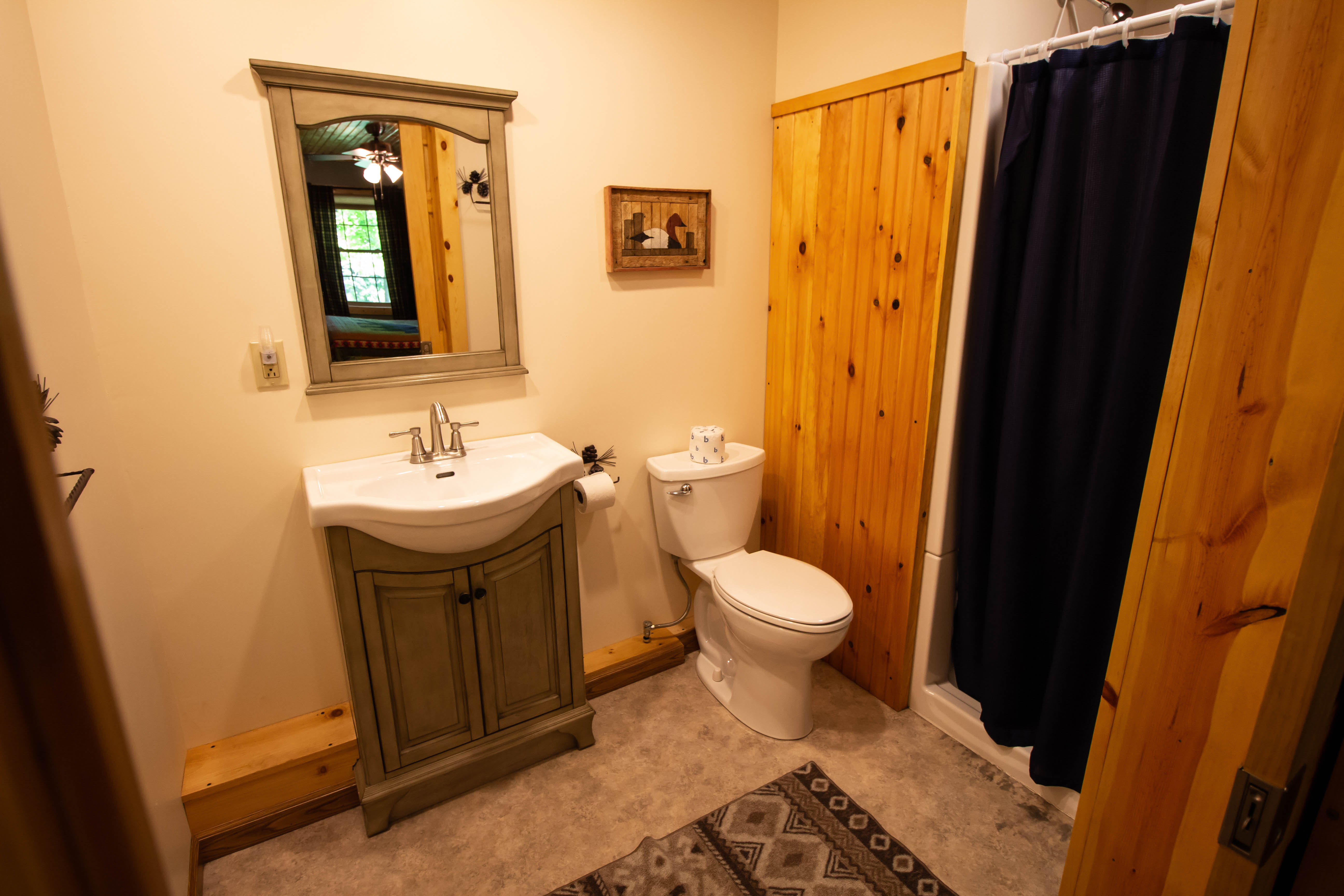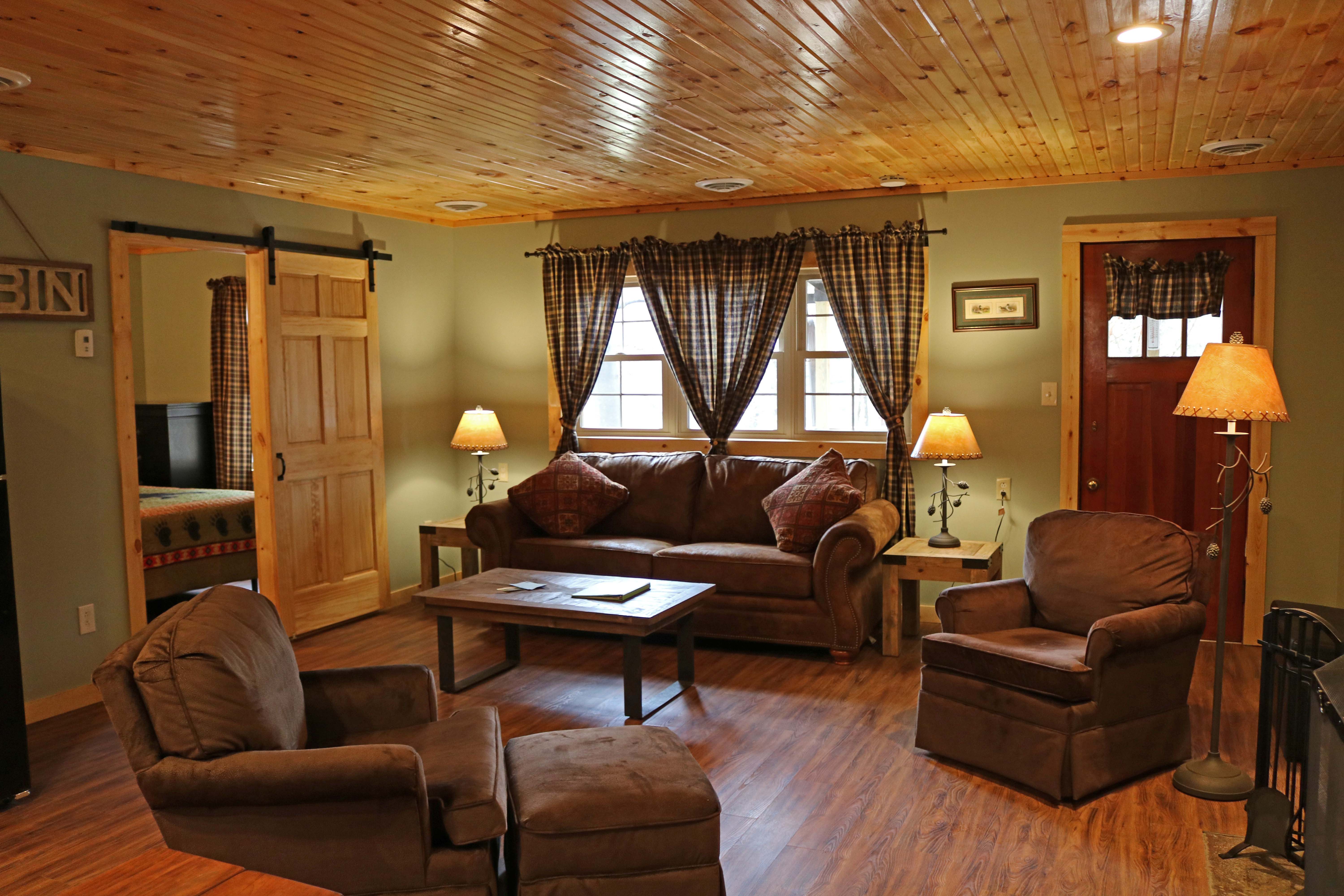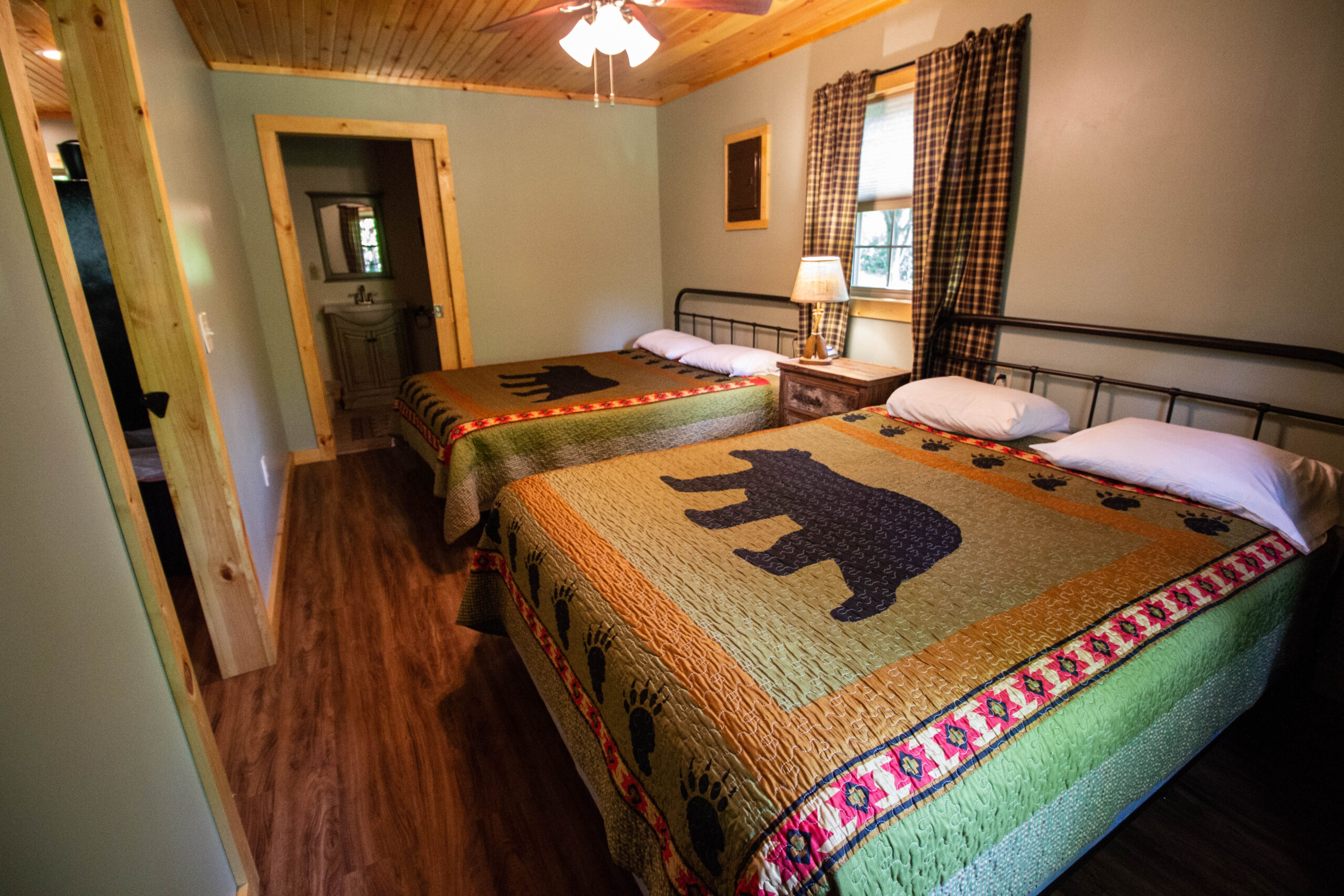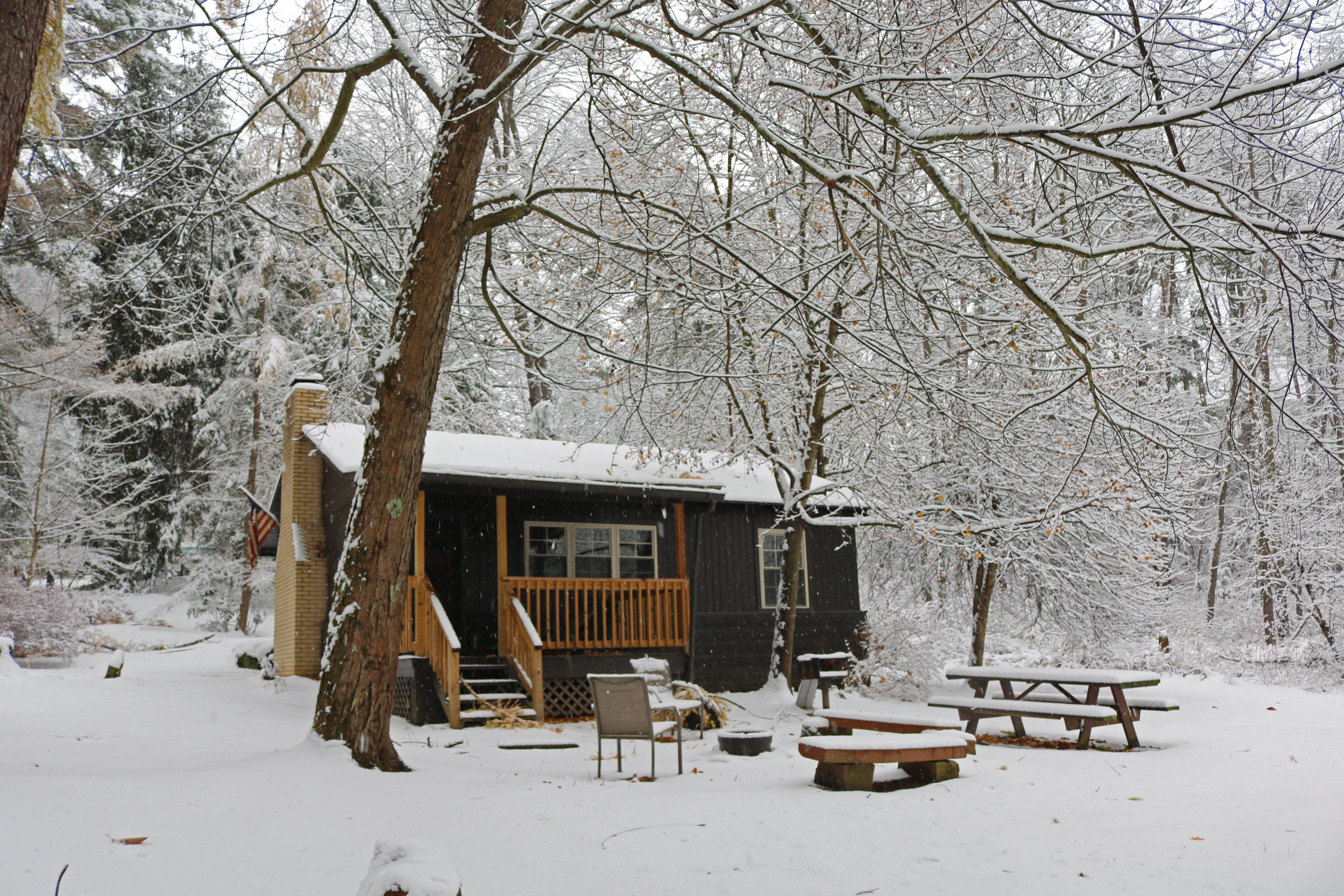 Cook Riverside Cabins
CABIN 19 - SLEEPS 10
Cabin 19 is a large cabin a with a pretty brick fireplace with full kitchen and bath.  This cabin three-bedroom cabin sleeps up to ten guests.  Cabin 19 has a covered front porch, picnic table, charcoal grill, and fire ring. From the first weekend in June through the last weekend of August, Cabin 19 is a Saturday to Saturday weekly rental.  Beds: 3 Doubles, 2 Sets of Bunk Beds
Nightly Rental: $255
Weekly Rental: $1,150
Winter Rate: $204/night or $920/week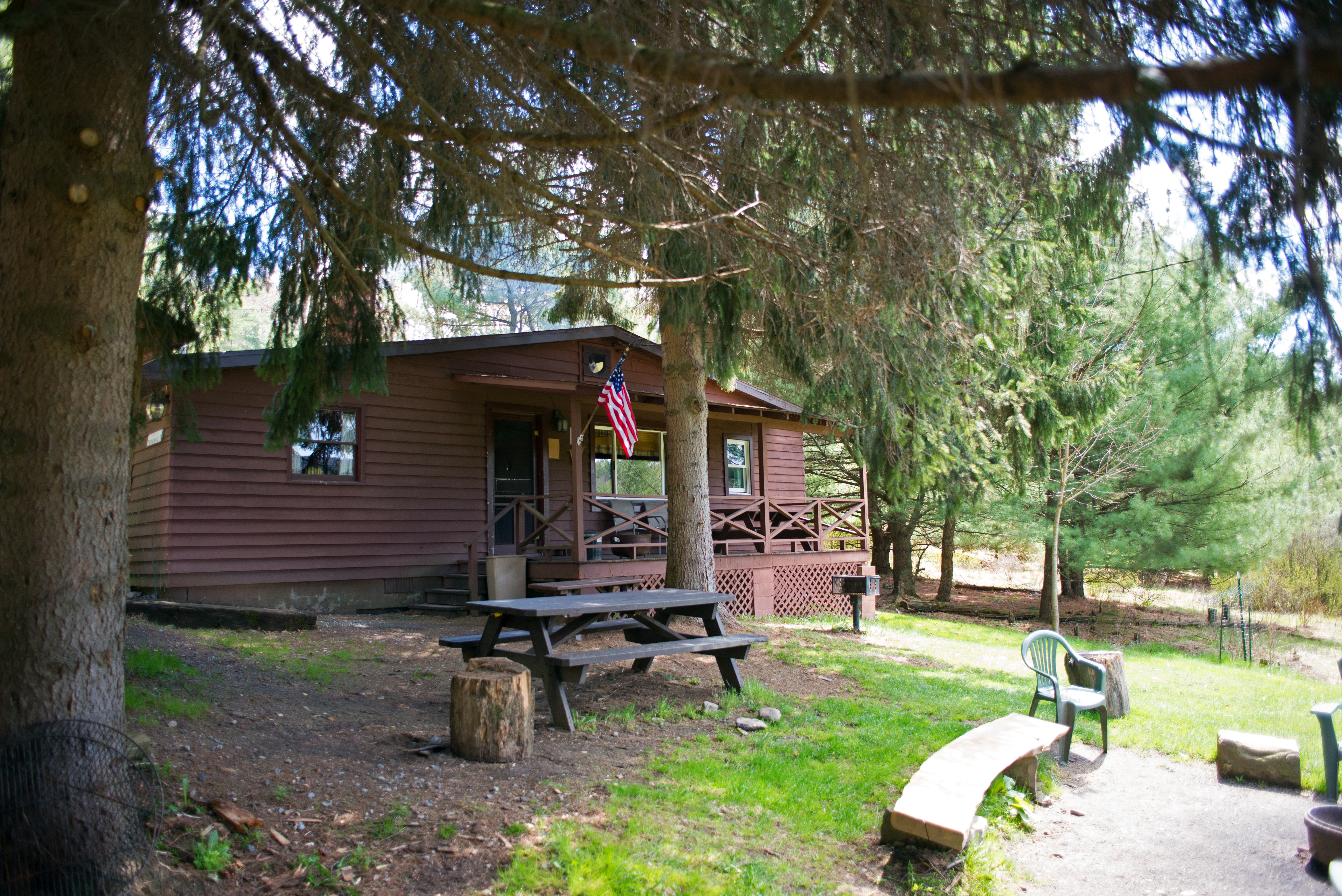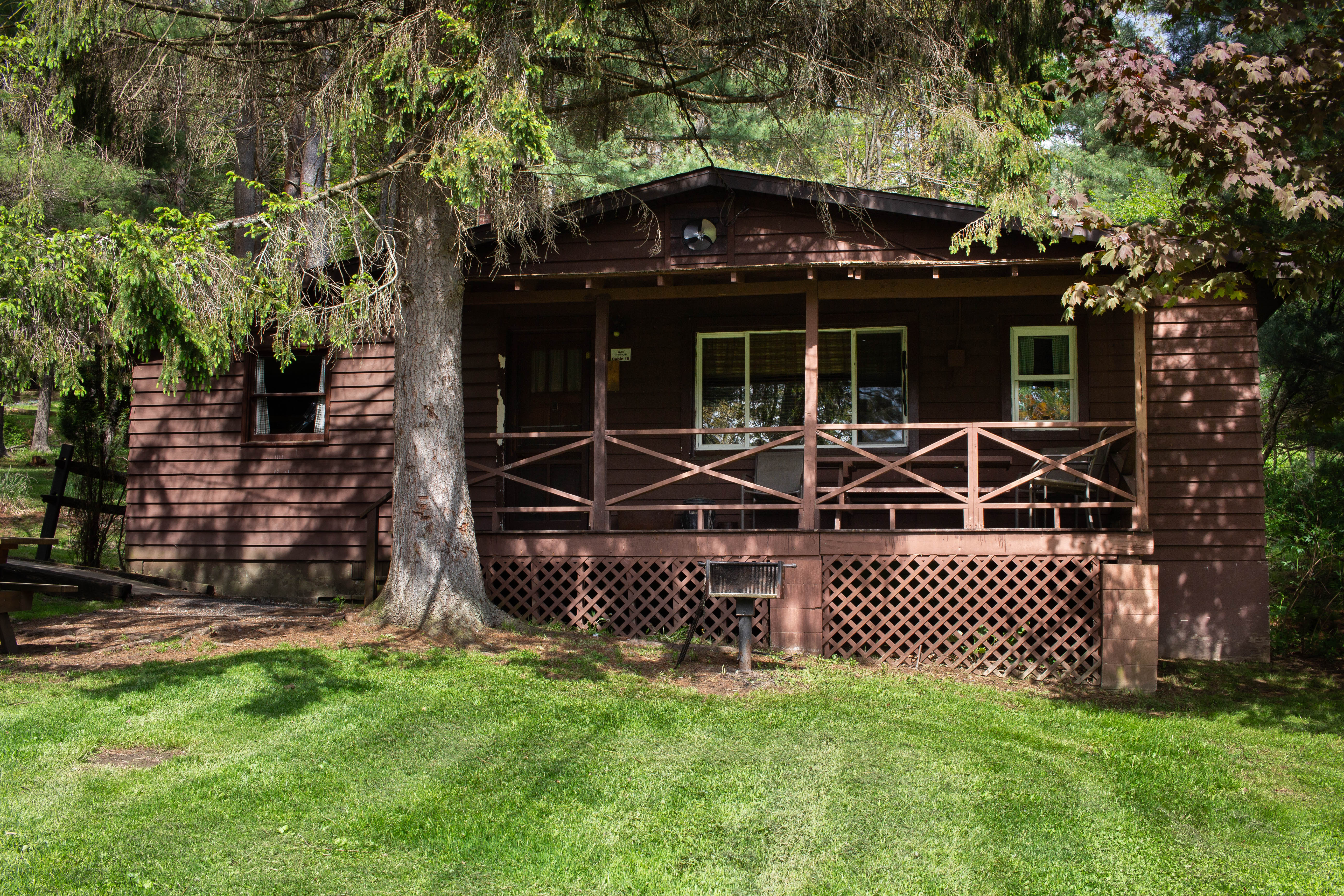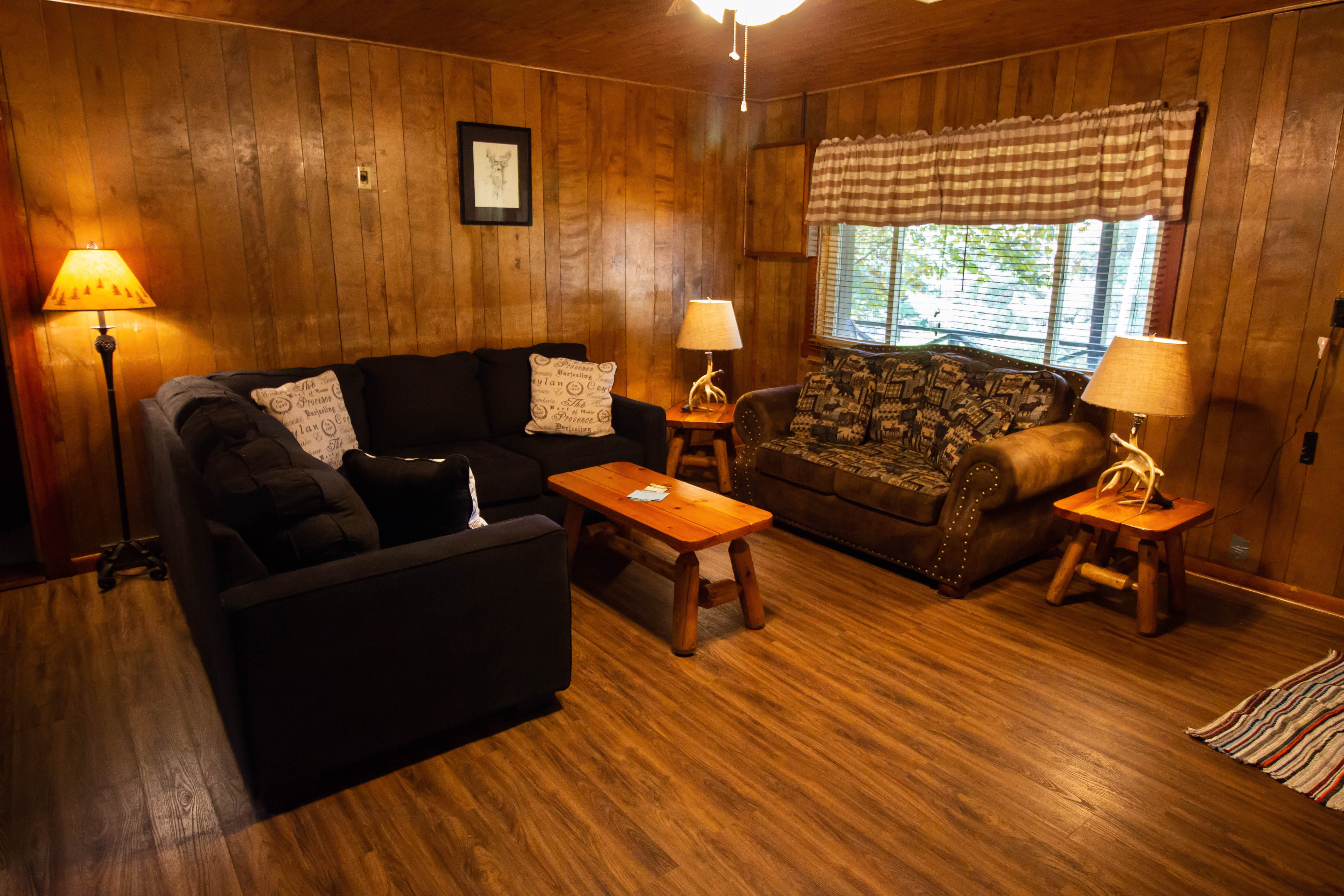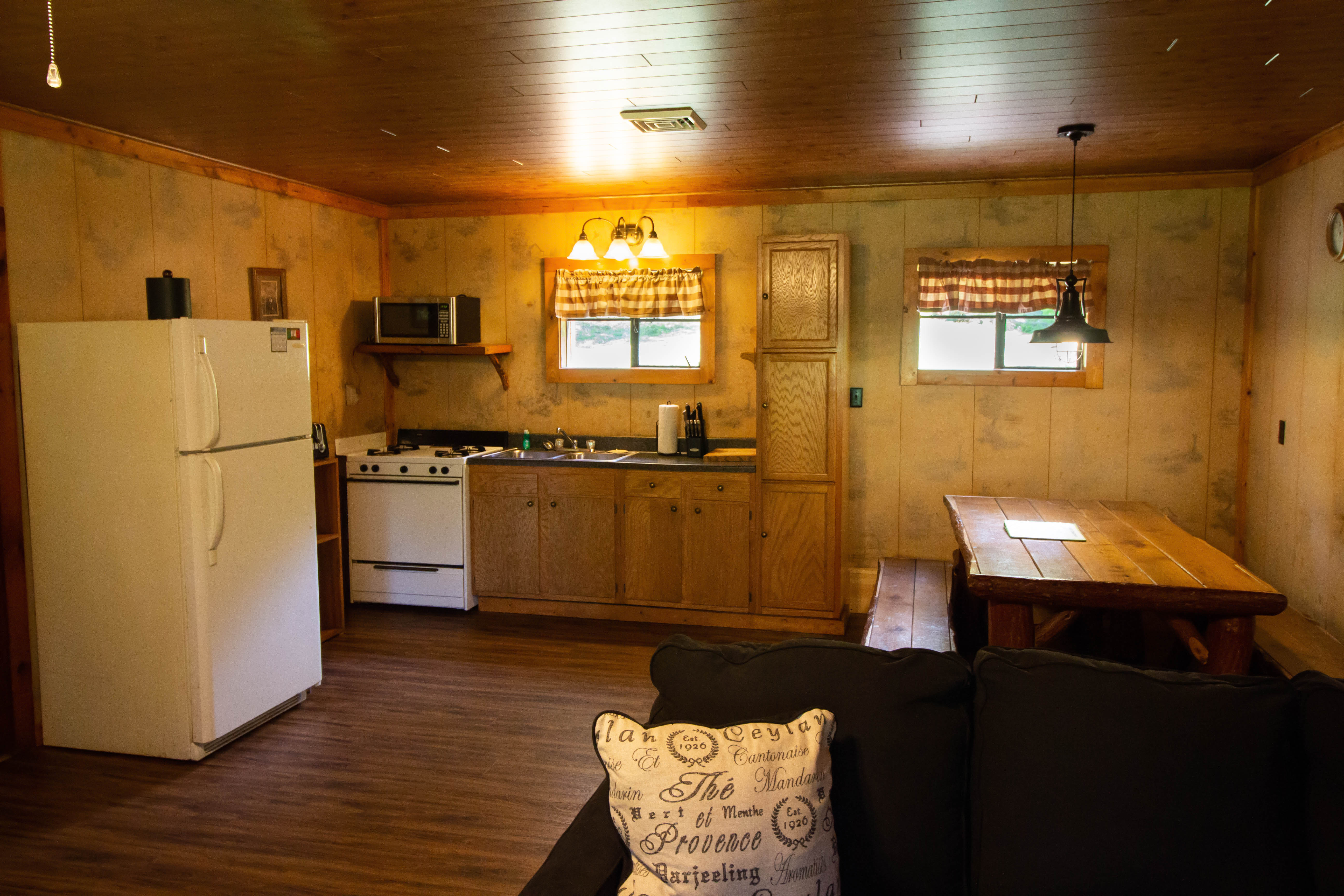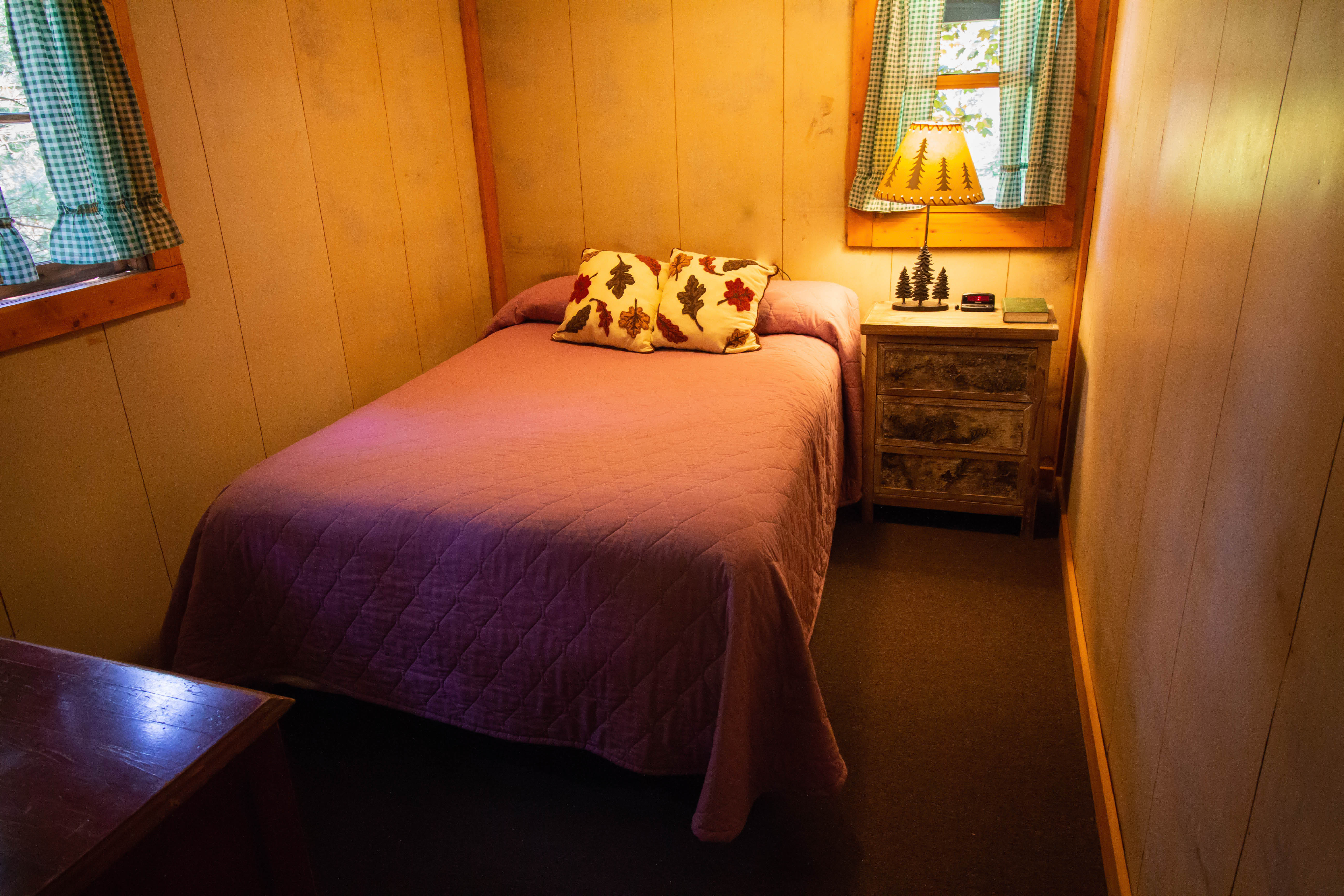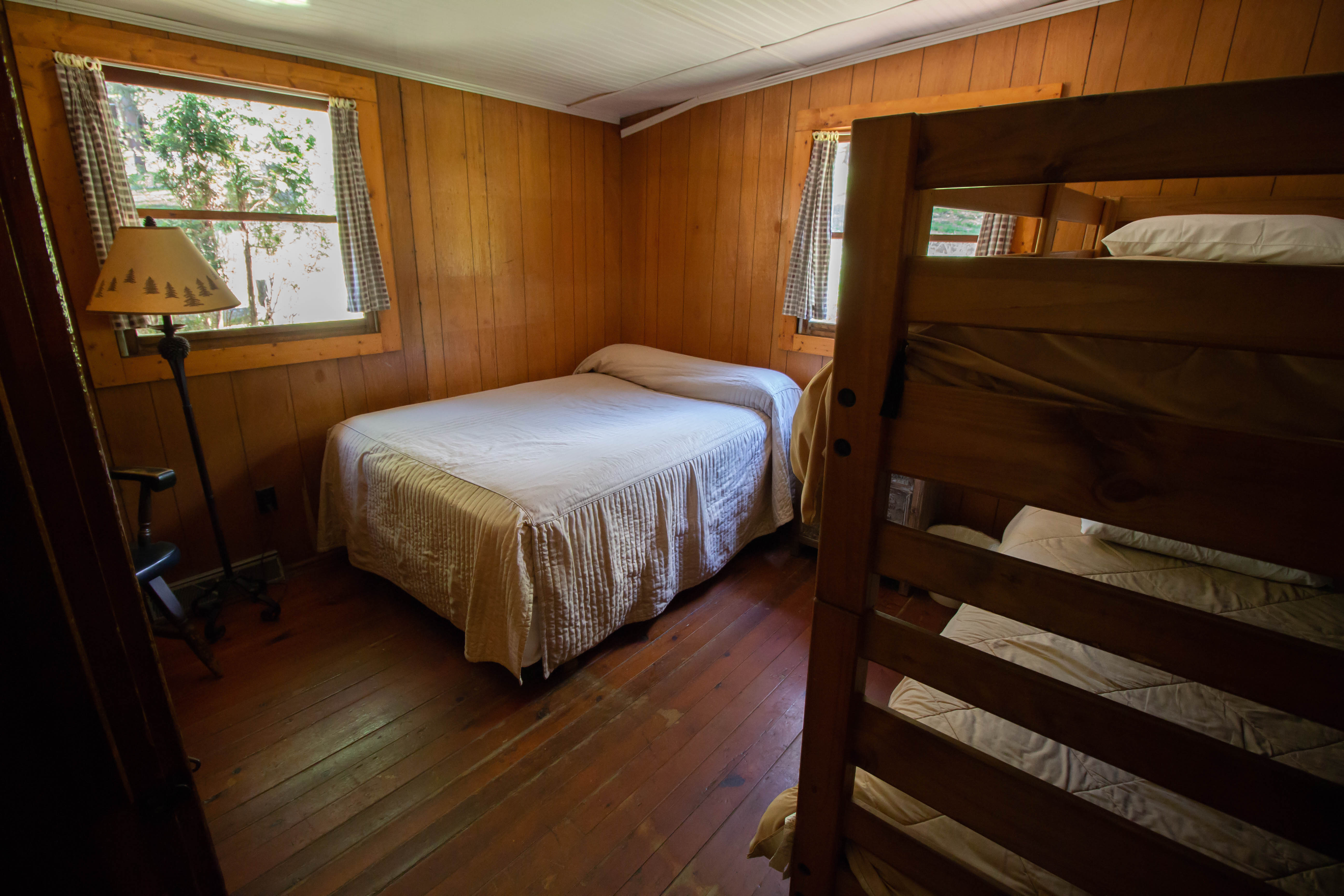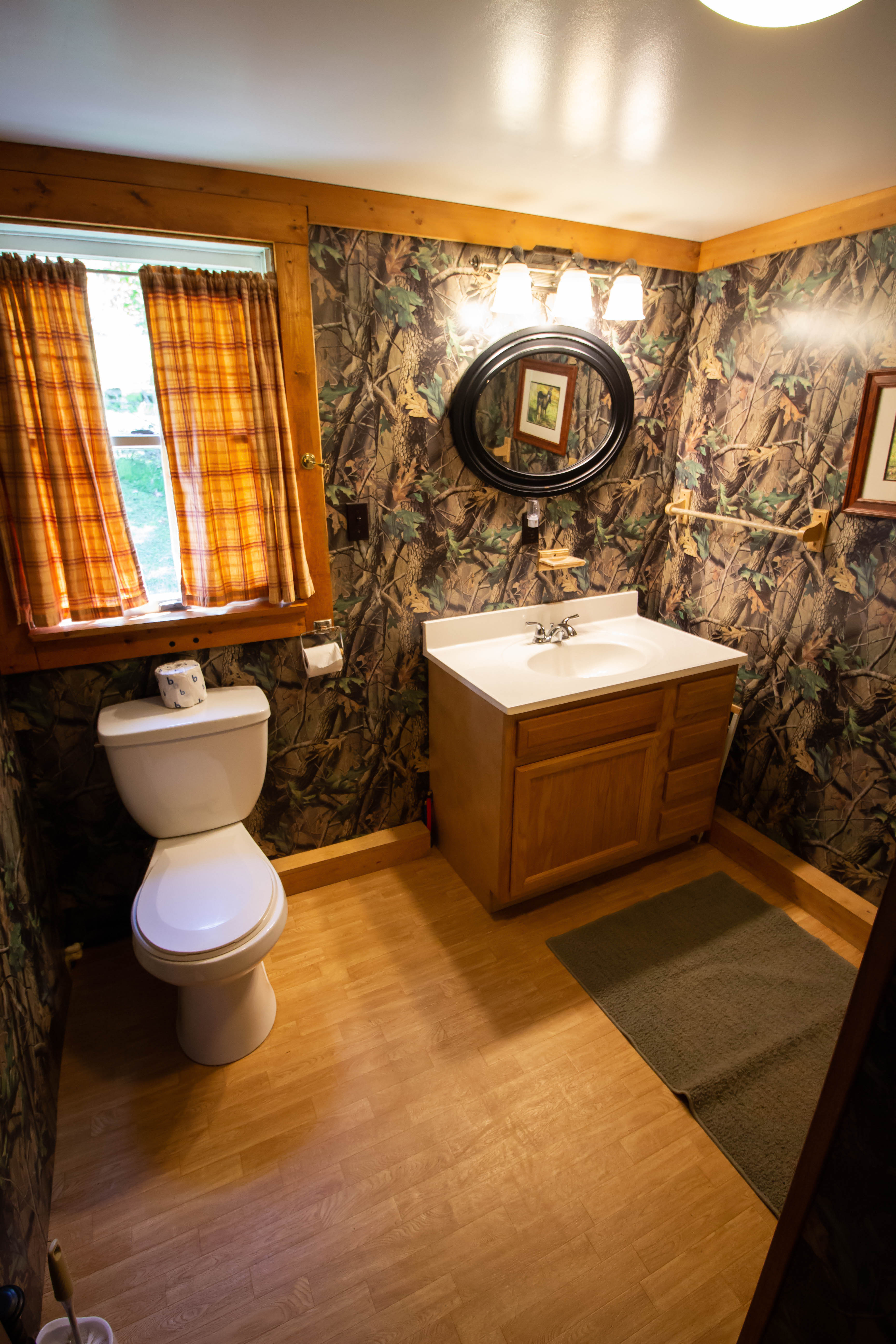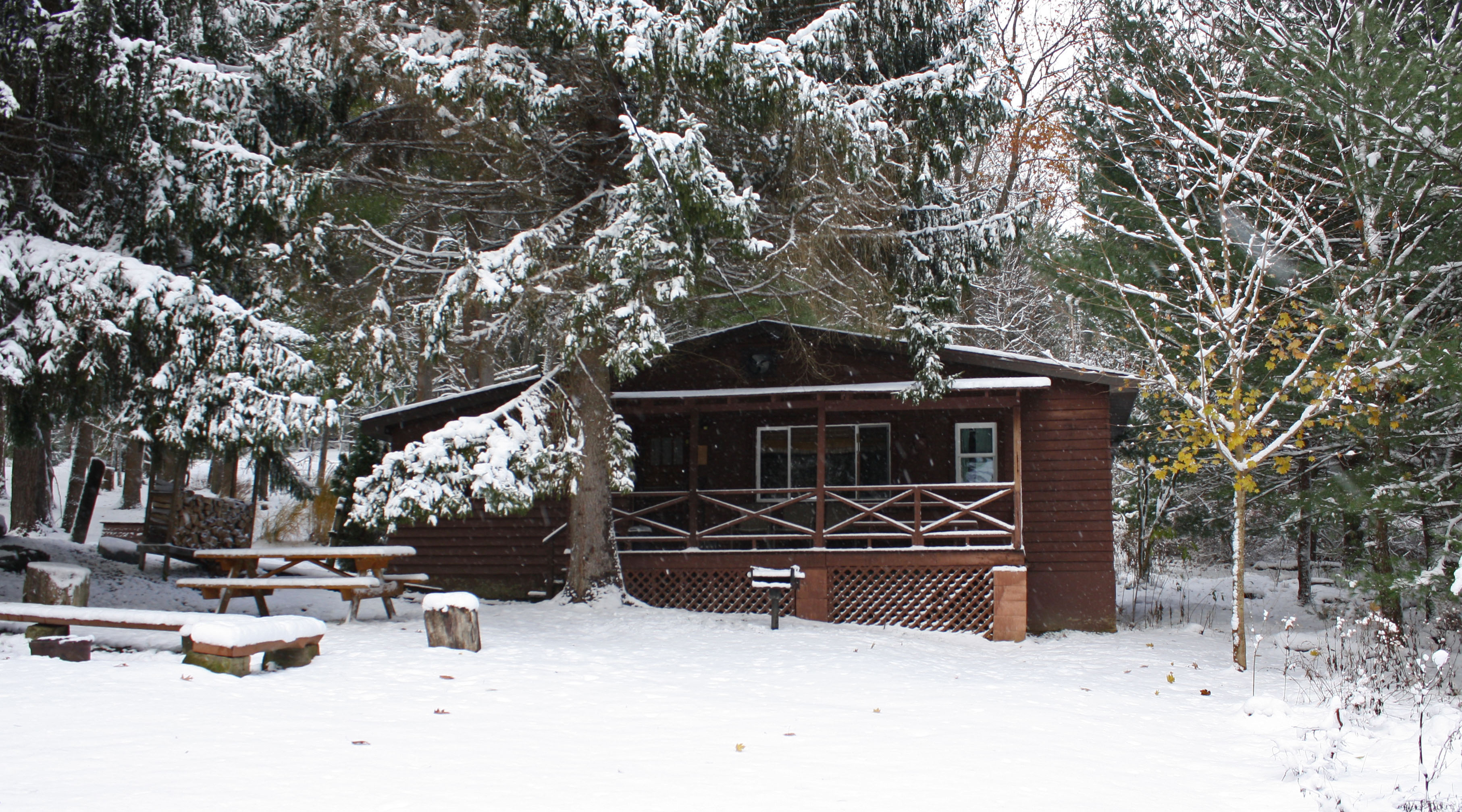 Cook Riverside Cabins
CABIN 20 - SLEEPS 12
Cabin 20 "Forestview Lodge" is our large five-bedroom home with two fireplaces and two and a half baths, large kitchen upstairs and kitchenette in the walkout basement level. It is handicap accessible and has a large deck overlooking Cook Riverside.  Forestview Lodge sleeps up to twelve guests. It also includes a covered front porch, picnic table, charcoal grill, and fire ring. From the first weekend in June through the last weekend of August, this lodge is a Friday to Friday weekly rental. Beds: 4 Queens, 2 Sets of Bunk Beds
Nightly Rental: $325
Weekly Rental: $1,475
Winter Rate: $260/night or $1,180/week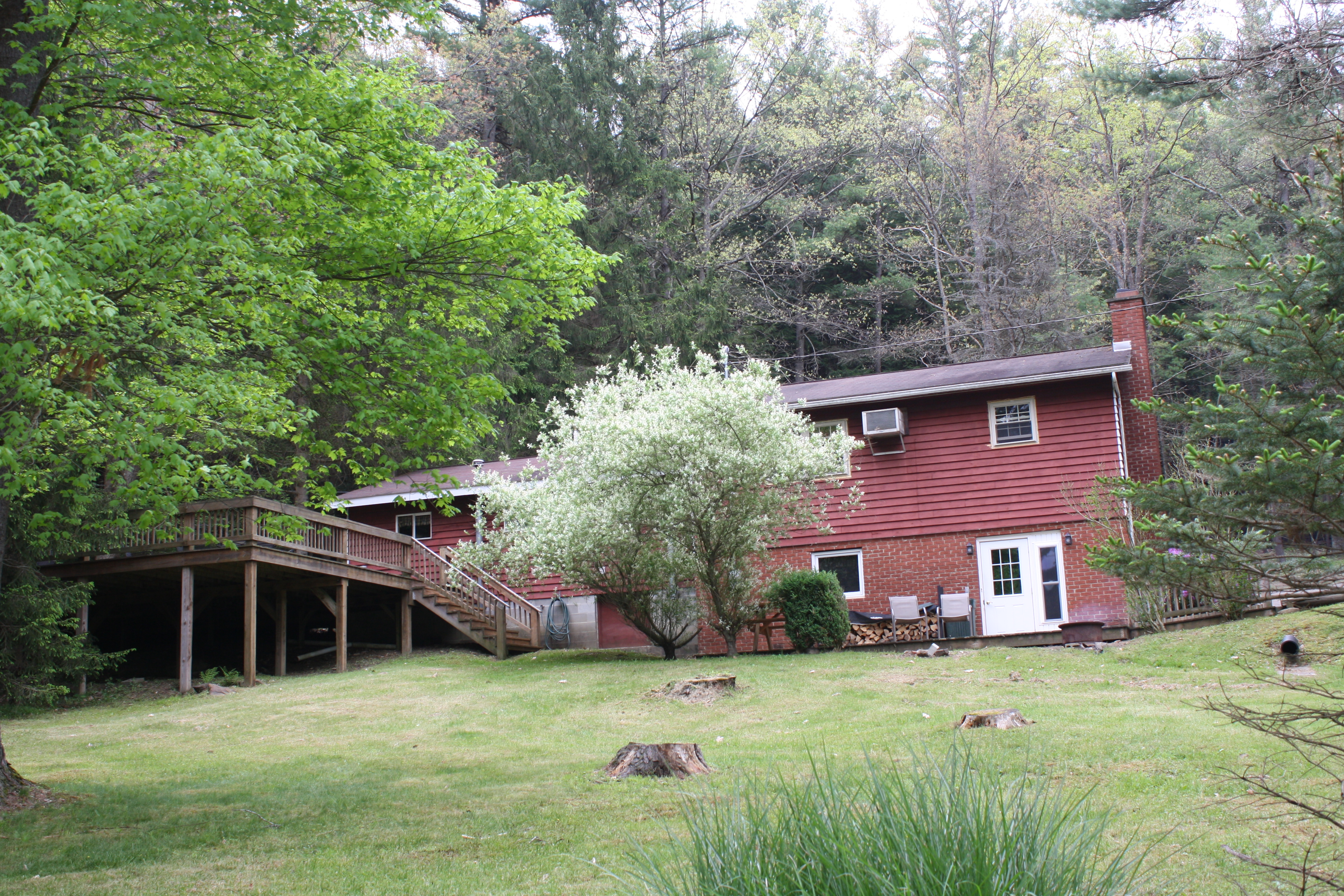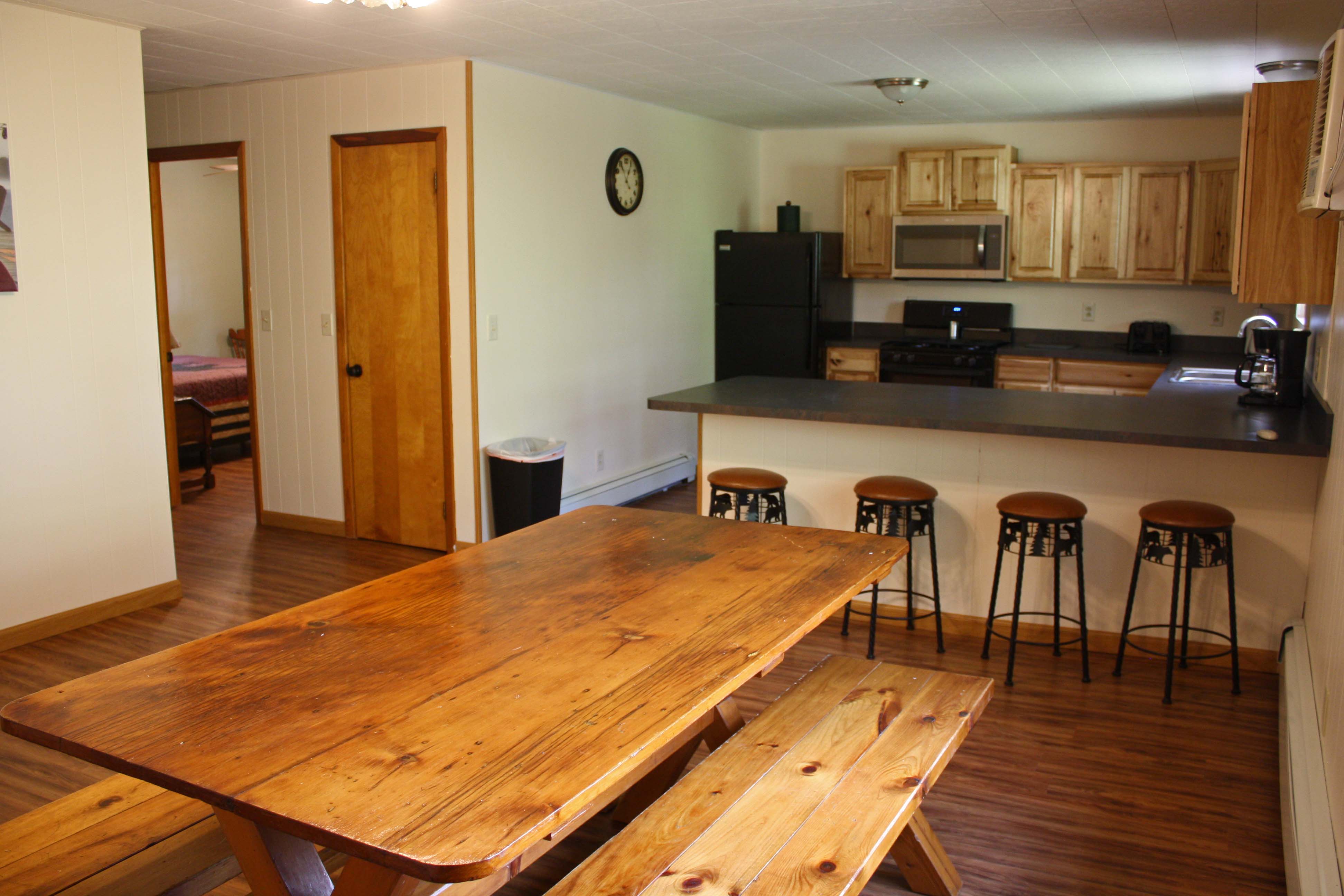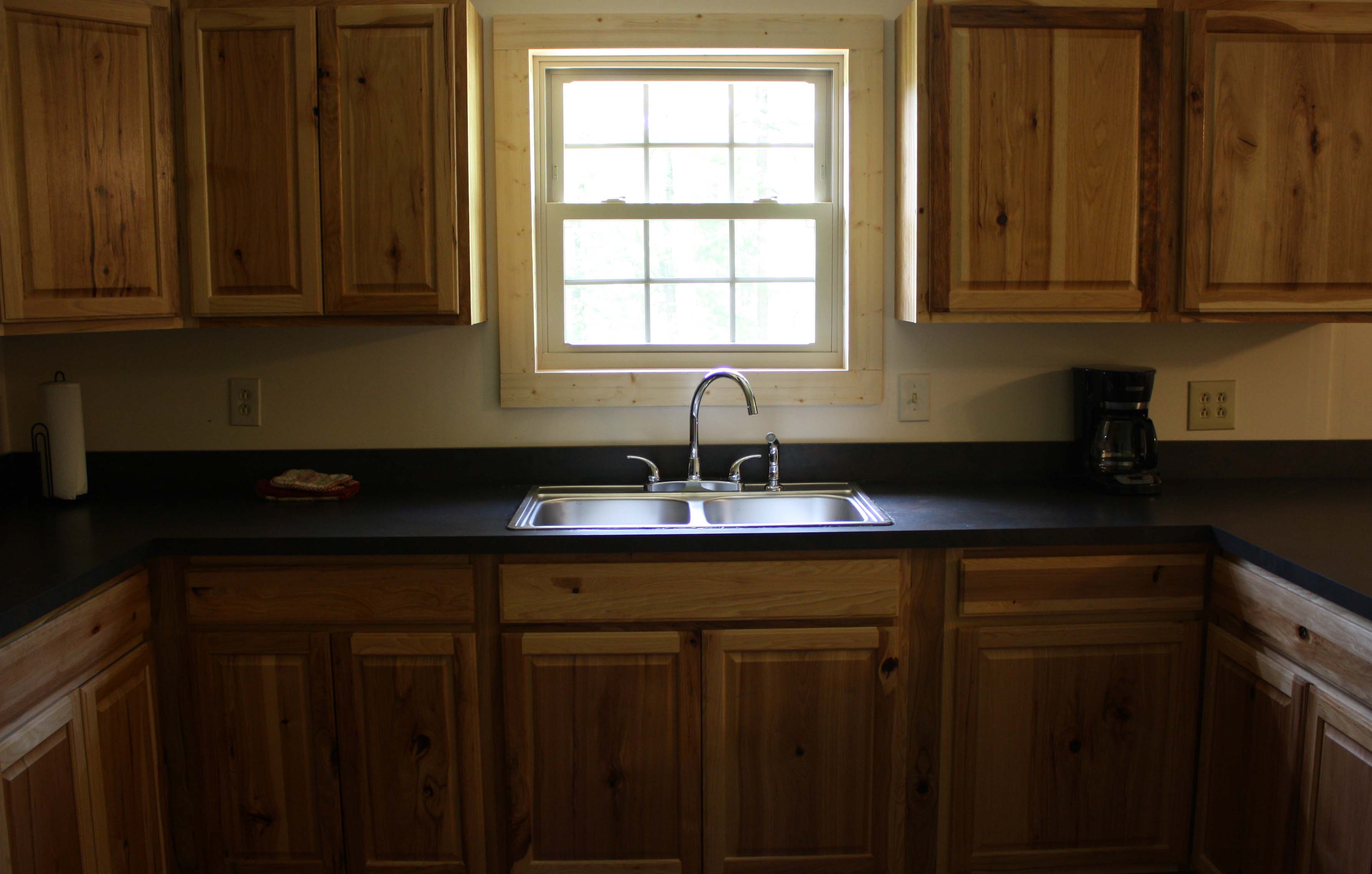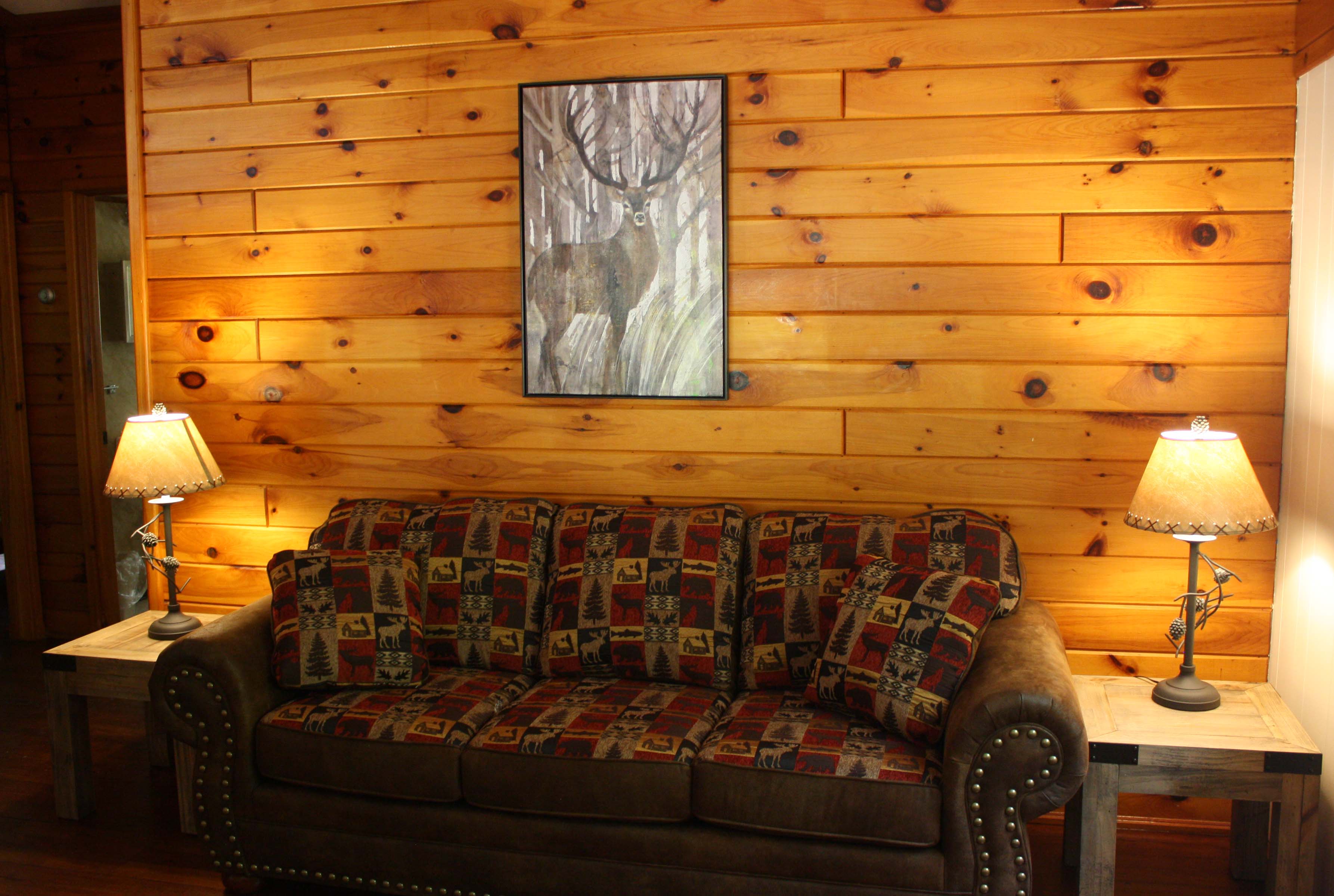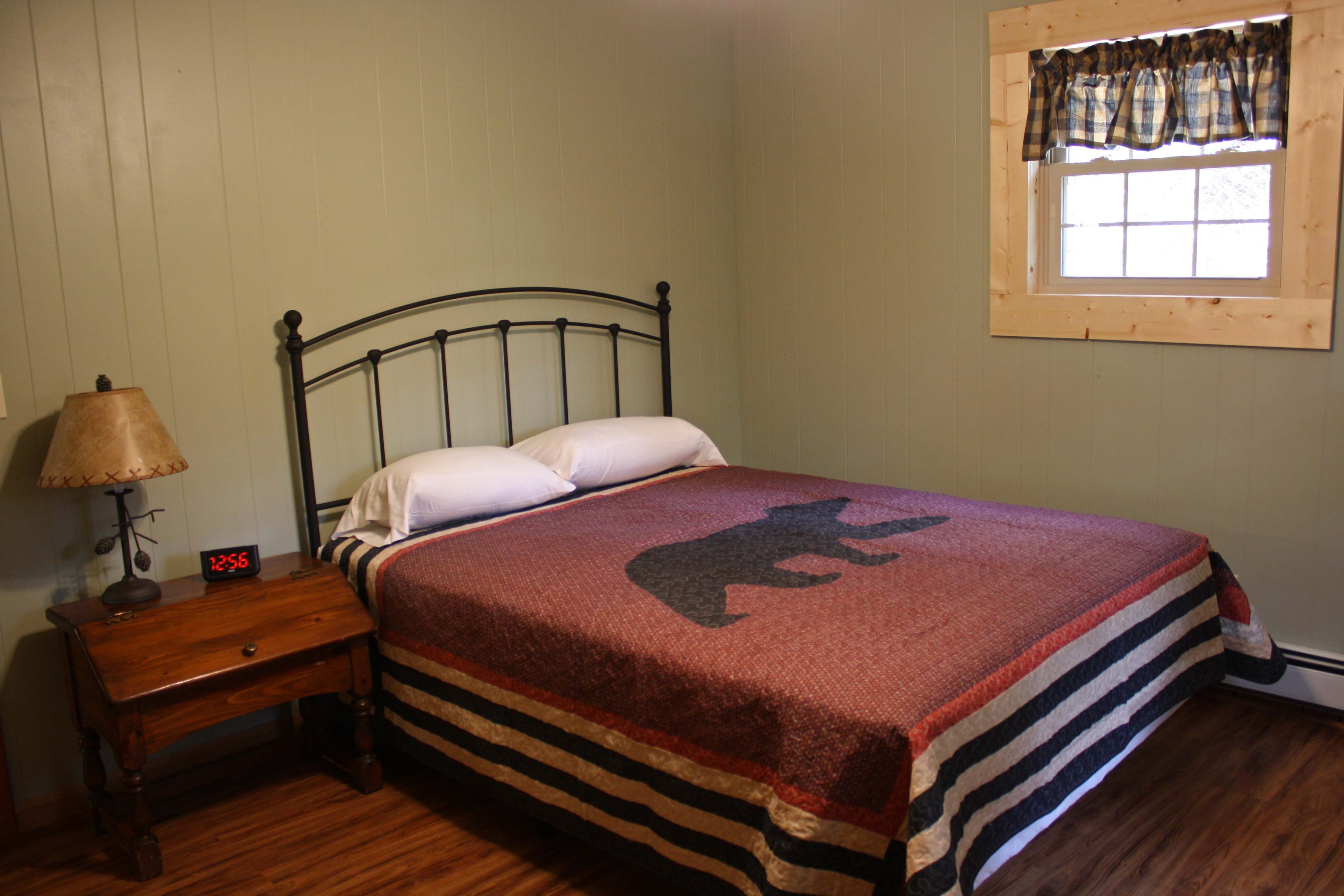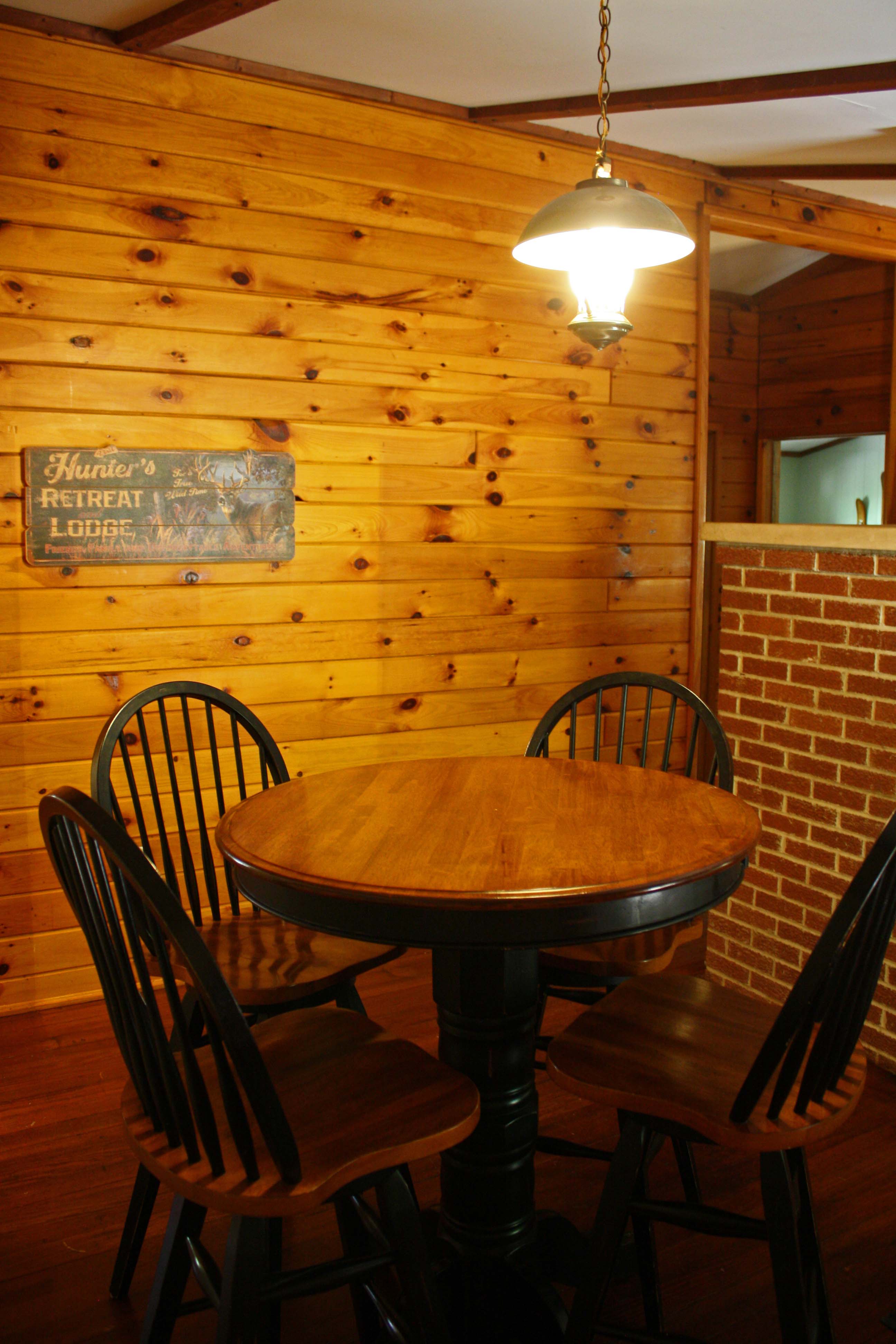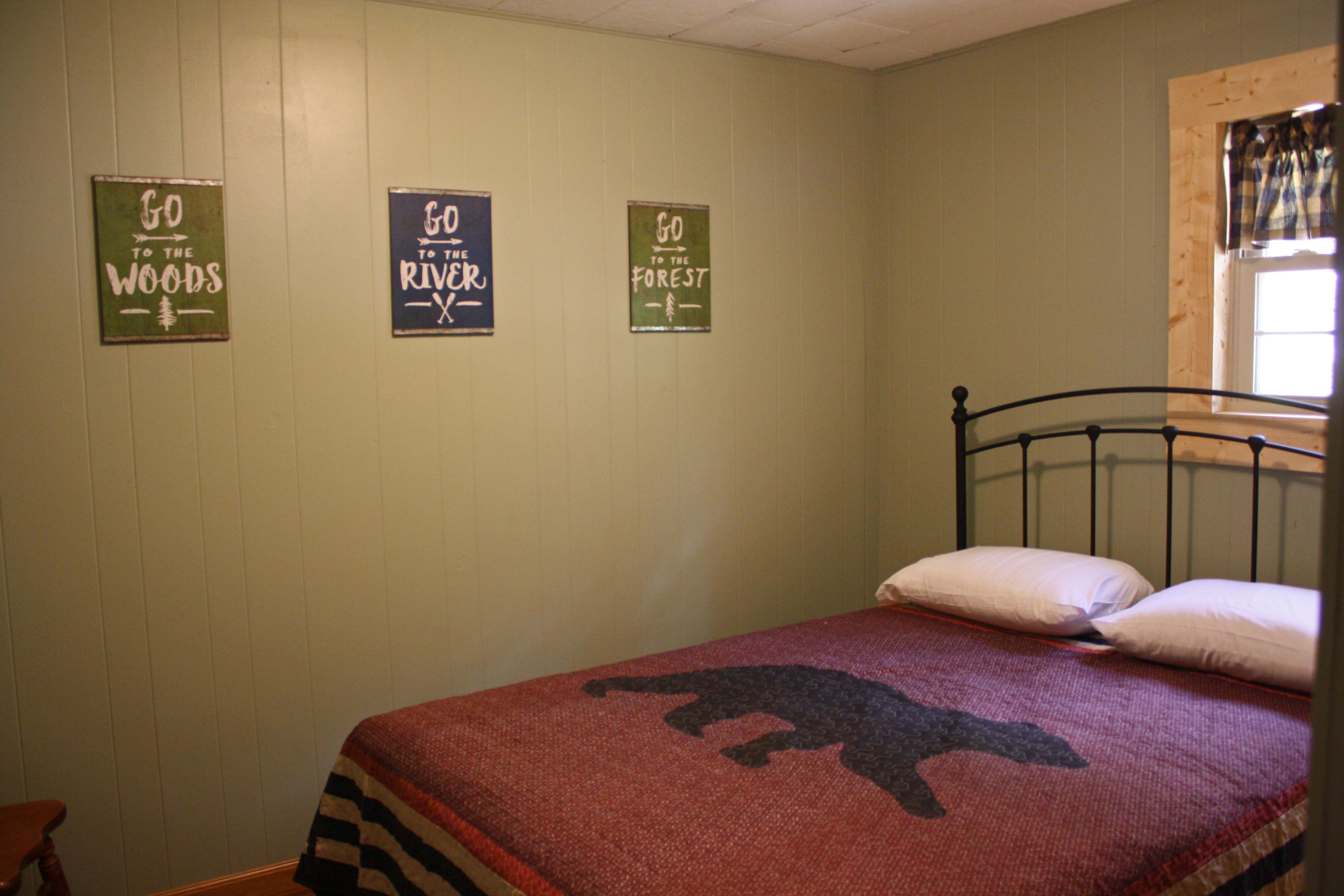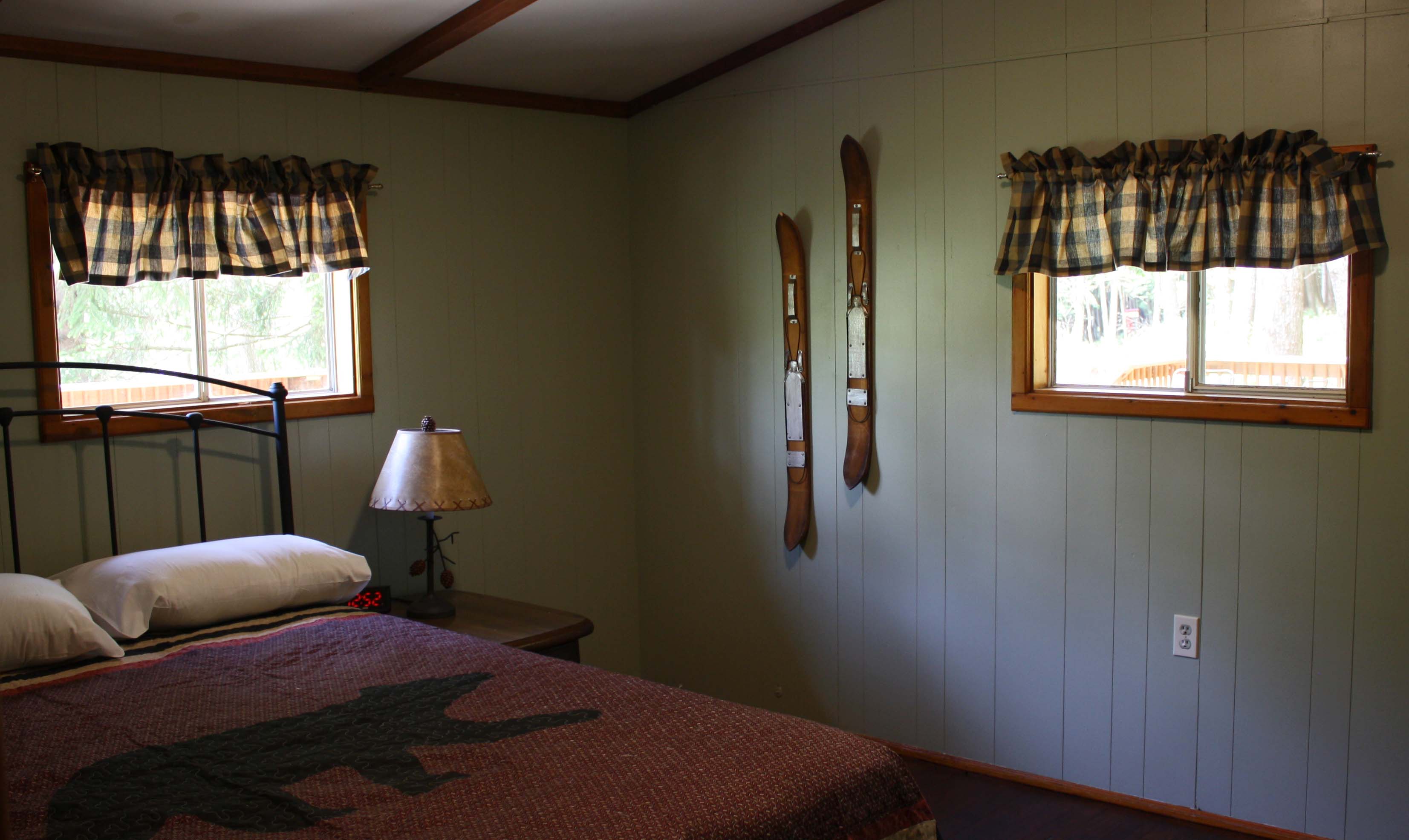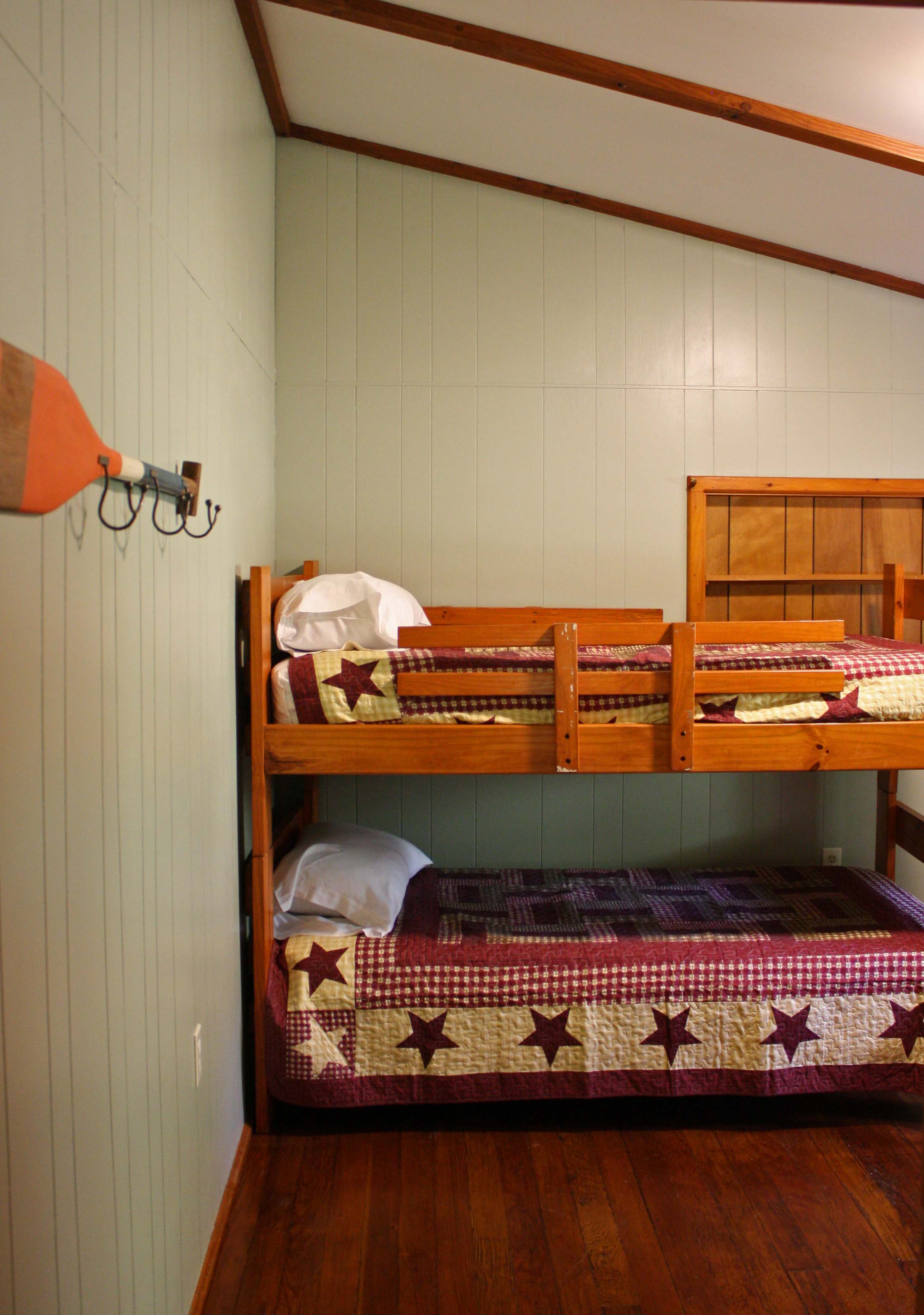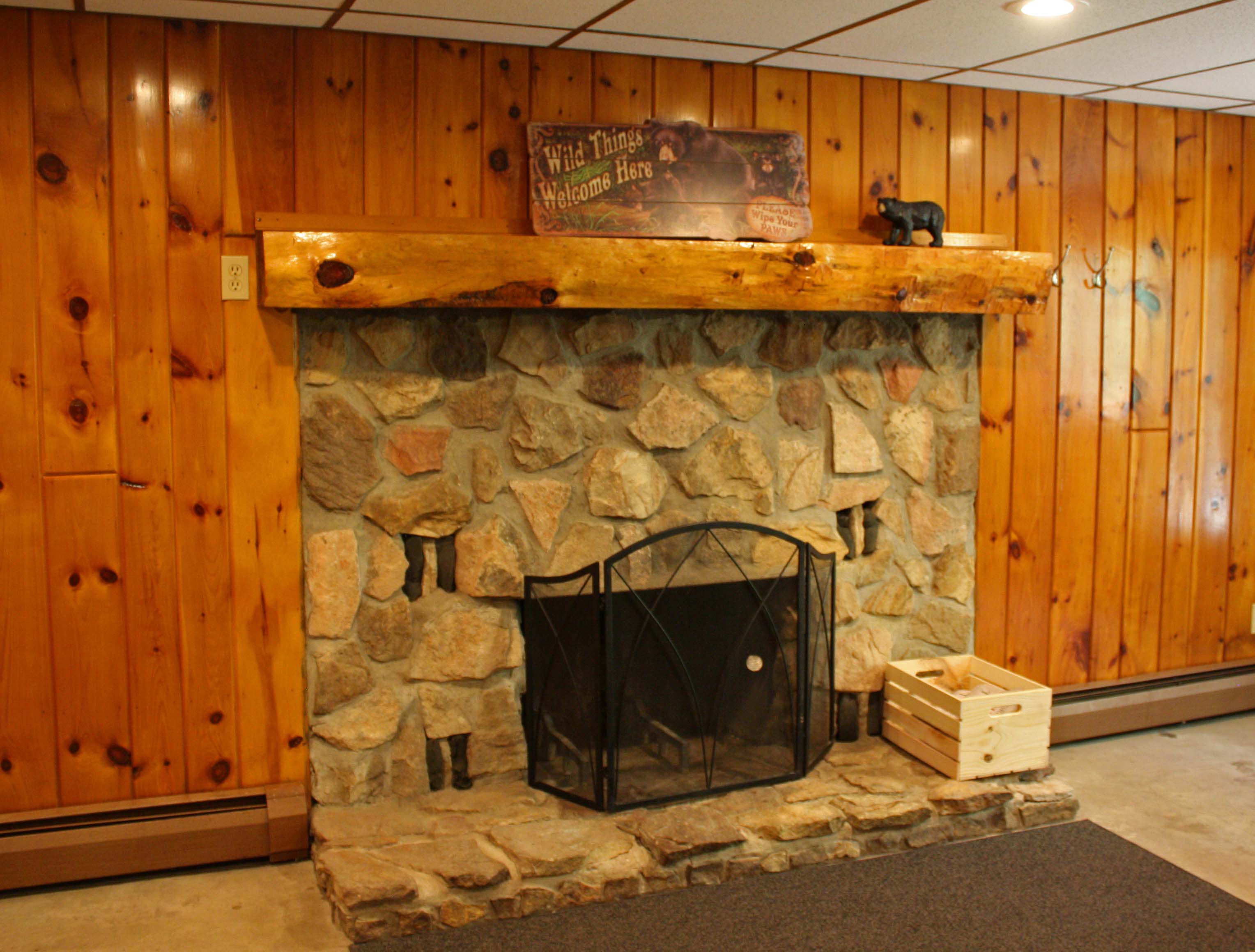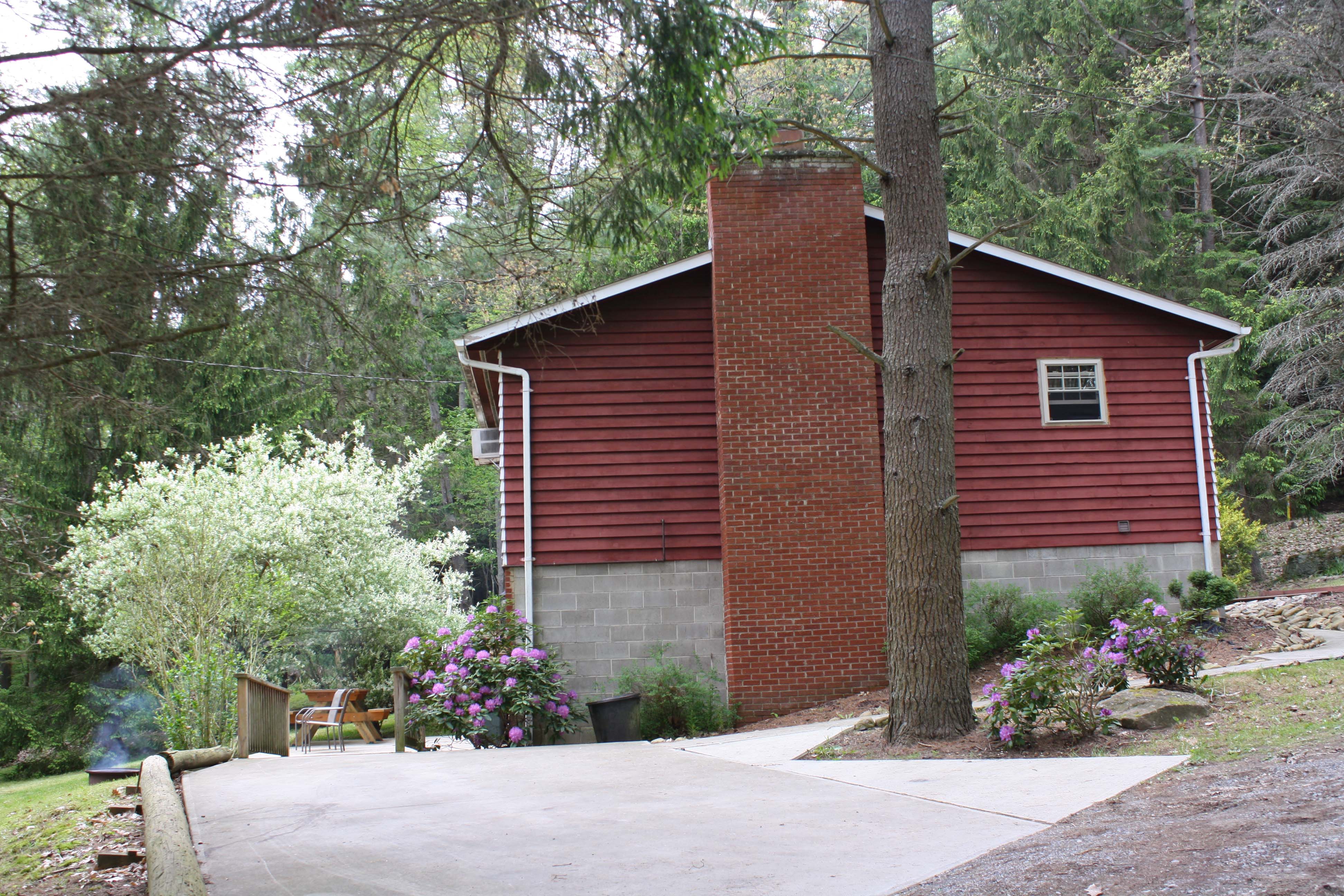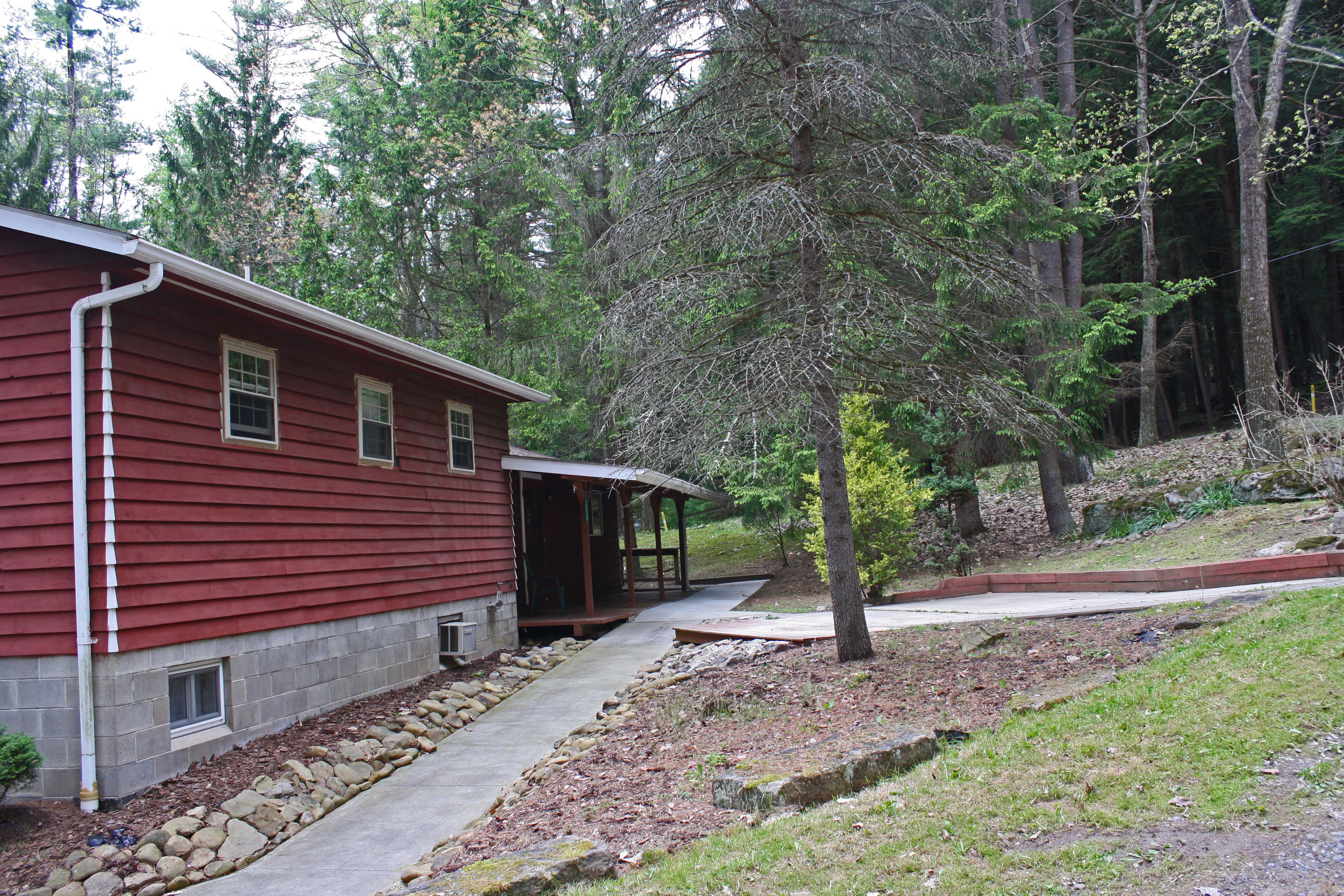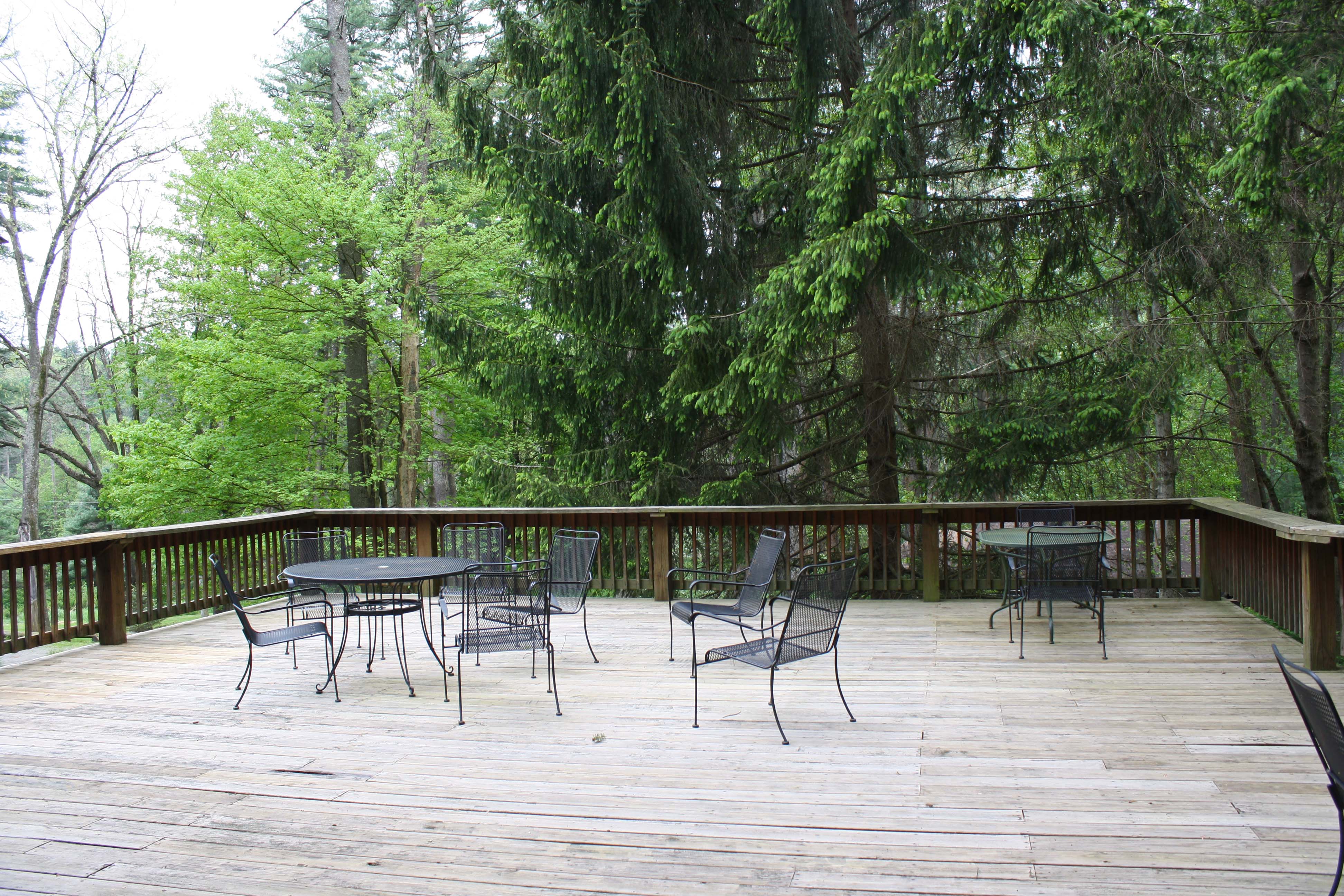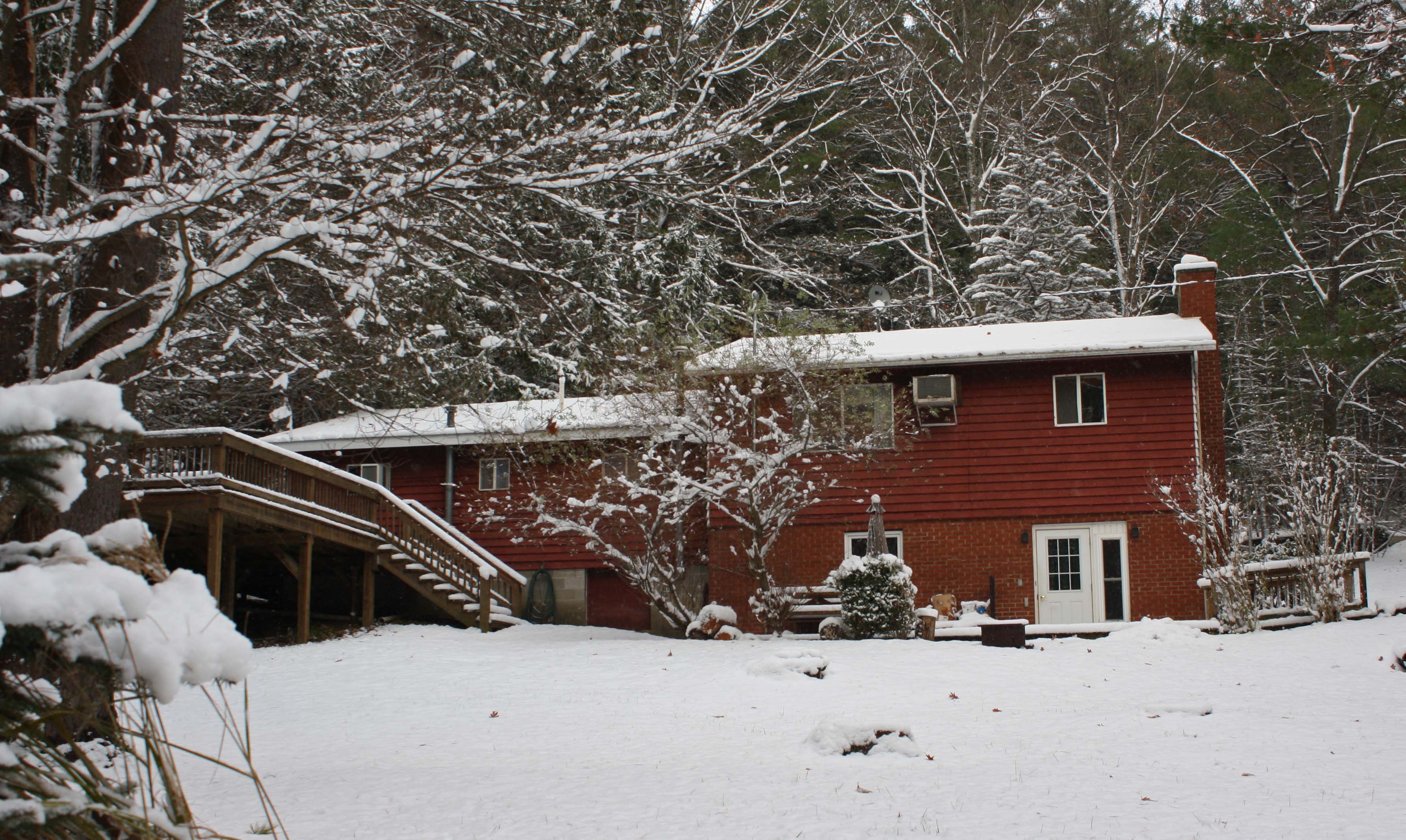 Cook Riverside Cabins
CABIN 21 - SLEEPS 10
Cabin 21 "Cook Riverside Farmhouse" is our large four-bedroom vacation home with two full baths and central air conditioning. This beautiful home features cathedral ceilings and a gorgeous wraparound covered porch.  Cook Riverside Farmhouse sleeps up to ten guests. Also included is a picnic table, charcoal grill, and fire ring in the spacious backyard. From the first weekend in June through the last weekend of August, this home is a Friday to Friday weekly rental. Beds: 3 Queen, 4 Singles
Nightly Rental: $325
Weekly Rental: $1,500
Winter Rate: $260/night or $1,200/week