Whispering Oaks is located at 2295 Route 36, Leeper, PA 16233 just 2.5 north of the Clarion River bordering the northern edge of Cook Forest. Maximum guests allowed is by each cabin below which includes children & infants. All cabins have gas or electric heat and come with a starter supply of firewood. Bed linens, dishware & utensils, pots & pans, microwave, coffee maker, toaster, and TV with DVD player only are provided. All of our cabins have bathrooms. Two night minimum except on holidays which is 3 nights.
Current guests have first right of refusal for the following year upon owner approval before other reservations requests are accepted. Pricing listed below by each cabin is for the current year - pricing for next year is listed in the calendar.
Scroll to the bottom to see individual cabin information and availability calendars, the property map and a list of suggestions of items you may wish to bring.
Click here to search current cabin availability for all Whispering Oaks and Fair Winds Cabins.
Pets are welcome for $12 a night each, two pet limit.    Please keep pets on a leash and promptly clean up after them. If leaving your pet alone in a cabin, they must be in a kennel/cage.
A non-refundable deposit of half (50%) the total due is required at the time of the reservation. The deposit will be applied to the balance due for the rental at the time of check in.
Check In: 4:00 until close at our office at Cooksburg Dry Goods Gift Shoppe at 115 Riverside Drive, Cooksburg, PA 16217 on River Road – please call 800-680-0160 in advance to make arrangements for late arrivals. Office hours change seasonally so please check at our Cooksburg Dry Goods website for current hours. Please see  If there is River Road flooding, please call 800-680-0160 or see the alternative route map by clicking here.
Check Out: 11:00 a.m. - leave keys on the kitchen table
Paddling Special: All guests of Fair Winds & Whispering Oaks Cabins receive a 50% discount on canoe, kayak, and tube rentals (transports & river raft excluded) when you paddle with the Pale Whale Canoe Fleet during your stay with us. Discount must be requested at the time you sign up for a trip - we will not issue refunds after a trip.
Whispering Oaks Cabins
Cabin 1 - Sleeps 4
Cabin 1 features an open concept living, dining and kitchen with a gas fireplace along with two bedrooms. There is a TV with DVD player only. Outdoor space includes a covered porch, picnic table, charcoal grill, and fire ring. Beds: 2 Doubles
Nightly Right: $125
Weekly Rate: $560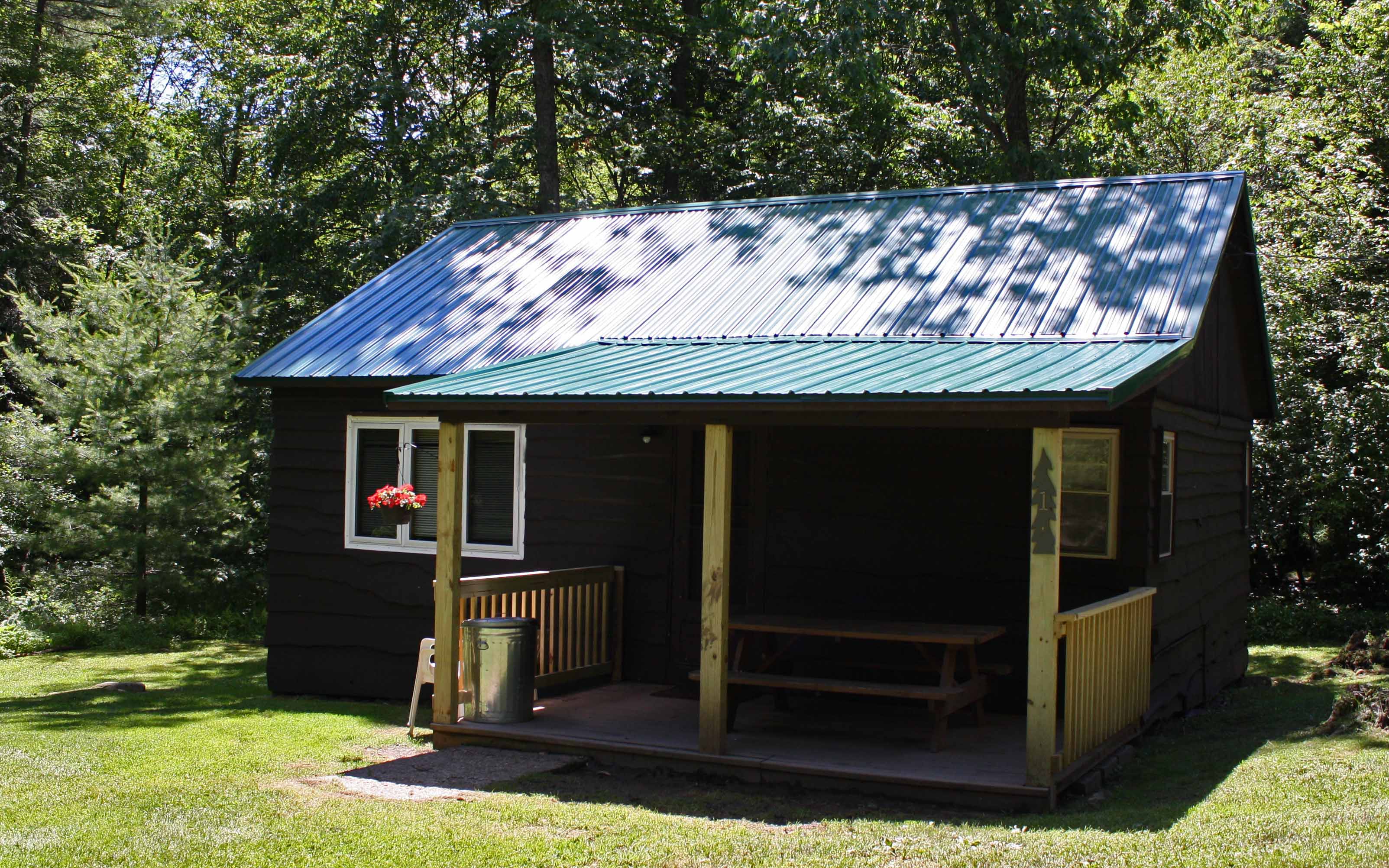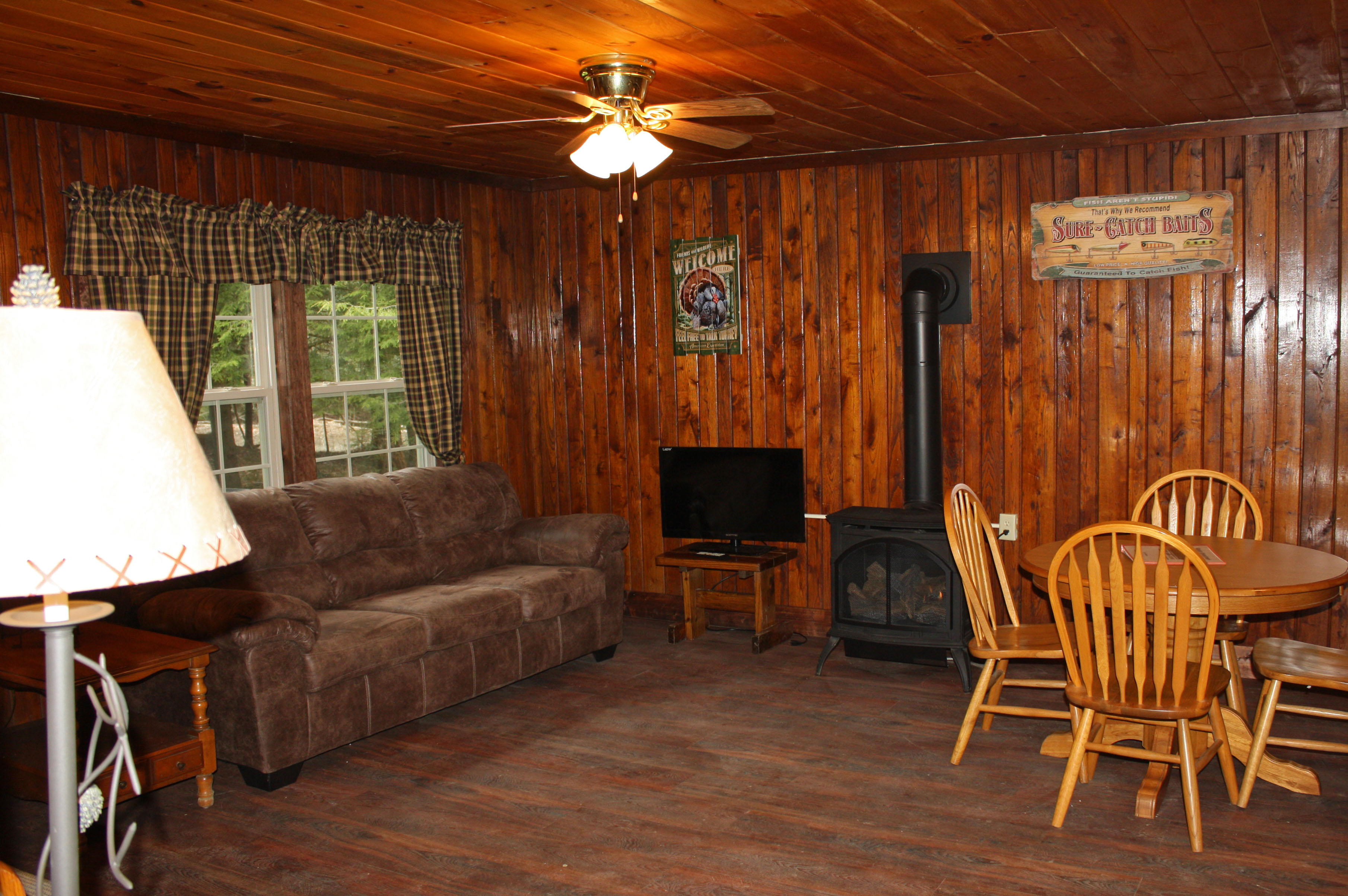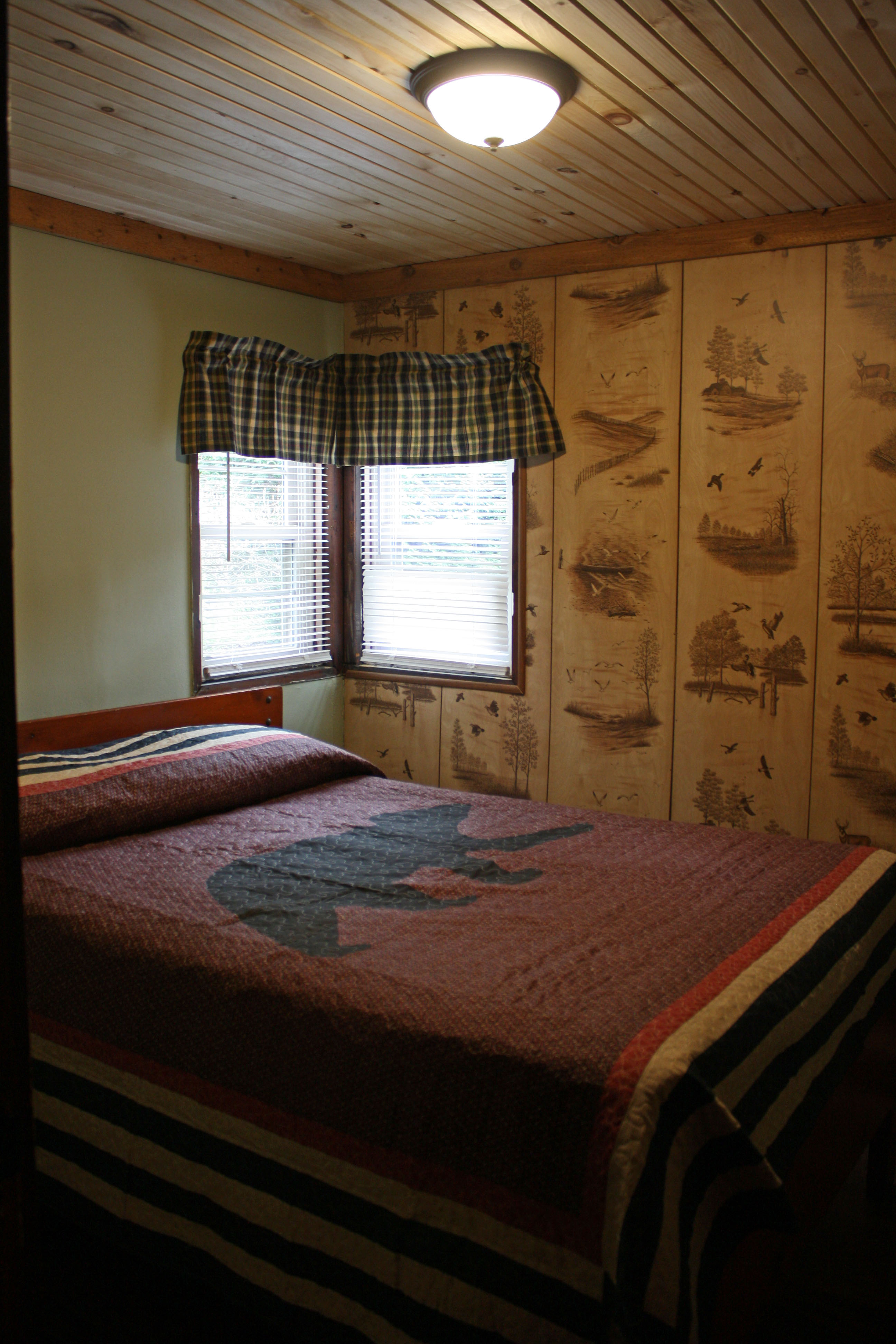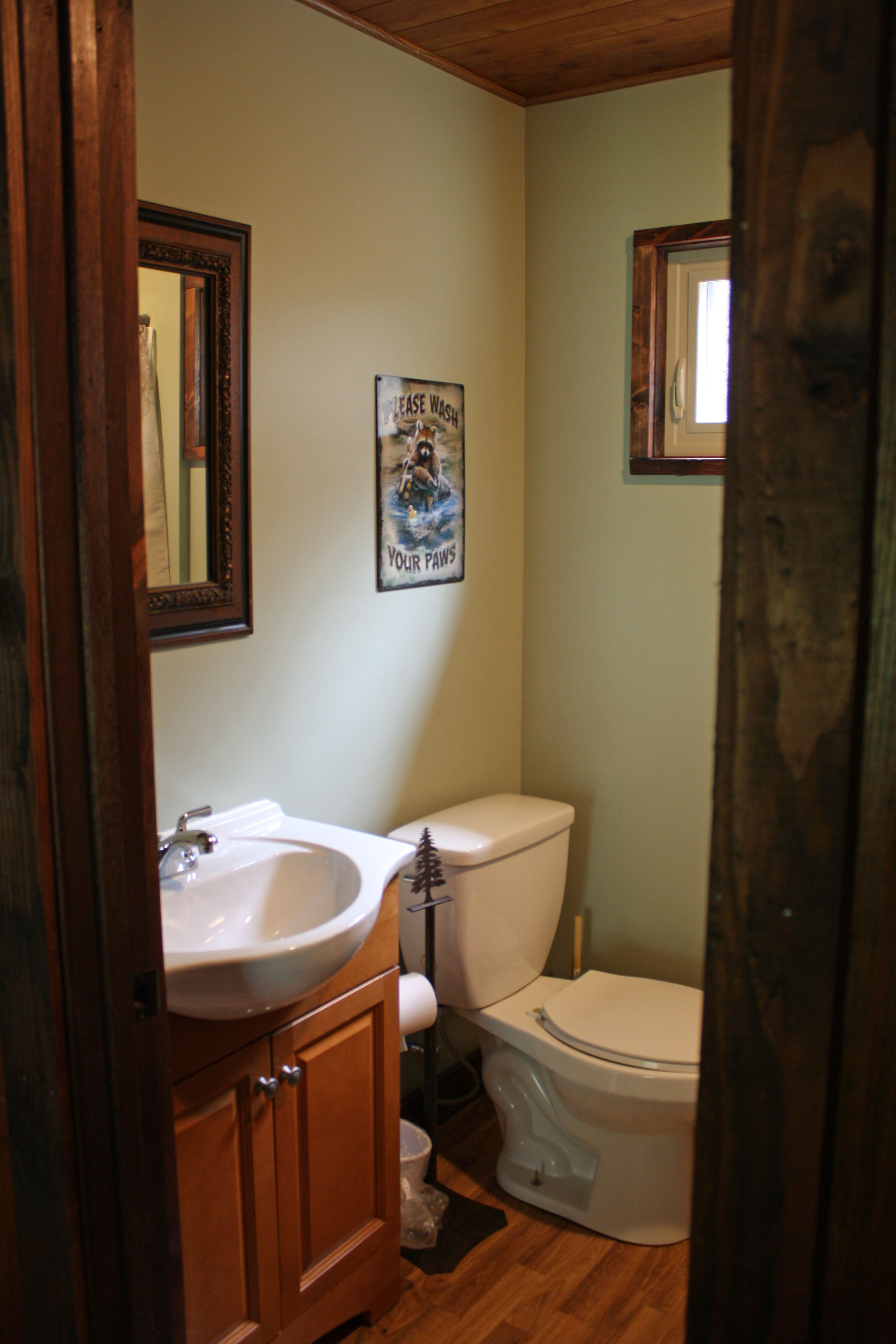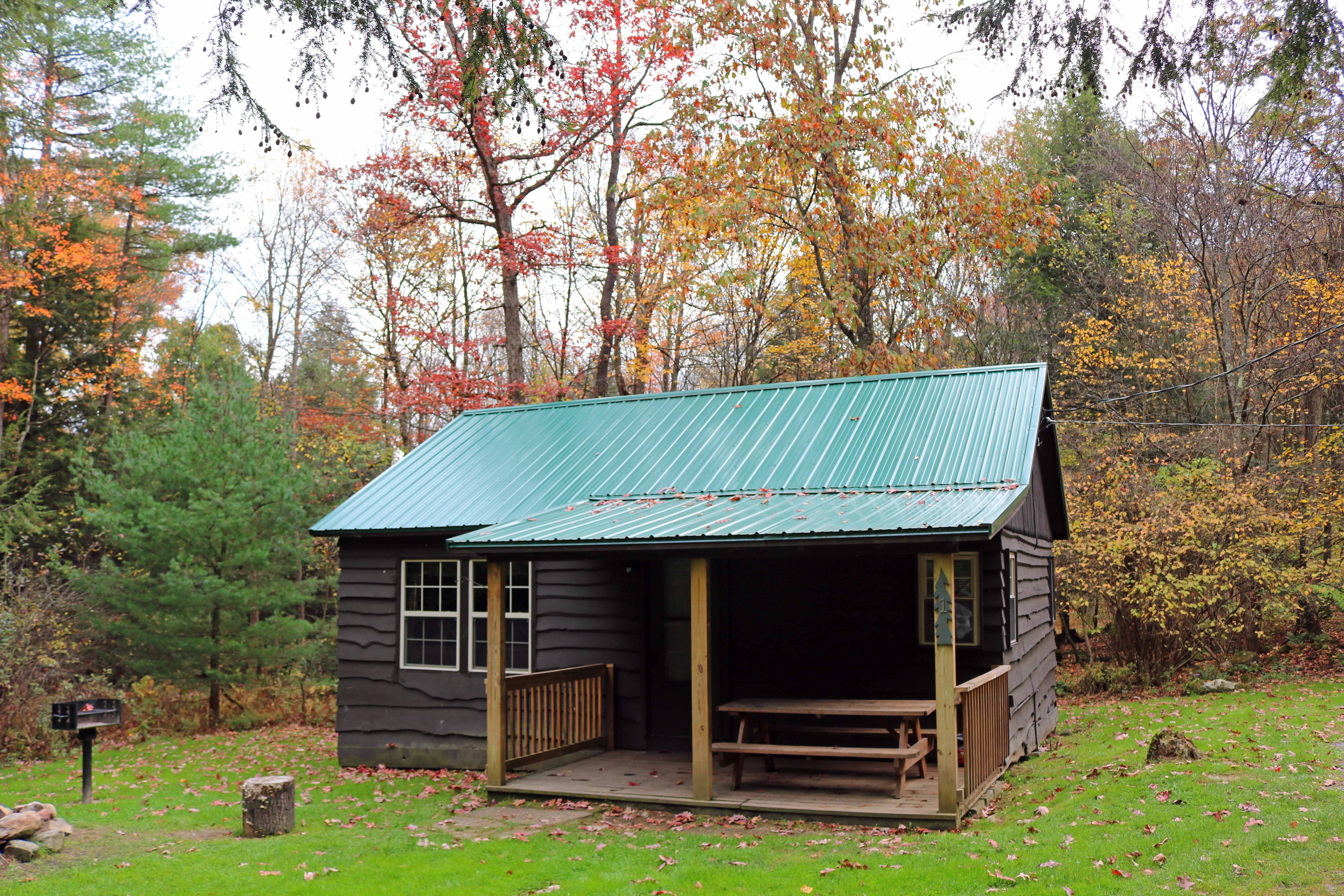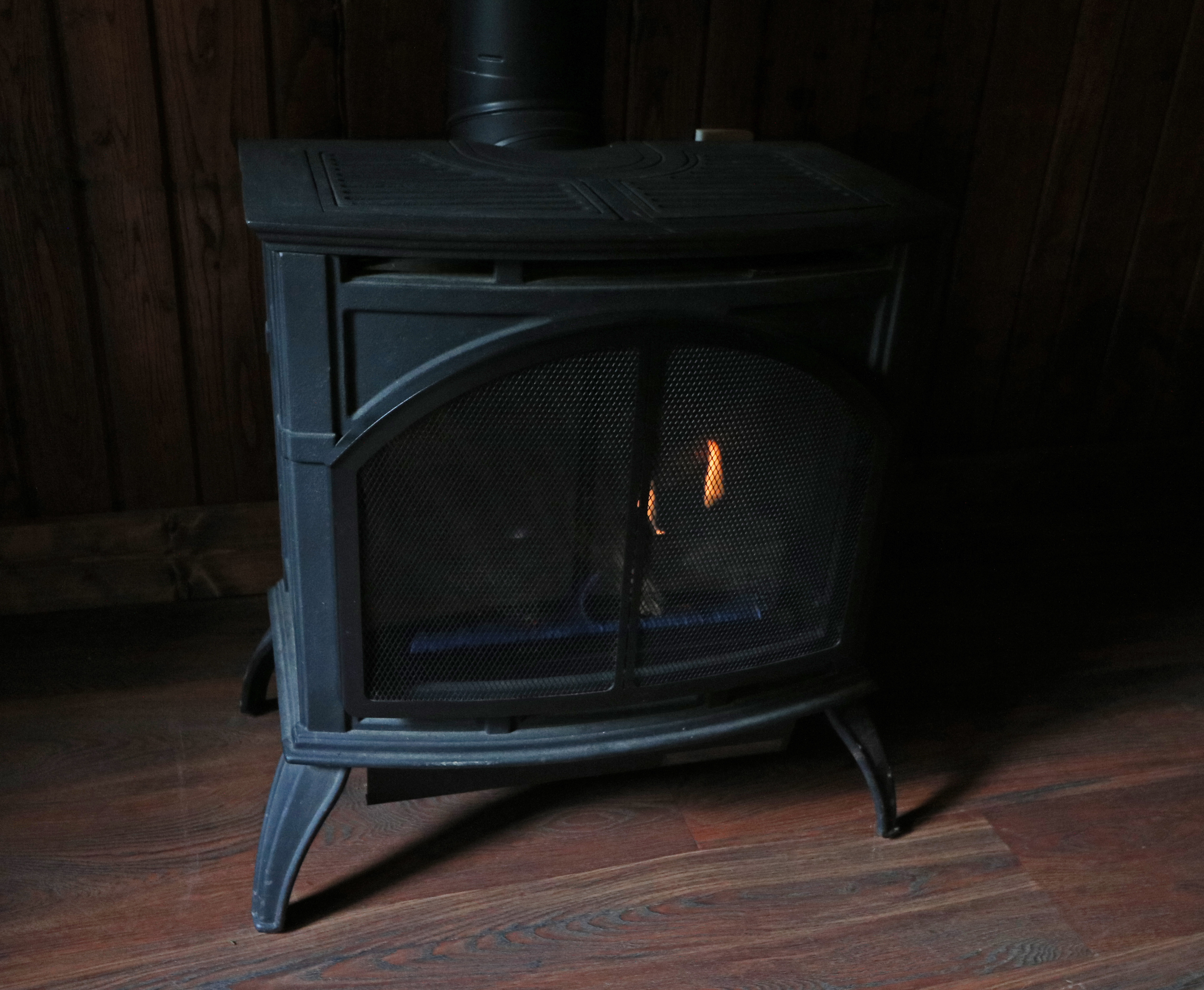 Whispering Oaks Cabins
Cabin 2 - Sleeps 2
Cabin 2  has an open concept living, dining, and kitchen area with gas fireplace. The bedroom has a view of the woods.  There is a TV with DVD player only. Outdoor space includes a covered porch, picnic table, charcoal grill, and fire ring. Bed: 1 Queen
Nightly Right: $115
Weekly Rate: $515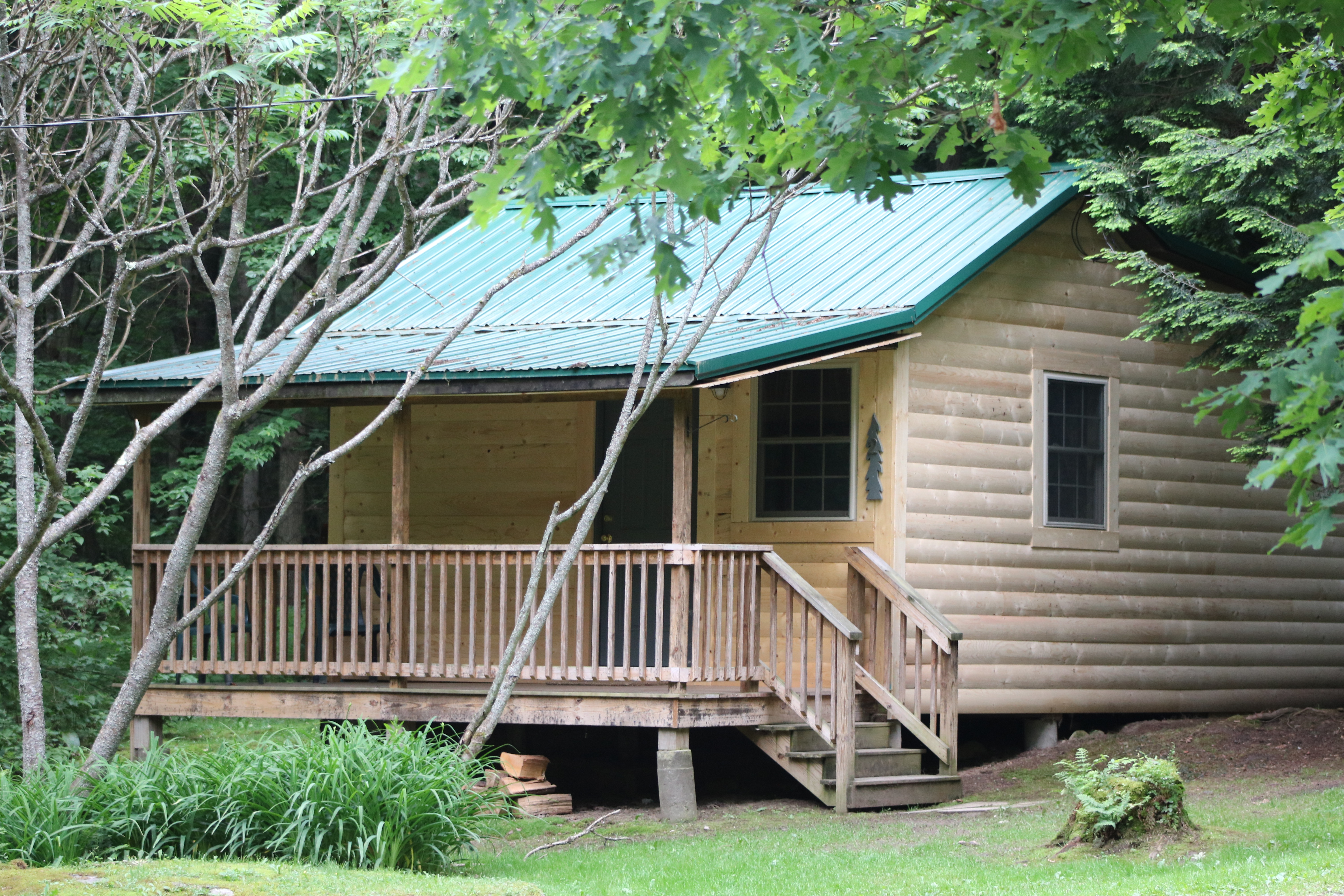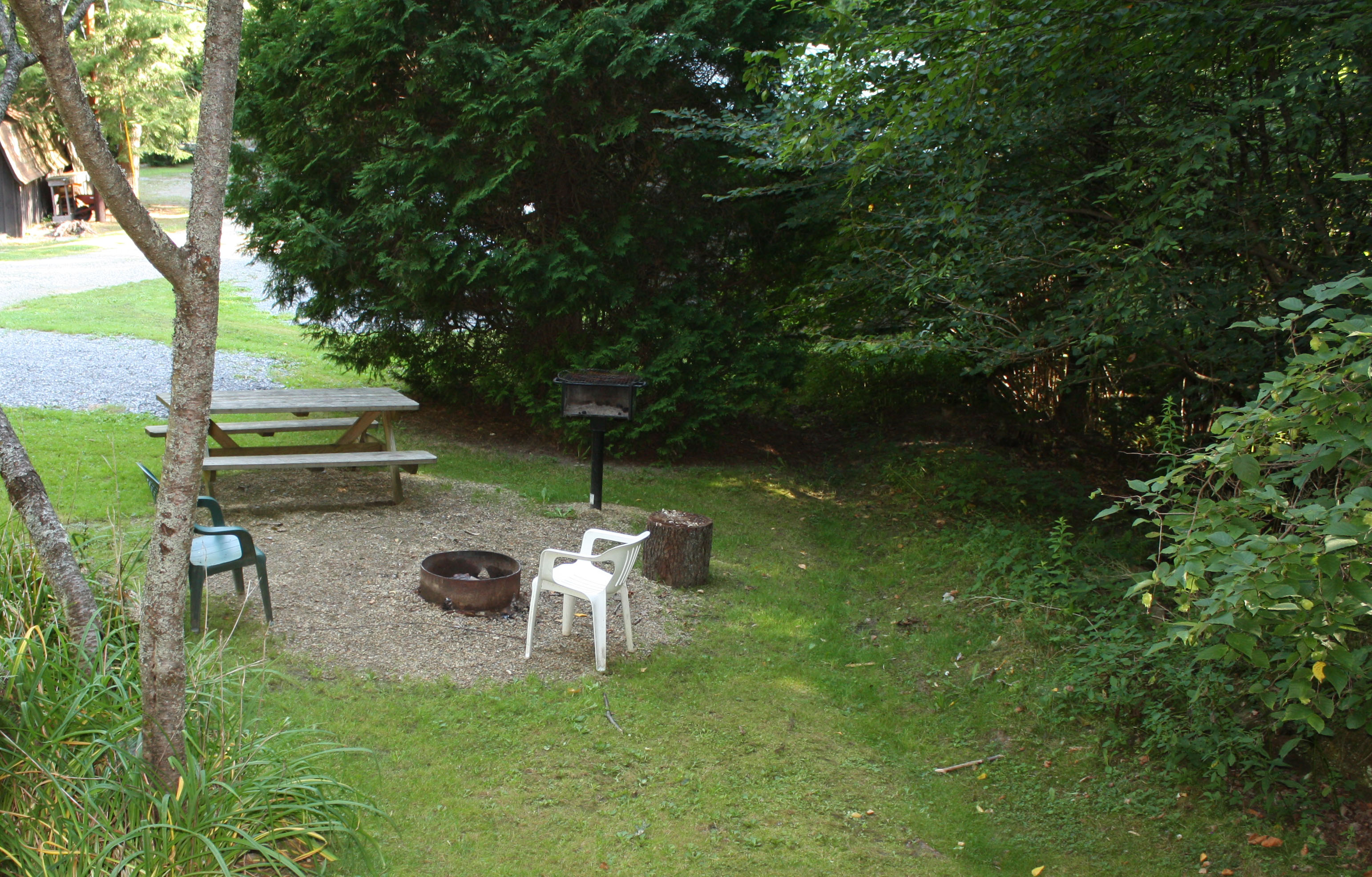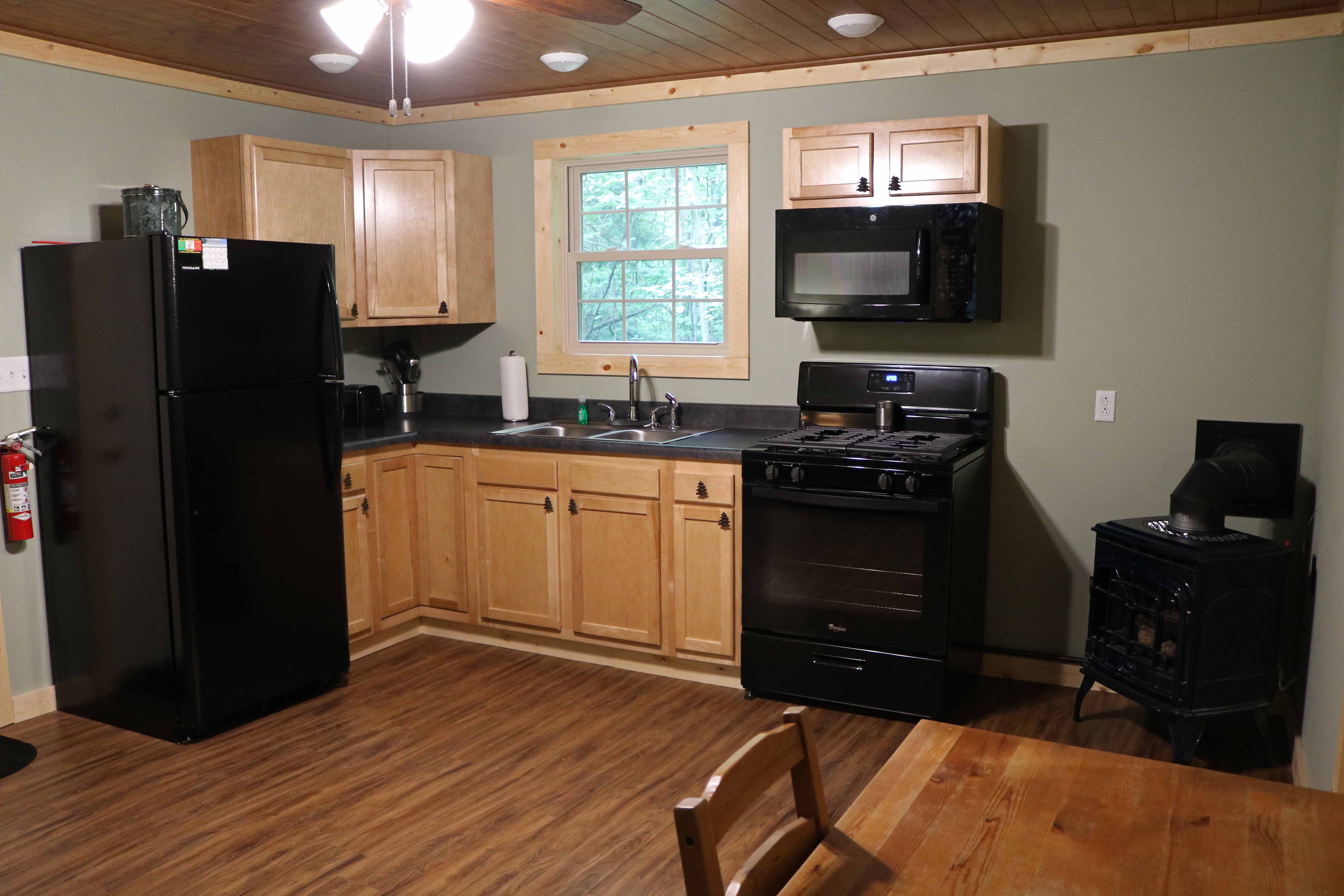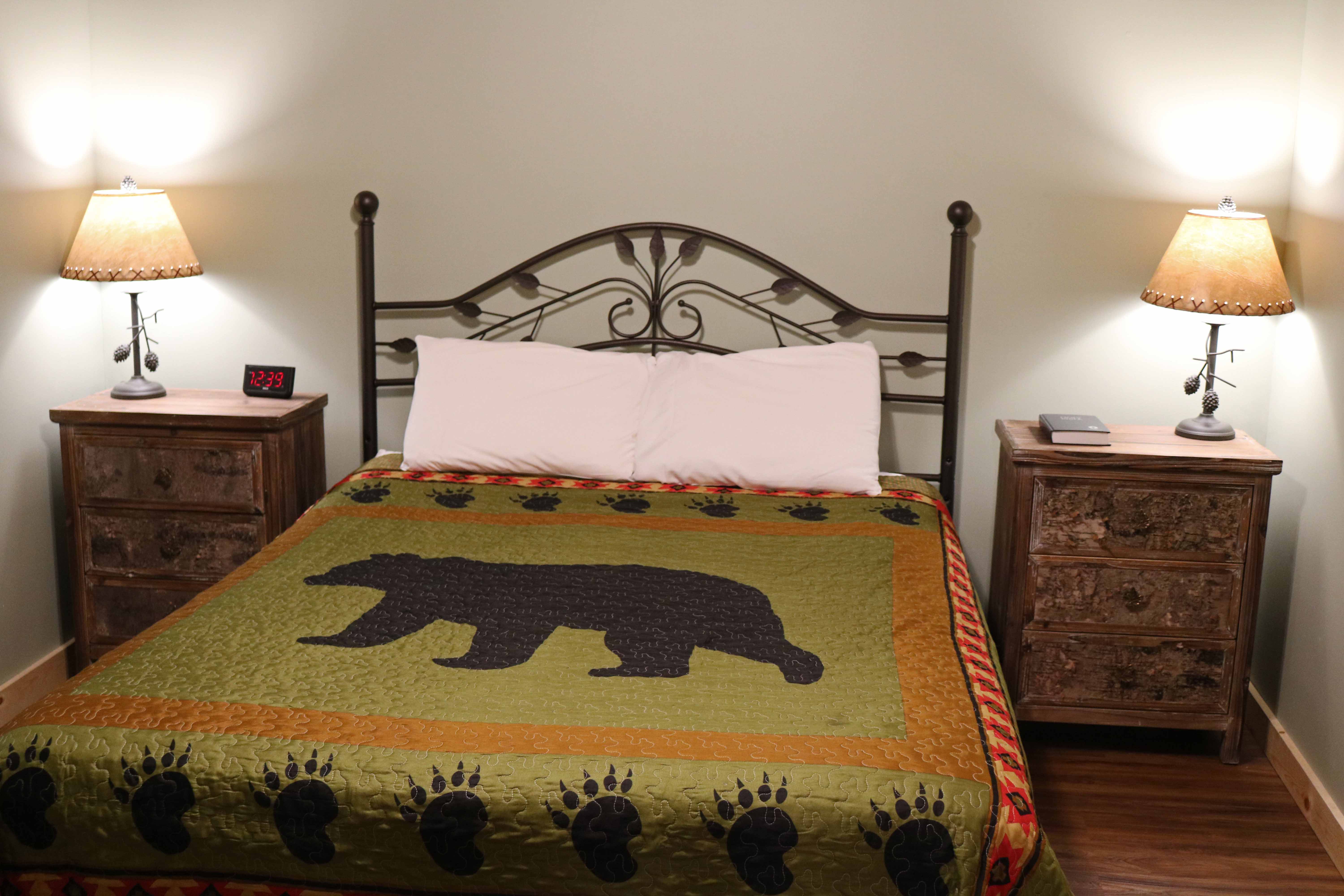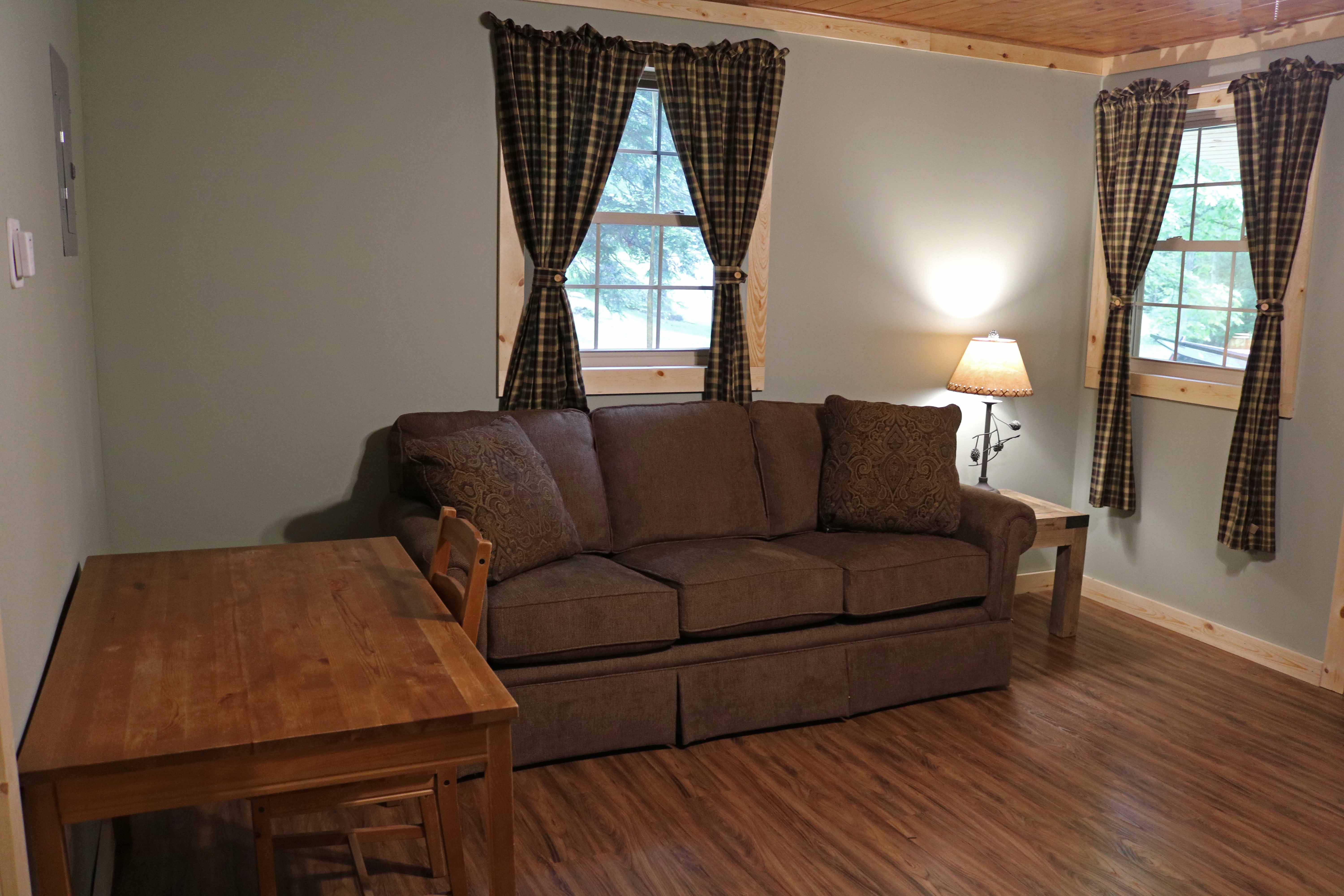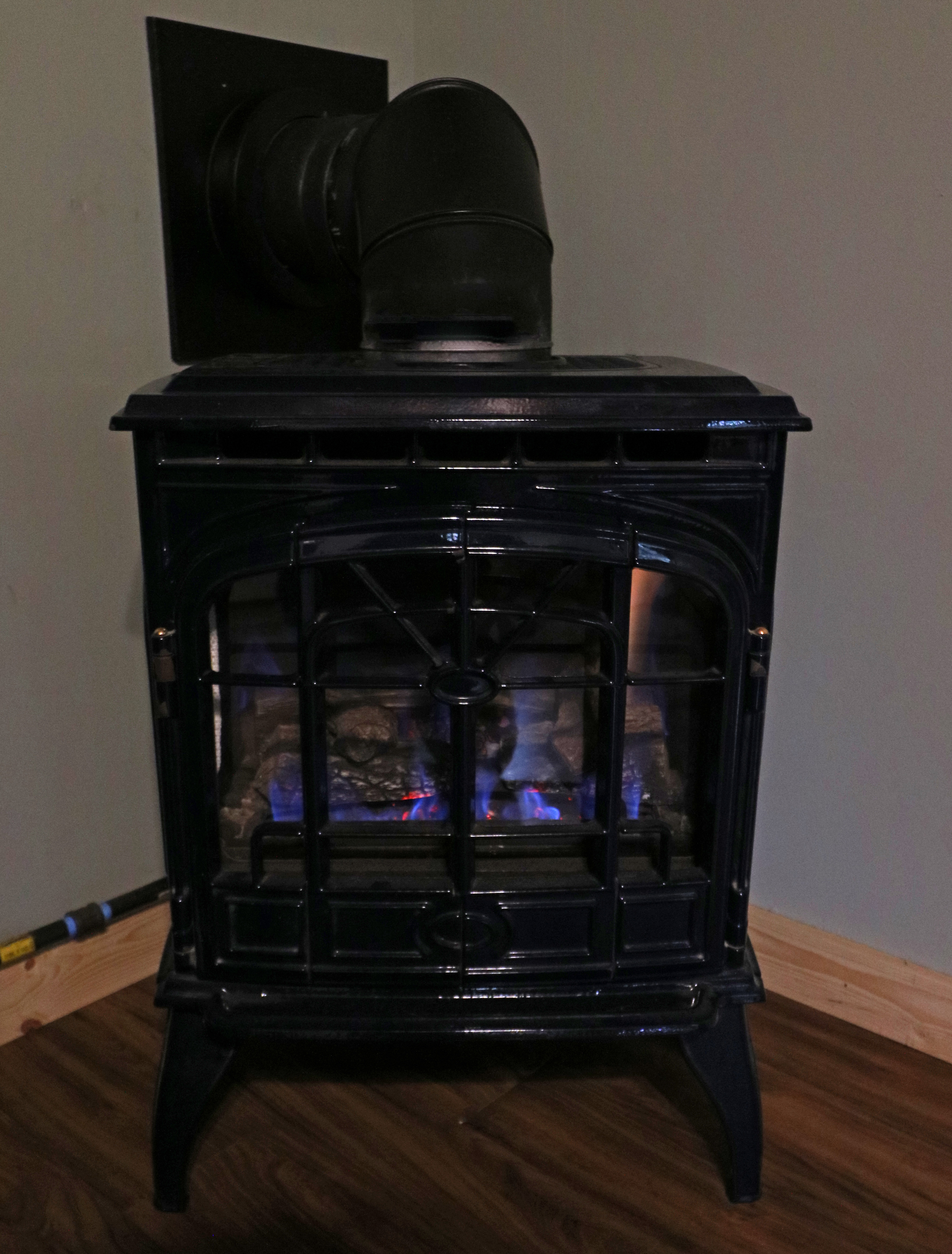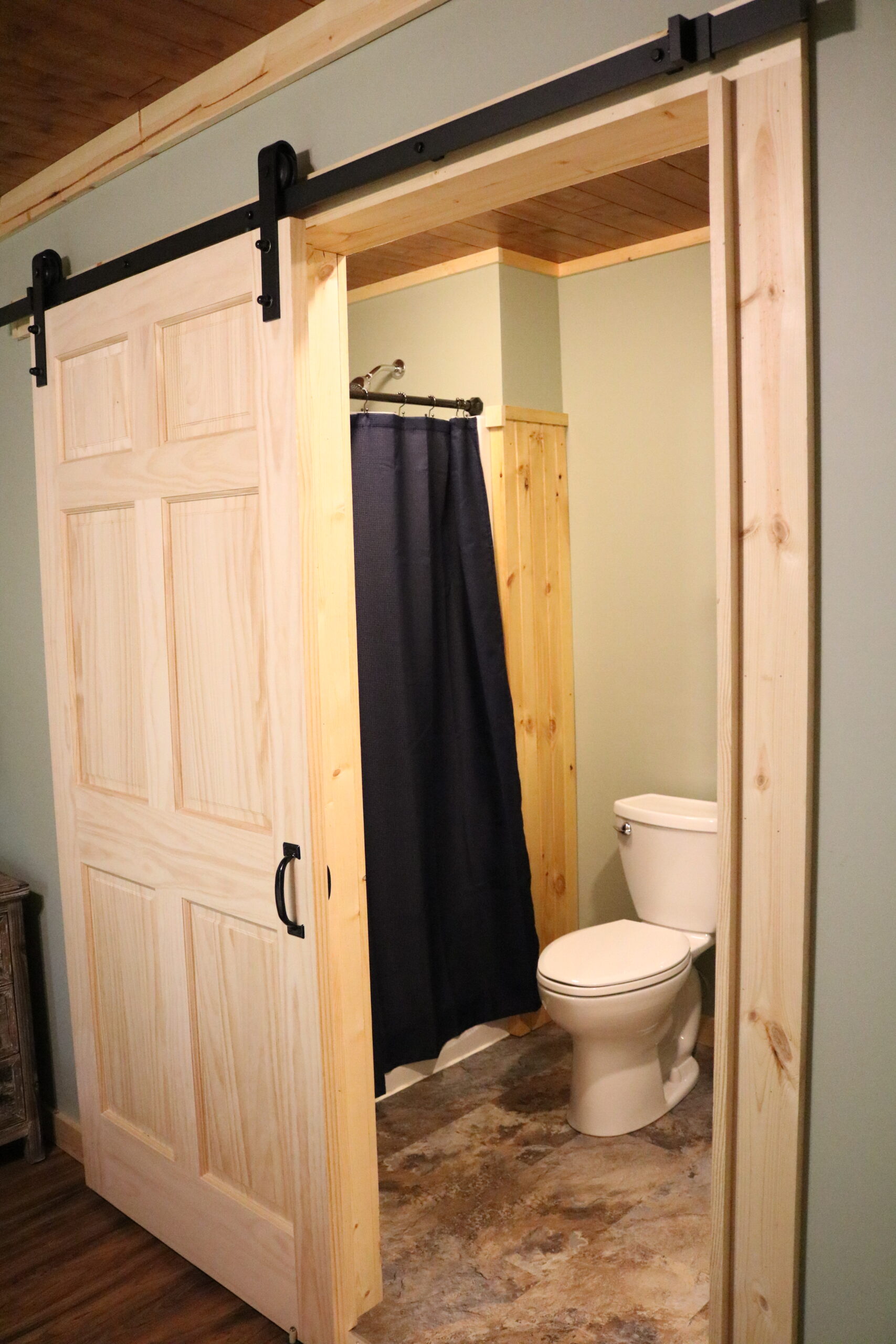 Whispering Oaks Cabins
Cabin 3 - Sleeps 8
Cabin 3 interior was completely renovated in 2021 and features two bedrooms, kitchen, bath, and living area with TV with DVD player only and a wood-burning, stone fireplace. Outdoor space includes a large covered porch, picnic table, charcoal grill, and fire ring. Beds: 2 Doubles, 2 Bunk Beds
Nightly Rate: $155
Weekly Rate: $695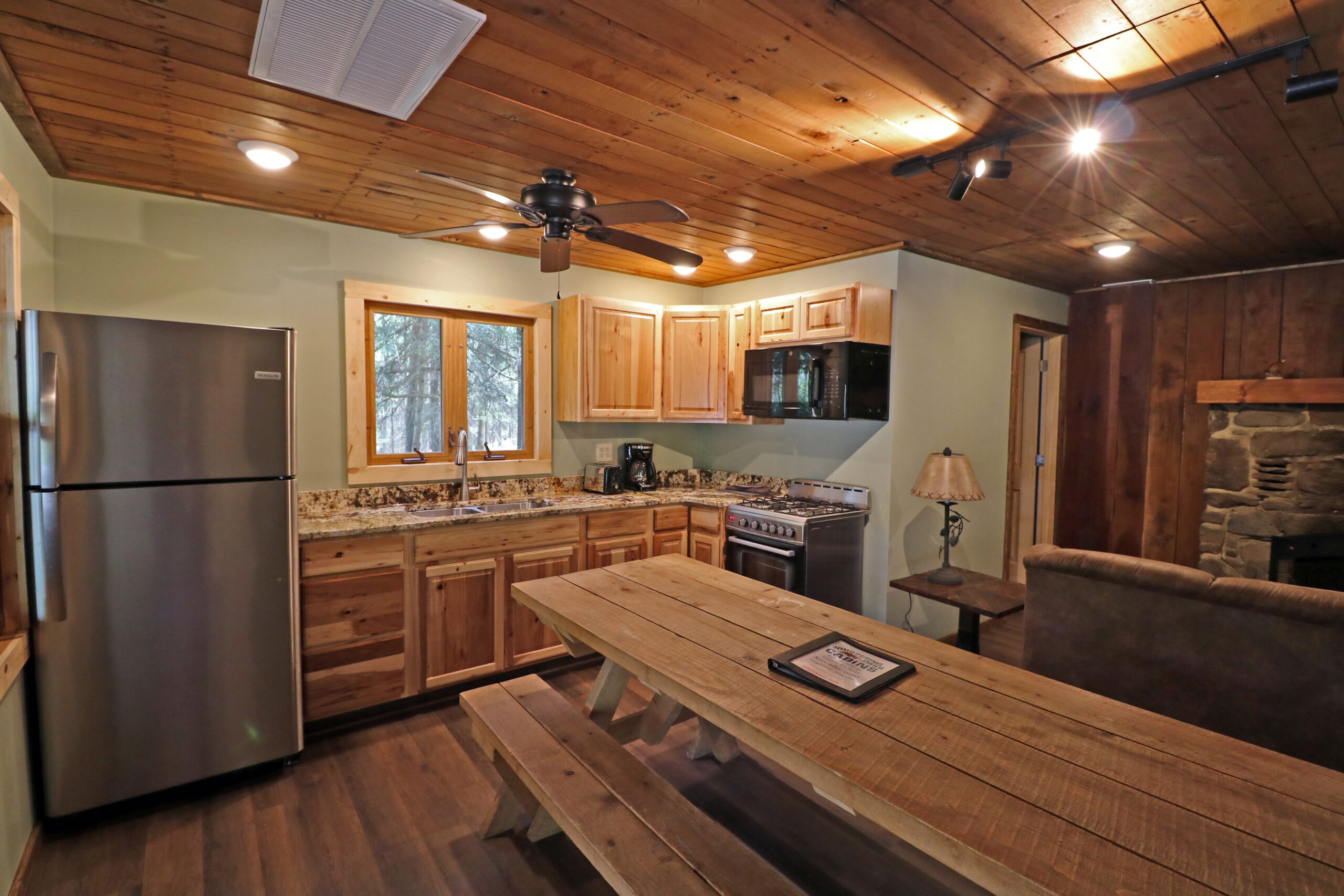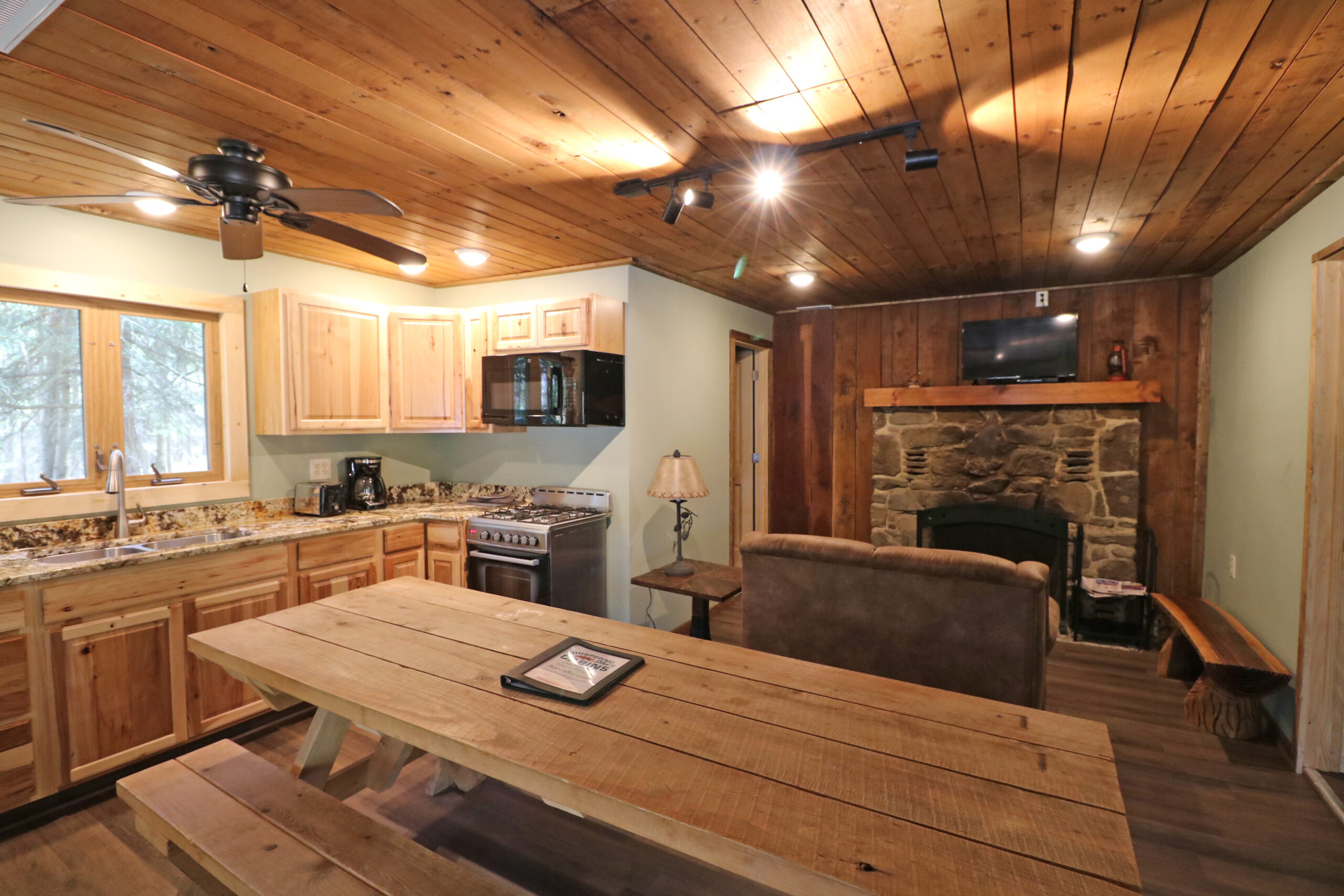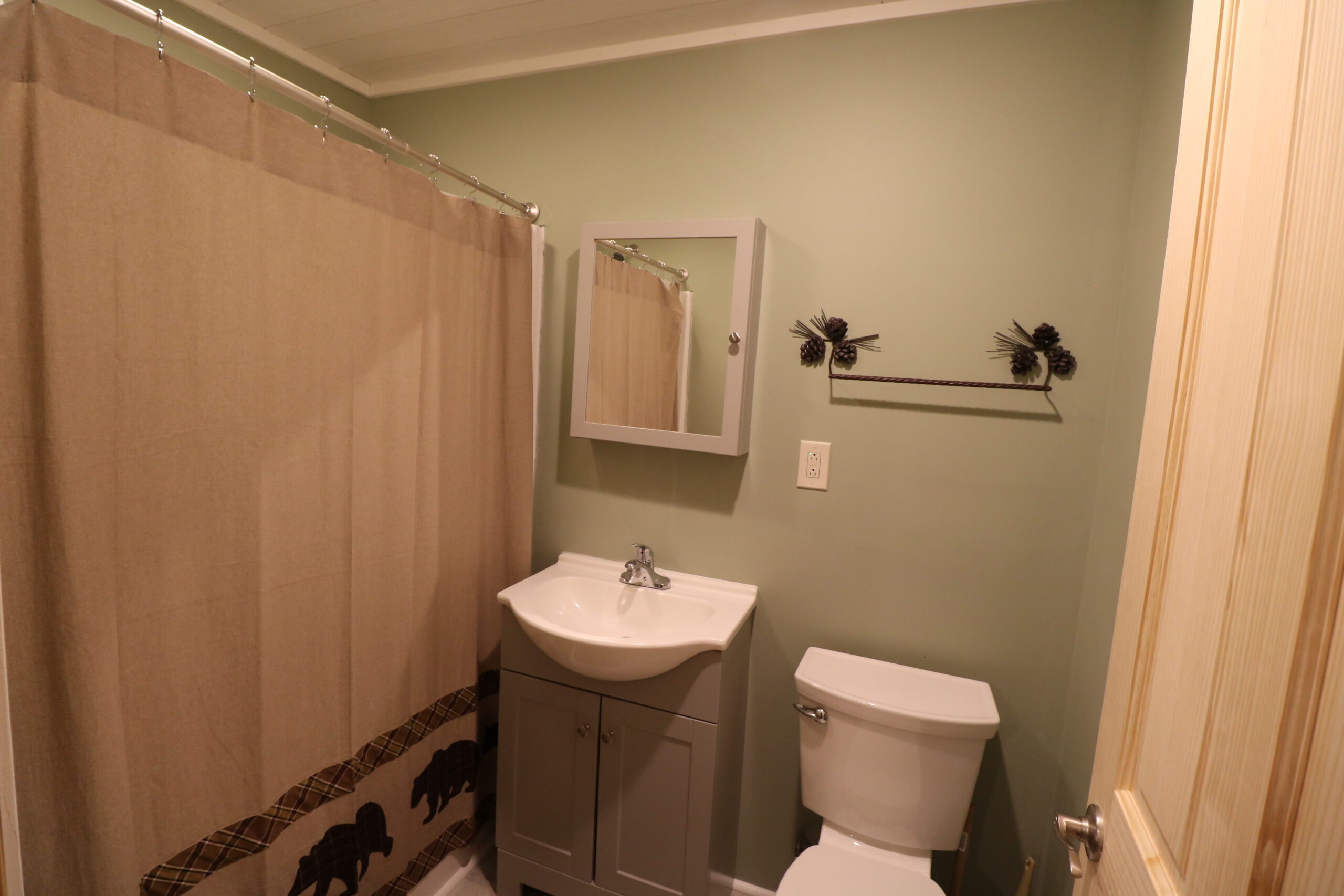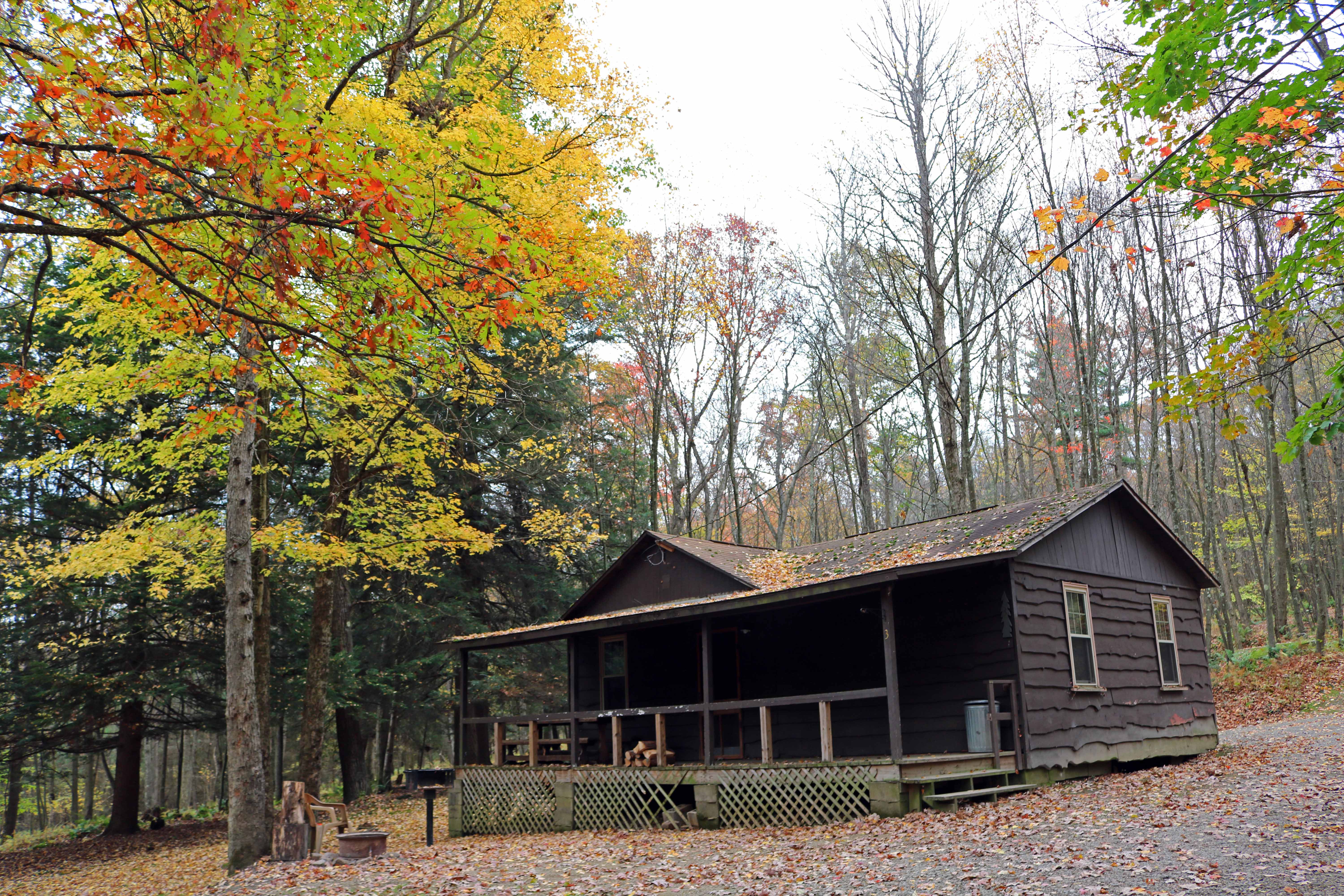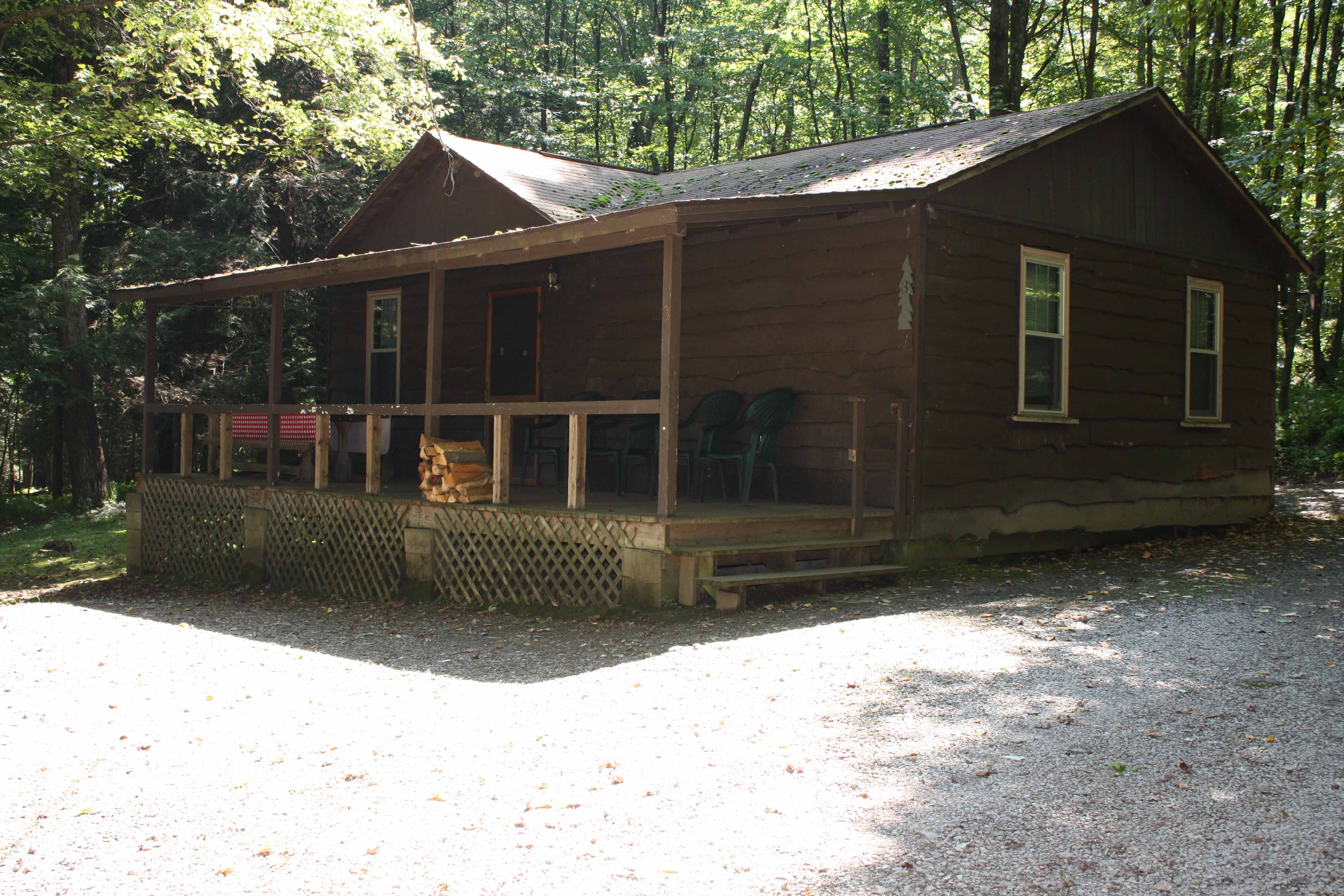 Whispering Oaks Cabins
Cabin 4 - Sleeps 2
Cabin 4 is a cozy cabin with a wood-burning, stone fireplace. It also has a full kitchen and renovated bath adjoining the living room. There is a TV with DVD player only. Outdoor space includes a small covered porch, picnic table, charcoal grill, and fire ring. Bed: 1 Double
Nightly Right: $115
Weekly Rate: $515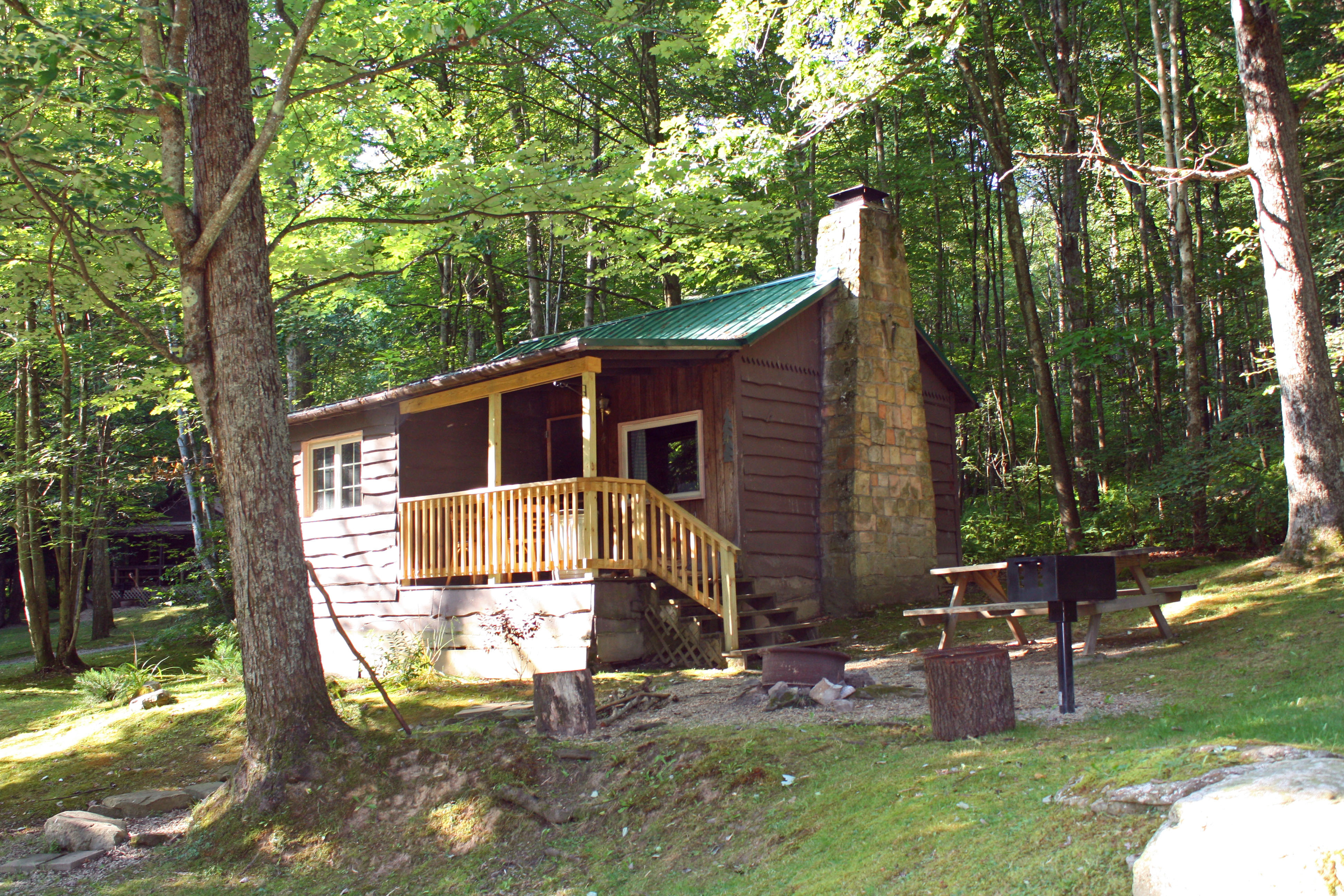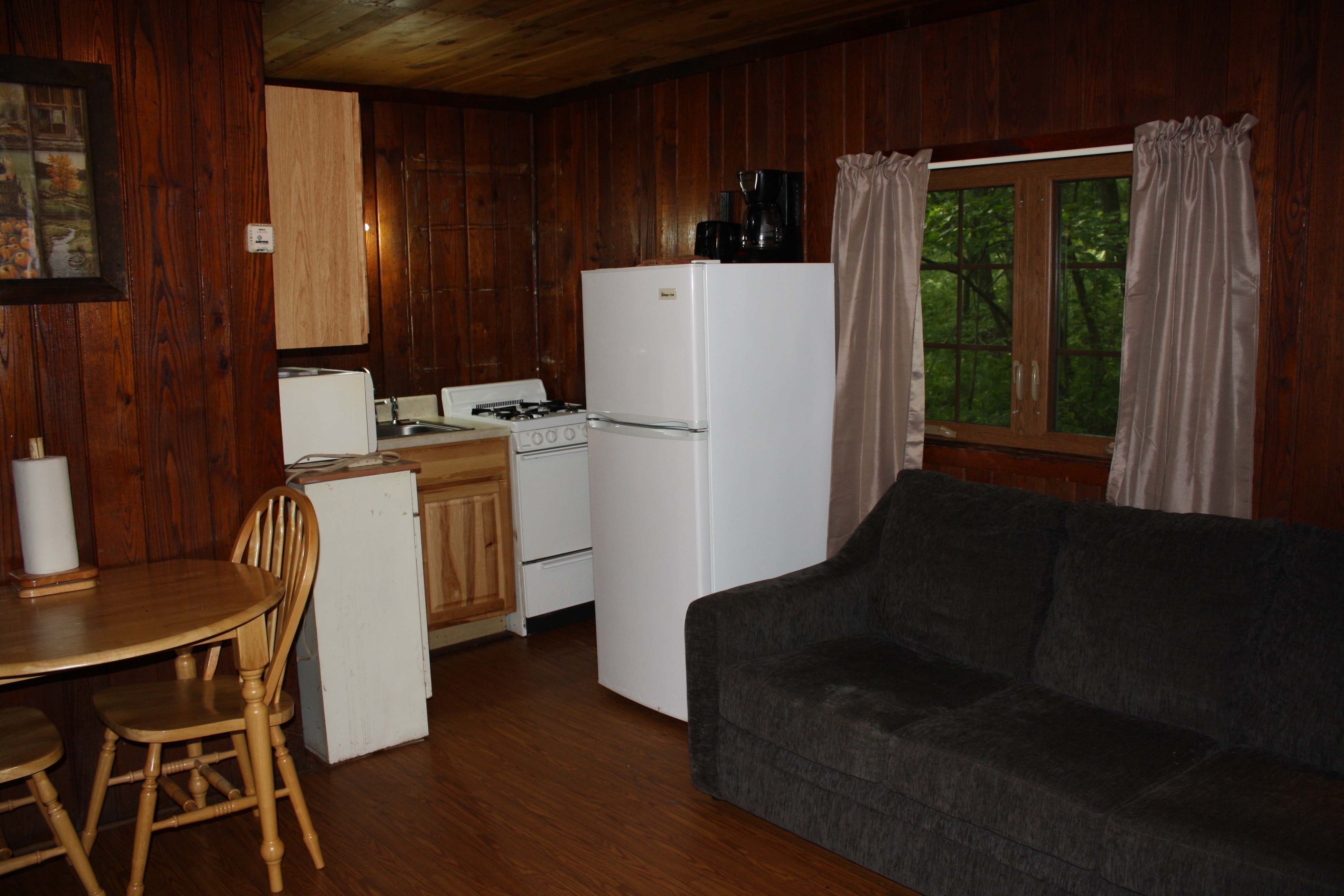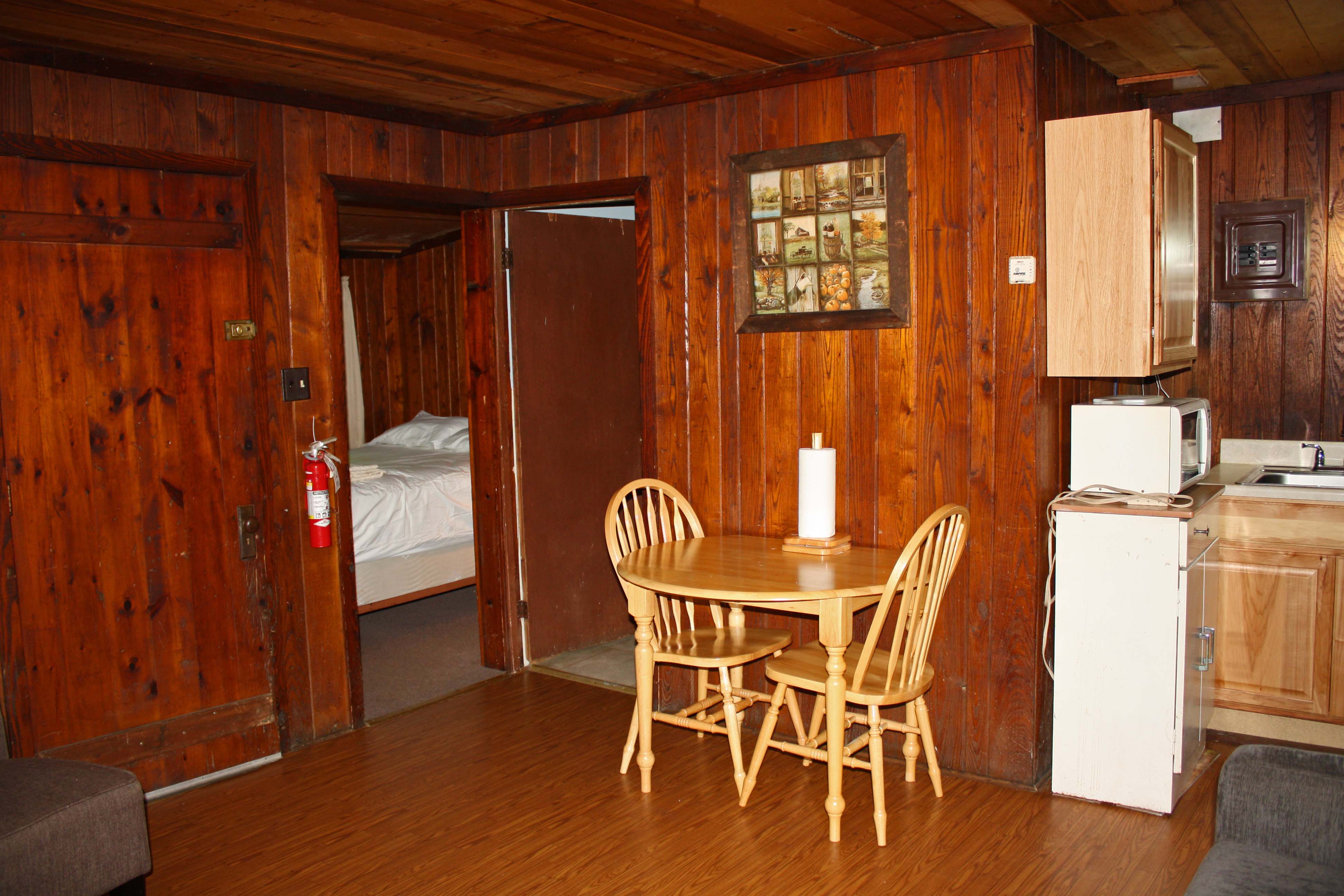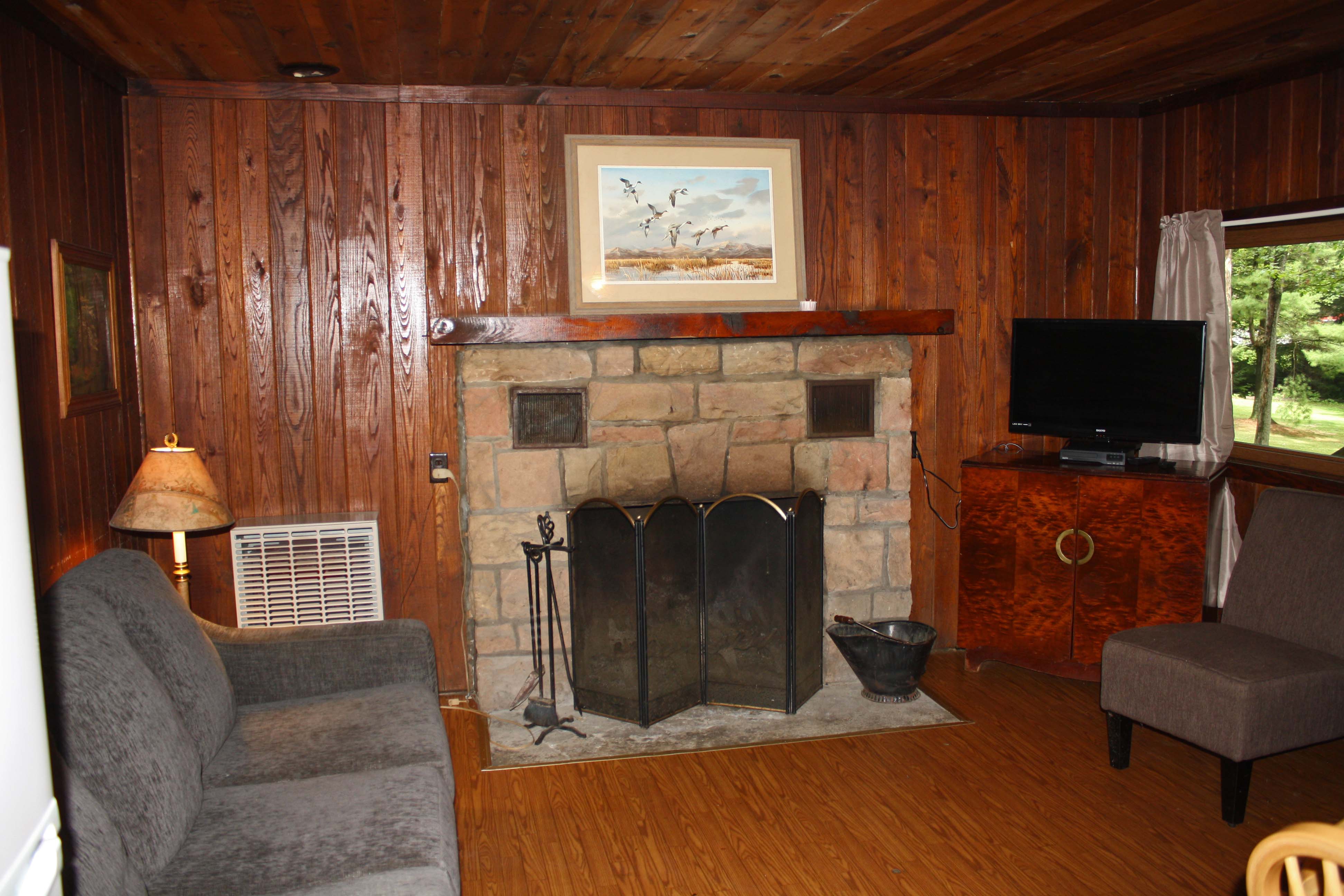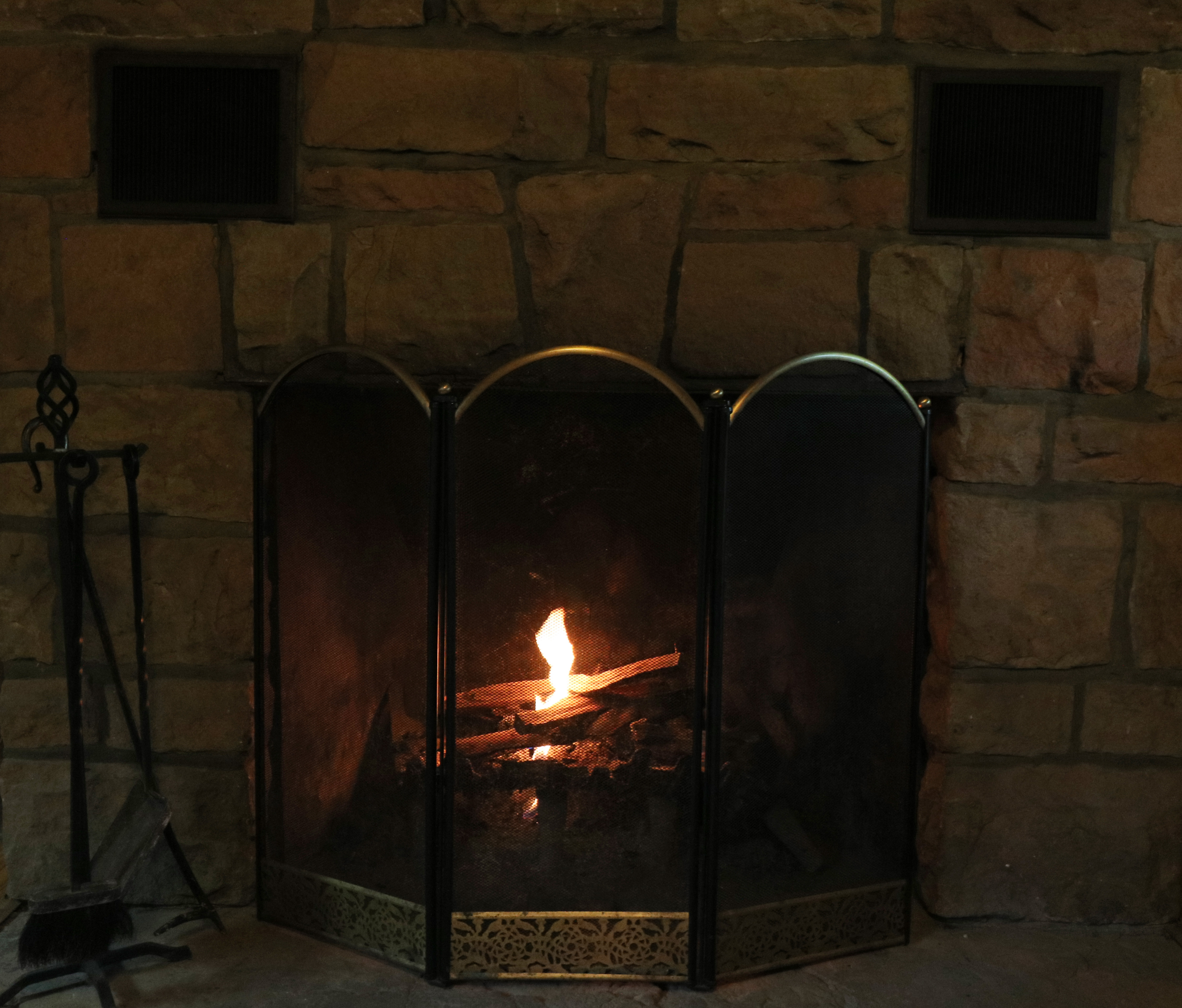 Whispering Oaks Cabins
Cabin 5 - Sleeps 8
Cabin 5 is a spacious cabin with two bedrooms with four double beds, a full kitchen, bath, and living room with TV with DVD player only and wood-burning, stone fireplace. Outdoor space includes a large covered porch, picnic table, charcoal grill, and fire ring. Beds: 4 Doubles
Nightly Rate: $155
Weekly Rate: $695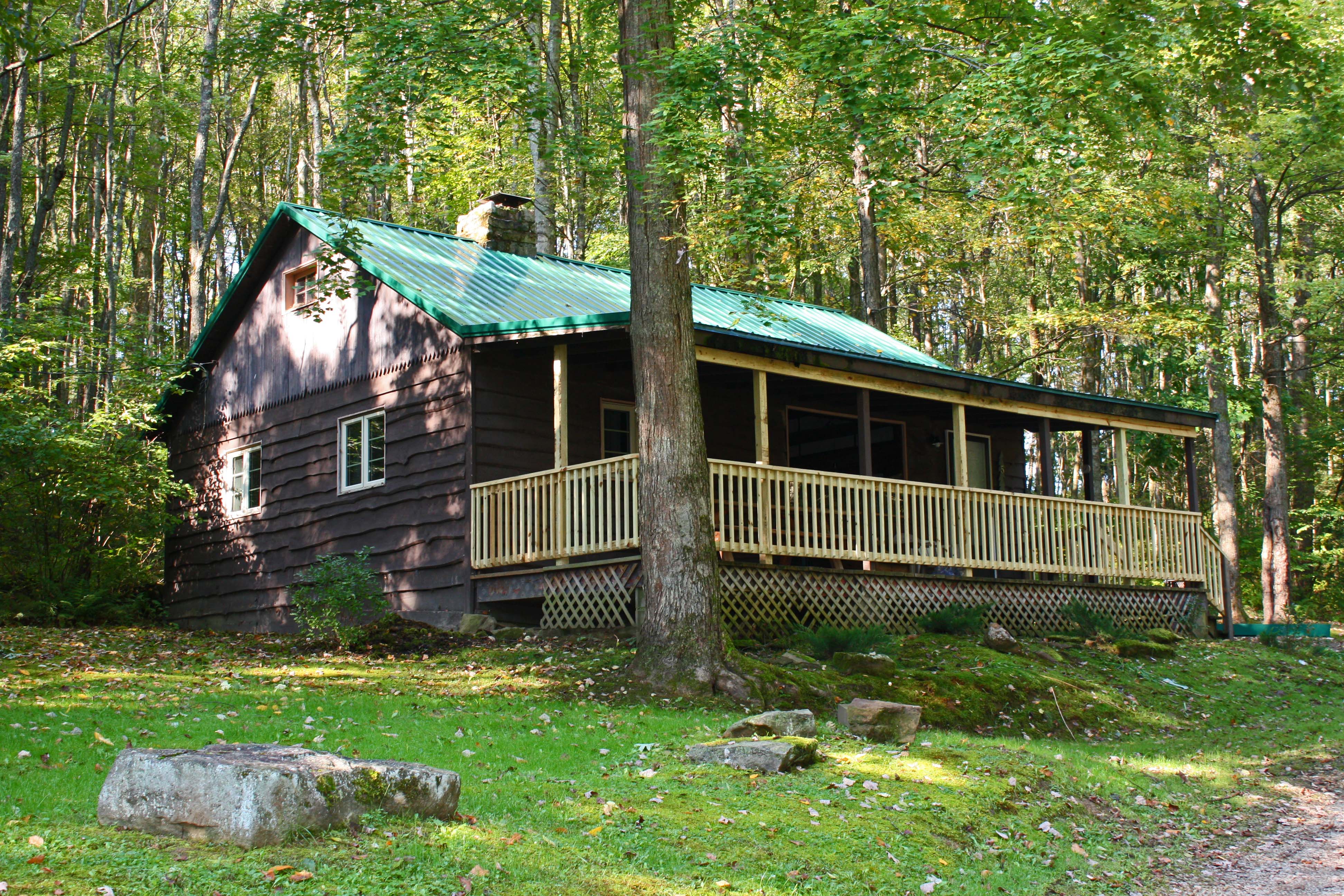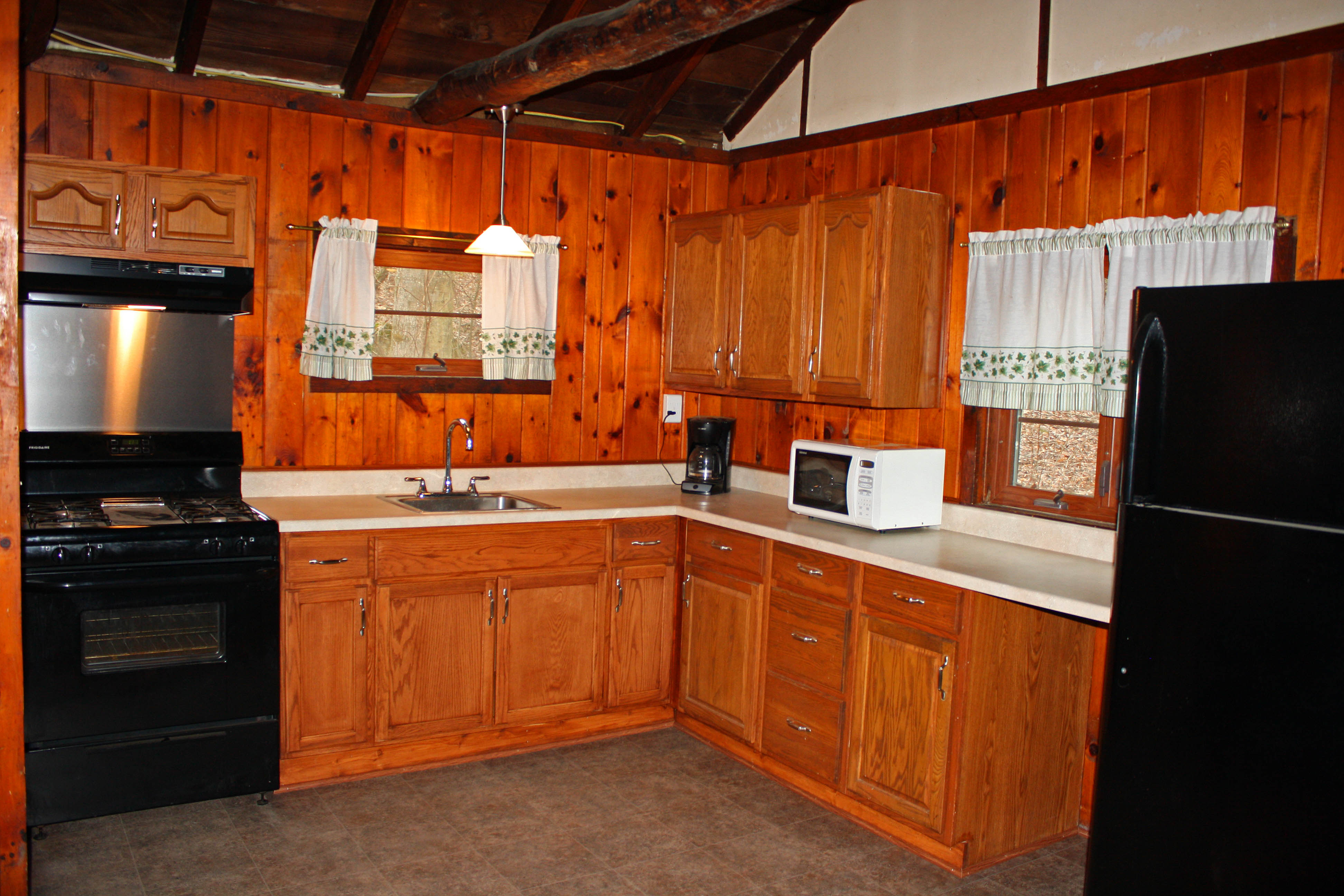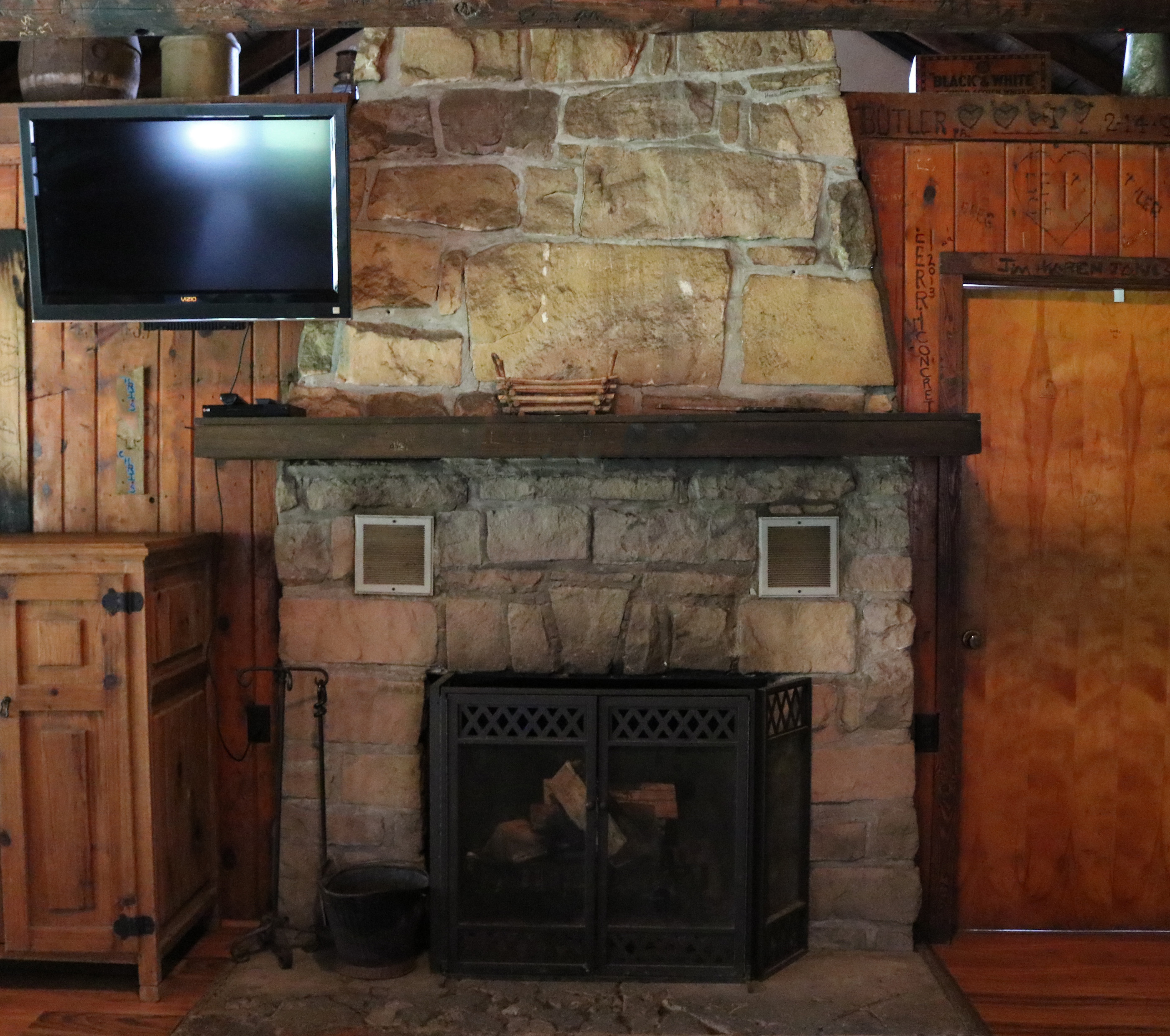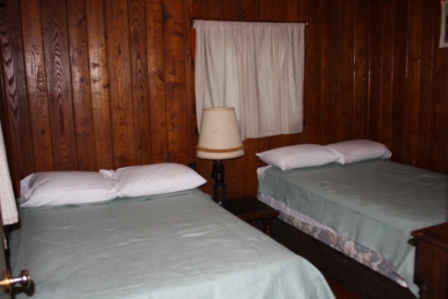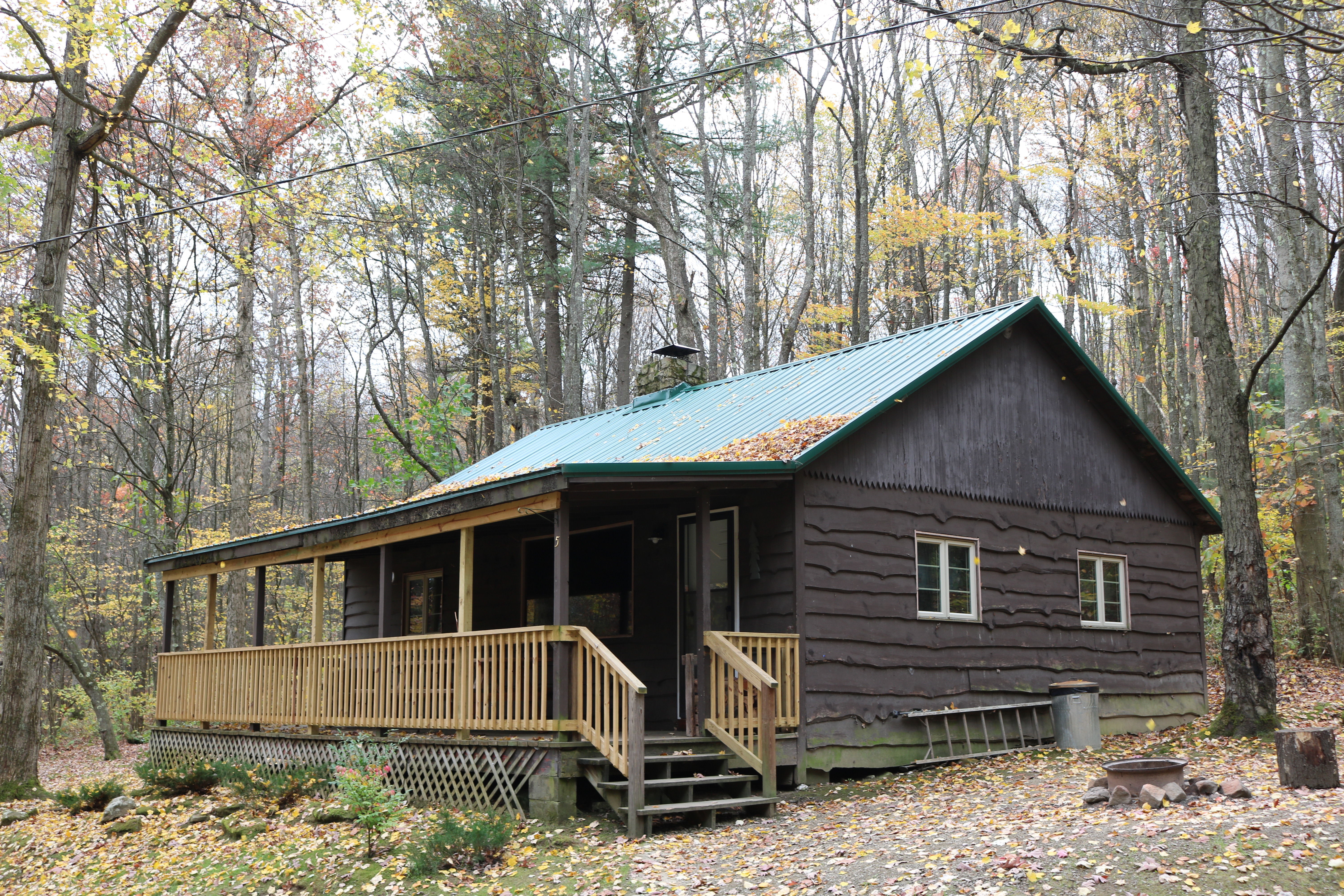 Whispering Oaks Cabins
Cabin 6 - Sleeps 7
Cabin 6 features a full kitchen, bath, and living room with TV with DVD player only and wood-burning, stone fireplace along with two bedrooms. Outdoor space includes a covered porch, picnic table, charcoal grill, and fire ring. Beds: 2 Doubles, 1 Bunk Bed, 1 Single
Nightly Rate: $155
Weekly Rate: $695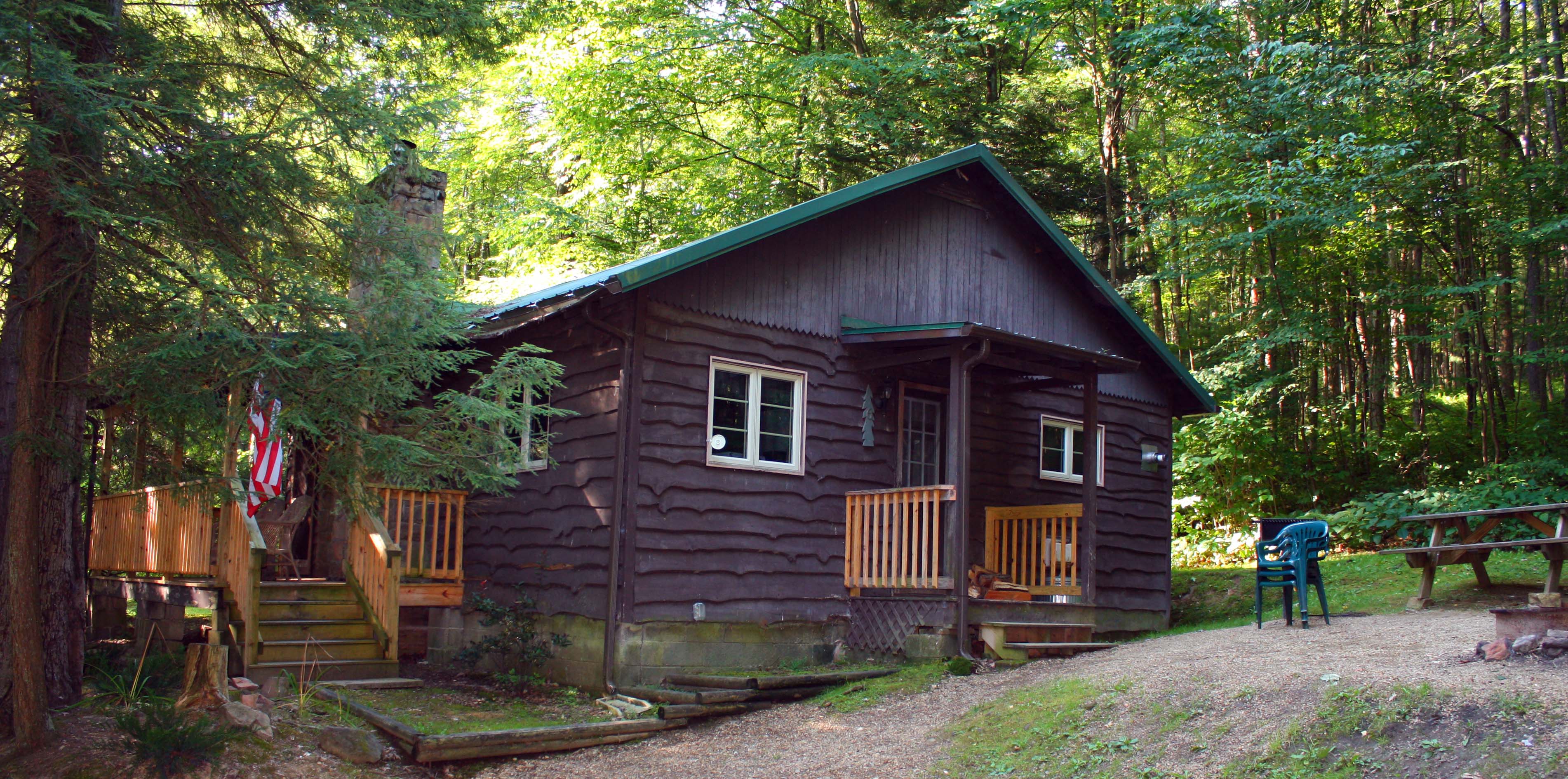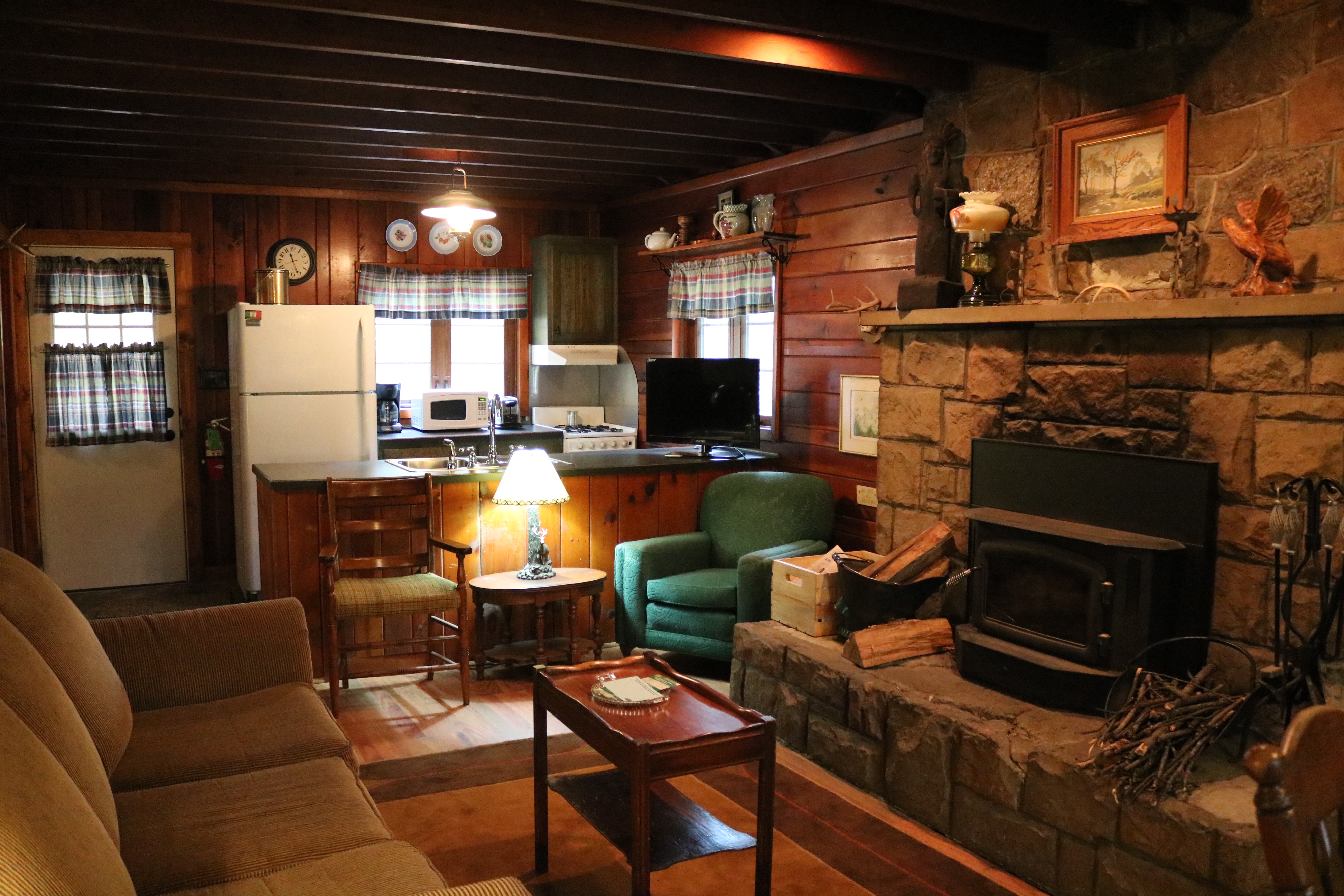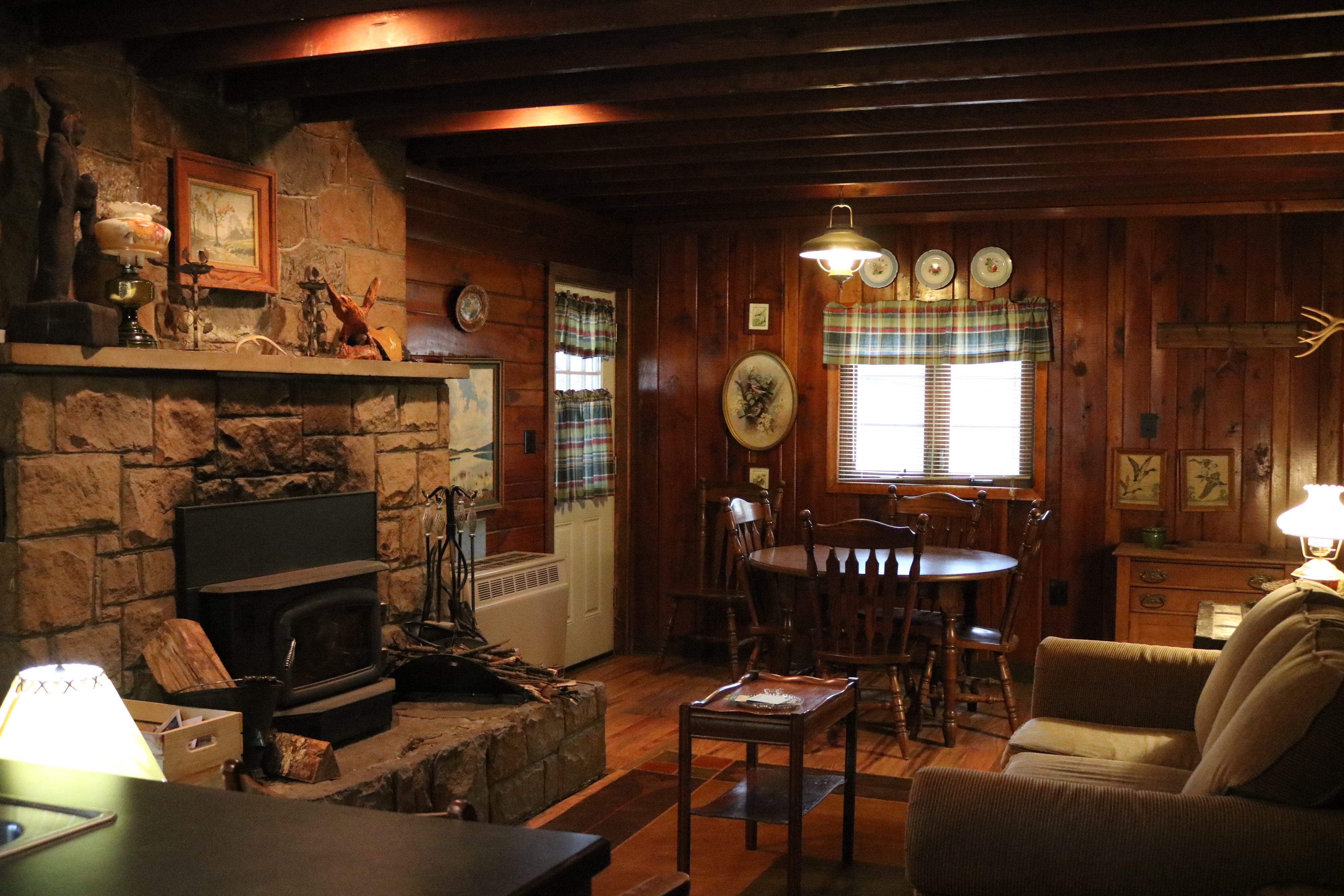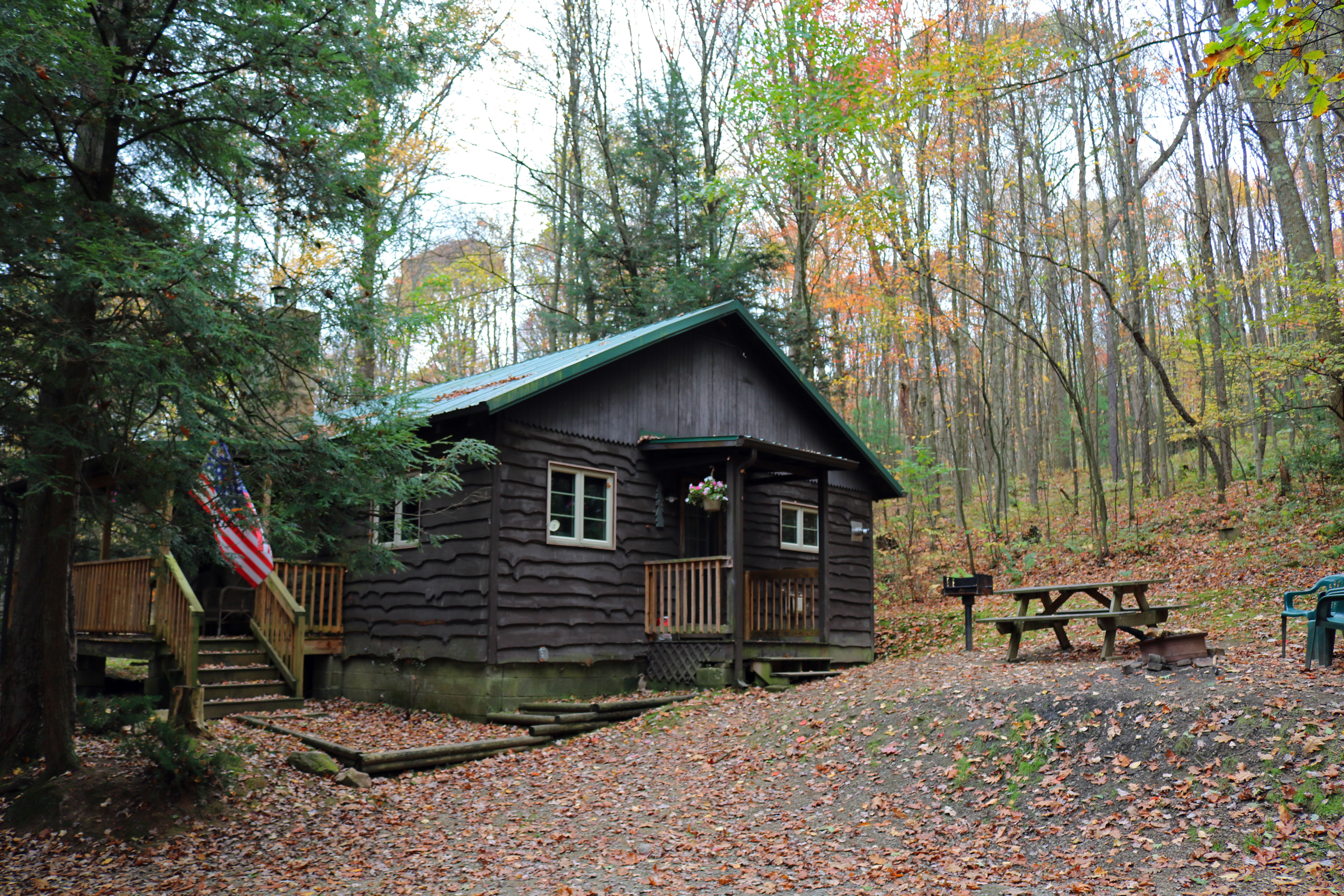 Whispering Oaks Cabins
"Mini" - Sleeps 2
Completely renovated in 2020, Mini features an open floor plan with a kitchen, bathroom, air conditioning, TV with DVD player only, and a queen-size bed. Situated in the back of the Whispering Oaks property on the hill, Mini features, picnic table, charcoal grill, and fire ring.  Bed: 1 Queen
Nightly Right: $115
Weekly Rate: $515